Why The World Would End Without Currency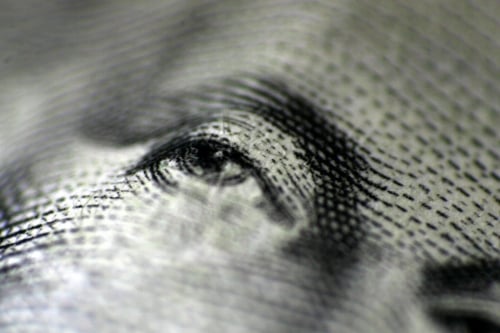 Photo by peasap
In the case of American money, cash has value beyond the borders of the country.
People store up cash for emergencies, to keep a safety net, and to ensure that whatever happens, their chunk of cash will be there for them.
In the United States, cash in circulation grew 42% between 2007 and 2012, and the amount of American money floating around in bills is expected to grow by about 5% each year.
People value cash differently than they value electronic money, even though the two have the exact same value.
Our psychological attachment to money, the infrastructure available to banks, and the need to create systems that are compatible with lots of vendors and users, all make progress away from cash more of a drag than a sprint.
"Frankly, based on the continued growth rate of cash, we don't anticipate the disappearance of cash in the possible near term, or even medium term," says Eric Ziegler at Crane Currency, a money design and manufacturing company.
The fight against counterfeiters goes all the way back to the 4th Century BC. Of course, saying that cash isn't going away isn't the same as saying cash is going to look the same forever.
Many who think about cash like to use Mark Twain's quote "Reports of my death have been exaggerated." In one paper, the authors compare cash to a kind of Cinderella.
This article originally appeared on bbc.com
Over to you
How do you feel about carrying cash on a day to day basis? How about when you're traveling abroad? Do you really think cash will come to an end? Share your opinion and thoughts in the comments below.
About Currency Exchange International
Currency Exchange International (CXI) is a leading provider of foreign currency exchange services in North America for financial institutions, corporations and travelers. Products and services for international travelers include access to buy and sell more than 80 foreign currencies, multi-currency cash passport's and traveler's cheques. For financial institutions, our services include the exchange of foreign currencies, international wire transfers, purchase and sale of foreign bank drafts, international traveler's cheques, and foreign cheque clearing through the use of CXI's innovative CEIFX web-based FX software https://www.ceifx.com.