4 Surprising Facts You Didn't Know About the Chinese Yuan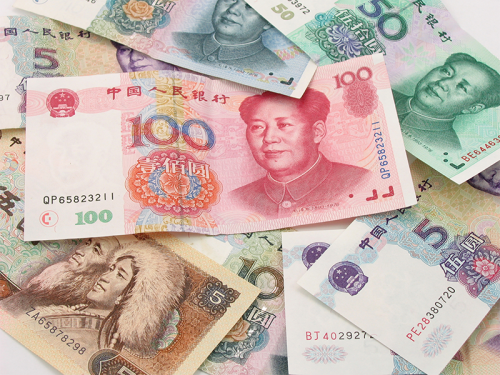 Ordering foreign currency is easy with OnlineFX.
Have you ever taken a close look at your Chinese currency? This currency has many features that you probably haven't thought about before. See if you've observed these characteristics of "the people's money."
The Banknote Has Distinct Watermarks
There are securities lines on each banknote, printed in a light pink or silver, with small lettering written along the edge of it. The letters are very hard to replicate for safety. There are also a few watermarks that appear when held to the light, such as a rose and a white denomination.
Chinese Currency Has Many Names
Chinese currency is called Renminbi, but it is also called the Chinese yuan. Colloquially, the yuan is called kuai. The ISO for this currency is CNY, or CNH in Hong Kong, but RMB can also be seen in many places. The currency can also be indicated with the yuan sign, ¥.
Fake Banknotes Feel Different
CNY has "People's Bank of China" written on them in braille, for the visually-impaired. These areas of the note are more concave and convex. There is a clear resistance when you feel those parts. Fake banknotes can be easily spotted by feeling the banknotes; they will be completely smooth.
Only Certain Institutions Can Confiscate Counterfeit Bills
When it comes to Chinese yuan, there are different ways your money can be confiscated. According to regulation, all banking institutions that access RMB can forfeit counterfeit currency.
This includes The People's Bank of China, The Ministry of Public Security, China Construction Bank, Industrial and Commercial Bank of China, and Agricultural Bank of China.
About Currency Exchange International
Currency Exchange International (CXI) is a leading provider of foreign currency exchange services in North America for financial institutions, corporations and travelers. Products and services for international travelers include access to buy and sell more than 90 foreign currencies, multi-currency cash passport's, traveler's cheques and gold bullion coins and bars. For financial institutions and corporations, our services include the exchange of foreign currencies, international wire transfers, global EFT, the purchase and sale of foreign bank drafts, international traveler's cheques, and foreign cheque clearing through the use of CXI's innovative CEIFX web-based FX software www.ceifx.com