5 Currency Facts You Probably Didn't Know About the US $10 Dollar Bill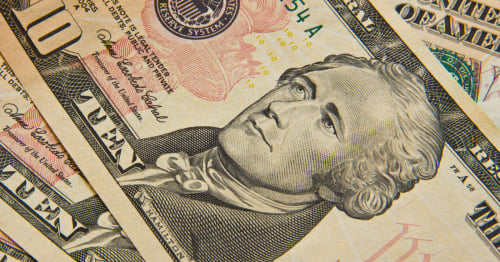 Ordering foreign currency online is easy with OnlineFX.
We Made an Exception
Alexander Hamilton is the only person featured on U.S. currency who was not born in the continental United States, as he was born in the West Indies. He's also one of the only individuals on our notes who was never president (along with Ben Franklin), though he definitely made history as the man who designed our country's financial system.
About Time
Many would be surprised to find that it wasn't always Hamilton portrait that enriched the beautiful 10 dollar bill. In fact, Abraham Lincoln was the first portrait to be printed on this note when it first came out in 1861. However, Hamilton finally got the recognition he deserved (as first secretary of the treasury and founding father) in 1929 as the new $10 dollar bill was established with the first secretary's mug on it.
Quite the Non-conformist
Speaking of Hamilton's mug, another fun fact about the US 10 is that Hamilton's portrait is the only one to face to the left. No surprises here as Hamilton was never one to conform; having established the Federalist party in opposition to the Democratic-Republican party. If you have a $10 dollar bill on you, be sure to take a closer look at it as it has more than the one unique feature we just noted.
Orange is the new Bill
While you're taking that closer look, be sure to catch the little known features on this bill. When you look carefully you'll see that the note features subtle background colors of orange, yellow, and red, and includes an embedded security thread that glows orange when illuminated by UV light. This little security thread is one of our greatest defenses against counterfeit currency.
Short Lived
The final fun fact for this bill is it just so happens to be the US note with the shortest lifespan at as little as 4.5 years. Some might say this is a little ironic as Alexander Hamilton had the shortest lifespan out of all the individuals who decorate our country's currency. Unfortunately, Hamilton only lived to the age of 47 when his fatal duel with Andrew Burr occurred in July, 1804.
#ThrowbackThursday: Alexander Hamilton appeared on the $10 note in 1914. Learn more about the denomination: https://t.co/Cny3sSBOdX #uscurrency #tbt pic.twitter.com/dCzwFvUJNo

— U.S. Currency (@uscurrency) May 23, 2019
About Currency Exchange International
Currency Exchange International, CXI, is the leading provider of comprehensive foreign exchange services, risk management solutions and integrated international payments processing technology in North America. CXI's relationship-driven approach ensures clients receive tailored solutions and world-class customer service. Through innovative and trusted FX software platforms, CXI delivers versatile foreign exchange services to our clients, so that they can efficiently manage and streamline their foreign currency and global payment needs. CXI is a trusted partner among financial institutions, corporations and retail markets around the world. To learn more, visit: www.ceifx.com