5 Currency Facts You Probably Didn't Know About the Danish Krone
Vokhid
January 20th, 2020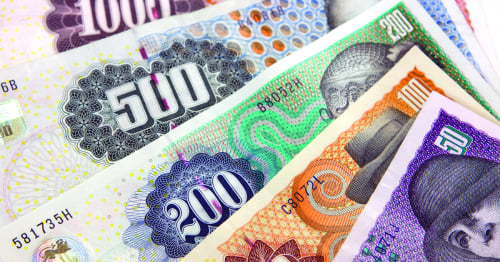 Ordering foreign currency online is easy with OnlineFX.
Where it all Began
The Danish krone is the currency of Denmark. The banknotes are printed on paper. Denmark's National bank is responsible for issuing the Danish banknotes. The Denmark krone replaced the Danish rigsdaler as the official currency of Denmark in 1873. In an effort to manage currency fluctuation risks, Denmark joined in an agreement (ERM ll) with the European Central Bank. As a result of this agreement, the Danish krone is pegged to the euro.
Majestic Money
Krone is the Danish word for "crown". While the country does have a Prime Minister, it also has a constitutional monarchy. Similar to that of the British monarchy.
Check out the regal look of Denmark's National Bank below!
National Bank of Denmark by Arne Jacobsen (photo via @BauhausMovement) pic.twitter.com/GcdbOxVwUW http://t.co/mE8HOgwah3

— VisitDenmark (@GoVisitDenmark) February 15, 2015
This Currency Goes a Little Further
Not only the official currency for mainland Denmark, but it is also used in Greenland and the Faroe Islands.
Banknote Makeover
Since 2010, the banknotes have been designed by artist Karin Birgitte Lund which feature bridges and old artifacts from the country. The bridges represent the links between different parts of the country. The artifacts show how far the country has come from the past.
Nicknames
Some of the bills have shorthand nicknames among locals. For example, the 500 Krone note can be referred to as a "plovmand" meaning "ploughman" because in previous versions of this bill, it featured a picture of a man with a plow.
The 1000 Krone note is sometimes referred to as a "tudse" meaning "toad". This is taken from the wordplay "tusinde" meaning thousand.
Don't forget to order your Danish Krone from your local CXI branch by visiting us at order.ceifx.com.
About Currency Exchange International
Currency Exchange International, CXI, is the leading provider of comprehensive foreign exchange services, risk management solutions and integrated international payments processing technology in North America. CXI's relationship-driven approach ensures clients receive tailored solutions and world-class customer service. Through innovative and trusted FX software platforms, CXI delivers versatile foreign exchange services to our clients, so that they can efficiently manage and streamline their foreign currency and global payment needs. CXI is a trusted partner among financial institutions, corporations and retail markets around the world. To learn more, visit: www.ceifx.com