How Much Currency You Need to go on Vacation to Dubai, UAE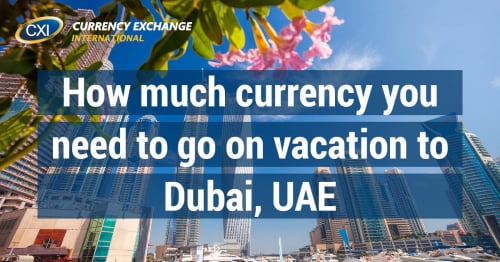 Ordering foreign currency is easy with OnlineFX.
Planning your trip to Dubai? Know how much currency you need to make sure you have a great trip! Don't forget to check out our guide for your stay in Copenhagen, too.
Transportation
In our how much currency to bring abroad chart, you'll see a 10 mile cab ride is on average about $10.07 in Dubai. Having this information on hand will give you a good idea on how much you would need to get around the city. View in PDF >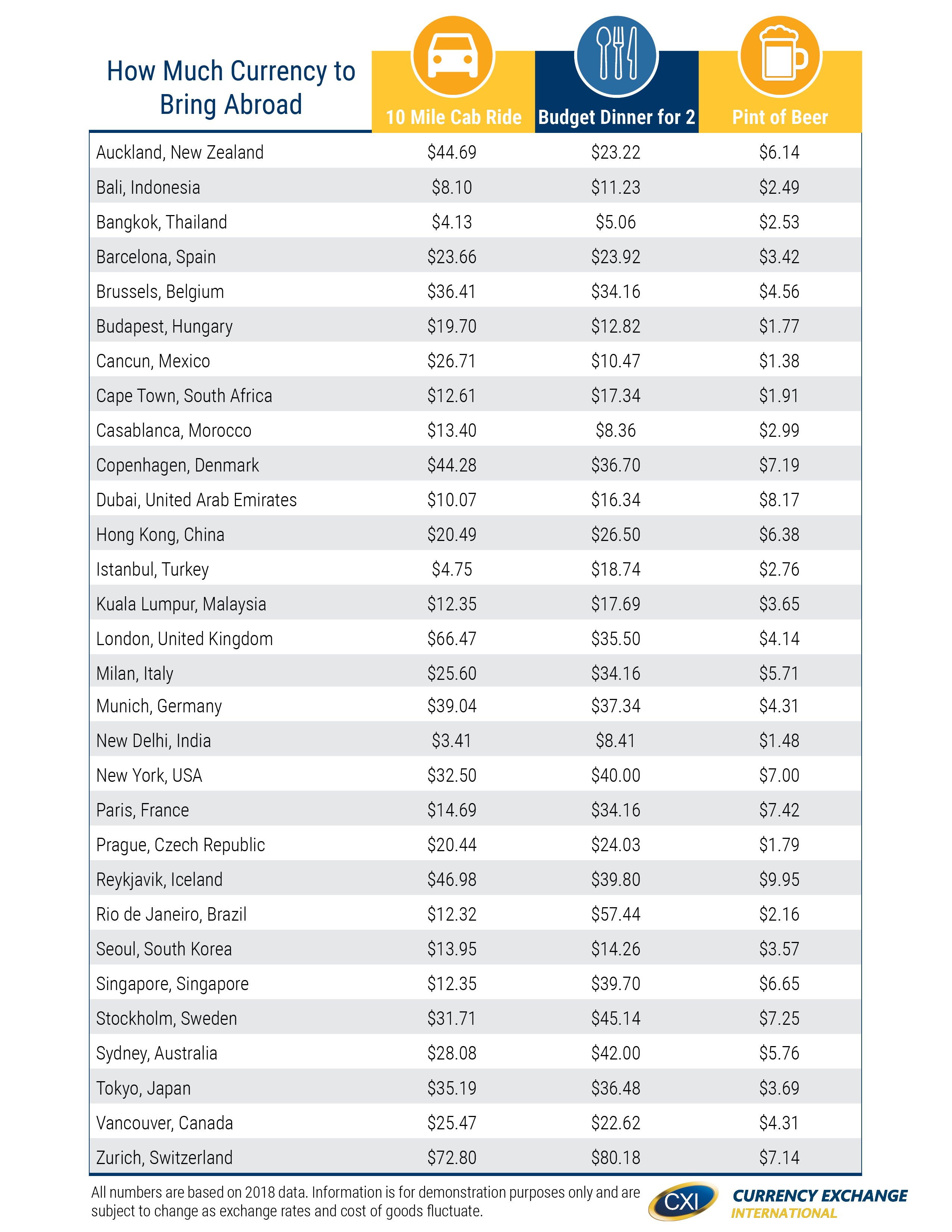 Food
Dubai is famous for some of the most luxurious experiences and breathtaking views in the world, and their restaurants certainly don't have any trouble keeping up with tourist's expectations of the city's fine hospitality. Just look at the Arabian Tea House, for example, with its beautiful view of the Burj Al Arab hotel. Shown in our how much currency to bring abroad chart above, it costs on average $16.34 for a budget dinner for two in Dubai. If you want to include some beverages, on average you're looking at about $8.17 for a pint of beer.
Currency: Emirati Dirham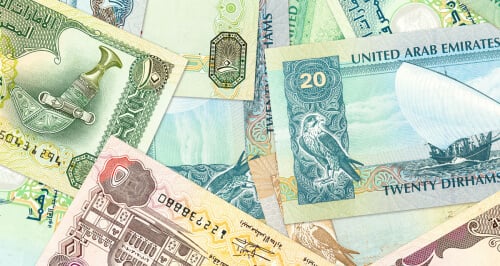 The Emirati dirham is subdivided into what the UAE calls "fils". Much like American pennies, 100 fils equates to 1 dirham. The Emirati Dirham fil/coin has five denominations, the: 1, 5, 10, 25, 50 fil. However, the 1, 5, and 10 are rarely used in trade as merchants tend to round to the nearest 25 fils. As far as banknotes go, the Emirati Dirham has eight denominations, the: 5, 10, 20, 50, 100, 200, 500, 1000 dirhams.
Curious to learn more? Check out 5 Currency Facts you probably didn't know about the Emirati Dirham. If you have leftover Dirham after your trip to the UAE, CXI will buy them back from you. If you originally received this foreign currency from CXI, then with the currency receipt we do not have any exchange fee to buy it back! Order your Emirati Dirham now.
Flights
According to Cheap Flights, the best time of the year to travel to Dubai is in January as opposed to December, when prices for airfare nearly double per person! This is great news, however, as the weather is stunning all across the UAE in January. Temperatures tend to only go as high as the mid 70's and as low as the upper 50's; beautiful weather for walking around the Dubai marina.
Don't forget before you book that flight, check out everything you need to know about the five trusted travelers programs in our video.
Vacation rentals
Hotels in Dubai, as one can imagine, can deal a very heavy price tag. A 5-star hotel can run you anywhere from $270 to $2,500 a night! If you're looking to save some money, but also looking to wake up with a glorious view of Dubai's skyscrapers.
About Currency Exchange International
Currency Exchange International, CXI, is the leading provider of comprehensive foreign exchange services, risk management solutions and integrated international payments processing technology in North America. CXI's relationship-driven approach ensures clients receive tailored solutions and world-class customer service. Through innovative and trusted FX software platforms, CXI delivers versatile foreign exchange services to our clients, so that they can efficiently manage and streamline their foreign currency and global payment needs. CXI is a trusted partner among financial institutions, corporations and retail markets around the world. To learn more, visit: www.ceifx.com