How Much Currency You Need to go on Vacation to Copenhagen, Denmark
Ordering foreign currency online is easy with OnlineFX.
Planning your trip to Copenhagen? Know how much currency you need to make sure you have a great trip! Don't forget to check out our guide for your stay in Casablanca, too.
Transportation
In our how much currency to bring abroad chart, you'll see a 10 mile cab ride is on average about $44.28 in Copenhagen. Having this information on hand will give you a good idea on how much you would need to get around the city.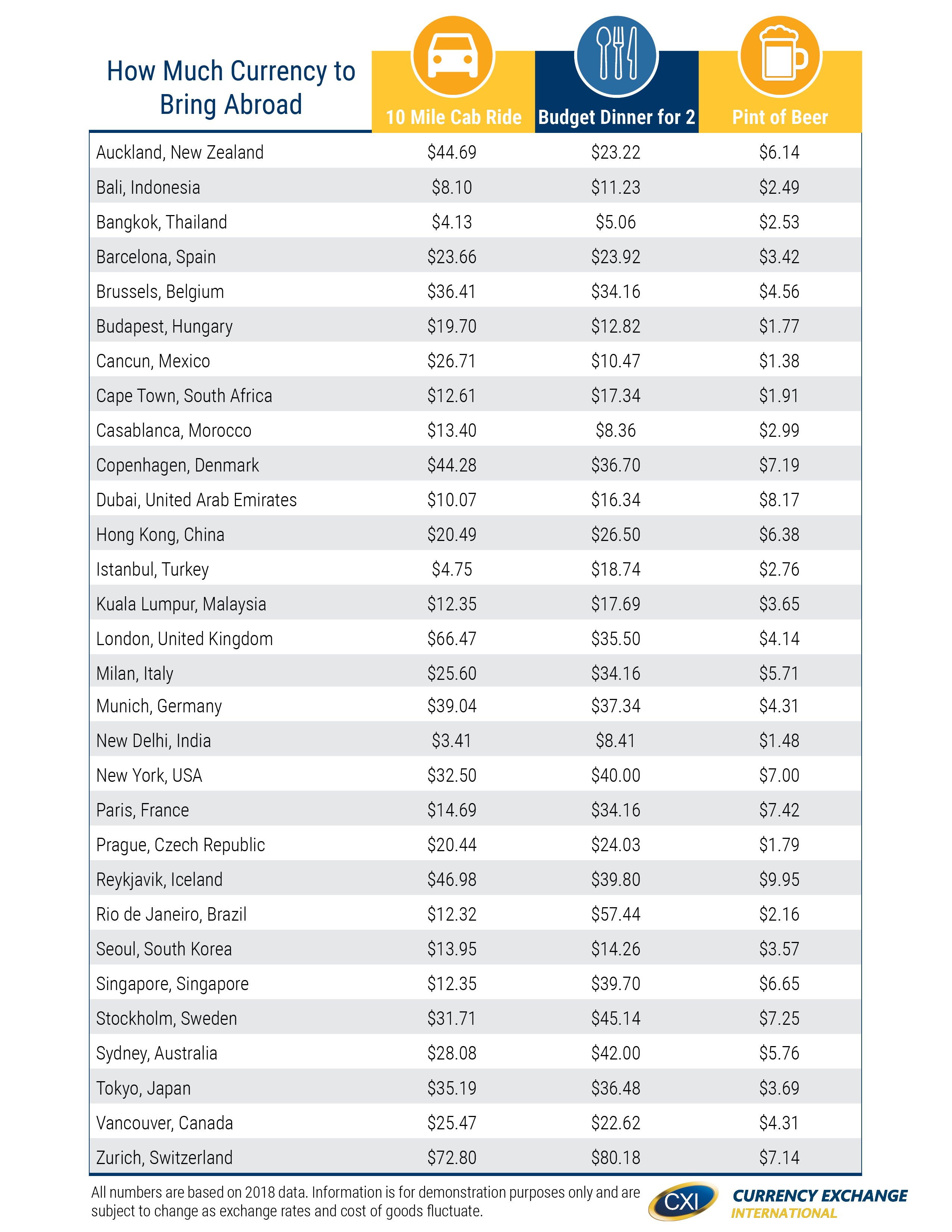 Food
Funny enough, the Danish are known for many types of mouthwatering dishes, however none of which are danishes! The Danes actually have a smorgasbord of pork and sausage dishes for all meals of the day; from plates like Aebleflæsk (cured pork belly,fried with apples, sugar, and thyme), Krebinetter (pork patties servied with peas and boiled potatoes), and Rød Pølse (the Danish equivalent of a hot dog).
If you're looking to check out one of Copenhagen's hottest spots to eat, we recommend Timo & Co's Bodil. At Bodil, you're guaranteed to find something for everyone; even vegetarians! Their food is served in a similar fashion to tapas as you order anywhere from 3-5 small dishes off of their seasonal menu.
Shown in our how much currency to bring abroad chart above, it costs on average $36.70 for a budget dinner for two in Copenhagen. If you want to include some beverages, on average you're looking at about $7.19 for a pint of beer.
Currency: Danish Krone
The Danish krone (kroner for plural) has five different banknote denominations: kr.50, kr.100, kr.200, kr.500, and kr.1000. They also have six denominations of coins that are used on a regular basis, the: kr.1, kr.2, kr.5, kr.10, kr.20, and kr. 50.
Curious to learn more? Check out 5 Currency Facts You Probably Didn't Know About the Danish Krone. If you have leftover Krone after your trip to Copenhagen, CXI will buy them back from you. If you originally received this foreign currency from CXI, then with the currency receipt we do not have any exchange fee to buy it back! Order your Danish krone now.
Flights
Round-trip tickets to Copenhagen for two typically range from about $523 USD to about $765 USD, depending on where you leave from, the airline you fly with, and when you are taking your trip, according to Expedia.
According to Cheap Flights, the best time of the year to travel to Denmark is in January as opposed to July, when prices for airfare skyrocket by 36%. If we had to guess, the more inexpensive prices for January are most likely due to the country's cold weather during this time of year.
However, even though temperatures tend to sit between the high to low 30's in January, that doesn't mean you can't bundle up and enjoy all the scenic views Copenhagen has to offer. Plus, can you imagine the kind of pictures you'll get of the city as it's covered in a nice, thin layer of snow?! Beautiful!
Don't forget before you book that flight, check out everything you need to know about the five trusted travelers programs in our video.
Vacation rentals
Hotels in Copenhagen tend to offer nightly rates that are over $100. If you're looking to save some money and aren't afraid to step into someone else's shoes and home for your vacation, we recommend checking out some of the lovely Airbnb.
About Currency Exchange International
Currency Exchange International, CXI, is the leading provider of comprehensive foreign exchange services, risk management solutions and integrated international payments processing technology in North America. CXI's relationship-driven approach ensures clients receive tailored solutions and world-class customer service. Through innovative and trusted FX software platforms, CXI delivers versatile foreign exchange services to our clients, so that they can efficiently manage and streamline their foreign currency and global payment needs. CXI is a trusted partner among financial institutions, corporations and retail markets around the world. To learn more, visit: www.ceifx.com