5 Currency Facts You Probably Didn't Know About the Emirati Dirham
Jacquelyn
February 17th, 2020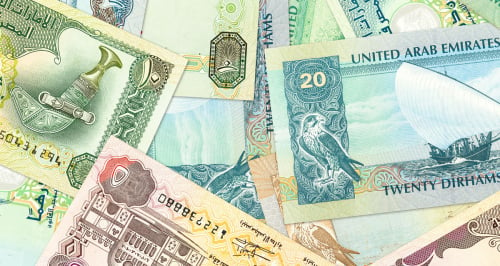 Ordering foreign currency is easy with OnlineFX.
Stuck like Glue
The United Arab Emirates Dirham is pegged to the US Dollar. This means that the rate is fixed. Since 1997, $1 has equaled about 3.6725 Dirham.
Coins
The subunits for the Dirham are called Fils. You will commonly find 25 fils, 50 fils, and 1 Dirham coins in the United Arab Emirates. Although there are 1, 5, and 10 fils coins that do exist, most prices are rounded to the nearest 25 fils so these other coins are harder to find.
Watermarks
To prevent counterfeit bills, a security measure was taken to add a Falcon watermark to all AED bills in order to prevent fake copies from being made.
United We Stand
The United Arab Emirates is a federation of 7 emirates: Ajman, Dubai, Fujairah, Ras Al Khaimah, Sharjah, and Umm Al Quwain. Before the introduction of the Dirham, each of the emirates used the currency of the closest country to it. Now they all use the same currency which is convenient when traveling within the country.
Fun Fact: Last month, the UAE celebrated its 48th Birthday on December 2nd.
Money Map
The designs on the different dirham denominations showcase beautiful architecture, animals, as well as outdoor features that are important to the area's culture. On the 5 dirham bill, the Blue Souk in Sharjah is depicted. This is the Central Market for trade and shopping.
Don't forget to order your Emirati dirham from your local CXI branch by visiting us at order.ceifx.com.
About Currency Exchange International
Currency Exchange International, CXI, is the leading provider of comprehensive foreign exchange services, risk management solutions and integrated international payments processing technology in North America. CXI's relationship-driven approach ensures clients receive tailored solutions and world-class customer service. Through innovative and trusted FX software platforms, CXI delivers versatile foreign exchange services to our clients, so that they can efficiently manage and streamline their foreign currency and global payment needs. CXI is a trusted partner among financial institutions, corporations and retail markets around the world. To learn more, visit: www.ceifx.com