5 Currency Facts You Probably Didn't Know About the Turkish Lira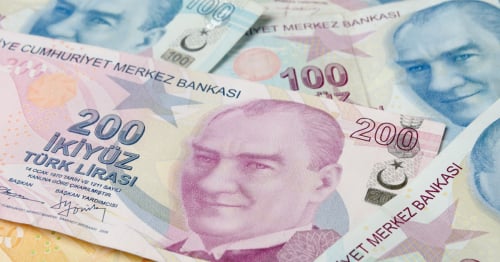 Ordering foreign currency is easy with OnlineFX.
Devaluation
The Turkish lira has suffered tremendous devaluation throughout the years. In the 1960s, $1 was about 9 Turkish lira. By 1980 it would take 80 Turkish lira to make $1. In another 20 years, it would be 620,000 to $1 and by 2005 it reached its largest point by being 1,350,000 = $1.
World Record
The currency was valued so low that the Guinness Book of World Records listed it as the "Least Valued Currency" not just once, but on two separate occasions from 1995-1996 and from 1999-2004.
Man on the Money
Mustafa Kemal Atatürk was the founder of the Republic of Turkey and its first President, serving from October 1923 through November 1938. He is regarded as one of greatest leaders in the 20th century and he is featured on all of the Turkish lira banknotes.
Kurus
Lira are divided into sub-units called Kurus. It takes 100 Kurus to make 1 Turkish lira.
Currency Symbol
In 2012, the Central Bank of the Republic of Turkey held a contest for the new currency symbol for the Turkish lira. The winning entry was created by Tülay Lale. This symbol features a half anchor with two upward facing lines. It is meant to convey that the currency is a safe harbor with the upward lines showing its rising prestige.
Don't forget to order your Turkish lira from your local CXI branch by visiting us at order.ceifx.com.
About Currency Exchange International
Currency Exchange International, CXI, is the leading provider of comprehensive foreign exchange services, risk management solutions and integrated international payments processing technology in North America. CXI's relationship-driven approach ensures clients receive tailored solutions and world-class customer service. Through innovative and trusted FX software platforms, CXI delivers versatile foreign exchange services to our clients, so that they can efficiently manage and streamline their foreign currency and global payment needs. CXI is a trusted partner among financial institutions, corporations and retail markets around the world. To learn more, visit: www.ceifx.com