5 Currency Facts You Probably Didn't Know About the US $5 Dollar Bill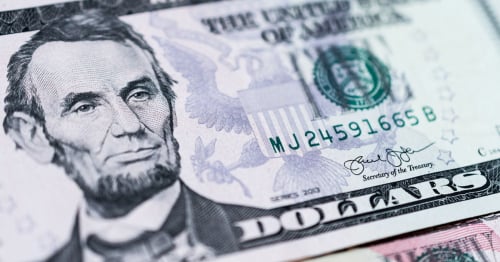 Ordering foreign currency is easy with OnlineFX.
Move Over Hamilton
In its original release, back in 1861, Lincoln wasn't the one featured on the country's first version of the $5 bill. Instead, it was the US's first Secretary of the Treasury, Alexander Hamilton. Don't forget to check out our 5 currency facts you probably didn't know about the US $1 bill.
Fin is for Five
Give your grandparents a great surprise by calling a $5 bill a "fin". This was the dubbed nickname for the note in the 19th and early 20th century; a name that comes from the German/Yiddish language. In Yiddish, "fin" means "five".
Given that our country is a melting pot of different people, languages, and cultures, it's no surprise we have some unique nicknames for our currency. Some other nicknames for the US $5 are: fiver, Lincolns, and five-spot.
Around for a Good Time, not a Long Time
Unfortunately, the $5 bill's average lifespan is almost as short as Lincoln's presidency. According to the federal reserve, the average $5 note lasts for about 5.5 years before it's recycled. Check out the video below to learn more about the US denominations, series in circulation, and the design process.
A Popular Bill Abe
The $5 dollar bill is actually a very popular bill in circulation. Second only to the $1 dollar bill, the $5 dollar bill has one of the highest amount of copies in circulation all across the world. For a point of reference, 825.6 billion $5 bills were printed in 2018 alone.
New Design, Who this?
If you have a $5 dollar bill on hand, go ahead and take a look at it. If it was made before 2008, then you'll be able to notice that it doesn't quite look like the fancy fins banks will distribute to you.
Released on March 13, 2008, the newest $5 bills features two new watermarks, and sports a more stylish, grey and green design. It's worth noting that the redesign was due to security issues after it was discovered that hundreds of counterfeit fins had been printed and dispersed all throughout the country.
Grab a magnifying glass to take a closer look at the microprinting on the $5 note. https://t.co/ayOR2XzbH2 pic.twitter.com/GPrboIXQnp

— U.S. Currency (@uscurrency) May 22, 2019
About Currency Exchange International
Currency Exchange International, CXI, is the leading provider of comprehensive foreign exchange services, risk management solutions and integrated international payments processing technology in North America. CXI's relationship-driven approach ensures clients receive tailored solutions and world-class customer service. Through innovative and trusted FX software platforms, CXI delivers versatile foreign exchange services to our clients, so that they can efficiently manage and streamline their foreign currency and global payment needs. CXI is a trusted partner among financial institutions, corporations and retail markets around the world. To learn more, visit: www.ceifx.com