5 Fascinating Facts about the Bahamian Dollar
Jacquelyn
April 28th, 2020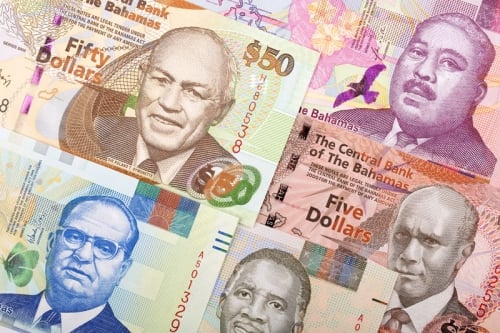 Ordering foreign currency is easy with OnlineFX.
Are you heading to the Bahamas this summer? Travel tip: Get to know their currency beforehand with these fun facts! Don't forget to exchange your currency before you head over!
The Official Currency
The official currency of the Bahamas is the Bahamian dollar. The Bahamian dollar is also the official currency of the Turks and Caicos Islands.
The ISO code is BSD and it is sometimes abbreviated as B$ to distinguish it from other dollars. The U.S. dollar is another currency that is also accepted in the Bahamas.
How the Bahamian dollar Came Around
After World War II, the British government began losing power on its colonial empire. In 1964, the Bahamas became self-governing, and issued the Bahamian dollar shortly after, in 1966.
Finally, in 1973, the Bahamas became fully independent. The Bahamian dollar replaced the pound at a rate of 1 dollar to 7 shillings at the time.
The Bahamian dollar Banknotes
The Central Bank of The Bahamas issues banknotes in denominations of B$0.50 B$1, B$5, B$10, B$20, B$50, and B$100. All of these banknotes have been going through changes over recent years in order to prevent forgery.
The Bahamian dollar is typically on par with the U.S. dollar exchange rate.
Watermarks and Features
Each banknote has different features in order to differentiate them. B$0.50, B$10, and B$100 banknotes all feature Queen Elizabeth II, the current queen of England.
Other people featured include Roland Theodore Symonette and Milo Butler, who are political figures of the Bahamas. The watermarks are printed as electrotypes, which engrave the banknotes in a special way.
The watermarks include national landmarks like Nassau Harbor and The Central Bank of Bahamas building. The blue marlin is also on the B$100 banknote, which is one of the national animals.
The Bahamian dollar within their Economy
The Central Bank of the Bahamas aims to maintain stability to keep parity between the U.S. dollar and the Bahamian dollar.
The Bahamian economy is supported mostly by the tourism and fishing industries. They are able to support the stability of their dollar through trade. Because of this, the Bahamian GNP (Gross National Product) is one of the highest in the region.
About Currency Exchange International
Currency Exchange International (CXI) is a leading provider of foreign currency exchange services in North America for financial institutions, corporations and travelers. Products and services for international travelers include access to buy and sell more than 90 foreign currencies, multi-currency cash passport's, traveler's cheques and gold bullion coins and bars. For financial institutions and corporations, our services include the exchange of foreign currencies, international wire transfers, global EFT, the purchase and sale of foreign bank drafts, international traveler's cheques, and foreign cheque clearing through the use of CXI's innovative CEIFX web-based FX software www.ceifx.com