5 Intriguing Facts About the Dominican Peso
Jacquelyn
March 18th, 2019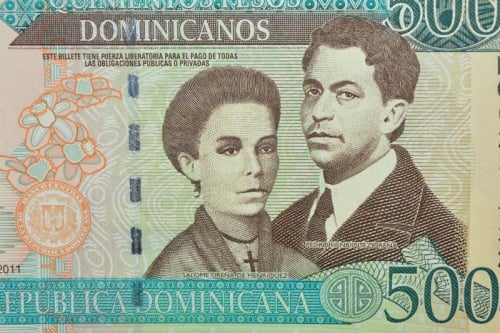 Ordering foreign currency is easy with OnlineFX.
If you're thinking of visiting the sunny country of the Dominican Republic, you should get familiar with their currency! Before you exchange your currency with CXI, see just how much you know about the Dominican peso (DOP).
Check out CXI's student services if you're a student traveling abroad. You can save money by traveling in a group!
What It's Known As
Locally, this currency is known as peso oro, which directly translates to gold weight. The Dominican peso uses the same dollar symbol, $, as the US. In order to differentiate between them, the symbol RD$ is used.
The currency code of the Dominican peso is DOP. Take a closer look at the new details in the National Coat of Arms you will find on the RD$10 and RD$50 bills. These changes were made by the Central Bank of the Dominican Republic in 2017 to prevent fraud.
The Origin of the Dominican peso
After the Dominican Republic gained independence from Haiti, the peso was introduced in 1844. From 1891 to 1897, a second currency, the franco, was introduced.
The first issued national Dominican peso banknotes were introduced in 1947.
The Banknotes
At CXI, these banknotes are exchanged in denominations of $50, $100, $200, $500, $1,000, and $2,000. Some of the watermarks include the Cathedral of Santa María la Menor, the National Palace, and the Mirabel sisters.
For security purposes, the banknotes have a watermark of Juan Pablo Duarte who was one of the founding fathers of the Dominican Republic. In addition, there is a golden stripe on the back of the notes when laid flat.
The Dominican Republic has the best-rated economy in the Caribbean. The economy is mostly based on tourism and agriculture there, with industry surpassing agriculture in recent years.
The tourism industry contributes more than 1 billion USD to the Dominican economy every year.
Where to Find the DOP
The Central Bank of the Dominican Republic issues the DOP. You can easily order the Dominican peso online, or you can exchange it at one of our locations.
Scotiabank is the only international banking corporation that operates in the country, although there are other retail banks that citizens can use as well.
Banking became much more secure after Baninter, a large banking corporation, fell apart due to fraud. This caused financial regulations to strengthen.
The Central Bank of the Dominican Republic has recently made changes to its RD$100 bill. Their website provides news updates to their currency as they come.
About Currency Exchange International
Currency Exchange International (CXI) is a leading provider of foreign currency exchange services in North America for financial institutions, corporations and travelers. Products and services for international travelers include access to buy and sell more than 90 foreign currencies, multi-currency cash passport's, traveler's cheques and gold bullion coins and bars. For financial institutions and corporations, our services include the exchange of foreign currencies, international wire transfers, global EFT, the purchase and sale of foreign bank drafts, international traveler's cheques, and foreign cheque clearing through the use of CXI's innovative CEIFX web-based FX software www.ceifx.com