Bank of England Features J.M.W. Turner on the New £20 Note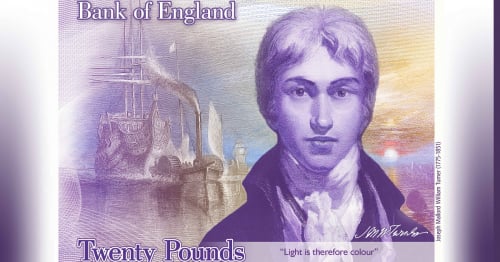 Image: flickr/bankofengland
Ordering foreign currency online is easy with OnlineFX.
Last week the Bank of England released images for the new £20 polymer banknote. The note comes as the final edition to the polymer pound sterling series. The Bank of England's move to polymer notes is due to the material's benefits. Polymer banknotes, as the BoE has stated, offer a cleaner, safer, and stronger means of payment than paper notes. 
Polymer material is more resistant to dirt, can handle more enhanced security features, and are much more durable than paper; reducing the bank's carbon footprint significantly. Sarah John, BoE's Chief Cashier also explains that "Our polymer notes are much harder to counterfeit and, with the £20 being our most common note, this marks a big step forward in our fight against counterfeiting."
Who is featured on the new note?
In addition to aiding the Bank of England's campaign to fight counterfeit notes, the new £20 also comes as a means of showcasing one of the country's most celebrated artists, J.M.W. Turner. Turner was a masterful artist, whose self portrait is featured on the back of the note. 
New £20 note to feature Turner Contemporary's iconic building.

This morning, at Turner Contemporary, the Governor of the Bank of England, Mark Carney, unveiled the design of the new £20 note featuring the artist #JMWTurner.https://t.co/o8NKNOfWtt pic.twitter.com/gbBWMYwzfI

— Turner Contemporary (@TCMargate) October 10, 2019
In response to the Bank's decision to go with Turner as the featured artist, Mark Carney, Governor of the Bank of England adds that, "Turner is perhaps the single most influential British artist of all time. His work was transformative, bridging the classical and modern worlds. His influence spanned his lifetime and is still apparent today."
When will the new 

£2
0

note come out?

The £20 J.M.W. Turner note will not be in circulation until February 20th, 2020. The note will mark the fourth addition to the Bank of England's new polymer note series to be released, following the release of the new £50, which features the famous, English scientist and father of computer science, Alan Turing.

 

About Currency Exchange International Currency Exchange International, CXI, is the leading provider of comprehensive foreign exchange services, risk management solutions and integrated international payments processing technology in North America. CXI's relationship-driven approach ensures clients receive tailored solutions and world-class customer service. Through innovative and trusted FX software platforms, CXI delivers versatile foreign exchange services to our clients, so that they can efficiently manage and streamline their foreign currency and global payment needs. CXI is a trusted partner among financial institutions, corporations and retail markets around the world. To learn more, visit: www.ceifx.com