Bank of England Features Alan Turing on the New £50 Note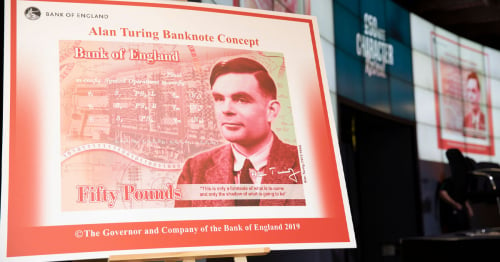 Image: flickr/bankofengland
Ordering foreign currency online is easy with OnlineFX.
Who is Alan Turing?
If you're reading this on a computer, if you drove to work and had to stop at a traffic light, if you made a call this morning with a smartphone, or even if you've checked on your dog a few times today with a pet camera, you've experienced some of the end results of Alan Turing's work.
Alan Turing is the father of computer science, and the man who's either been directly or indirectly involved in the development of a lot of incredible pieces of technology. Some are even life saving and used in hospitals all over the world!
Mark Carney, Governor of the Bank of England, commented:
"Alan Turing was an outstanding mathematician whose work has had an enormous impact on how we live today. As the father of computer science and artificial intelligence, as well as a war hero, Alan Turing's contributions were far ranging and path breaking. Turing is a giant on whose shoulders so many now stand."
Alan Turing helped save many lives during World War Two. Our new £50 will celebrate his life and work. Find out more https://t.co/pGYaUrwVt6 #Turing50 #ThinkScience pic.twitter.com/1WGqt4VBpD

— Bank of England (@bankofengland) July 25, 2019
The Honorable Mentions
Back in November 2019, the Bank of England announced that they would be unveiling a new £50 note that will showcase an English scientist.
A lot of highly notable individuals were nominated for the honor of replacing Matthew Boulton and James Watt (two of England's most celebrated innovators from the industrial era) on the £50 note.
Some of the honorable mentions include famed scientist Stephen Hawking, astronomers Caroline and William Herschel, and Nobel prize winning Chemist, Dorothy Hodgkin.
When will Turing be on the £50 note?
The £50 Alan Turing note will not be in circulation until 2021. However, it's sure to be an ever-lasting note once it reaches banks and consumers alike. The bank note will be yet another one to be produced with polymer material; ensuring the note will last as long as Turing's legacy.
About Currency Exchange International
Currency Exchange International, CXI, is the leading provider of comprehensive foreign exchange services, risk management solutions and integrated international payments processing technology in North America. CXI's relationship-driven approach ensures clients receive tailored solutions and world-class customer service. Through innovative and trusted FX software platforms, CXI delivers versatile foreign exchange services to our clients, so that they can efficiently manage and streamline their foreign currency and global payment needs. CXI is a trusted partner among financial institutions, corporations and retail markets around the world. To learn more, visit: www.ceifx.com