Boris Johnson & Jeremy Hunt declare Irish backstop dead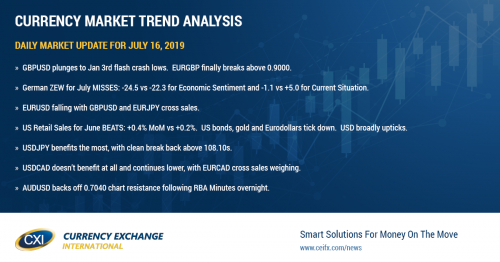 Take control of your international payments with CXI FX Now.
• Zero transfer fees & great rates
• Fast international payments
• Safety and security
• Unparalleled customer service
• Consultative approach
Learn more about CXI's international payment services for businesses or call our trading desk directly at 1-833-572-8933.
Get real-time market coverage on twitter at @EBCTradeDesk or sign up here.
SUMMARY
•
GBPUSD plunges to Jan 3rd flash crash lows.  EURGBP finally breaks above 0.9000.
•
German ZEW for July MISSES: -24.5 vs -22.3 for Economic Sentiment and -1.1 vs +5.0 for Current Situation.
•
EURUSD falling with GBPUSD and EURJPY cross sales.
•
US Retail Sales for June BEATS: +0.4% MoM vs +0.2%.  US bonds, gold and Eurodollars tick down.  USD broadly upticks.
•
USDJPY benefits the most, with clean break back above 108.10s.
•
USDCAD doesn't benefit at all and continues lower, with EURCAD cross sales weighing.
•
AUDUSD backs off 0.7040 chart resistance following RBA Minutes overnight.
•
Slew of Fed-speak on the way today, including Powell at 1pmET. 
ANALYSIS
USDCAD
Commodity currencies are holding up rather well this morning as the pound gets pounded over in Europe.  Trend-line chart resistance in the 1.3050s in USDCAD (which capped prices yesterday) seemed to act as new support in Asian and early European trade overnight during the onslaught of GBPUSD selling, but it has since given way as some GBP shorts take profits.  US Retail Sales for June just came in and the numbers beat expectations on the headline (+0.4% MoM vs +0.2%) and the ex-autos measure (+0.4% MoM vs +0.1%).  This has seen some broad, albeit mild, USD buying come in as US bond yields tick higher, but USDCAD is not going along for the ride so far (which we think is a troubling development technically).  The EURCAD cross has broken down to a new 2yr low this morning (falls below Fibonacci support in the 1.4640s) and we think this is part in parcel what is dragging USDCAD lower here.  Fed-speak will be the feature for the rest of the session today, with Bostic and Bowman currently speaking, and more to come from Kaplan (12pmET), Powell (1pmET) and Evans (3:30pmET).
USDCAD DAILY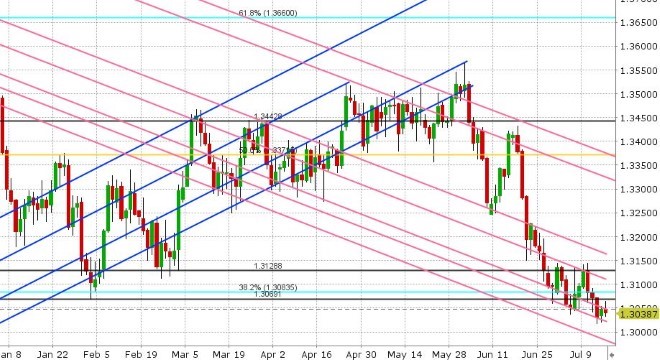 USDCAD HOURLY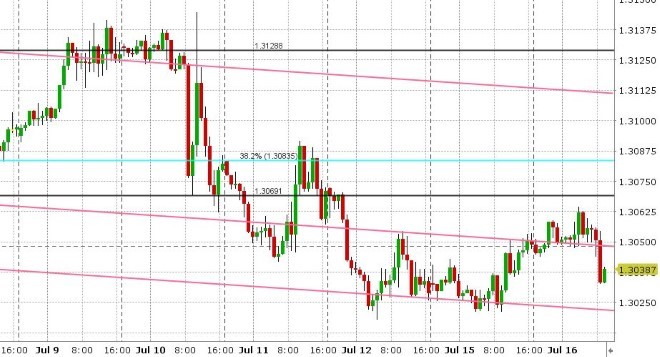 AUG CRUDE OIL DAILY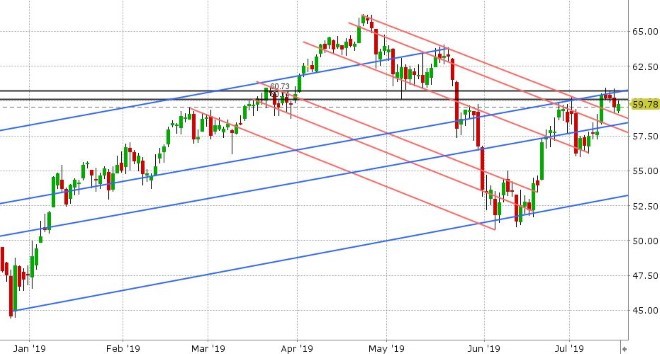 ---
EURUSD
Euro/dollar is having a rough day so far and it all started after broad USD buying in NY trade yesterday saw the market slip below trend-line support in the 1.1260s (see hourly chart).  This swung the momentum back in the favor of sellers in our opinion, and when attempts to regain this level failed in Asian trade overnight, it made the market vulnerable to downside surprises.  The first surprise came in the form of some negative Brexit news, which saw GBPUSD plunge lower, and then from the German ZEW Survey for July, which got reported below expectations yet again (-24.5 vs -22.3 for Economic Sentiment and -1.1 vs +5.0 for Current Situation).  The German bund yield is sharing in the concern today as it slips back below -0.30% this morning and we're seeing a big sell wave come into the EURJPY cross  as well (which to us signals "risk-off").  EURUSD has made a bee-line for chart support in the 1.1210s and last week's new fund short positions can breathe a sigh of relief as two attempts to get back above the 1.1280s, and re-challenge the market's downtrend, have failed.  Sellers are now back in charge in our opinion.
EURUSD DAILY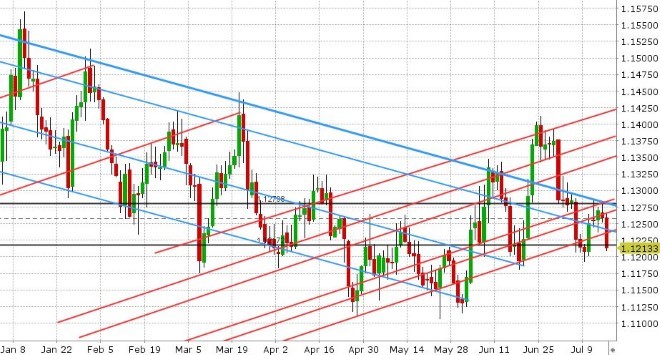 EURUSD HOURLY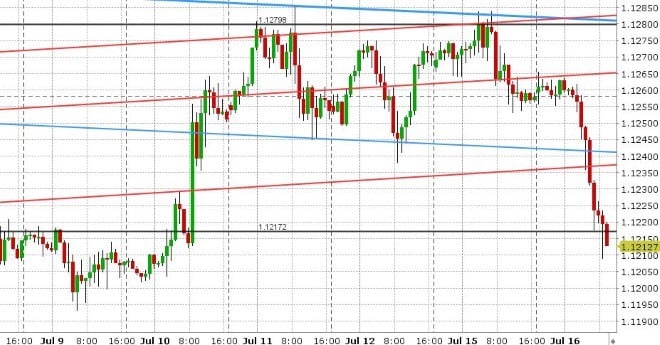 AUG GOLD DAILY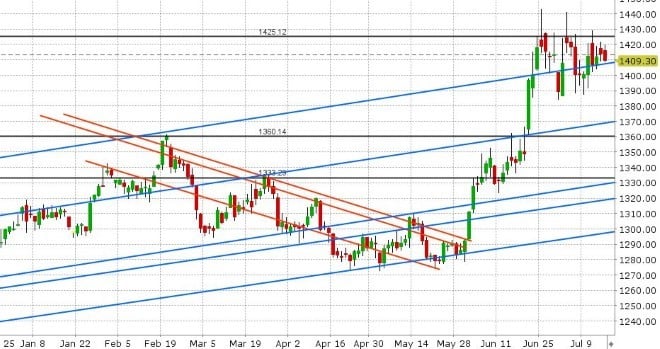 ---
GBPUSD
UK Tory leadership rivals, Boris Johnson and Jeremy Hunt, have declared the Northern Ireland backstop "dead" in a debate earlier today and promised to throw it out of any deal they negotiate with the EU, according to the Irish Times.  This was music to the ears for the fund short position in GBPUSD and left anybody holding longs from last week's bounce in a mad dash to get out of the market, as one could make the argument that "no-deal" Brexit risks have now gone up.  GBPUSD has collapsed lower to the January 3rd flash crash lows this morning and EURGBP has finally broken out above the 0.9000 mark.  Some GBP buyers have emerged at GBPUSD support at 1.2410 and EURGBP resistance in the 0.9040s, but we would surmise that this is short covering on profitable positions more than anything else.  The UK reported decent wage growth in its May Employment Report today (+3.4% 3M/Yr vs +3.1% exp) but it appears traders don't see this moving the needle for the Bank of England at all given increased Brexit risks.
GBPUSD DAILY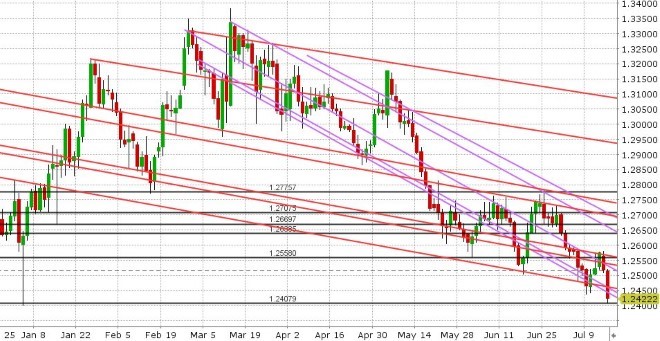 GBPUSD HOURLY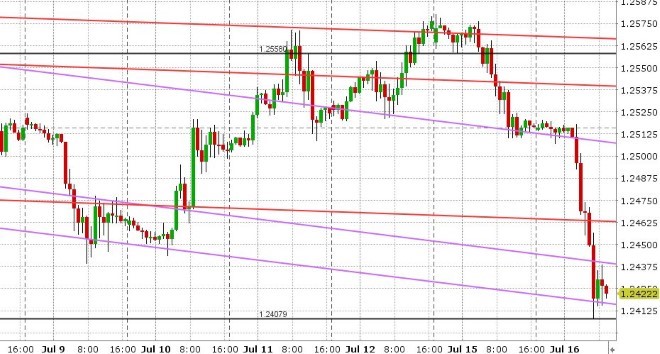 EURGBP DAILY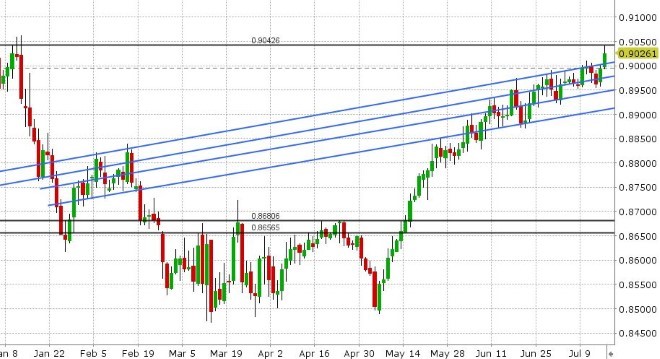 ---
AUDUSD
The Aussie, like the CAD (again), is holding up well as commodity currencies avoid all the negativity going on in Europe this morning.  Chart resistance in the 0.7040s was tested in Asian trade overnight and we saw the market pull back from these levels after the RBA Minutes came out.  The Reserve Bank of Australia confirmed why it felt a rate cut was necessary and while it left the door open for further cuts, it wasn't so clear as to the timing next time around and confirmed the "if-needed" language we read in the RBA's statement earlier this month (which is not so dovish language if you ask us).
AUDUSD DAILY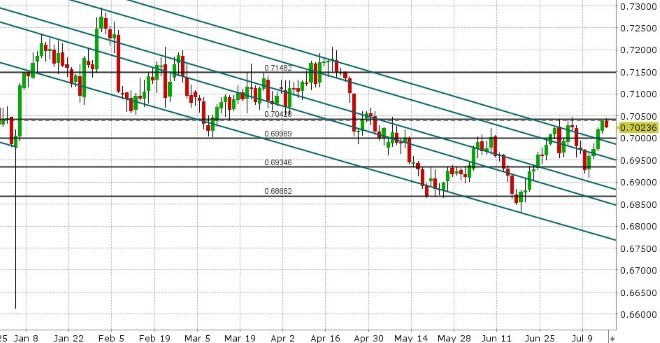 AUDUSD HOURLY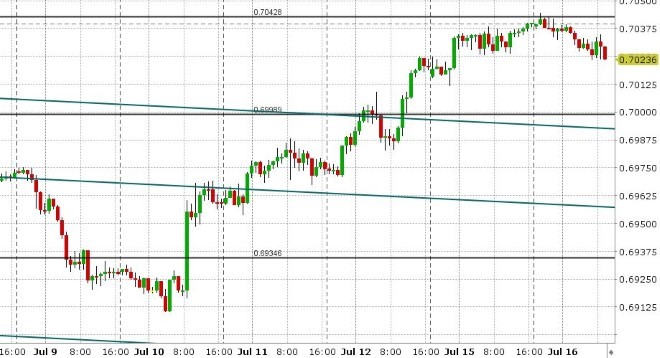 SEP COPPER DAILY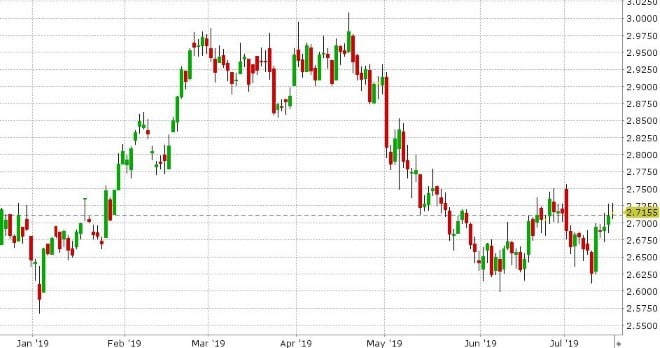 ---
USDJPY
Dollar/yen is breaking higher now with the beat on US Retail Sales data for June, as US yields seem to be responding the most (broader USD reaction much more muted).  US 10s have shot back up to 2.13% and they are taking the German bund yield higher with them.  USDJPY is trading back above yesterday's and this morning's chart resistance level at 108.10, and we think this now portends a move the 108.30s.  All this being said, we don't think this morning's positive headlines will sway the Fed when it meets later this month because, as we've said before, they are not looking at what's going on domestically.
USDJPY DAILY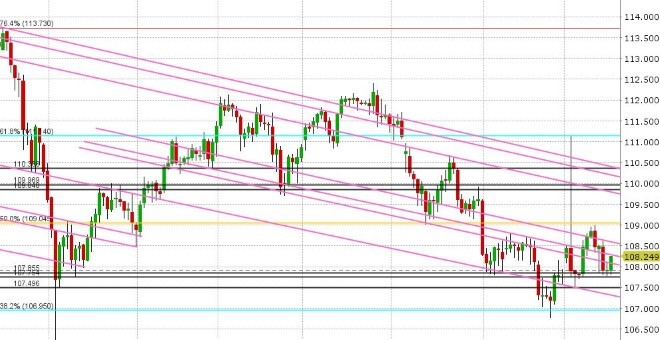 USDJPY HOURLY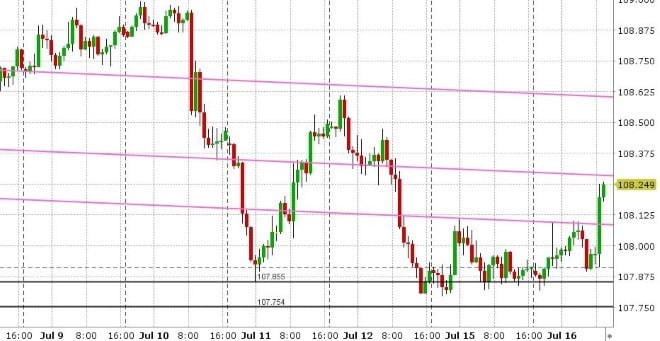 US 10YR BOND YIELD DAILY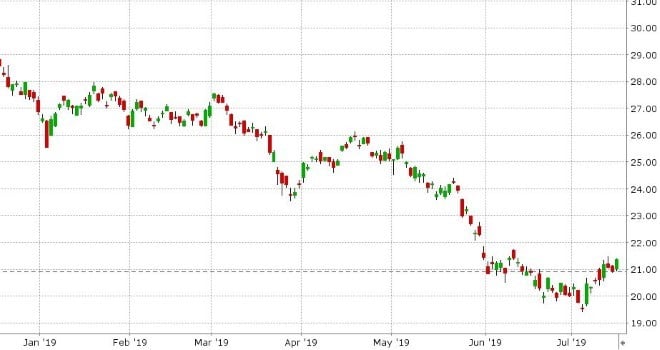 Charts: TWS Workspace
---
About the Author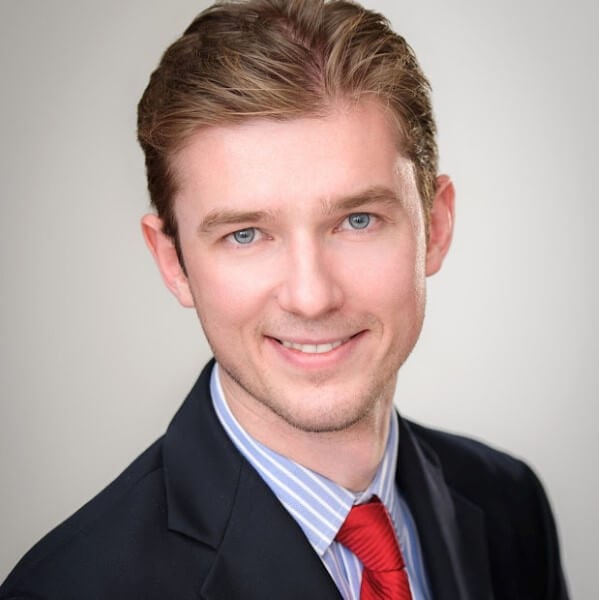 About Currency Exchange International
Currency Exchange International, CXI, is the leading provider of comprehensive foreign exchange services, risk management solutions and integrated international payments processing technology in North America. CXI's relationship-driven approach ensures clients receive tailored solutions and world-class customer service. Through innovative and trusted FX software platforms, CXI delivers versatile foreign exchange services to our clients, so that they can efficiently manage and streamline their foreign currency and global payment needs. CXI is a trusted partner among financial institutions, corporations and retail markets around the world. To learn more, visit: www.ceifx.com
This publication has been prepared by Currency Exchange International for informational and marketing purposes only. Opinions, estimates and projections contained herein are our own as of the date hereof and are subject to change without notice. The information and opinions contained herein have been compiled or arrived at from sources believed reliable, but no representation or warranty, express or implied, is made as to their accuracy or completeness and neither the information nor the forecast shall be taken as a representation for which Currency Exchange International, its affiliates or any of their employees incur any responsibility. Neither Currency Exchange International nor its affiliates accept any liability whatsoever for any loss arising from any use of this information. This publication is not, and is not constructed as, an offer to sell or solicitation of any offer to buy any of the currencies referred to herein, nor shall this publication be construed as an opinion as to whether you should enter into any swap or trading strategy involving a swap or any other transaction. The general transaction, financial, educational and market information contained herein is not intended to be, and does not constitute, a recommendation of a swap or trading strategy involving a swap within the meaning of U.S. Commodity Futures Trading Commission Regulation 23.434 and Appendix A thereto. This material is not intended to be individually tailored to your needs or characteristics and should not be viewed as a "call to action" or suggestion that you enter into a swap or trading strategy involving a swap or any other transaction. You should note that the manner in which you implement any of the strategies set out in this publication may expose you to significant risk and you should carefully consider your ability to bear such risks through consultation with your own independent financial, legal, accounting, tax and other professional advisors. All Currency Exchange International products and services are subject to the terms of applicable agreements and local regulations. This publication and all information, opinions and conclusions contained in it are protected by copyright. This information may not be reproduced in whole or in part, or referred to in any manner whatsoever nor may the information, opinions and conclusions contained in it be referred to without the prior express written consent of Currency Exchange International.