Caixan Manufacturing PMI lifts sentiment overnight, but markets now bracing for potentially negative US NFP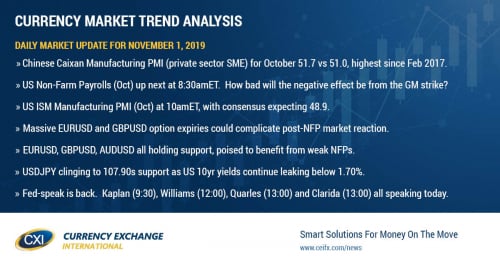 Take control of your international payments with CXI FX Now.
• Zero transfer fees & great rates
• Fast international payments
• Safety and security
• Unparalleled customer service
• Consultative approach
Learn more about CXI's international payment services for businesses or call our trading desk directly at 1-833-572-8933.
Get real-time market coverage on twitter at @EBCTradeDesk or sign up here.
SUMMARY
Chinese Caixan Manufacturing PMI (private sector SME) for October 51.7 vs 51.0, highest since Feb 2017.
US Non-Farm Payrolls (Oct) up next at 8:30amET.  How bad will the negative effect be from the GM strike?
US ISM Manufacturing PMI (Oct) at 10amET, with consensus expecting 48.9.
Massive EURUSD and GBPUSD option expiries could complicate post-NFP market reaction.
EURUSD, GBPUSD, AUDUSD all holding support, poised to benefit from weak NFPs.
USDJPY clinging to 107.90s support as US 10yr yields continue leaking below 1.70%.
Fed-speak is back.  Kaplan (9:30), Williams (12:00), Quarles (13:00) and Clarida (13:00) all speaking today.
ANALYSIS
USDCAD
Dollar/CAD closed above 1.3160 yesterday after US yields stablished in afternoon trade.  A stronger than expected Caixan Manufacturing PMI for October out of China spurred some broad, "risk-on", USD selling in Asian markets last night, which then saw USDCAD probe back towards the 1.3140s.  This optimism is being dialed back a bit now as traders await the US Non-Farm Payrolls report for October, which could be bad due to the GM strike.  The consensus estimate is for +89k new jobs, wage growth of +0.3% MoM / +3.0% YoY, and an unemployment rate of 3.6%.  Key chart support today lies in the 1.3130s, then the 1.3100 level.  The upside levels to watch are the 1.3180s and then the 1.3220-30s (should we get a better than expected report). 
USDCAD DAILY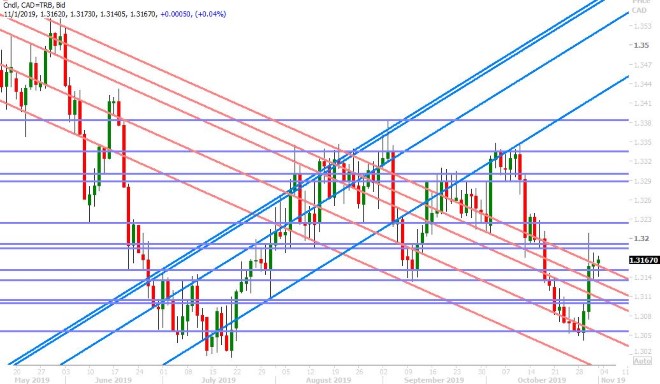 USDCAD HOURLY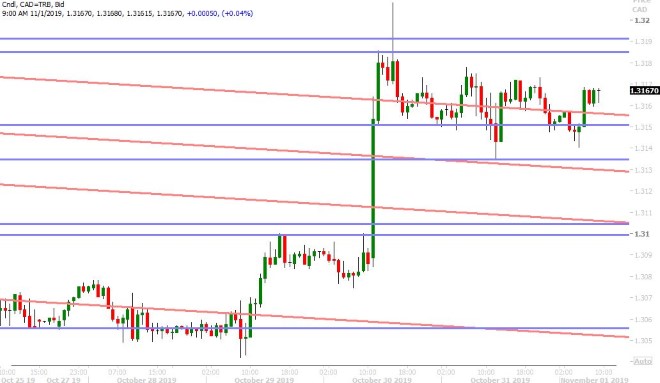 DEC CRUDE OIL DAILY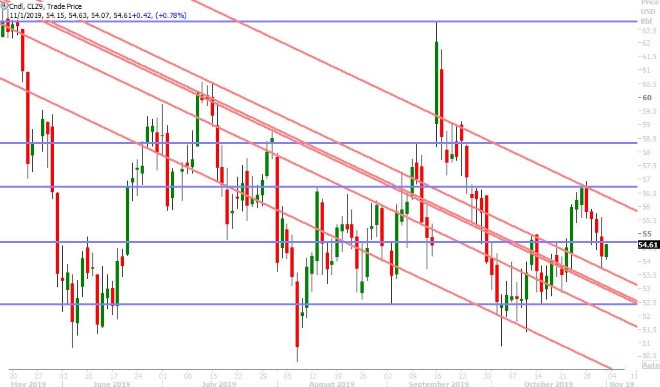 EURUSD
The EUR bulls are not giving up hope yet, despite yesterday's failed breakout attempt above the 1.1160s.  The 1.1140s held into the NY close yesterday and we saw buyers emerge at this level yet again in London trade today.  We think weaker than expected US NFP numbers could be the catalyst for a clean break to the upside for EURUSD, however today's raft of massive option expiries could complicate the post report market reaction.  Over 3blnEUR rolls off at the 1.1150 strike and over 5blnEUR is set to expire at 1.1200, all at 10amET.
EURUSD DAILY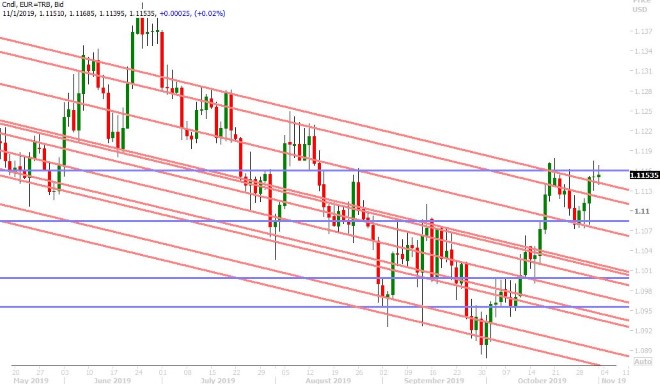 EURUSD HOURLY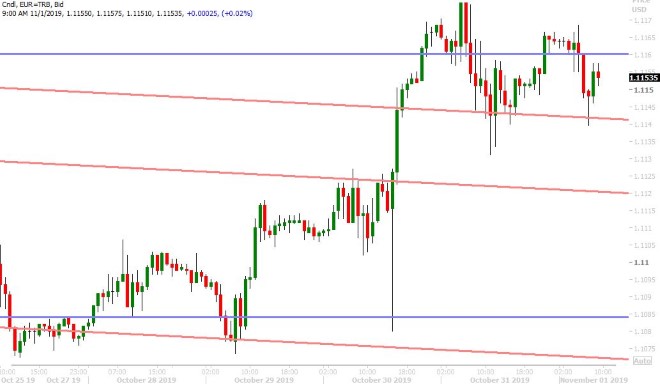 DEC GOLD DAILY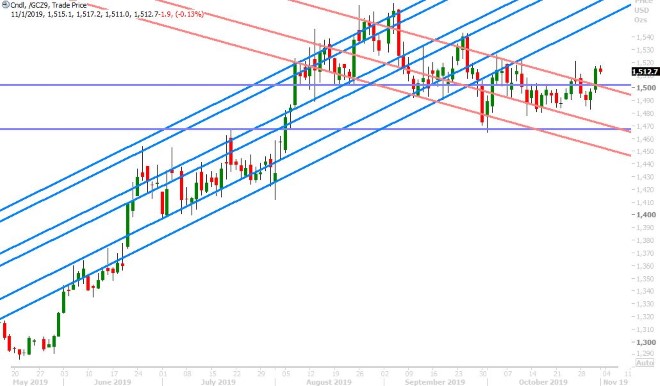 GBPUSD
Sterling didn't have a great NY close by virtue of GBPUSD slipping below the 1.2950 level, but the "risk-on" move from the beat on the Chinese Caixan Manufacturing PMI did the trick and got the market back above it.  Buyers then emerged on the dip in London trade, and we now have a GBPUSD market poised to benefit from a weak US NFP report.  Similar to EURUSD however, there are massive option expiries today to consider for GBPUSD today, likely Brexit-day hedges (recall Oct 31st was supposed to be the day the UK left the EU).  Over 1blnGBP rolls off at the 1.2950 strike and over 2.4blnGBP is set to expire at the 1.2900 level.
GBPUSD DAILY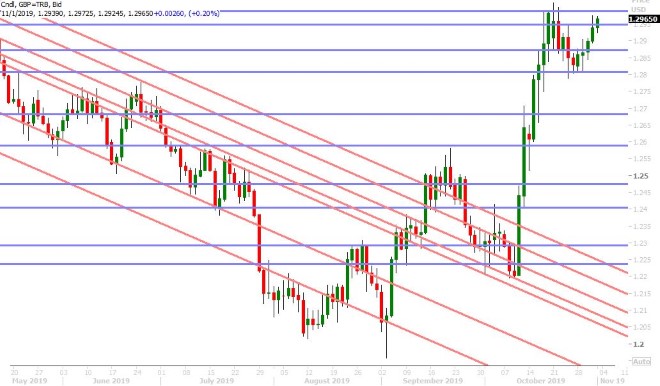 GBPUSD HOURLY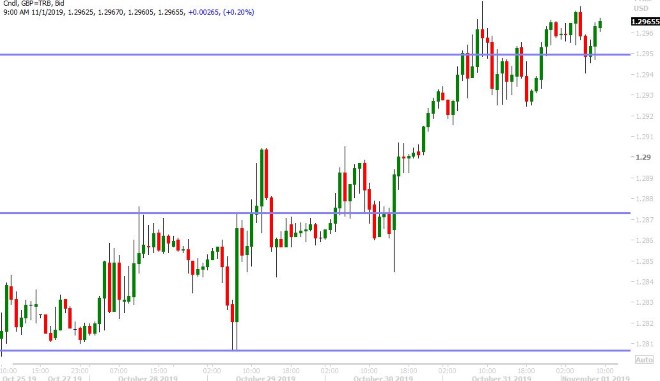 EURGBP DAILY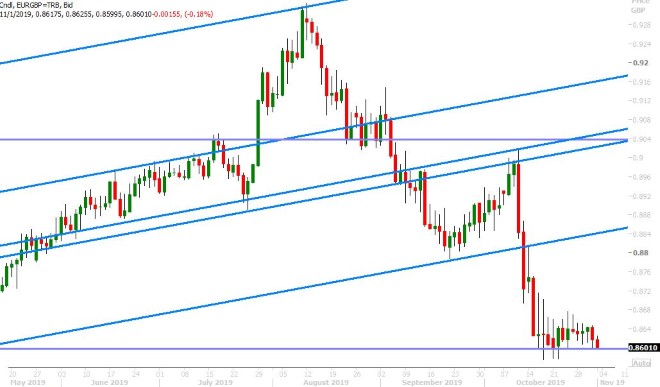 ---
AUDUSD
The Aussie has displayed a very similar chart pattern to both EURUSD and GBPUSD in overnight trade, with the saving grace for bulls being the market's continued ability to hold the 0.6890s.  The Chinese Caixan Manufacturing PMI for October was reported at 51.7 vs 51.0, which was the strongest showing of private, SME manufacturing sentiment since February 2017.  Over 1.4blnAUD in options expire at the 0.6900 strike at 10amET this morning.
AUDUSD DAILY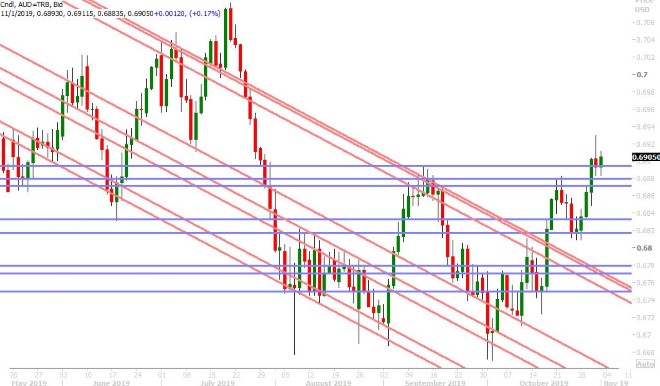 AUDUSD HOURLY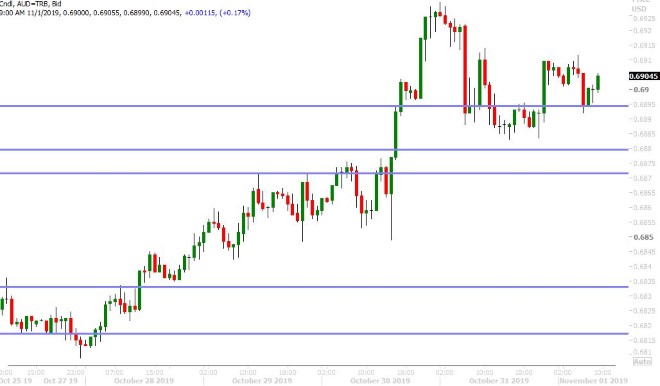 USDCNH DAILY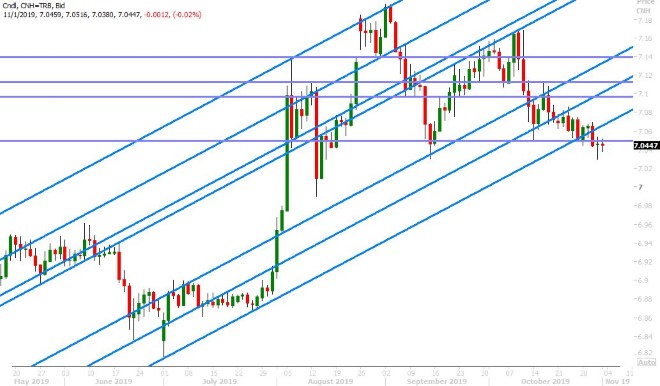 ---
USDJPY
Dollar/yen continues to flounder around chart support in the 107.90s this morning as the broader markets brace for a potentially disappointing US Non-Farm Payrolls report.  US 10yr yields remain below the 1.70%, which is not great technically speaking.  Yesterday's daily candle for the S&P 500 futures (which was not technically a bearish outside side) doesn't look all that pretty as well.  The US reports its October ISM Manufacturing PMI at 10amET this morning and the consensus expectation here is for 48.9.
USDJPY DAILY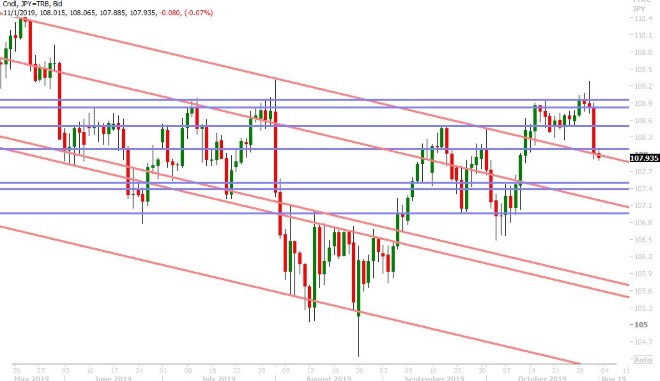 USDJPY HOURLY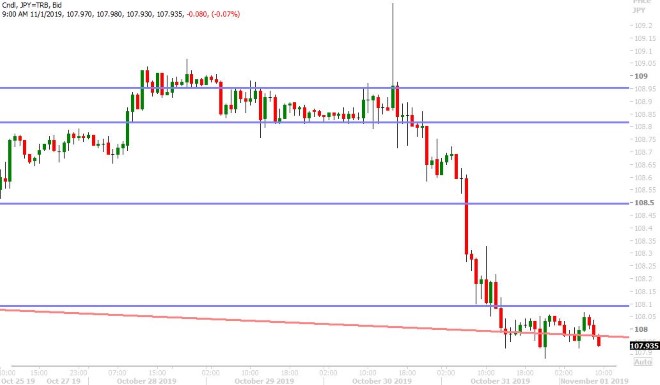 US 10YR BOND YIELD DAILY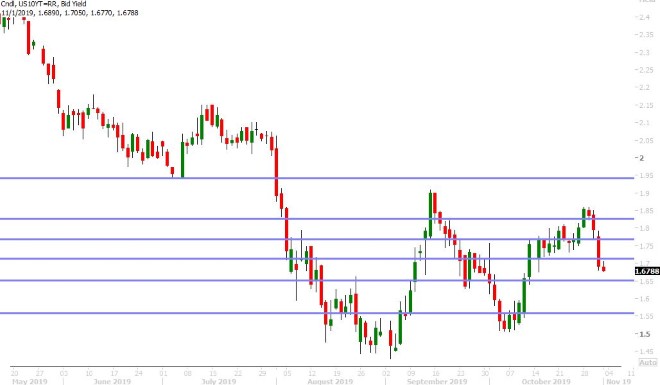 Charts: Reuters Eikon
---
About the Author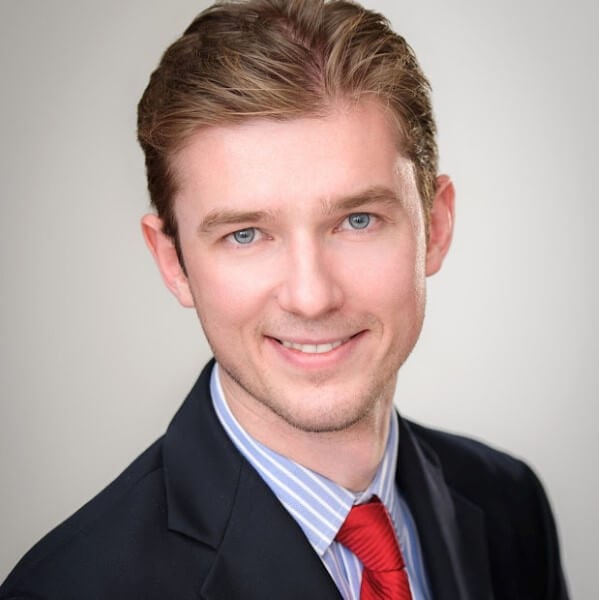 About Currency Exchange International
Currency Exchange International, CXI, is the leading provider of comprehensive foreign exchange services, risk management solutions and integrated international payments processing technology in North America. CXI's relationship-driven approach ensures clients receive tailored solutions and world-class customer service. Through innovative and trusted FX software platforms, CXI delivers versatile foreign exchange services to our clients, so that they can efficiently manage and streamline their foreign currency and global payment needs. CXI is a trusted partner among financial institutions, corporations and retail markets around the world. To learn more, visit: www.ceifx.com
This publication has been prepared by Currency Exchange International for informational and marketing purposes only. Opinions, estimates and projections contained herein are our own as of the date hereof and are subject to change without notice. The information and opinions contained herein have been compiled or arrived at from sources believed reliable, but no representation or warranty, express or implied, is made as to their accuracy or completeness and neither the information nor the forecast shall be taken as a representation for which Currency Exchange International, its affiliates or any of their employees incur any responsibility. Neither Currency Exchange International nor its affiliates accept any liability whatsoever for any loss arising from any use of this information. This publication is not, and is not constructed as, an offer to sell or solicitation of any offer to buy any of the currencies referred to herein, nor shall this publication be construed as an opinion as to whether you should enter into any swap or trading strategy involving a swap or any other transaction. The general transaction, financial, educational and market information contained herein is not intended to be, and does not constitute, a recommendation of a swap or trading strategy involving a swap within the meaning of U.S. Commodity Futures Trading Commission Regulation 23.434 and Appendix A thereto. This material is not intended to be individually tailored to your needs or characteristics and should not be viewed as a "call to action" or suggestion that you enter into a swap or trading strategy involving a swap or any other transaction. You should note that the manner in which you implement any of the strategies set out in this publication may expose you to significant risk and you should carefully consider your ability to bear such risks through consultation with your own independent financial, legal, accounting, tax and other professional advisors. All Currency Exchange International products and services are subject to the terms of applicable agreements and local regulations. This publication and all information, opinions and conclusions contained in it are protected by copyright. This information may not be reproduced in whole or in part, or referred to in any manner whatsoever nor may the information, opinions and conclusions contained in it be referred to without the prior express written consent of Currency Exchange International.