China announces retaliatory tariffs on the US. Over to you now Jerome Powell.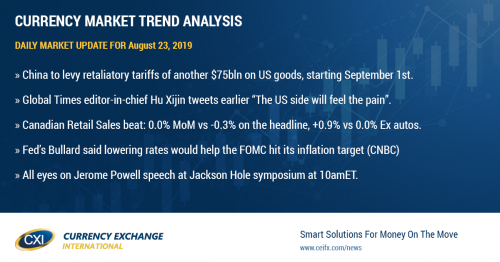 Take control of your international payments with CXI FX Now.
• Zero transfer fees & great rates
• Fast international payments
• Safety and security
• Unparalleled customer service
• Consultative approach
Learn more about CXI's international payment services for businesses or call our trading desk directly at 1-833-572-8933.
Get real-time market coverage on twitter at @EBCTradeDesk or sign up here.
SUMMARY
•
China to levy retaliatory tariffs of another $75bln on US goods, starting September 1st.
•
Global Times editor-in-chief Hu Xijin tweets earlier "The US side will feel the pain".
•
Canadian Retail Sales beat: 0.0% MoM vs -0.3% on the headline, +0.9% vs 0.0% Ex autos.
•
Fed's Bullard said lowering rates would help the FOMC hit its inflation target (CNBC)
•
All eyes on Jerome Powell speech at Jackson Hole symposium at 10amET.
ANALYSIS
USDCAD
Canada just reported its Retail Sales report for the month of June and the numbers beat expectations (0.0% MoM vs -0.3% on the headline, and +0.9% vs 0.0% Ex autos). This marks 3 out of 4 better than expected Canadian economic headlines for this week, and saw USDCAD spike lower initially, but the market is now competing against "risk-off" flows that kicked in a half hour ago when China announced it will levy retaliatory tariffs of another $75bln on US goods, starting September 1st. This could make Jerome Powell's speech at Jackson Hole at 10amET a whole lot more interesting if he chooses to acknowledge this morning's headlines, but we still think there's a fair chance that the Fed chairman disappoints markets again. Should he do that, we think we could finally see USDCAD break out higher above the 1.3340s. The global bond and money markets may be rightly worried about growing risks to offshore USD liquidity and a global recession that could ensue because of it, but it appears (from the last FOMC meeting) that the Fed wants to make these market participants fight for it.
USDCAD DAILY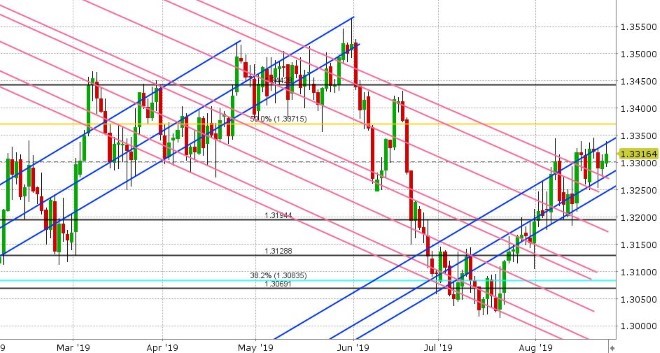 USDCAD HOURLY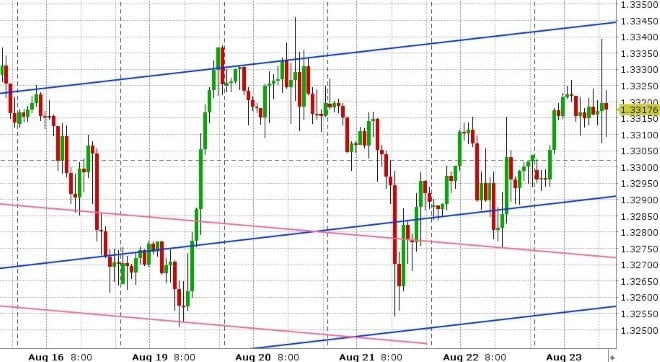 OCT CRUDE OIL DAILY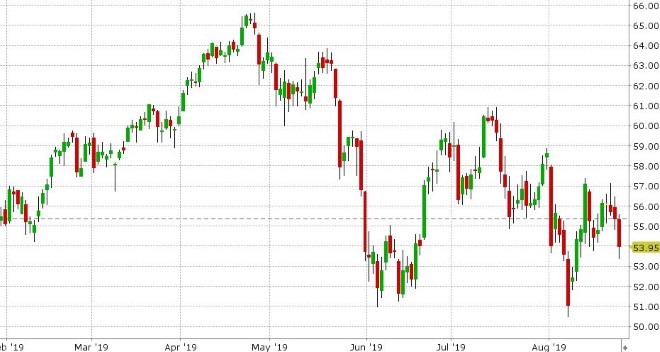 EURUSD
Euro/dollar is leaking lower this morning after traders failed to produce a NY close above down-ward sloping trendline resistance in the 1.1090s. Global Times editor-in-chief Hu Xijin, now largely considered a mouthpiece for the Chinese government, gave markets his take on the latest state of the US/China trade war earlier today over Twitter: "Based on what I know, China will take further countermeasures in response to US tariffs on $300 billion Chinese goods. Beijing will soon unveil a plan of imposing retaliatory tariffs on certain US products. China has ammunition to fight back. The US side will feel the pain." Turns out he was right, especially on the timing! This morning's retaliatory China tariff headlines is throwing a bit of a wrench into pre-Jackson Hole trader positioning, but it appears to be affecting commodity currencies more so (as usual), as opposed to EURUSD. The leveraged fund community remains net short EURUSD heading into this event, and we would argue that they continue to have negative chart technicals on their side. We think the market could potentially fall apart here if Jerome Powell disappoints the bond markets yet again. The Fed's Bullard said that lowering rates would help the FOMC hit its inflation target, when speaking to CNBC this morning. This not is surprising commentary from Bullard, who's arguably been one of the most dovish members of the committee lately. This headline is now seeing EURUSD bounce a little bit.
EURUSD DAILY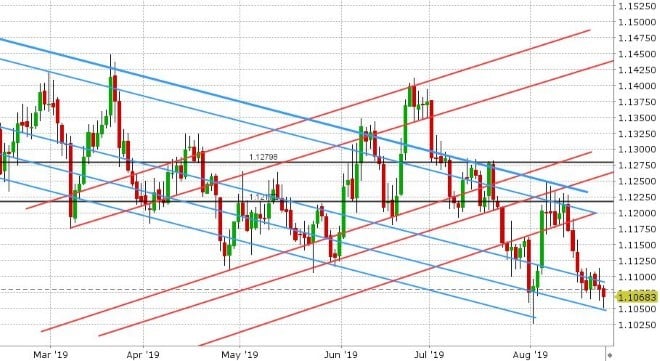 EURUSD HOURLY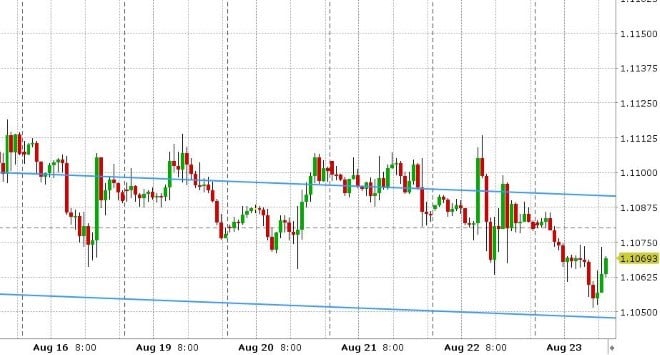 DEC GOLD DAILY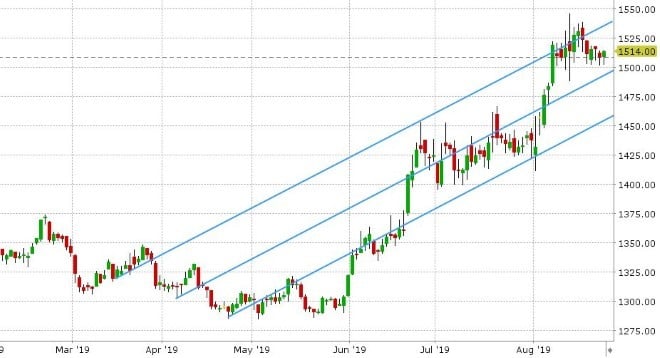 ---
GBPUSD
Sterling is moving moderately lower this morning too, but from much higher levels after Germany's Angela Merkel gave the market a dose of Brexit hopium yesterday. The Bullard headlines that have just crossed is now giving GBPUSD a boost as well. Since yesterday's strong breakout above the 1.2170s held into the NY close, we think there's "technical" scope for further GBPUSD gains here, but the market might struggle if Powell disappoints the rate cutting doves this morning.
GBPUSD DAILY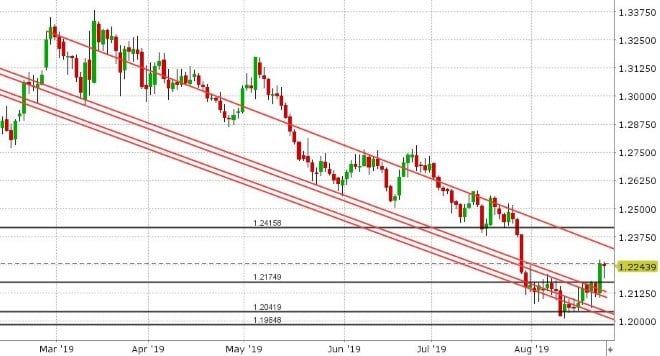 GBPUSD HOURLY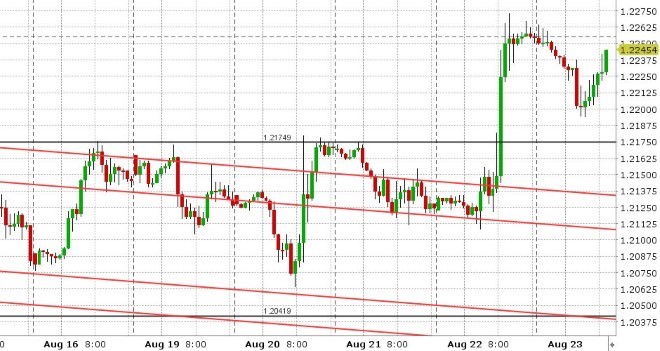 EURGBP DAILY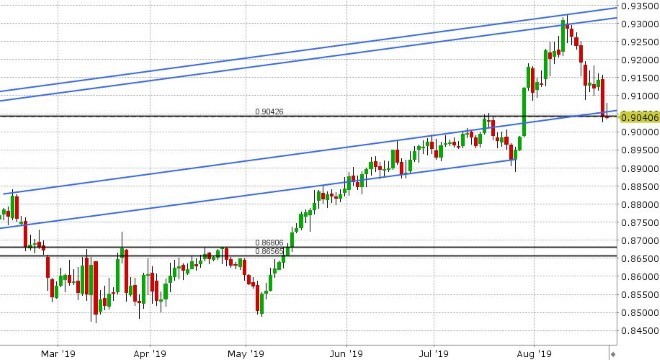 ---
AUDUSD
The Aussie traded down with EURUSD in overnight trade, but is now taking another swoosh lower following breaking news that China will levy retaliatory tariffs of another $75bln on US goods, starting September 1st. The joke making the rounds now is that Powell is scrambling to re-write his speech for 10amET. The leveraged funds remain short AUDUSD heading into Jackson Hole and we think there's scope for the market to re-test the low 0.67s should Powell disappoint.
AUDUSD DAILY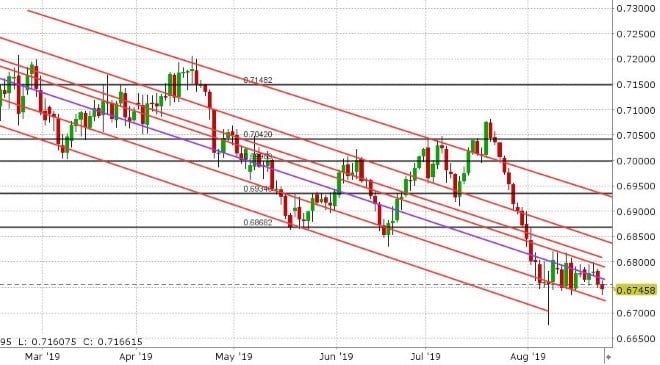 AUDUSD HOURLY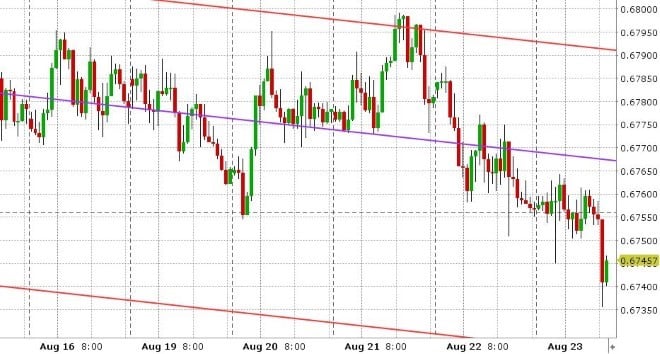 SEP COPPER DAILY
---
USDJPY
The retaliatory tariff headlines from China is understandably causing some "risk-off" flows to emerge here in what should have been some quiet, pre-Jackson Hole, trading. Well played China. Well played. The S&Ps, crude oil, and bond yields have moved swiftly lower while gold prices have jumped higher. Dollar/yen has given up yet another attempt to run higher to the 107s after the market moved back above the 106.50s in Asian trade overnight. Over to you now Jerome Powell.
USDJPY DAILY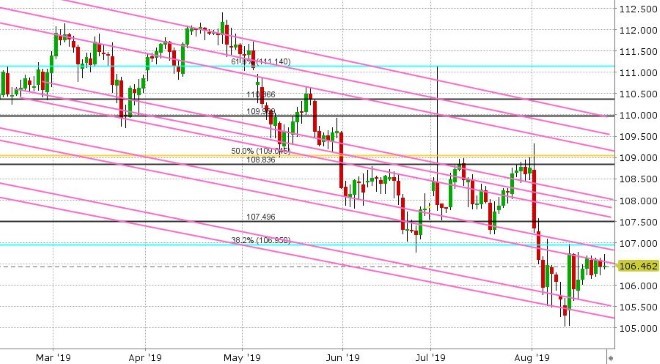 USDJPY HOURLY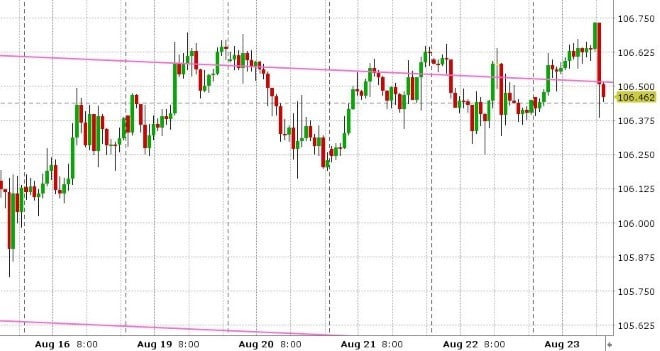 SEP S&P 500 DAILY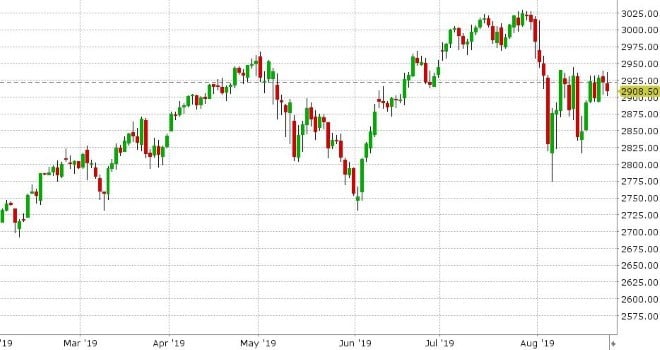 Charts: TWS Workspace
---
About the Author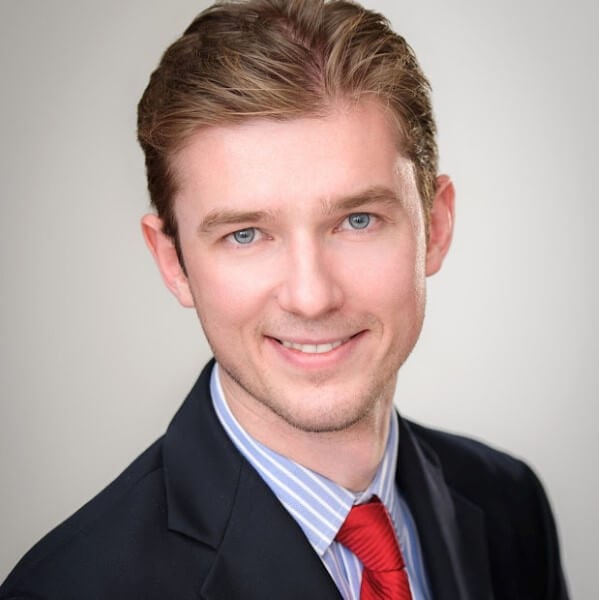 About Currency Exchange International
Currency Exchange International, CXI, is the leading provider of comprehensive foreign exchange services, risk management solutions and integrated international payments processing technology in North America. CXI's relationship-driven approach ensures clients receive tailored solutions and world-class customer service. Through innovative and trusted FX software platforms, CXI delivers versatile foreign exchange services to our clients, so that they can efficiently manage and streamline their foreign currency and global payment needs. CXI is a trusted partner among financial institutions, corporations and retail markets around the world. To learn more, visit: www.ceifx.com
This publication has been prepared by Currency Exchange International for informational and marketing purposes only. Opinions, estimates and projections contained herein are our own as of the date hereof and are subject to change without notice. The information and opinions contained herein have been compiled or arrived at from sources believed reliable, but no representation or warranty, express or implied, is made as to their accuracy or completeness and neither the information nor the forecast shall be taken as a representation for which Currency Exchange International, its affiliates or any of their employees incur any responsibility. Neither Currency Exchange International nor its affiliates accept any liability whatsoever for any loss arising from any use of this information. This publication is not, and is not constructed as, an offer to sell or solicitation of any offer to buy any of the currencies referred to herein, nor shall this publication be construed as an opinion as to whether you should enter into any swap or trading strategy involving a swap or any other transaction. The general transaction, financial, educational and market information contained herein is not intended to be, and does not constitute, a recommendation of a swap or trading strategy involving a swap within the meaning of U.S. Commodity Futures Trading Commission Regulation 23.434 and Appendix A thereto. This material is not intended to be individually tailored to your needs or characteristics and should not be viewed as a "call to action" or suggestion that you enter into a swap or trading strategy involving a swap or any other transaction. You should note that the manner in which you implement any of the strategies set out in this publication may expose you to significant risk and you should carefully consider your ability to bear such risks through consultation with your own independent financial, legal, accounting, tax and other professional advisors. All Currency Exchange International products and services are subject to the terms of applicable agreements and local regulations. This publication and all information, opinions and conclusions contained in it are protected by copyright. This information may not be reproduced in whole or in part, or referred to in any manner whatsoever nor may the information, opinions and conclusions contained in it be referred to without the prior express written consent of Currency Exchange International.