Currency Market Trend Analysis: December 27, 2017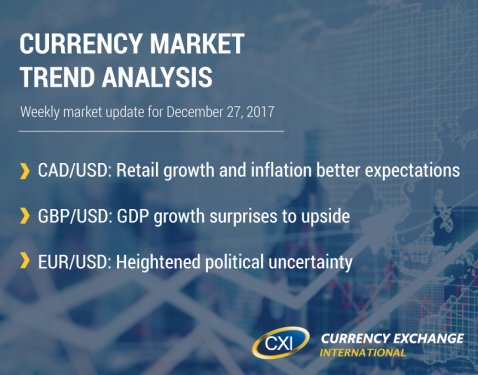 Looking For International Payments Solutions?
Get access to our free whitepaper and unlock everything you're missing.
Learn More
By The Numbers: Your FX Week In Review
Foreign currency value versus USD is decreasing
Foreign currency value versus USD is increasing
*Indicators show the percent change over the past week.
Currency Calendar
| Date | Releases / Holiday | |
| --- | --- | --- |
| December 25, 2017 | Christmas Day | Many |
| December 26, 2017 | Boxing Day | Many |
| December 26, 2017 | Dallas Fed Manufacturing Business Index (Dec) | USA |
| December 27, 2017 | Pending Home Sales (Nov) | USA |
| December 28, 2017 | Economic Bulletin | EMU |
| December 28, 2017 | Initial Jobless Claims | USA |
| December 29, 2017 | Chicago Purchasing Managers' Index (Dec) | USA |
| December 29, 2017 | Harmonised Index of Consumer Price (Dec) | Germany |
| December 29, 2017 | Baker Hughes US Oil Rig count | USA |
Upcoming bank holidays and impactful report releases for select countries.
Market Analysis
CAD/USD - Canadian Dollar
CAD/USD opened last week at 0.7771 and closed at 0.7863 – appreciating by 1.18% as Canadian retail growth and inflation exceeded expectations.
Early in the week, crude retreated from its previous gains, putting downwards pressure on the commodity-sensitive CAD. After reports showed a larger-than-expected draw in US crude inventories, a barrel of WTI broke above $58, and the CAD retraced its losses.
Canadian data came in strong this past week. Foreign Investment rose to $20.8bn from $16.69bn, while retail sales recorded strong growth of 1.5%, and the CPI rose to 2.1% YoY. This CPI exceeds the BoC's goal of 2.0%, and will give the BoC increase slack with which to hike rates. The chances of a January rate hike have risen, but most analysts do not expect a hike until March or April – at which point NAFTA-related risk will likely be settled, and additional data on Canada' economic performance will be available. Household debt continues to be a concern, and will likely prevent any hasty decisions by the BoC (a Jan hike included).
1. Christmas Day: Monday, December 25th
2. Boxing Day: Tuesday, December 26th
GBP/USD - British Pound
GBP/USD opened last week at 1.3386 and closed at 1.3321 – appreciating by 0.30% as the UK data came in mixed, but was overshadowed by a downward revision of US Q3 GDP growth.
Last week offered a respite from Brexit updates, leaving markets to focus on data and foreign politics. UK data came in mixed, with the current account deficit narrowing less-than-expected, but annualized GDP growth accelerating to 1.7% - bettering forecasts of 1.5%. The BoE released a report stating that Brexit is expected to reduced sales in 2020, but is unlikely to influence wage growth. This report helped to balance selling pressure created by a deterioration in UK consumer confidence – which reached a four-year low.
1. Christmas Day: Monday, December 25th
2. Boxing Day: Tuesday, December 26th
EUR/USD - European Central Bank Euro
EUR/USD opened last week at 1.1754 and closed at 1.1863 – appreciating by 0.93% despite rising political uncertainty.
This was a relatively data-light week for the common currency, leaving US data and EZ politics as the main driver of currency movement. German sentiment data came in mixed, with IFO business climate deteriorating slightly, but the current economic assessment exceeding estimates. These data were overshadowed by US Q3 GDP, which was revised down from 3.3% YoY to 3.2%.
The Catalan Independence movement broke headlines again this week, with three Catalan separatists collectively wining a majority in parliamentary elections. This will further complicate the Spanish political situation, and will likely trigger intense negotiations – particularly in regards to who will become the next President of Catalonia.
Over 90 days after the election, Germany is still waiting on the establishment of a new government. Coalition talks between Merkel's CDU, and the Greens and Free Democrats broke down last month - raising the possibility of a snap election. The German President now appears to be pushing the CDU and Social Democratic Party (SPD) towards a coalition. These governments formed a "grand coalition" previously, and reports indicated that the SPD are wary to do so again without further CDU concessions. It has been reported that these concessions may include the appointment of the SPD leader as finance minister. Talks are scheduled to begin on January 7th.
This will be a very data-light week, leaving politics both domestic and abroad as the main impetus for revaluations. The German political situation may be on hold until the 7th, but further Catalan developments will be in particular focus.
1. Christmas Day: Monday, December 25th
2. Boxing Day: Tuesday, December 26th
3. Economic Bulletin (EMU): Thursday, December 28th
4. Harmonised Index of Consumer Price (Dec, Germany): Friday, December 29th
FX Market Pro
Corporations & Financial Institutions: Want to get ahead of the curve for the upcoming week? Get CXI's currency market trend analysis sent directly to your inbox weekly.
Sign Up
---
---
About Currency Exchange International
Currency Exchange International (CXI) is a leading provider of foreign currency exchange services in North America for financial institutions, corporations and travelers. Products and services for international travelers include access to buy and sell more than 90 foreign currencies, multi-currency cash passports, traveler's cheques and gold bullion coins and bars. For financial institutions and corporations, our services include the exchange of foreign currencies, international wire transfers, global EFT, the purchase and sale of foreign bank drafts, international traveler's cheques, and foreign cheque clearing through the use of CXI's innovative CEIFX web-based FX software www.ceifx.com
This publication has been prepared by Currency Exchange International for informational and marketing purposes only. Opinions, estimates and projections contained herein are our own as of the date hereof and are subject to change without notice. The information and opinions contained herein have been compiled or arrived at from sources believed reliable, but no representation or warranty, express or implied, is made as to their accuracy or completeness and neither the information nor the forecast shall be taken as a representation for which Currency Exchange International, its affiliates or any of their employees incur any responsibility. Neither Currency Exchange International nor its affiliates accept any liability whatsoever for any loss arising from any use of this information. This publication is not, and is not constructed as, an offer to sell or solicitation of any offer to buy any of the currencies referred to herein, nor shall this publication be construed as an opinion as to whether you should enter into any swap or trading strategy involving a swap or any other transaction. The general transaction, financial, educational and market information contained herein is not intended to be, and does not constitute, a recommendation of a swap or trading strategy involving a swap within the meaning of U.S. Commodity Futures Trading Commission Regulation 23.434 and Appendix A thereto. This material is not intended to be individually tailored to your needs or characteristics and should not be viewed as a "call to action" or suggestion that you enter into a swap or trading strategy involving a swap or any other transaction. You should note that the manner in which you implement any of the strategies set out in this publication may expose you to significant risk and you should carefully consider your ability to bear such risks through consultation with your own independent financial, legal, accounting, tax and other professional advisors. All Currency Exchange International products and services are subject to the terms of applicable agreements and local regulations. This publication and all information, opinions and conclusions contained in it are protected by copyright. This information may not be reproduced in whole or in part, or referred to in any manner whatsoever nor may the information, opinions and conclusions contained in it be referred to without the prior express written consent of Currency Exchange International.