Currency Market Trend Analysis: March 13, 2018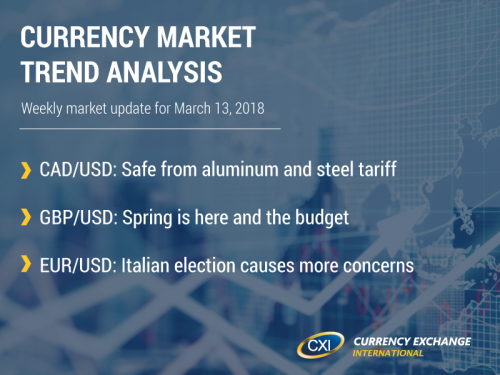 By The Numbers: Your FX Week In Review
Foreign currency value versus USD is decreasing
Foreign currency value versus USD is increasing
*Indicators show the percent change over the past week.
Currency Calendar
| Date | Releases / Holiday | |
| --- | --- | --- |
| March 12, 2018 | Federal Budget Announcement | USA |
| March 12, 2018 | Eurogroup Meeting | EUR |
| March 12, 2018 | Manufacturing Production | EUR |
| March 13, 2018 | Consumer Price Index | USA |
| March 13, 2018 | Inflation Rate MoM | EUR |
| March 13, 2018 | Spring Budget | BRT |
| March 15, 2018 | Weekly Jobless Claims | USA |
| March 15, 2018 | Unemployment Rate | EUR |
Upcoming bank holidays and impactful report releases for select countries.
Market Analysis
Canadian Dollar
CAD/USD opened last week at 0.7765 and closed at 0.7804 – increasing by 0.5% even with the tariff threat that U.S. President Trump has been hovering over everyone's head.
Positive oil prices have extended some support to the Loonie and cap gains. Even with NAFTA agreements President Trump has, for the time being, exempted Canada and Mexico from steel and aluminum tariffs.
On other trade news, the future trading partnership with the U.K. Morneau has stated that "to the extent that we can get a better arrangement with the U.K. in the future, that's positive." There have been indications that after the U.K. quits the European Union their partnership could go further in areas like financial services.
1. Federal Budget Announcement: Monday, March 12th
2. Consumer Price Index: Tuesday, March 13th
3. Weekly Job Claims: Thursday, March 15th
British Pound
GBP/USD opened last week at 1.3801 and closed at 1.3851 – increasing by 0.40% with the Spring Budget coming.
The budget meeting is going to include a fresh forecast on GDP growth and UK government borrowing, adding also Brexit's impact on the economy. This, along with the release of US inflation, may result in some bumpy action around the GPD/USD.
1. Spring Budget: Tuesday, March 13th
European Central Bank Euro
EUR/USD opened last week at 1.2317 and closed at 1.2307 – depreciating by 0.08% after the bombshell election that occurred in Italy.
Following the Italian elections, there have been concerns about the country's debt pile and its hostility toward monetary union. French Economy Minister Bruno Le Maire told reports in Brussels, "I think the difficulties will lead us to move forward even faster and concretely in integrating the euro area. It's absolutely urgent for us to make progress."
The European Commission warned Italy last week to work towards reducing the pile of government debt, which is the second highest in the European Monetary Union after Greece. Italy is in an "excessive economic imbalance," and the strong electoral antiestablishment parties may increase concerns of the imbalances in the next coming months.
1. Eurogroup Meeting: Monday, March 12th
2. Manufacturing Production: Monday, March 12th
3. Inflation Rate (MoM): Tuesday, March 13th
4. Unemployment Rate: Thursday, March 15th
FX Market Pro
Corporations & Financial Institutions: Want to get ahead of the curve for the upcoming week? Get CXI's currency market trend analysis sent directly to your inbox weekly.
Sign Up
---
About the Author
Remon Shehata - Data Analyst
Remon educates corporate clients on foreign currency markets lending industry best practices that enhance client knowledge and create specialized solutions that fit each business. Interested in having a custom international payments strategy or foreign exchange risk plan? Request A Call
---
About Currency Exchange International
Currency Exchange International (CXI) is a leading provider of foreign currency exchange services in North America for financial institutions, corporations and travelers. Products and services for international travelers include access to buy and sell more than 90 foreign currencies, multi-currency cash passports, traveler's cheques and gold bullion coins and bars. For financial institutions and corporations, our services include the exchange of foreign currencies, international wire transfers, global EFT, the purchase and sale of foreign bank drafts, international traveler's cheques, and foreign cheque clearing through the use of CXI's innovative CEIFX web-based FX software www.ceifx.com
This publication has been prepared by Currency Exchange International for informational and marketing purposes only. Opinions, estimates and projections contained herein are our own as of the date hereof and are subject to change without notice. The information and opinions contained herein have been compiled or arrived at from sources believed reliable, but no representation or warranty, express or implied, is made as to their accuracy or completeness and neither the information nor the forecast shall be taken as a representation for which Currency Exchange International, its affiliates or any of their employees incur any responsibility. Neither Currency Exchange International nor its affiliates accept any liability whatsoever for any loss arising from any use of this information. This publication is not, and is not constructed as, an offer to sell or solicitation of any offer to buy any of the currencies referred to herein, nor shall this publication be construed as an opinion as to whether you should enter into any swap or trading strategy involving a swap or any other transaction. The general transaction, financial, educational and market information contained herein is not intended to be, and does not constitute, a recommendation of a swap or trading strategy involving a swap within the meaning of U.S. Commodity Futures Trading Commission Regulation 23.434 and Appendix A thereto. This material is not intended to be individually tailored to your needs or characteristics and should not be viewed as a "call to action" or suggestion that you enter into a swap or trading strategy involving a swap or any other transaction. You should note that the manner in which you implement any of the strategies set out in this publication may expose you to significant risk and you should carefully consider your ability to bear such risks through consultation with your own independent financial, legal, accounting, tax and other professional advisors. All Currency Exchange International products and services are subject to the terms of applicable agreements and local regulations. This publication and all information, opinions and conclusions contained in it are protected by copyright. This information may not be reproduced in whole or in part, or referred to in any manner whatsoever nor may the information, opinions and conclusions contained in it be referred to without the prior express written consent of Currency Exchange International.