Fed rate-cut trade get nervous ahead of Powell testimony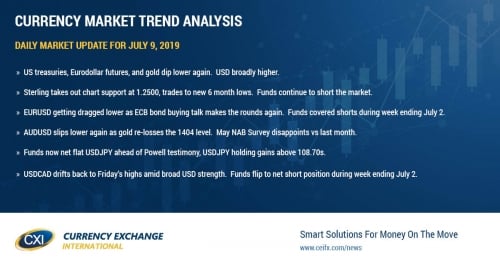 Take control of your international payments with CXI FX Now.
• Zero transfer fees & great rates
• Fast international payments
• Safety and security
• Unparalleled customer service
• Consultative approach
Learn more about CXI's international payment services for businesses or call our trading desk directly at 1-833-572-8933.
Get real-time market coverage on twitter at @EBCTradeDesk or sign up here.
SUMMARY
•
US treasuries, Eurodollar futures, and gold dip lower again.  USD broadly higher.
•
Sterling takes out chart support at 1.2500, trades to new 6 month lows.  Funds continue to short the market.
•
EURUSD getting dragged lower as ECB bond buying talk makes the rounds again.  Funds covered shorts during week ending July 2.
•
AUDUSD slips lower again as gold re-losses the 1404 level.  May NAB Survey disappoints vs last month.
•
Funds now net flat USDJPY ahead of Powell testimony, USDJPY holding gains above 108.70s.
•
USDCAD drifts back to Friday's highs amid broad USD strength.  Funds flip to net short position during week ending July 2.
ANALYSIS
USDCAD
Dollar/CAD has drifted higher in overnight trade today as new 6-month lows in the British pound lead the US dollar broadly higher.  There isn't a headline we can point to per say, but GBPUSD slipped precipitously when it fell below trend-line support at the 1.2500 level.  We've also seen the "Fed rate-cut trade" get nervous again over the last 24hs as August gold prices moved back below the 1404 level, Eurodollar futures leaked lower again and US 10yr treasury yields edged up past Friday's post NFP highs.   This is now leading USDCAD to toy with Friday's chart resistance levels in the 1.3120-30s as traders digest some conflicting Canadian data items (June Housing Starts BEAT, 245.7k vs 208.6k exp but May Building Permits MISS, -13% MoM vs -10% exp).  Fed-speak gets going today with Powell about to deliver opening remarks in a speech regarding banking stress tests in Boston.  The Fed's Bullard will speak shortly after 10amET.  Finally we'll have Quarles and Bostic speaking around the 2pmET hour.  The CFTC released its weekly COT report yesterday (which shows fund positioning as of July 2nd) and it confirmed what we thought last week, in that leveraged money has abandoned the long USD 2019 bet and has gone net short USDCAD.
USDCAD DAILY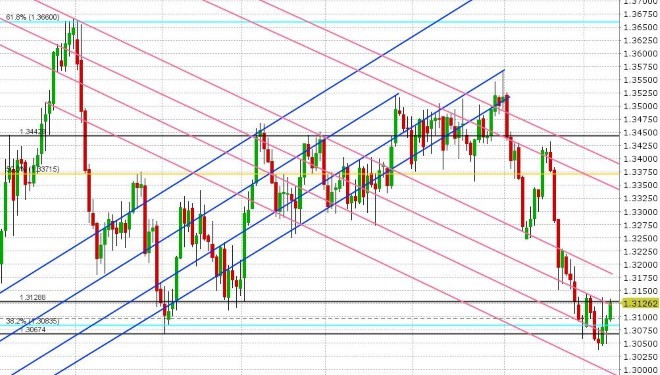 USDCAD HOURLY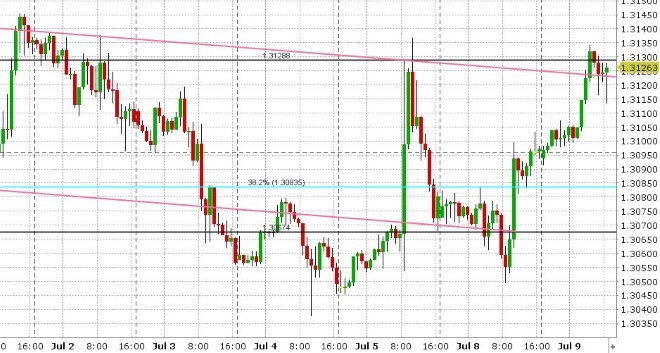 AUG CRUDE OIL DAILY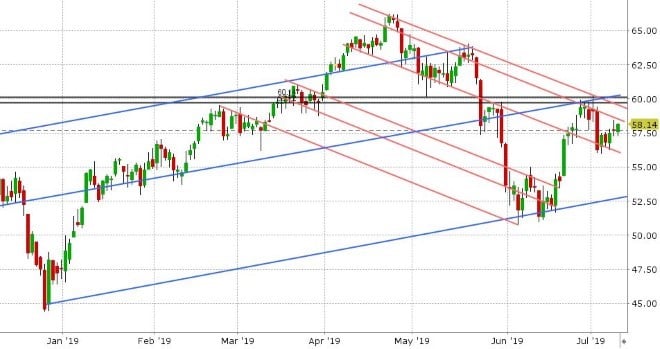 ---
EURUSD
Euro/dollar has given up the 1.1200 level this morning as GBPUSD extends to new 6-month lows, Christine Lagarde gets the nod from EU finance ministers to be the new ECB President, and more and more market chatter starts to circulate about the ECB being forced to re-introduce its bond buying program later this year.  The CFTC's COT report showed a fair bit of EURUSD short covering during the week ending July 2, and we suspect this came from entrenched short positions that stomached losses following the Fed meeting but got their lucky break to get out following the market's steep correction lower on July 1.
EURUSD DAILY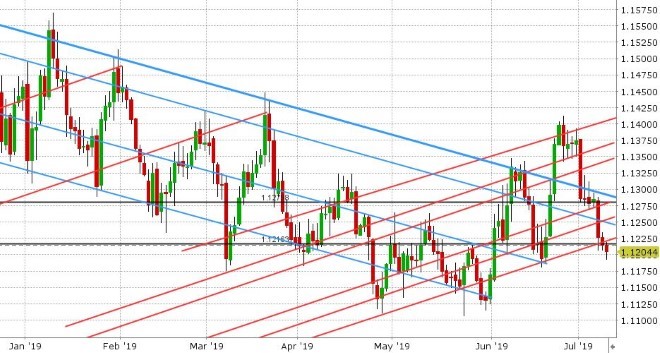 EURUSD HOURLY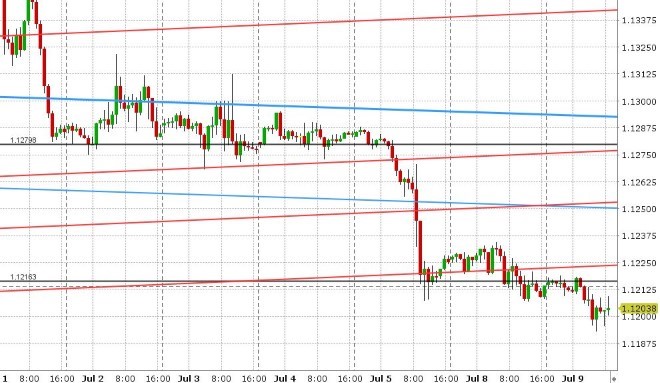 AUG GOLD DAILY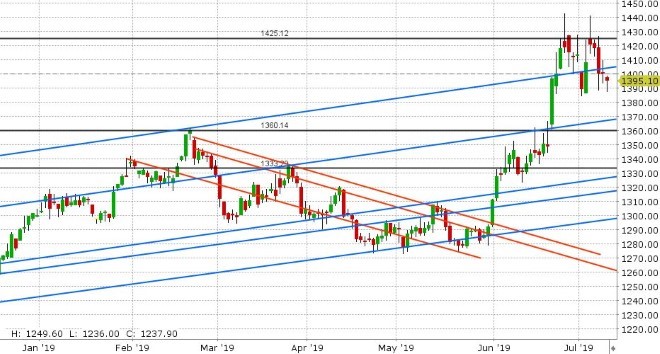 ---
GBPUSD
Sterling is leading the G7 FX space lower today as technical selling appears to be taking over ever since the market broke back below the 1.2500 level.  The "Fed rate-cut trade" continues to get dialed back as we await comments from Jerome Powell tomorrow, "no-deal" Brexit uncertainty continues to mount with the Dominic Grieve amendment not being allowed to be brought to a vote in the UK House of Representatives today, and Bank of England rate cut talk has re-emerged following last week's dovish comments from Governor Carney…all fundamentally negative factors that continue to weigh on GBPUSD so far this week.  The CFTC's COT report showed that the funds piled into new GBP short positions for the third week in row ending July 2nd.  EURGBP buyers have returned as well, and are challenging the physiological 0.9000 level to the upside as we speak.
GBPUSD DAILY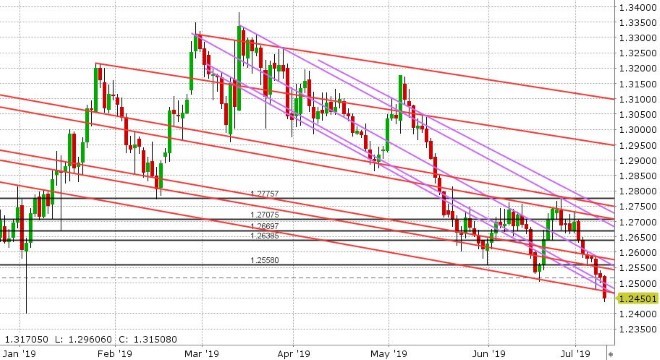 GBPUSD HOURLY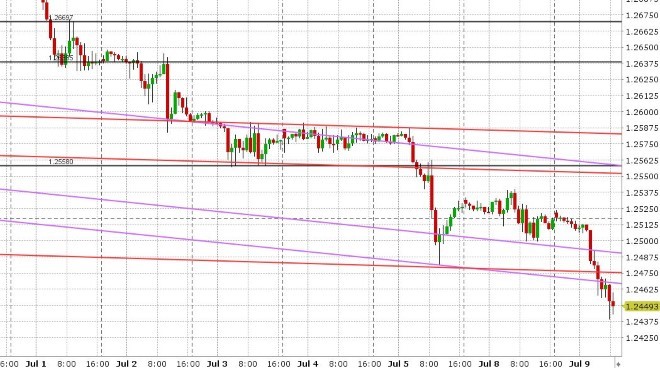 EURGBP DAILY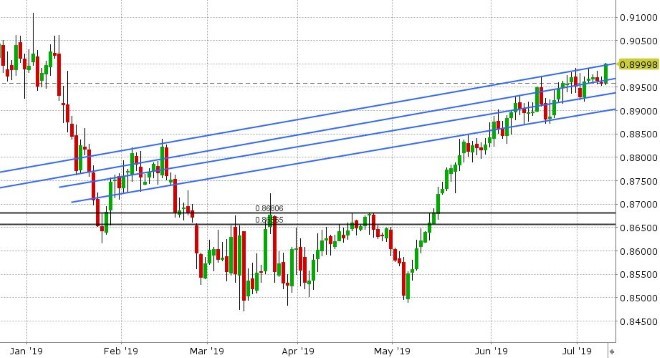 ---
AUDUSD
The Australian dollar has slipped lower in the last 24hrs after the 0.6980 level gave way in NY trade yesterday and this seemed to coincide with August gold losing the 1404 level once again.  Last night's weak NAB Survey for June (+2 vs +7 for May) did not help sentiment during Asian trade in our opinion, nor has GBPUSD selling in European trade so far today.  Copper is falling 1% lower this morning as the USD rallies broadly and we now think recent AUDUSD longs face a real test at chart support in the 0.6930-40s.  We think the market could recover and trade higher should Powell re-iterate rate cutting guidance when he speaks to Congress tomorrow, however watch out below if he tries to through cold water on the idea.  The funds reduced their net short AUDUSD position, by the most in 7 weeks, during the week ending July 2 (according the CFTC).
AUDUSD DAILY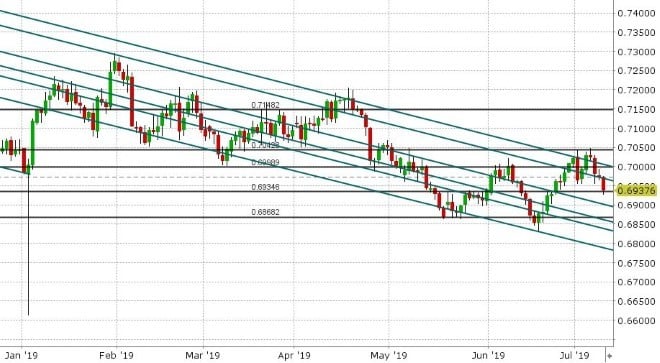 AUDUSD HOURLY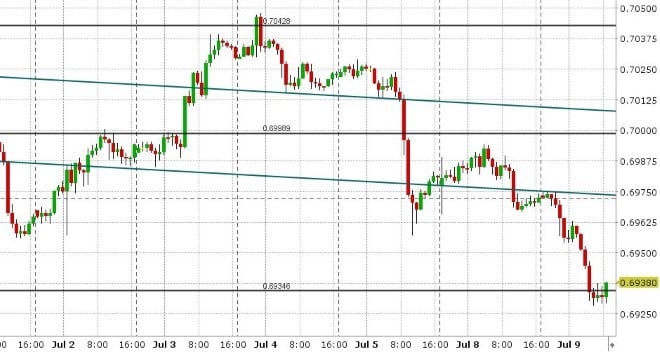 SEP COPPER DAILY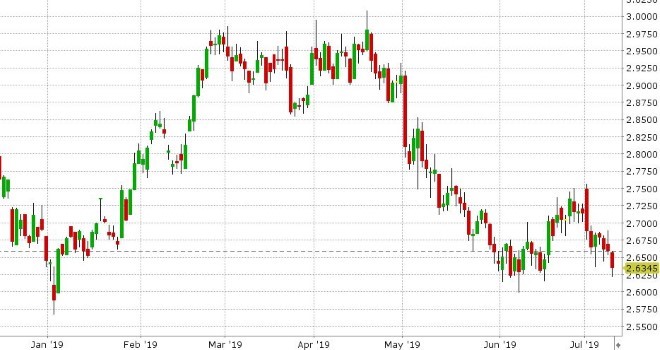 ---
USDJPY
Dollar/yen continues to drift higher as the "Fed rate-cut trade" gets nervous ahead of Powell's testimony in Congress tomorrow.  US treasuries and Eurodollar futures are inching lower and this has allowed USDJPY to sit comfortably above trend-line chart resistance in the 108.70s so far today.  While we don't think Powell will blatantly try to disappoint markets tomorrow, we think the Fed chairman will provide something for all listeners, possibly even confuse us…all in a bid to buy more time so that the FOMC can figure out what the bond markets are worried about.  The funds continued to purge long USDJPY positions, for the 5th week in a row, during the week ending July 2.  They now sit net neutral the market, which oddly enough helps USDJPY sentiment here in our opinion as all the scared USD longs are now out of the market.
USDJPY DAILY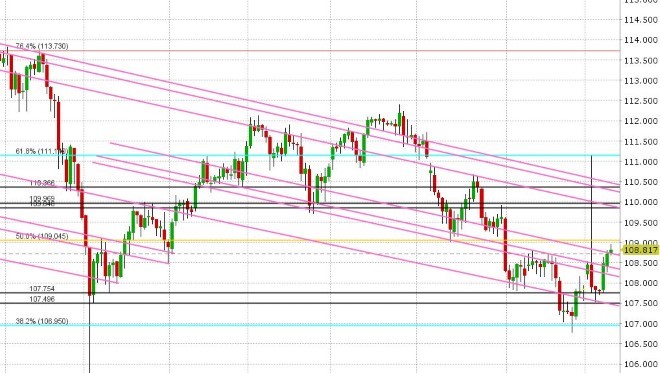 USDJPY HOURLY
US 10YR BOND YIELD DAILY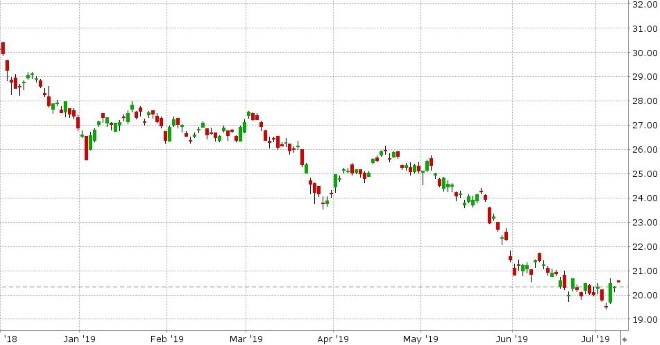 Charts: TWS Workspace
---
About the Author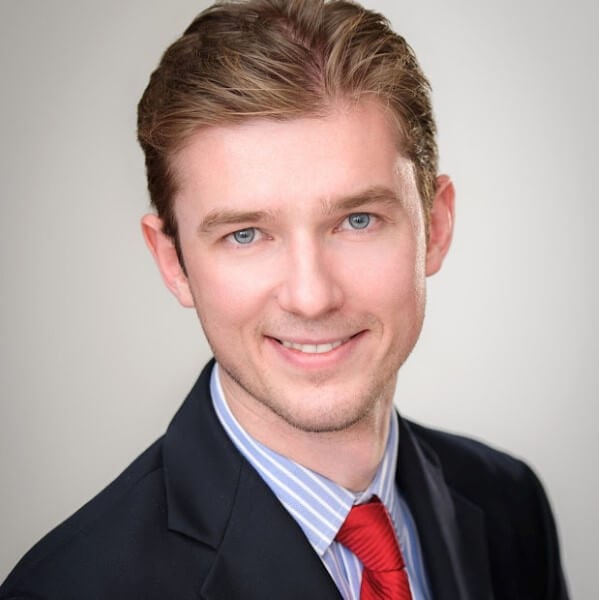 About Currency Exchange International
Currency Exchange International, CXI, is the leading provider of comprehensive foreign exchange services, risk management solutions and integrated international payments processing technology in North America. CXI's relationship-driven approach ensures clients receive tailored solutions and world-class customer service. Through innovative and trusted FX software platforms, CXI delivers versatile foreign exchange services to our clients, so that they can efficiently manage and streamline their foreign currency and global payment needs. CXI is a trusted partner among financial institutions, corporations and retail markets around the world. To learn more, visit: www.ceifx.com
This publication has been prepared by Currency Exchange International for informational and marketing purposes only. Opinions, estimates and projections contained herein are our own as of the date hereof and are subject to change without notice. The information and opinions contained herein have been compiled or arrived at from sources believed reliable, but no representation or warranty, express or implied, is made as to their accuracy or completeness and neither the information nor the forecast shall be taken as a representation for which Currency Exchange International, its affiliates or any of their employees incur any responsibility. Neither Currency Exchange International nor its affiliates accept any liability whatsoever for any loss arising from any use of this information. This publication is not, and is not constructed as, an offer to sell or solicitation of any offer to buy any of the currencies referred to herein, nor shall this publication be construed as an opinion as to whether you should enter into any swap or trading strategy involving a swap or any other transaction. The general transaction, financial, educational and market information contained herein is not intended to be, and does not constitute, a recommendation of a swap or trading strategy involving a swap within the meaning of U.S. Commodity Futures Trading Commission Regulation 23.434 and Appendix A thereto. This material is not intended to be individually tailored to your needs or characteristics and should not be viewed as a "call to action" or suggestion that you enter into a swap or trading strategy involving a swap or any other transaction. You should note that the manner in which you implement any of the strategies set out in this publication may expose you to significant risk and you should carefully consider your ability to bear such risks through consultation with your own independent financial, legal, accounting, tax and other professional advisors. All Currency Exchange International products and services are subject to the terms of applicable agreements and local regulations. This publication and all information, opinions and conclusions contained in it are protected by copyright. This information may not be reproduced in whole or in part, or referred to in any manner whatsoever nor may the information, opinions and conclusions contained in it be referred to without the prior express written consent of Currency Exchange International.