Global Entry Trusted Travelers Program: Everything You Need to Know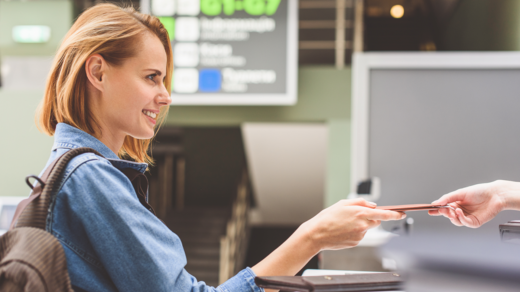 Ordering foreign currency is easy with OnlineFX.
What is the Global Entry trusted traveler program?
Global Entry is a program created by the U.S. Customs and Border Protection that could come in handy when traveling to the U.S.
This program can allow a speedy clearance for all pre-approved travelers. Members can enter the U.S. and proceed through Global Entry kiosks at select airports.
All program participants are pre-approved as low-risk travelers and must fulfill certain background checks and interviews before being enrolled.
How to apply for the Global Entry trusted traveler program?
To apply, you must be a U.S. citizen, a U.S. lawful permanent resident, or a citizen of select countries. Some people may be ineligible due to incorrect or incomplete application information, prior convictions, outstanding warrants, or other issues.
Make sure to inform yourself of eligibility requirements before you attempt to apply, to ensure your best chance at a membership. For certain countries, there may be further requirements that you are required to meet. To get started, you must:
Create a Trusted Traveler Programs account

Fill out your application

Pay $100 nonrefundable fee
After your application is reviewed and approved conditionally, you will be able to schedule an interview at a Global Entry Enrollment Center. Make sure you bring all of the necessary documents for your interview. Bring your passport and one other form of identification, a driver's license or ID card, to your interview.
Lawful permanent residents need to offer a permanent resident card that is machine-readable. All you need from there is a final approval and you're good to go! As of 2023, application processing time ranges from 4 to 6 months.
What are the benefits of the Global Entry trusted traveler program?
Global Entry is a beneficial program because it allows you to skip processing lines at the airport, brings down your wait time, and you don't have to fill out any paperwork each time you travel. In addition to this, one major benefit of Global Entry is that you are automatically enrolled in TSA Pre✓® Eligibility.
This allows you to jump into fast-track lines and skip the waiting. With Global Entry, you will have expedited entry benefits in other countries, including quicker processing through customs and security screenings at airports. Global Entry is used at more than 75 airports, so it is very convenient!
How much are the fees for the trusted traveler program?
Becoming a Global Entry member is pretty inexpensive for the amount of time your membership lasts. At the time of your application, you will need to pay a $100 nonrefundable fee. This may sound like a lot, but this fee covers your membership for five years! If you are a frequent traveler, it will definitely be worth it.
You are able to pay for your fee by credit card or with an electronic bank transfer. However, because this fee is nonrefundable, even if your application is denied by Global Entry, you will not get your money back.
Because of this, it is definitely suggested to make sure that all of your information is accurate on your application.
What you need to know before joining the Global Entry trusted traveler program?
There is no age requirement to become a member of Global Entry, but if you are under 18, the consent of a parent or legal guardian is required, even if your parent or guardian is not a Global Entry member. This individual must also attend your interview as well.
Even though Global Entry works to ensure that you can have a quick airport process, sometimes certain members are still selected for additional evaluation when entering the United States. You must also remember that you still must declare certain products, such as agricultural products, at the airport when entering the U.S.
If you don't declare these items, you could be subject to up to $10,000 in fines and penalties. In addition to this, any infringement of Global Entry's terms and conditions will lead to an enforcement action and termination of membership.
About Currency Exchange International
Currency Exchange International (CXI) is a leading provider of foreign currency exchange services in North America for financial institutions, corporations and travelers. Products and services for international travelers include access to buy and sell more than 90 foreign currencies, multi-currency cash passport's, traveler's cheques and gold bullion coins and bars. For financial institutions and corporations, our services include the exchange of foreign currencies, international wire transfers, global EFT, the purchase and sale of foreign bank drafts, international traveler's cheques, and foreign cheque clearing through the use of CXI's innovative CEIFX web-based FX software www.ceifx.com