NEXUS Trusted Travelers Program: Everything You Need to Know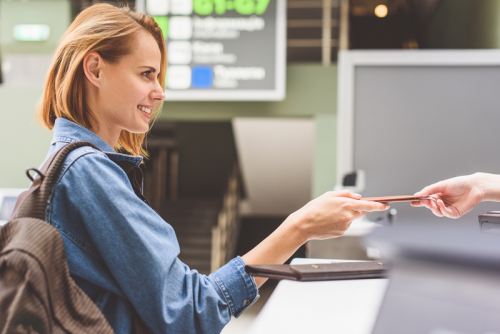 Ordering foreign currency is easy with OnlineFX.
What is the NEXUS trusted traveler program?
NEXUS is a program for frequent travelers who are looking for an expeditious process when they are entering Canada or the U.S.
Members are able to use specific process lanes or kiosks, which allow you to get through your airport process much quicker! You will use a membership identification card to enter Canada or the United States at any delegated NEXUS ports of entry.
How to apply for the NEXUS trusted traveler program?
Only certain individuals are eligible for becoming NEXUS program members, including Canadian citizens, U.S. citizens, Mexican nationals who are already involved in Mexico's trusted traveler program, and some others.
It is best to check if you are eligible, and if there is any reason you may be ineligible, such as a past in customs violations or past criminal offense convictions. There are two ways to apply to NEXUS:
Create or access your Trusted Travelers Program account

Complete the NEXUS Application

Pay $50 USD or CAD nonrefundable fee
When you finish the application process, Customs and Border Patrol will need to assess your application. Once you are conditional approved, you are required to complete an interview at a NEXUS Enrollment Center.
The second way to apply is by mail. You will need to physically print and fill out an application. You will then mail your completed application, your non-refundable fee, and photocopies of any supporting documentation to your assigned Canadian Processing Center.
Again, you can be conditionally approved at this point, and will then schedule an interview at a NEXUS Enrollment Center.
What are the benefits of the NEXUS trusted traveler program?
As a NEXUS member, you will be able to cut down your waiting time at many ports of entry. You could use NEXUS kiosks every time you enter through specific Canadian airports, which allows for a much speedier process. If you are not entering Canada, there are Global Entry kiosks available to you when traveling into the United States.
Land border crossings use dedicated processing lanes for ease with entry. In addition to this, you will be able to reduce your wait time by calling a marine telephone reporting center to disclose your arrival into the U.S. or Canada.
How much are the fees for the NEXUS trusted traveler program?
There is a $50 fee, in USD or CAD, that you must submit in order to be approved for NEXUS membership. This fee is completely non-refundable, so even if you are not approved for the card you will not receive this money back.
We strongly encourage all applicants to ensure that they meet all requirements in order for approval so they do not have to worry about this. In addition to this fee, if you lose or otherwise damage your card, there is a non-refundable $25 USD fee to replace your NEXUS card.
What you need to know before joining the NEXUS trusted traveler program?
For applicants younger than 18, there is no fee. However, minors must be accompanied by a parent or legal guardian. This legal guardian is required to fill out and sign the application for the underaged applicant. This person must also accompany the minor to the final interview.
Most pets are allowed to travel through dedicated NEXUS lanes, but it is required to bring along your pet's current rabies vaccination certification. Your animal's certificate needs to distinguish the animal's identifying characteristics such as age, breed, sex, color of your animal, and any distinctive marks your pet may have.
Make sure your documentation also has the names of vaccines used, the serial numbers of the vaccines and their expiration dates. Ensure that the vaccine has not expired. Unfortunately, no pet birds or prohibited animals are not allowed in NEXUS lanes.
About Currency Exchange International
Currency Exchange International (CXI) is a leading provider of foreign currency exchange services in North America for financial institutions, corporations and travelers. Products and services for international travelers include access to buy and sell more than 90 foreign currencies, multi-currency cash passport's, traveler's cheques and gold bullion coins and bars. For financial institutions and corporations, our services include the exchange of foreign currencies, international wire transfers, global EFT, the purchase and sale of foreign bank drafts, international traveler's cheques, and foreign cheque clearing through the use of CXI's innovative CEIFX web-based FX software www.ceifx.com