Hong Kong Currency: Everything You Need to Know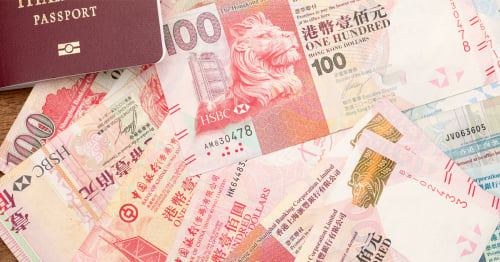 Ordering foreign currency online is easy with OnlineFX.
Hong Kong, the special administrative section of China, is comprised of Hong Kong Island, Kowloon, additional territories and some small islands that are spread across 1,092 square kilometers. To give you some perspective, Hong Kong is roughly the size of Miami, Florida. However, don't let its size fool you.
Hong Kong is ranked 1st out of 43 countries in the Asia-Pacific region for economic freedom, and this small little section of China boasts a GDP of 454.9 billion dollars; making it an economic powerhouse for the People's Republic of China and Hong Kong alike.
So, perhaps you're traveling to Hong Kong for business or you're just looking to enjoy all the wonders China and Hong Kong have to offer. In either case, you'll want to know some important facts about Hong Kong's currency. Below we cover all the essentials. Don't forget to check out how much currency you need to go on vacation to Hong Kong, China.
What is Hong Kong's currency?
Hong Kong's official currency is the Hong Kong dollar (HKD) and is issued by three major banks: HSBC, Standard Chartered Bank, and of course, the Bank of China. Originally minted by the British Empire, this currency has been around since 1863 and is currently one of the most exchanged notes in the world. The Hong Kong dollar is pegged to the US dollar at a rate of 7.80 HKD to 1 USD.
What does Hong Kong's currency look like?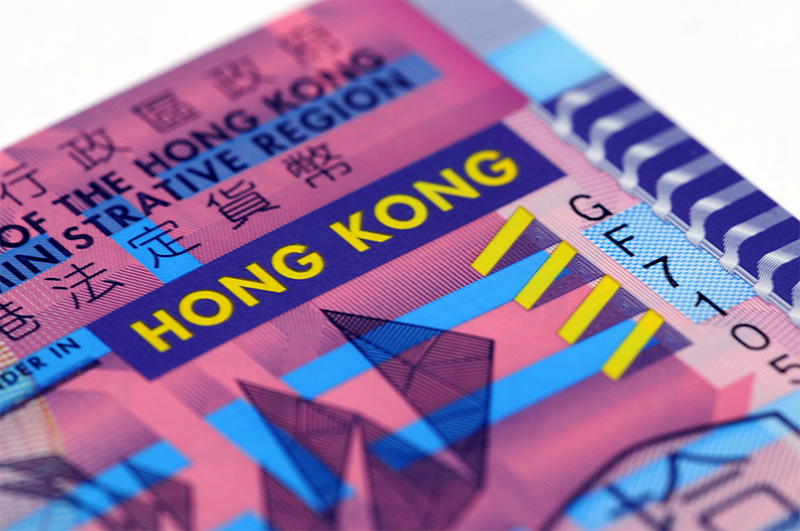 The Hong Kong dollar has six denominations: $10, $20, $50, $100, $500, $1,000. Each banknote has its own dynamic color changing pattern; printed in shades of blue, green, red, brown, and gold. The HKD is also marked by a multi-tonal watermark of a bauhinia flower and highlight watermark to ensure the note's security.
Moreover, depending on which bank the notes came from, there will be a bit of a difference in design. Whether the note came from HSBC, the Standard Chartered Bank of Hong Kong, or the Bank of China, you'll be able to differentiate and note the variances in the dollars.
However, all three banks maintain the five Hong Kong-related themes which can be found on the back of the notes-with some variations in design that were determined by the note's issuing bank.
Hong Kong also has coins in the denominations of $10, $5, $2, and $1 in addition to cents, which hold the values of 50, 20, and 10 cents. These coins have two different series, one being the Queen's series and the second being the bauhinia flower series, which was created to replace the former.
What is Hong Kong's currency made of?
Like most bank notes these days, the Hong Kong dollar is made of paper. However, there is also a polymer version still circulating throughout the world. Back in 2007, Hong Kong wanted to test polymer banknote technology as they began printing the ten-dollar bank note.
This only proved to be a fun experiment that lasted only two years of printing. If you end up being lucky enough to get your hands on one of these rare banknotes, hold on to it. It's a piece of Hong Kong currency history!
What's the latest news on the Hong Kong dollar?
Cantonese opera features on new HK$100 banknotes launched by HSBC, Standard Chartered and Bank of China (Hong Kong) on Tuesday https://t.co/Tu8W8OVYk3

— SCMP News (@SCMPNews) September 2, 2019
The latest news about the Hong Kong Dollar is the release of the new $100 banknote. This beautiful new addition to the most recent bank note series is an homage to Hong Kong's tradition of the Cantonese Opera.
This note just went into effect last Tuesday, September 3. The $100 Hong Kong dollar banknote has an image of a couple in a Chinese garden illustrated on it to showcase Hong Kong's desire to honor the tradition that dates back to the 13th (however some say 12th) century.
About Currency Exchange International
Currency Exchange International, CXI, is the leading provider of comprehensive foreign exchange services, risk management solutions and integrated international payments processing technology in North America. CXI's relationship-driven approach ensures clients receive tailored solutions and world-class customer service. Through innovative and trusted FX software platforms, CXI delivers versatile foreign exchange services to our clients, so that they can efficiently manage and streamline their foreign currency and global payment needs. CXI is a trusted partner among financial institutions, corporations and retail markets around the world. To learn more, visit: www.ceifx.com