How Much Currency You Need to go on Vacation to Hong Kong, China
Ryan
September 17th, 2019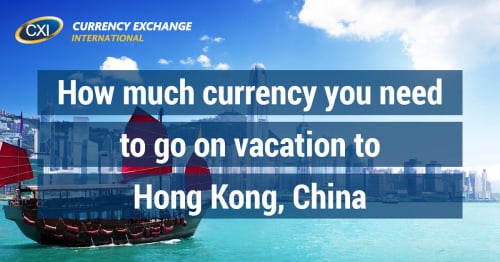 Ordering foreign currency online is easy with OnlineFX.
Planning your trip to Hong Kong? Know how much currency you need to make sure you have a great trip! Don't forget to check out our guide for your stay in Rio De Janeiro, too.
Transportation
In our how much currency to bring abroad chart below, you'll see a 10 mile cab ride is on average about $20.49 in Hong Kong. Having this information on hand will give you a good idea on how much you would need to get around the city.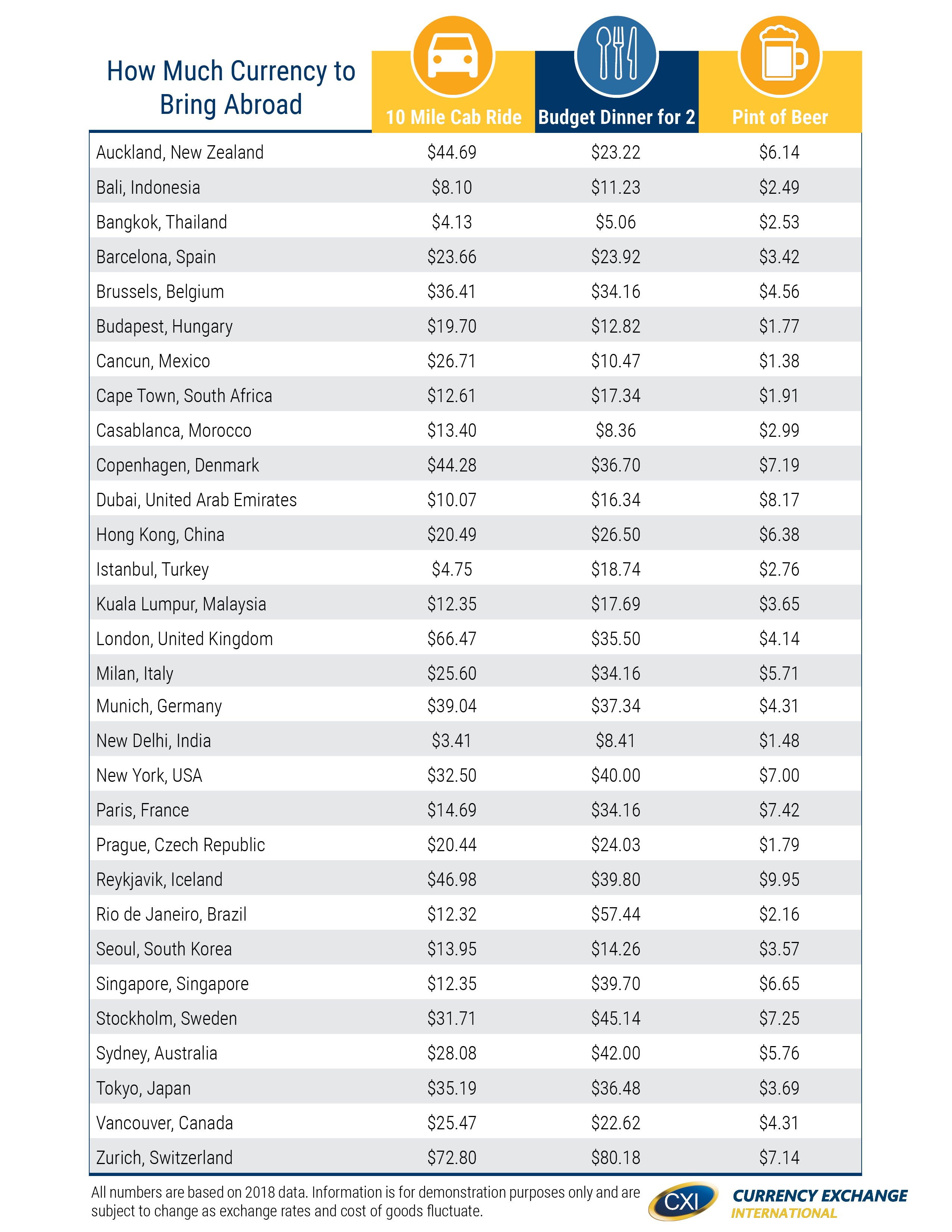 Food
When it comes to the food in Hong Kong, this peninsula and encompassing islands offer plenty of options for food including Islamic bites as well as Indian cuisine, and of course classic Chinese/Cantonese dishes like dim sum, Peking duck, and so much more.
Though there are several options in Hong Kong for dim sum, the classic Cantonese meal, we strongly recommend One Dim Sum. In a recent Time Out review a critic writes of One Dim Sum:
"All the classics are here inside the ever-bustling Prince Edward space, from the har gow and siu mai to the turnip cakes and char siu bao. There are boatloads of dumplings to try, plus ribs and spring rolls and rice rolls and, oh, everything. And you rarely fork out more than $20 for each offering. Have dim sum of that!"
The meals at One Dim Sum definitely come as a bargain as, shown in our how much currency to bring abroad chart above, it costs on average $26.50 for a budget dinner for two. If you want to include some beverages, on average you're looking at about $6.38 for a pint of beer.
Currency: Hong Kong Dollar
The Hong Kong dollar has six different denominations: $5, $10, $20, $50, $100 and $1,000. Each bank note has its own dynamic color scheme that will help you easily distinguish between each denomination.
Moreover, be sure to keep an eye out for the new Hong Kong $100 dollar bank note. This note is elegantly designed to celebrate one of the longest standing and beloved Cantonese traditions: the Cantonese Opera. For more on the Hong Kong dollar, check out our latest foreign currency post.
If you have leftover dollars after your trip to Hong Kong, CXI will buy them back from you. If you originally received this foreign currency from CXI, then with the currency receipt we do not have any exchange fee to buy it back! Order your Hong Kong dollars now.
Flights
Round-trip tickets to Hong Kong for two typically range from about $667 USD to about $2,150 USD, depending on where you leave from, the airline you fly with, and when you are taking your trip, according to Expedia.
According to Cheap Flights, the best time of the year to travel to Hong Kong is in October and November. For one thing, the weather is beautiful and mild during these Fall months, with an average high of 80 degrees fahrenheit and a low of 65 degrees. However, most important to most of us, this time of year also happens to be the best time as far as airline ticket prices go, but be sure to book your flight 2 to 3 months out before your trip.
Don't forget before you book that flight, check out everything you need to know about the five trusted travelers programs in our video below.
Vacation rentals
You're halfway across the world, experiencing an entirely new country, people, food, and culture. Why not discover the way the people in Hong Kong live too? Check out some of the best and most unique superhost places to stay from Airbnb in Hong Kong.
About Currency Exchange International
Currency Exchange International, CXI, is the leading provider of comprehensive foreign exchange services, risk management solutions and integrated international payments processing technology in North America. CXI's relationship-driven approach ensures clients receive tailored solutions and world-class customer service. Through innovative and trusted FX software platforms, CXI delivers versatile foreign exchange services to our clients, so that they can efficiently manage and streamline their foreign currency and global payment needs. CXI is a trusted partner among financial institutions, corporations and retail markets around the world. To learn more, visit: www.ceifx.com>