Key technical reversals, weak US ISM, reduced "no-deal" Brexit risk propels USD lower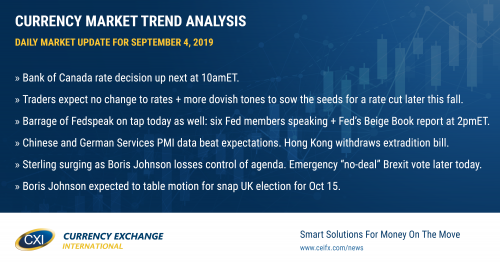 Take control of your international payments with CXI FX Now.
• Zero transfer fees & great rates
• Fast international payments
• Safety and security
• Unparalleled customer service
• Consultative approach
Learn more about CXI's international payment services for businesses or call our trading desk directly at 1-833-572-8933.
Get real-time market coverage on twitter at @EBCTradeDesk or sign up here.
SUMMARY
• Bank of Canada rate decision up next at 10amET.
• Traders expect no change to rates + more dovish tones to sow the seeds for a rate cut later this fall.
• Barrage of Fedspeak on tap today as well: six Fed members speaking + Fed's Beige Book report at 2pmET.
• Chinese and German Services PMI data beat expectations. Hong Kong withdraws extradition bill.
• Sterling surging as Boris Johnson losses control of agenda. Emergency "no-deal" Brexit vote later today.
• Boris Johnson expected to table motion for snap UK election for Oct 15.
ANALYSIS
USDCAD
Key technical reversals and strong NY closes across the major currencies yesterday is pressuring the broader USD this morning. It all started with yesterday's dismal US ISM Manufacturing print for August, which derailed the post weekend rally in the dollar and pressured US 10yr treasury yields to new cycle lows below 1.44%. A strong reversal higher in the British pound also played a part in leading the USD broadly lower, after the UK House of Commons defeated PM Boris Johnson in an emergency vote that would see the parliament take over the next Brexit proceedings in the house. The pound is continuing its rally today as it's expected Boris Johnson will also lose today's emergency motion which would force him to ask the EU for a Brexit extension to Jan 31. So it would appear "no-deal" Brexit risk has simmered down for the time being and markets are feeling better overall. This makes for a more uncertain technical setup for USDCAD however heading into this morning's Bank of Canada interest decision. The market has now slipped below chart support in the 1.3320s whereas yesterday morning we were on the verge of an upside breakout above the 1.3360-70s. A growing consensus has also emerged on the street in recent days that the Bank of Canada will sound more dovish than they did in July, and so we're starting to wonder if today's expected negative change in tone is largely baked into prices here. The press release will come out at 10amET. The key levels to note on the charts today are 1.3290 and 1.3240 to the downside, the 1.3370s to the upside, and the 1.3320s as the near term price pivot.
USDCAD DAILY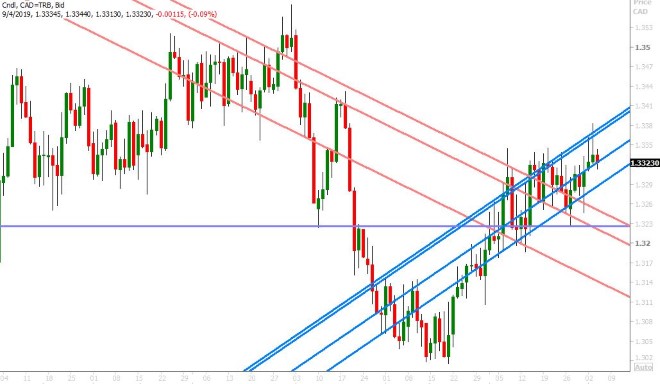 USDCAD HOURLY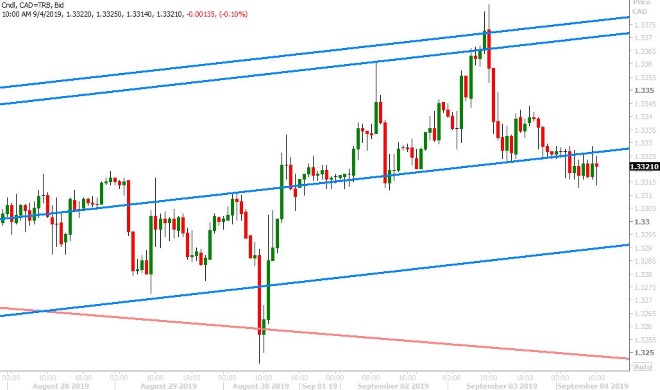 OCT CRUDE OIL DAILY
EURUSD
Euro/dollar continues its reversal higher this morning, largely following in the footsteps of GBPUSD. Yesterday's bullish hammer reversal NY close was the precursor to today's move higher in our opinion, and we think today's continued re-pricing of "no-deal" Brexit risks is adding some fuel to the fire on an otherwise quiet morning when it comes to other European news headlines. ECB President-to-be, Christine Lagarde, said this morning that "inflation is persistently too low" and that "highly accommodative policy will be warranted for a prolonged period", but German bund and EURUSD traders seem to be ignoring this for now (plus we would argue we have heard these dovish tones from her before). The market is now wrestling with trend-line chart resistance in the 1.1010s and is bracing for a barrage of Fedspeak on tap for today's NY session:
Williams – 9:45amET
Kaplan – 12:00pmET
Bowman & Bullard – 12:30pmET
Kashkari – 1pmET
Fed Beige Book – 2pmET
Evans – 3:15pmET
We think the 1.1010s will be pivotal for EURUSD price action today. A move back below could invite the sellers back in for a possible re-test of the 1.0960 whereas a move above could prompt more buying into 1.1050.
EURUSD DAILY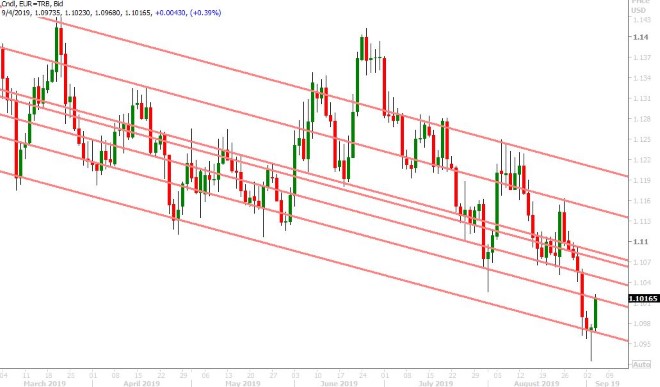 EURUSD HOURLY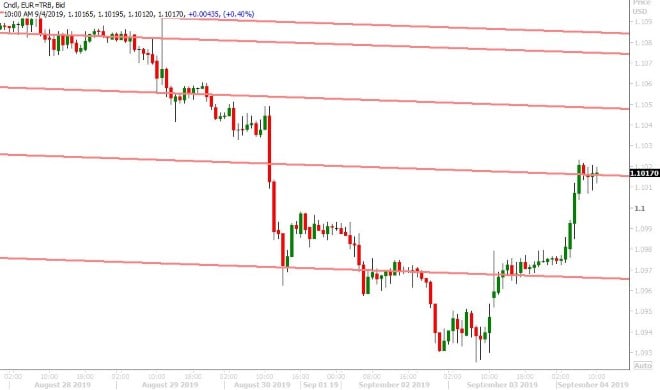 DEC GOLD DAILY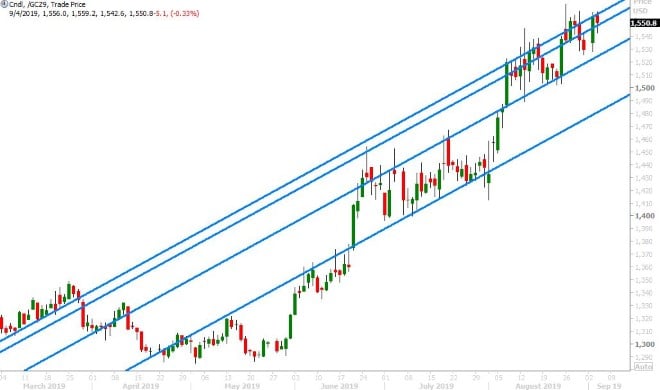 ---
GBPUSD
Sterling is ripping higher this morning and we very much believe yesterday's bullish hammer reversal NY close back above trend-line support in the 1.2060s set the market up for this. Things are getting worse by the minute for Boris Johnson and, while this hurts the UK PM politically, the markets are thinking this reduces the odds of a "no-deal" Brexit outcome for the time being. Johnson has lost a motion to lead the parliamentary time table in the House of Commons; he has lost his majority rule in the house by way of one of his members defecting to the Lib-Dem party; he is now likely to lose today's emergency vote which will outlaw a "no-deal" Brexit and force the British PM go back to Brussels for an Brexit extension; and what is more, it's still uncertain at this point if Boris Johnson will be able to call for the snap general election he now wants for Oct 15 (he needs 2/3 of the house to approve it and Jeremy Corbyn has said the Labour party will block it until a "no-deal" Brexit bill is passed). GBPUSD has blasted through the 1.2160-80 resistance level this morning and we're now seeing some profit taking to retest this level as new chart support. Expect some fanfare later this afternoon and in early Asian trade tonight as the "no-deal" Brexit vote and Boris Johnson's election motion gets voted on.
GBPUSD DAILY
GBPUSD HOURLY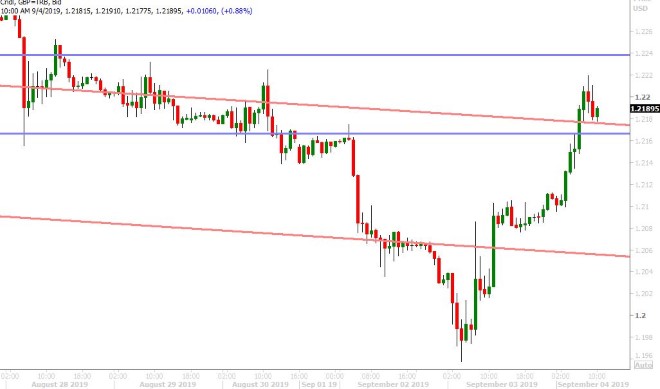 EURGBP DAILY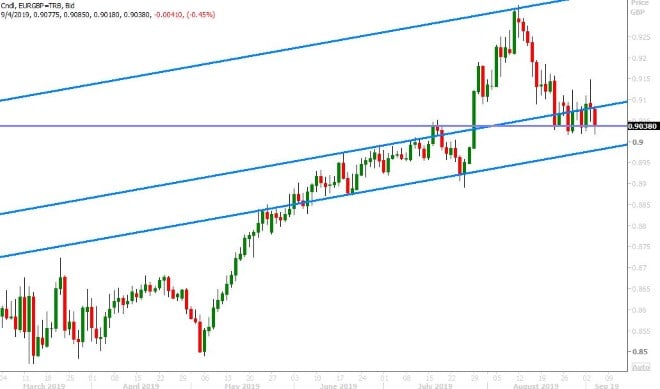 ---
AUDUSD
The Australian dollar was the first G7 currency pair to start reversing higher yesterday off the back of the RBA's unexciting hold to interest rates. The bullish outside day pattern, that we talked about developing on the charts yesterday, then got confirmation by way of the much weaker than expected US ISM figures for August and the USD selloff which ensued after that. Yesterday's NY close above chart resistance at the 0.6750 level was as bullish as they come, especially when you combine it with an outside day pattern, and we're now seeing some nice follow-through in AUDUSD to the upside today. Australia reported its Q2 GDP figures in-line with expectations last night (+0.5% QoQ). A trend-line resistance level in the 0.6790s now appears to capping prices heading into NY trade, and it's quite possible we could see the market pull back here should GBPUSD cool off a bit more and EURUSD fall back below the 1.1010s.
AUDUSD DAILY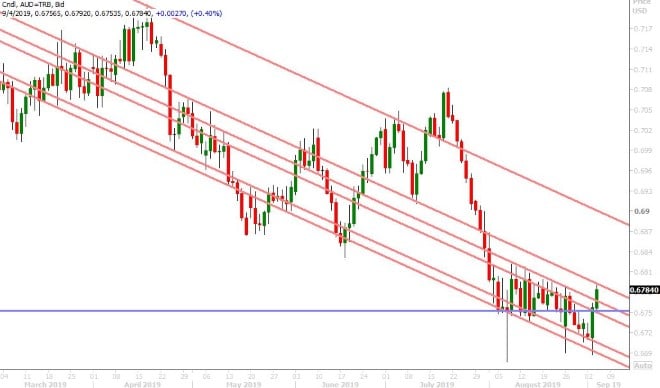 AUDUSD HOURLY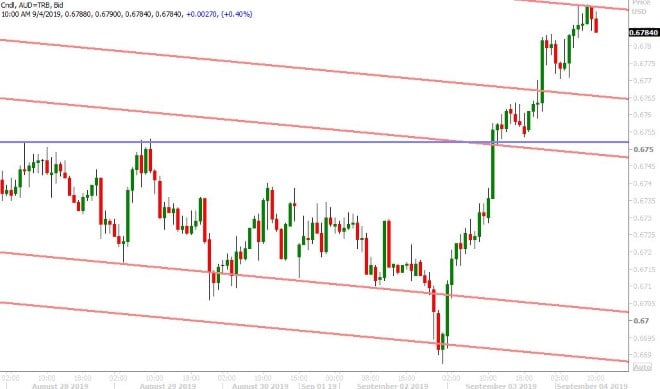 USDCNH DAILY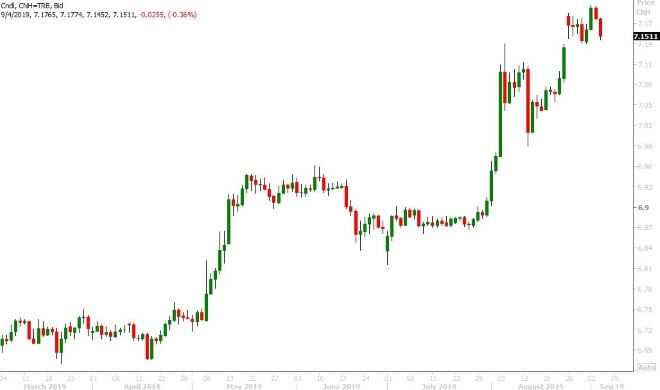 ---
USDJPY
Dollar/yen saw selling yesterday off the back of the weak US ISM figures for August, but the market has recouped those losses this morning. There's a sense of "risk-on" today if we look at the S&P futures (+26) and the global bond yields (German bunds +5bp and US 10s +4bp). The Chinese and German Services PMIs for August beat expectations, "no-deal" Brexit risk appears to be subsiding for the moment, and one could even argue that Hong Kong's decision to formally withdraw the extradition bill is positive for risk sentiment here. USDJPY, however, remains largely confined to its recent range and we think today's 2blnUSD of option expiries in the 106.30-50 zone won't help with that. Today's lineup of Fedspeak should be the focus for bonds and the "Fed rate cut trade" in general. We think a strong close for US 10s above 1.50% could mark a short-term bottom for rates.
USDJPY DAILY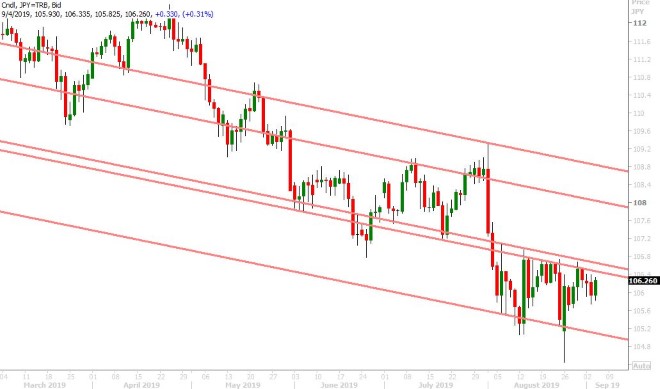 USDJPY HOURLY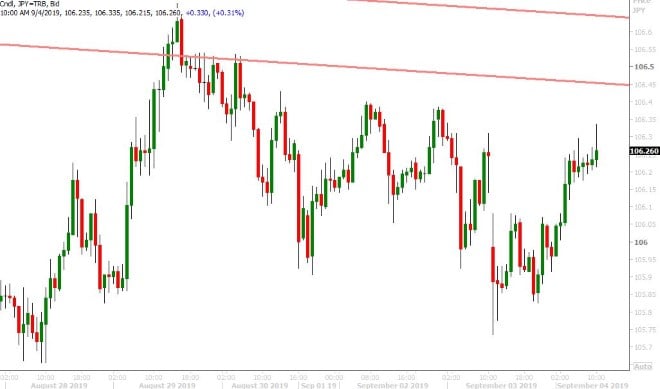 US 10YR YIELD DAILY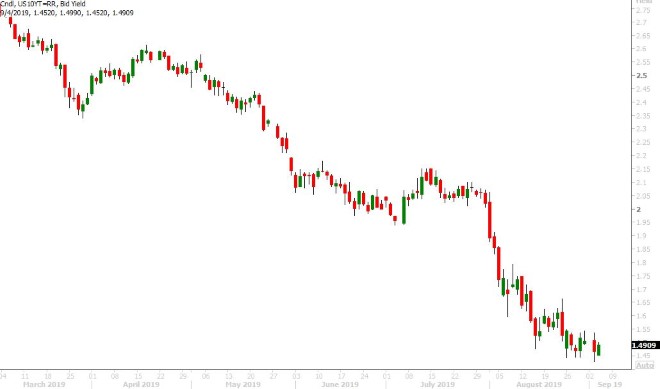 Charts: Reuters Eikon
---
About the Author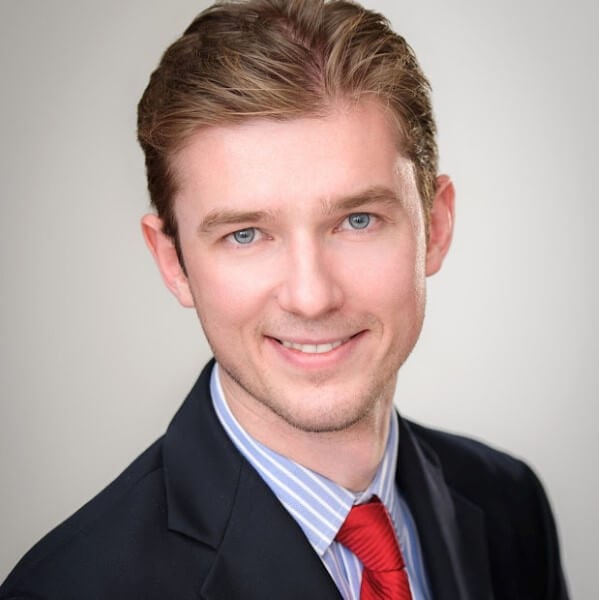 About Currency Exchange International
Currency Exchange International, CXI, is the leading provider of comprehensive foreign exchange services, risk management solutions and integrated international payments processing technology in North America. CXI's relationship-driven approach ensures clients receive tailored solutions and world-class customer service. Through innovative and trusted FX software platforms, CXI delivers versatile foreign exchange services to our clients, so that they can efficiently manage and streamline their foreign currency and global payment needs. CXI is a trusted partner among financial institutions, corporations and retail markets around the world. To learn more, visit: www.ceifx.com
This publication has been prepared by Currency Exchange International for informational and marketing purposes only. Opinions, estimates and projections contained herein are our own as of the date hereof and are subject to change without notice. The information and opinions contained herein have been compiled or arrived at from sources believed reliable, but no representation or warranty, express or implied, is made as to their accuracy or completeness and neither the information nor the forecast shall be taken as a representation for which Currency Exchange International, its affiliates or any of their employees incur any responsibility. Neither Currency Exchange International nor its affiliates accept any liability whatsoever for any loss arising from any use of this information. This publication is not, and is not constructed as, an offer to sell or solicitation of any offer to buy any of the currencies referred to herein, nor shall this publication be construed as an opinion as to whether you should enter into any swap or trading strategy involving a swap or any other transaction. The general transaction, financial, educational and market information contained herein is not intended to be, and does not constitute, a recommendation of a swap or trading strategy involving a swap within the meaning of U.S. Commodity Futures Trading Commission Regulation 23.434 and Appendix A thereto. This material is not intended to be individually tailored to your needs or characteristics and should not be viewed as a "call to action" or suggestion that you enter into a swap or trading strategy involving a swap or any other transaction. You should note that the manner in which you implement any of the strategies set out in this publication may expose you to significant risk and you should carefully consider your ability to bear such risks through consultation with your own independent financial, legal, accounting, tax and other professional advisors. All Currency Exchange International products and services are subject to the terms of applicable agreements and local regulations. This publication and all information, opinions and conclusions contained in it are protected by copyright. This information may not be reproduced in whole or in part, or referred to in any manner whatsoever nor may the information, opinions and conclusions contained in it be referred to without the prior express written consent of Currency Exchange International.