Markets go risk-on after more Chinese intervention
Take control of your international payments with CXI FX Now.
• Zero transfer fees & great rates
• Fast international payments
• Safety and security
• Unparalleled customer service
• Consultative approach
Learn more about CXI's international payment services for businesses or call our trading desk directly at 1-833-572-8933.
Get real-time market coverage on twitter at @EBCTradeDesk or sign up here.
SUMMARY
China pumps another 400bln yuan into money markets.  Urges investors not to panic.  Sets USDCNY fix lower.

RBA downplays coronavirus for now, saying it will "

temporarily weigh" on domestic growth.  AUD bounces.

UK Construction PMI for January beats expectations, 48.4 vs 46.6.  Helps GBPUSD rally after stop hunt below 1.2960s.

Risk-on tone lifts crude oil prices 1.7%, sees USDCAD retrace to 1.3270s support.

US 10yr yields now breaking back above 1.58%, lifting USDJPY comfortably above 109.00.

US Factory Orders for December up next at 10amET, +1.2% MoM expected vs -0.7% previously.

Over 20k infections and 426 deaths confirmed in China.  Macau to close all 41 of its casinos for two weeks.
ANALYSIS
USDCAD
A couple of negative coronavirus headlines out of the US Centre for Disease Control (CDC) was enough to make markets go into risk-off again during NY trade yesterday.  CDC said it confirmed the second person-to-person transmission of the virus and it also said it's preparing as if the coronavirus is "the next pandemic".  The US 10yr yield fell swiftly back to Friday's lows, crude oil prices fell another 3%, and USDCAD blasted through the 1.3250s resistance level.
All this is being dialed back today however after China unleashed another liquidity bazooka overnight.  A day after injecting 1.2 trillion yuan into repo markets, the PBOC injected another 400bln.  The USDCNY fix was set at 6.9779, which was much lower than the yuan's official close yesterday above 7.0000.  What is more, we saw two Chinese state media outlets urge investors not to panic over the plunge in mainland markets a day earlier.  More here from CNBC.  If we combine this with last night's RBA statement (that didn't seem too concerned about the coronavirus outbreak) and this morning's better than expected January Construction PMI out of the UK, traders have a lot of positive soundbites they can point to for today's risk-on moves.  Global equities, crude oil, the Chinese yuan and commodity currencies are rallying while bonds, gold, the JPY, and even the EUR (given its recent correlation to gold) are declining.
USDCAD has pulled back to test chart support in the 1.3270s as a result and traders are now awaiting the US Factory Orders data for December at 10amET (+1.2% MoM expected vs -0.7% previously).
USDCAD DAILY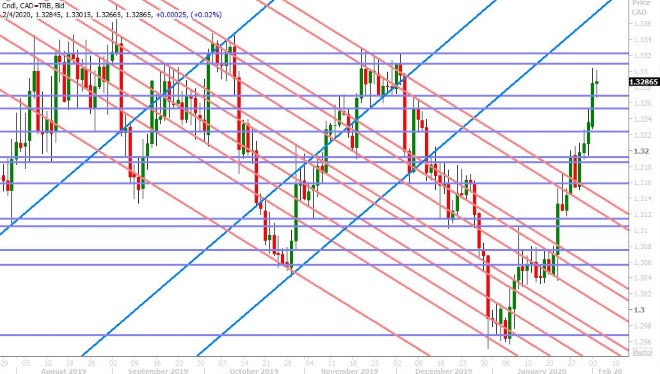 USDCAD HOURLY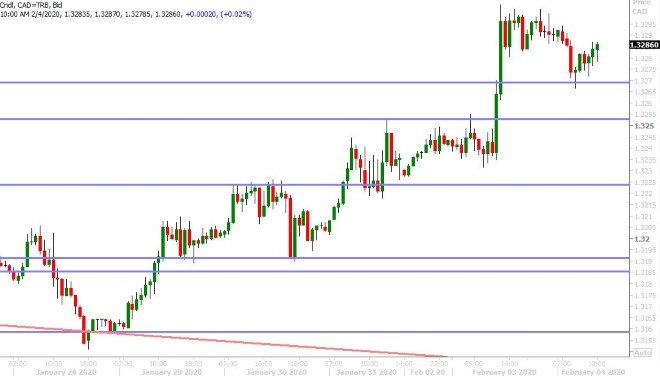 MAR CRUDE OIL DAILY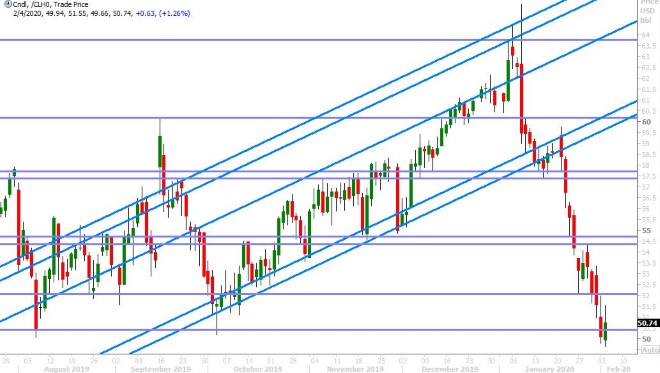 ---
EURUSD
Yesterday's CDC driven risk-off move got EURUSD back into the 1.1050-80s range by the NY close, but the overnight pressure on gold prices and some looming option expiries at the 1.1030-40 strikes for today (1blnEUR) are now pulling the market back below it.  We think this technical development now introduces a relatively wider trading range that could see the market retest support down in the 1.1010-20s.  We could see a little bit of influence on the market this morning from the US Factory Orders report but we think the overall risk tone, and how it affects US yields/gold prices, will be the dominant driver for EURUSD as we head into tomorrow's final January Services PMI report for Germany (3:55amET).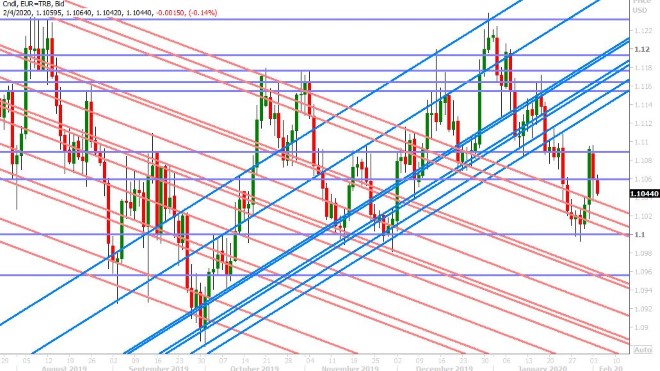 EURUSD HOURLY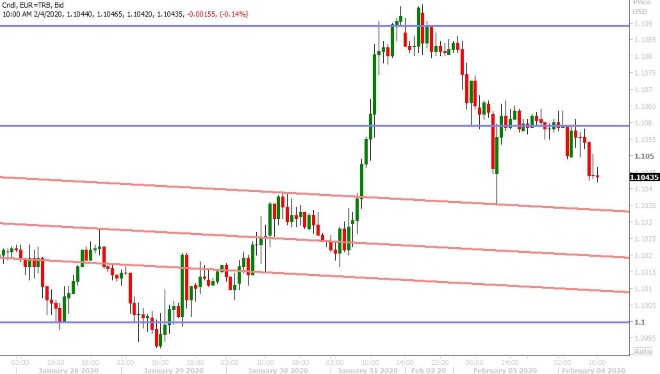 APRIL GOLD DAILY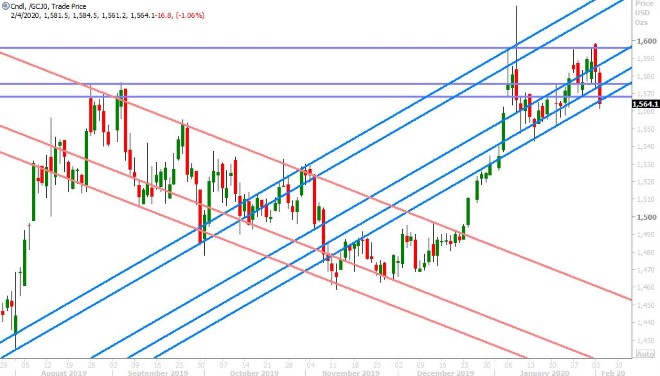 ---
GBPUSD
Sterling recorded an awful close yesterday by ending NY trade well below chart support in the 1.3030-40s.  This was the cue for more sellers to enter in the overnight session and their mission de-jour seemed to be taking out sell stops below the 1.2960s in early London trade.  We saw a bounce in GBPUSD once this was over and then a recovery rally after the UK reported a better than expected Construction PMI number for January (48.4 vs 46.6).  This rally has since extended all the way back to the 1.3030-40s and this area is now acting as resistance on the charts.
GBPUSD DAILY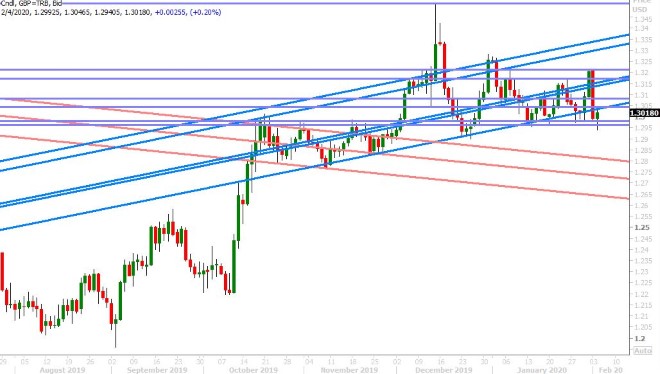 GBPUSD HOURLY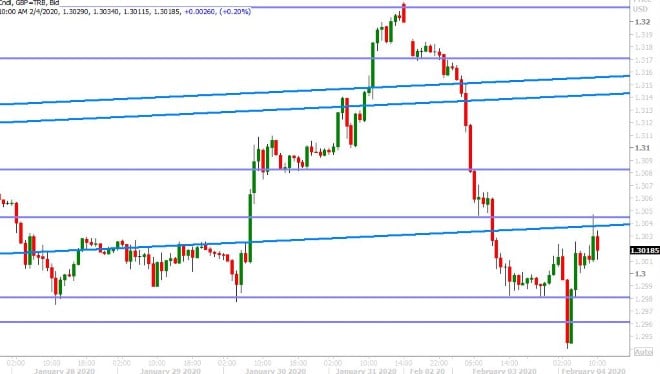 EURGBP DAILY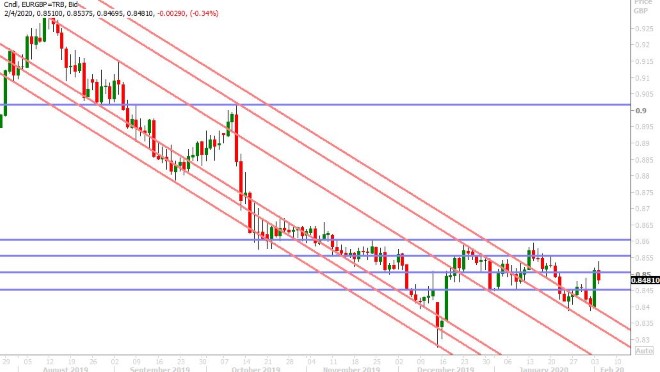 ---
AUDUSD
The Australian dollar is finally bouncing this morning, and we think this because the Reserve Bank of Australia indeed didn't raise any alarm bells with regard to the coronavirus in its post-meeting press release yesterday.  In the midst of announcing an expected hold to Australian interest rates, the RBA said the coronavirus outbreak will "temporarily weigh" on domestic growth, and that "it is too early to determine how long-lasting the impact will be".  Full press release here.  Traders vaulted the market off the 0.6770-80s support level and they're now battling it out at trend-line chart resistance in the 0.6720s (where buyers have failed twice already in early European trade today). 
The OIS market is still retaining a modest easing bias for the RBA heading into the March 3rd meeting (23% odds), but this statement doesn't give us any impression that the Australian central bank is in a rush to anything right now. "With interest rates having already been reduced to a very low level and recognizing the long and variable lags in the transmission of monetary policy, the Board decided to hold the cash rate steady at this meeting".  We think a NY close above the 0.6720s could spur further short covering from the fund community.
AUDUSD DAILY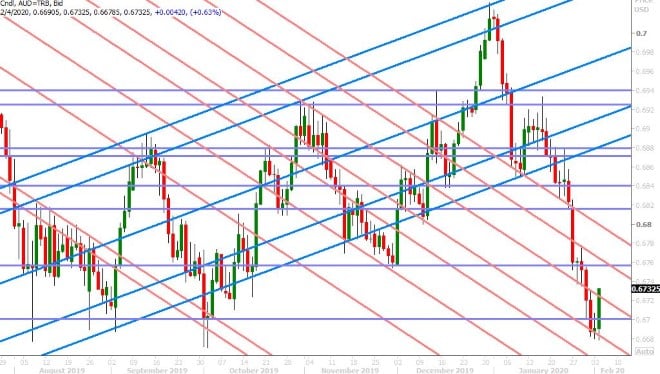 AUDUSD HOURLY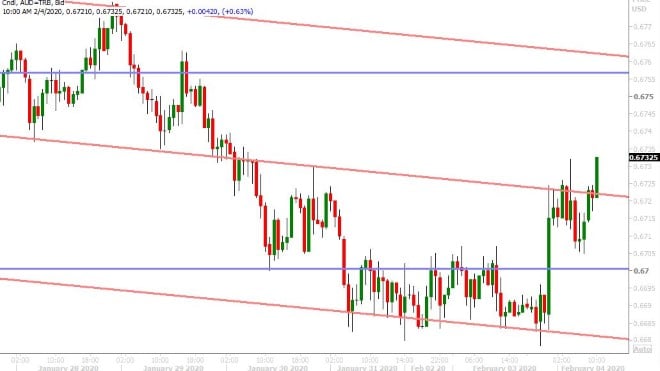 USDCNH DAILY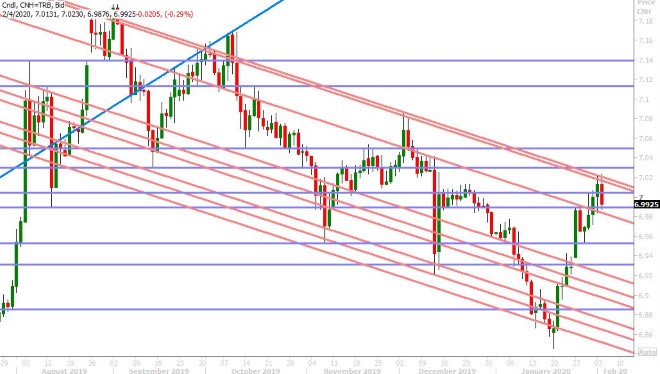 ---
USDJPY
Dollar/yen is rallying handsomely this morning as traders with a risk-on thesis have plenty of supporting arguments to cling to today.  We now have over 20k infections and 426 deaths in China due to the coronavirus outbreak, a nation in urgent need of medical supplies, and now 41 casinos shutting down in Macau just to be safe, but don't worry…the Chinese authorities say not to panic. 
It's sort of comical to think that the Chinese can "intervene" their way out of the economic side effects of the coronavirus outbreak, but for the time being we think it's not wise to fight the headlines.  Markets continue to be extremely headline driven and will take what's reported at face value...and so we have to as well, without over-analyzing.  The US 10yr yield has now broken back above last Thursday's chart resistance level in the 1.58% region.  USDJPY has overshot the new 108.60-109.00 range we talked about yesterday.  Over 1.1blnUSD in options expire this morning at the 109.00 strike and we think this could keep the market anchored to current levels until we get the next headline.  
USDJPY DAILY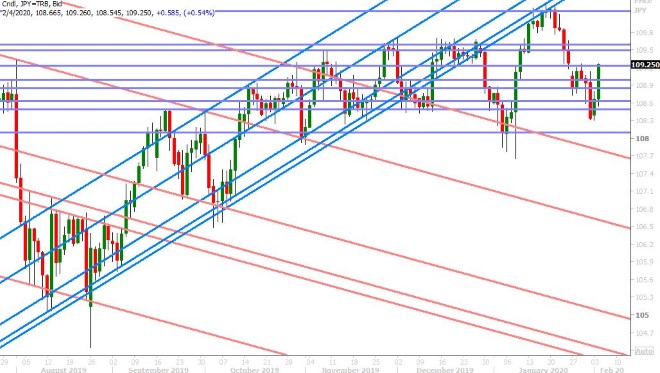 USDJPY HOURLY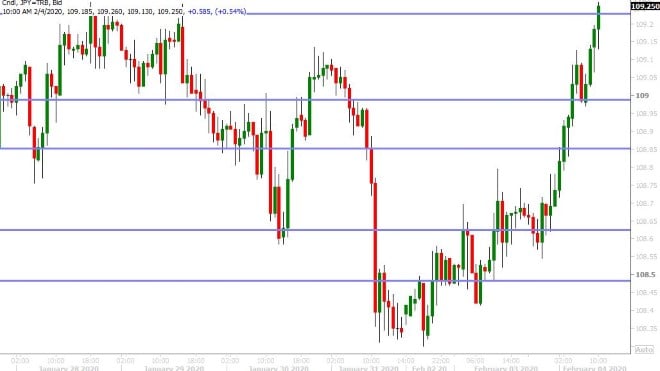 GERMAN 10YR BUND YIELD DAILY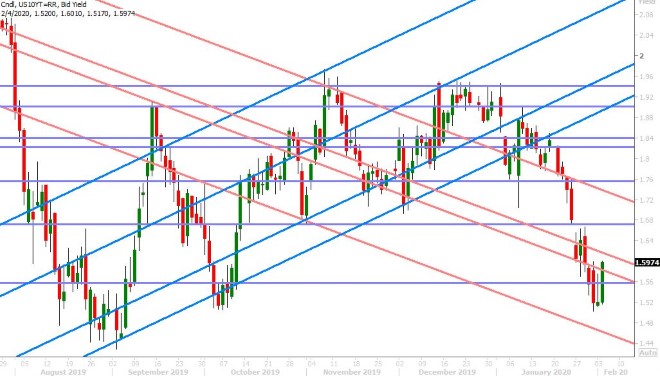 Charts: Reuters Eikon
---
About the Author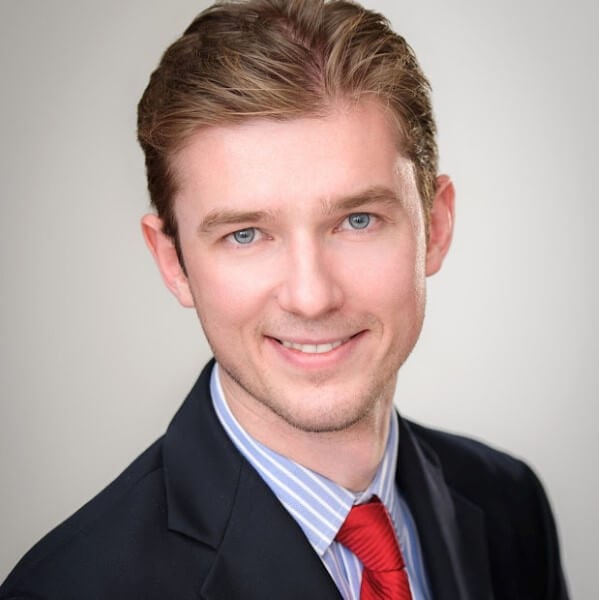 About Currency Exchange International
Currency Exchange International, CXI, is the leading provider of comprehensive foreign exchange services, risk management solutions and integrated international payments processing technology in North America. CXI's relationship-driven approach ensures clients receive tailored solutions and world-class customer service. Through innovative and trusted FX software platforms, CXI delivers versatile foreign exchange services to our clients, so that they can efficiently manage and streamline their foreign currency and global payment needs. CXI is a trusted partner among financial institutions, corporations and retail markets around the world. To learn more, visit: www.ceifx.com
This publication has been prepared by Currency Exchange International for informational and marketing purposes only. Opinions, estimates and projections contained herein are our own as of the date hereof and are subject to change without notice. The information and opinions contained herein have been compiled or arrived at from sources believed reliable, but no representation or warranty, express or implied, is made as to their accuracy or completeness and neither the information nor the forecast shall be taken as a representation for which Currency Exchange International, its affiliates or any of their employees incur any responsibility. Neither Currency Exchange International nor its affiliates accept any liability whatsoever for any loss arising from any use of this information. This publication is not, and is not constructed as, an offer to sell or solicitation of any offer to buy any of the currencies referred to herein, nor shall this publication be construed as an opinion as to whether you should enter into any swap or trading strategy involving a swap or any other transaction. The general transaction, financial, educational and market information contained herein is not intended to be, and does not constitute, a recommendation of a swap or trading strategy involving a swap within the meaning of U.S. Commodity Futures Trading Commission Regulation 23.434 and Appendix A thereto. This material is not intended to be individually tailored to your needs or characteristics and should not be viewed as a "call to action" or suggestion that you enter into a swap or trading strategy involving a swap or any other transaction. You should note that the manner in which you implement any of the strategies set out in this publication may expose you to significant risk and you should carefully consider your ability to bear such risks through consultation with your own independent financial, legal, accounting, tax and other professional advisors. All Currency Exchange International products and services are subject to the terms of applicable agreements and local regulations. This publication and all information, opinions and conclusions contained in it are protected by copyright. This information may not be reproduced in whole or in part, or referred to in any manner whatsoever nor may the information, opinions and conclusions contained in it be referred to without the prior express written consent of Currency Exchange International.