Massive M&A flows in EURJPY spurs broad risk-on wave across global markets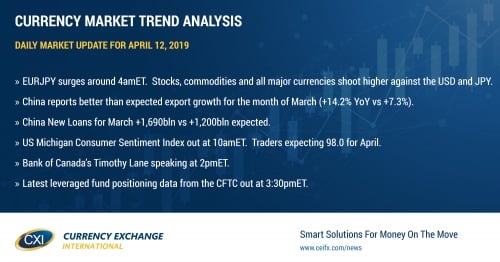 Summary
USDCAD: Dollar/CAD and the broader USD are falling apart this morning as chatter circulates about a massive 3bln EURJPY buy order that was executed in the market earlier. According to Reuters, this is rumored by dealers to be related to the MUFJ's 5.6bln EUR purchase of the aviation financing business of Germany's DZ Bank. While the acquisition was announced by Japan's MUFJ on March 1st and is expected to close in June, it looks like the FX portion of the transaction is now underway. If we look at the chart for EURJPY, it exploded higher above trend-line chart resistance in the 125.70s at 4amET, but so too did stocks, commodities and almost every other major currency against the USD and the JPY! China reported upbeat export and loan growth data for the month of March about an hour before this, and while some news outlets are saying this is a reason behind today's "risk-on" tone to global markets, we think the EURJPY move and how incredibly correlated markets are now due to trading algorithms, is the story du jour. USDCAD struggled at chart resistance in the 1.3390s yesterday and it has now given up overnight support in the 1.3350s as the USD trades broadly lower and May crude oil prices trade +1.3% higher. Some buyers have stepped in at Wednesday's pivot around the 1.3330s. Today's calendar features some 2nd tier data out at 10amET (US Michigan Consumer Sentiment Index) and the Bank of Canada's Timothy Lane speaking on a panel at the IMF at 2pmET (Topic: Should Central Banks Issue Digital Currencies). Over 1.2bln USD in options expire at the 1.3300 strike in USDCAD this morning, and so we wouldn't be surprised to see further pressure here into the weekend.

EURUSD: Euro/dollar has broken higher above chart resistance in the 1.1280s this morning and this move occurred right around 4amET when the EURJPY cross shot higher. We think this may now invite further buying up to the 1.1340-50s and force the entrenched EUR fund short position to re-evaluate, despite more dovish tones from the ECB this week. We'll get an updated read on fund positioning as of April 9th from the CFTC later this afternoon. Recall that their net short position in EUR reached a 32 month high as of April 2nd.

GBPUSD: Sterling is rallying +0.5% higher this morning, but it has nothing to do with Brexit unfortunately and all to do with broad, risk-on, EURJPY-inspired, USD selling. The market is bumping up against some trend-line resistance now in the 1.3110-20 level as NY trading gets underway. The next major resistance level after this comes in at the 1.3170s in our opinion. The EURGBP cross attempted another break above familiar chart resistance in the 0.8650s earlier today, but this move appears to be fizzling out yet again (which is GBP supportive in our opinion). You might be asking yourself this morning: what happens now with Brexit? See here for a nice summary from the BBC.
AUDUSD: The Aussie has been rallying strongly this morning as well, with the 4amET pop higher in EURJPY igniting a swift move higher in AUDUSD back above this week's price pivot in the 0.7150s. This has allowed the gains to snowball in our opinion, and we're all of sudden trading back at Wednesday's trend-line resistance level in the 0.7170s. We think the current momentum of the market might see buyers try to break above it today, but we think they may tire at the 0.7200 level (where more chart resistance lies). The RBA's bi-annual Financial Stability Review, released overnight, expressed increased risks from global growth moderation and the highly indebted Australian household sector.

USDJPY: Dollar/yen has been a natural benefactor of the EURJPY rally today, with gains being accentuated by a clean break above USDJPY chart resistance in the 111.60s. The S&P futures are up 20pts at this hour, and are now trading at a new high for 2019. The US 10yr yield is now trading comfortably back above 2.50%, and is knocking on the door of chart resistance at 2.55%. Who would of thought that a peculiar selloff in gold prices and some massive M&A flows would have come to the rescue for the USDJPY fund longs this week. We'll get an updated read on their net positioning from the CFTC later today. We think USDJPY traders need to hold the 111.80s today in order to maintain the current upward momentum. The next major chart resistance level comes in at the 112.40s in our opinion.
Tune in @EBCTradeDesk for more real-time market coverage.
Market Analysis Charts
USD/CAD Daily Chart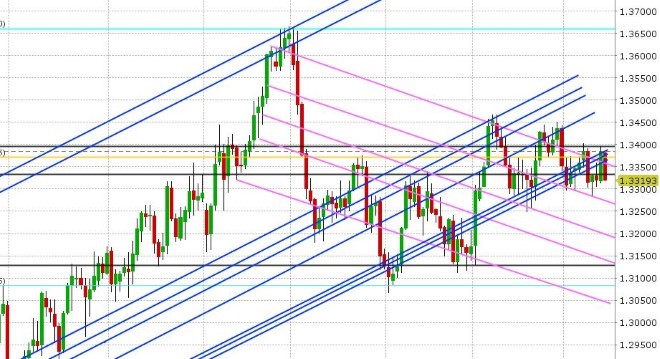 USD/CAD Hourly Chart
May Crude Oil Daily Chart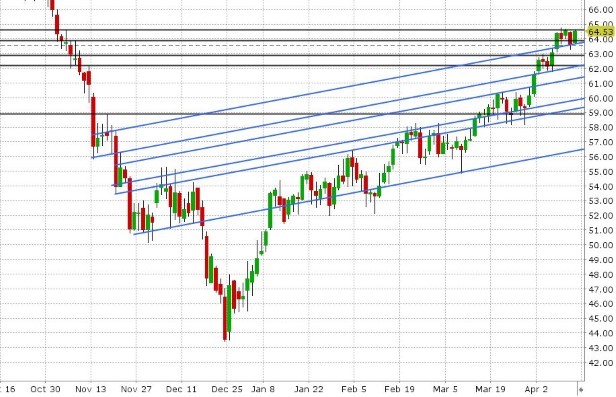 EUR/USD Daily Chart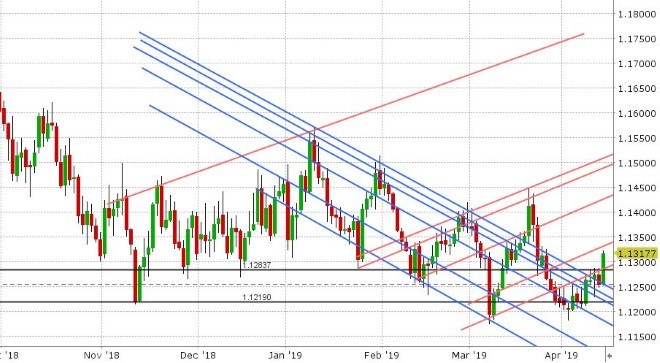 EUR/USD Hourly Chart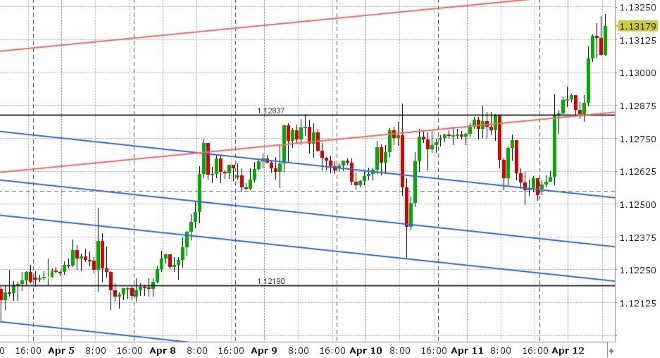 USD/CNH Daily Chart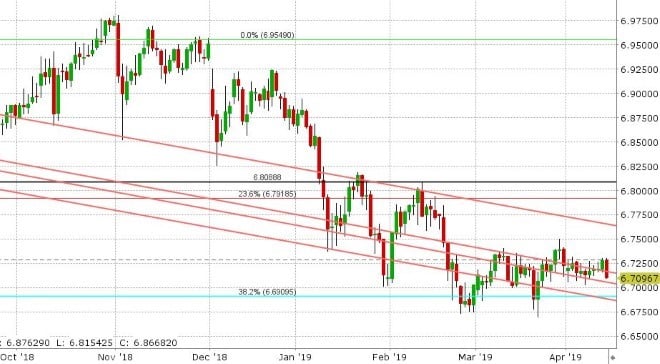 GBP/USD Daily Chart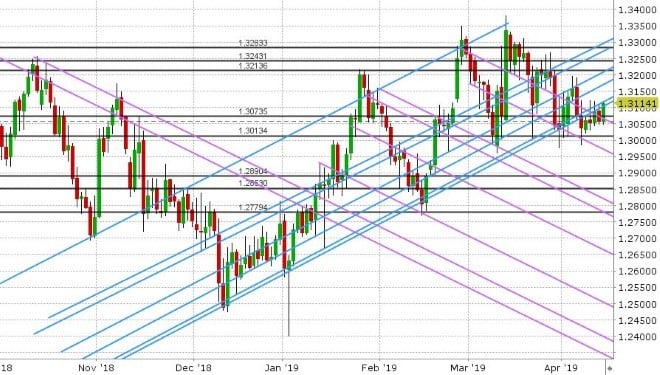 GBP/USD Hourly Chart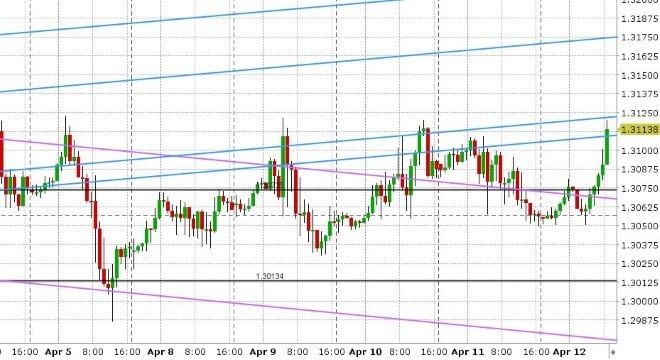 EUR/GBP Daily Chart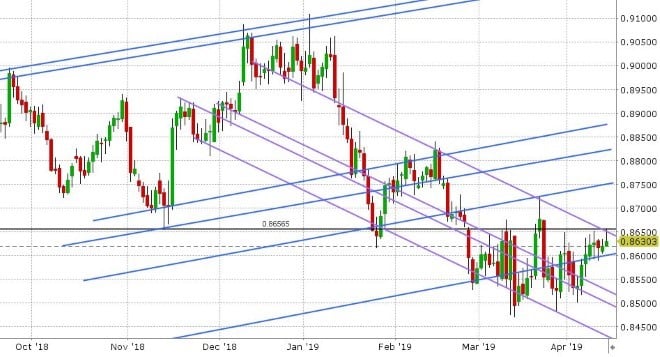 AUD/USD Daily Chart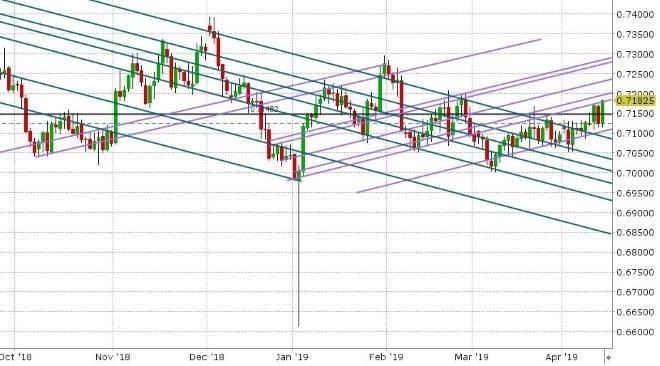 AUD/USD Hourly Chart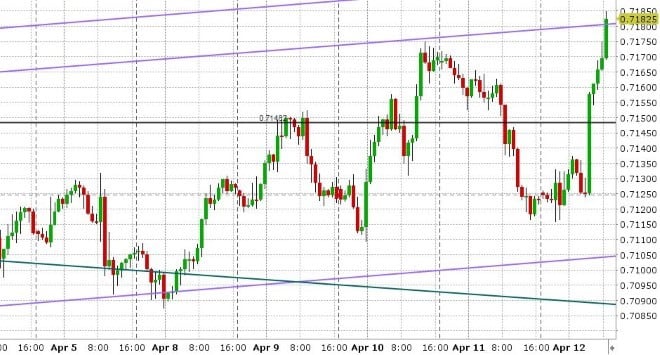 May Copper Daily Chart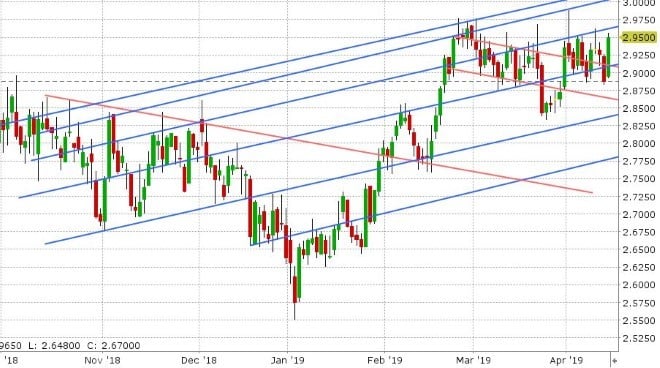 USD/JPY Daily Chart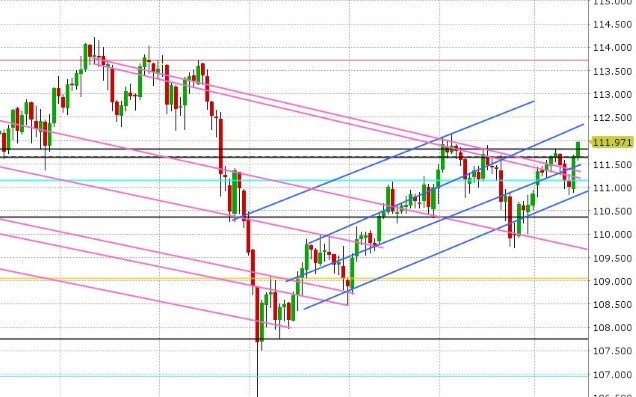 USD/JPY Hourly Chart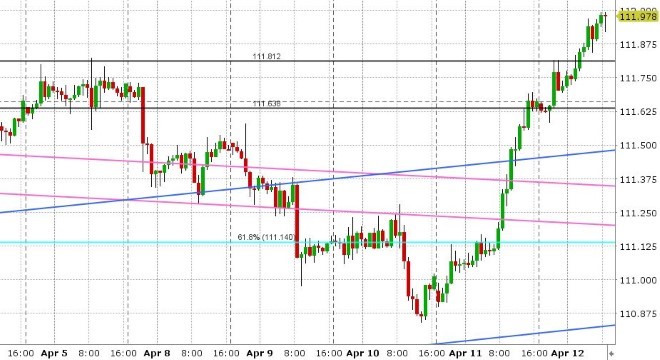 EUR/JPY Daily Chart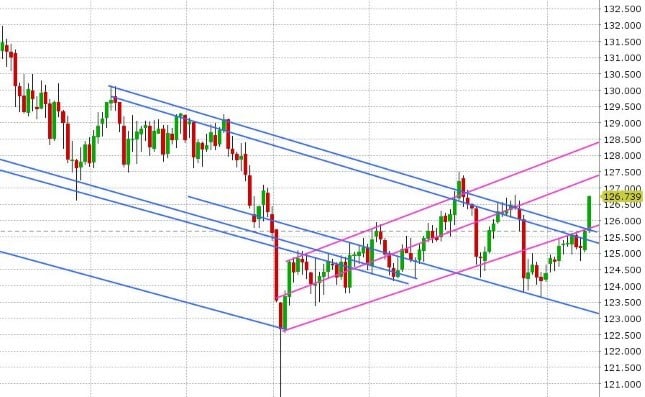 Charts: TWS Workspace
---
About the Author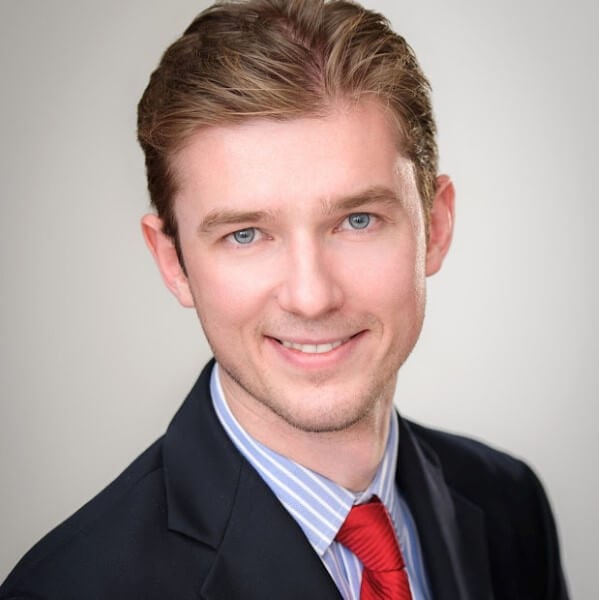 About Currency Exchange International
Currency Exchange International, CXI, is the leading provider of comprehensive foreign exchange services, risk management solutions and integrated international payments processing technology in North America. CXI's relationship-driven approach ensures clients receive tailored solutions and world-class customer service. Through innovative and trusted FX software platforms, CXI delivers versatile foreign exchange services to our clients, so that they can efficiently manage and streamline their foreign currency and global payment needs. CXI is a trusted partner among financial institutions, corporations and retail markets around the world. To learn more, visit: www.ceifx.com
This publication has been prepared by Currency Exchange International for informational and marketing purposes only. Opinions, estimates and projections contained herein are our own as of the date hereof and are subject to change without notice. The information and opinions contained herein have been compiled or arrived at from sources believed reliable, but no representation or warranty, express or implied, is made as to their accuracy or completeness and neither the information nor the forecast shall be taken as a representation for which Currency Exchange International, its affiliates or any of their employees incur any responsibility. Neither Currency Exchange International nor its affiliates accept any liability whatsoever for any loss arising from any use of this information. This publication is not, and is not constructed as, an offer to sell or solicitation of any offer to buy any of the currencies referred to herein, nor shall this publication be construed as an opinion as to whether you should enter into any swap or trading strategy involving a swap or any other transaction. The general transaction, financial, educational and market information contained herein is not intended to be, and does not constitute, a recommendation of a swap or trading strategy involving a swap within the meaning of U.S. Commodity Futures Trading Commission Regulation 23.434 and Appendix A thereto. This material is not intended to be individually tailored to your needs or characteristics and should not be viewed as a "call to action" or suggestion that you enter into a swap or trading strategy involving a swap or any other transaction. You should note that the manner in which you implement any of the strategies set out in this publication may expose you to significant risk and you should carefully consider your ability to bear such risks through consultation with your own independent financial, legal, accounting, tax and other professional advisors. All Currency Exchange International products and services are subject to the terms of applicable agreements and local regulations. This publication and all information, opinions and conclusions contained in it are protected by copyright. This information may not be reproduced in whole or in part, or referred to in any manner whatsoever nor may the information, opinions and conclusions contained in it be referred to without the prior express written consent of Currency Exchange International.