Nancy Pelosi announces impeachment "inquiry" against Trump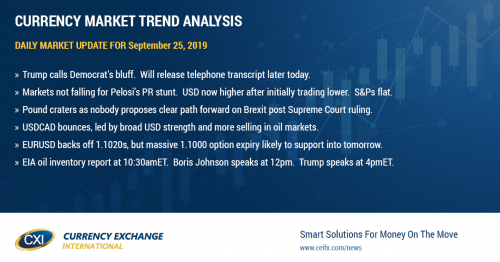 Take control of your international payments with CXI FX Now.
• Zero transfer fees & great rates
• Fast international payments
• Safety and security
• Unparalleled customer service
• Consultative approach
Learn more about CXI's international payment services for businesses or call our trading desk directly at 1-833-572-8933.
Get real-time market coverage on twitter at @EBCTradeDesk or sign up here.
SUMMARY
•
Trump calls Democrat's bluff.  Will release telephone transcript later today.  
•
Markets not falling for Pelosi's PR stunt.  USD now higher after initially trading lower.  S&Ps flat.
•
Pound craters as nobody proposes clear path forward on Brexit post Supreme Court ruling.
•
USDCAD bounces, led by broad USD strength and more selling in oil markets.
•
EURUSD backs off 1.1020s, but massive 1.1000 option expiry likely to support into tomorrow.
•
EIA oil inventory report at 10:30amET.  Boris Johnson speaks at 12pm.  Trump speaks at 4pmET.
ANALYSIS
USDCAD
Dollar/CAD is rallying higher with the broader USD this morning, but if we look at overnight price action across markets we think this has more to do with declining oil prices and growing Brexit angst in the UK as lawmakers were forced back to work today with no clear path forward, as opposed to "risk-off" flows from Nancy Pelosi's impeachment PR stunt against President Trump late yesterday.  To be clear, an official vote to commence impeachment proceedings HAS NOT yet occurred on the floor of the House of Representatives.  According to Fox News, neither the Democrats nor the alleged whistleblower are even privy to the contents of Trump's phone call with President Zelensky of Ukraine.  President Trump, in calling Pelosi's bluff, has now agreed to release the transcript of his call with Zelensky later today insisting he's done nothing wrong…and so this could all blow up in Democrat faces very soon.  We honestly think markets aren't too bothered by all this impeachment banter for the moment.  The USD has now bounced considerably higher from its lows after the Pelosi headlines late yesterday.  This sounds like another desperate attempt by Democrats (think Russia-gate) to get Trump out of office because they don't have a compelling message with which to beat him at the ballot box come 2020.  We think the sad state of the Brexit crisis and October crude oil's mission to fill its Sep 15th chart gap are far more important things for traders to be watching right now.  The weekly API report came out last night with an unexpected build in inventories (bearish) and we've also seen headlines from Reuters that suggest Saudi Arabia is ahead of schedule with bringing its oil production capacity fully back online.  The weekly EIA oil inventory report will be released this morning at 10:30amET, with traders expecting a draw of 0.249M barrels.  President Trump is expected to speak at 4pmET today.
USDCAD DAILY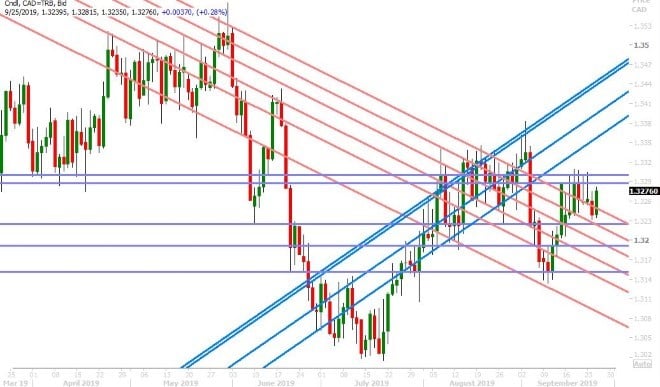 USDCAD HOURLY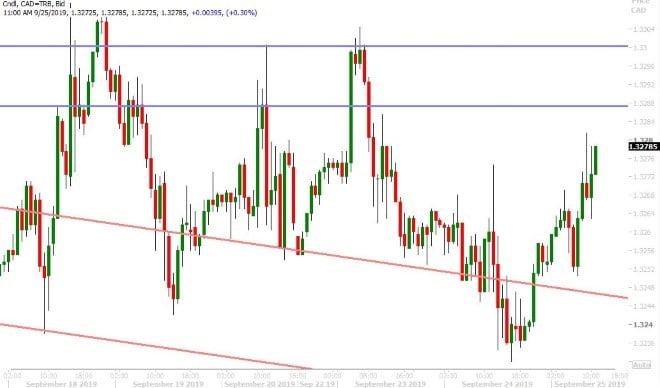 OCT CRUDE OIL DAILY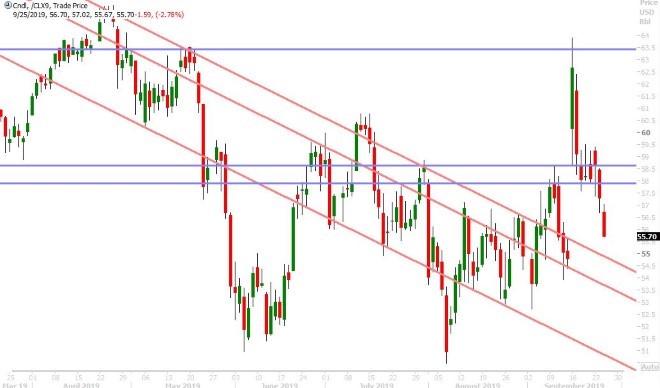 EURUSD
Euro/dollar has fallen back from its post-Pelosi highs at trend-line resistance in the 1.1020s as the sellers didn't ultimately fall for the Speaker of the House's impeachment speech (that's all it was), and with no European economic or central bank headlines to chew on this morning, we think traders have been content to simply follow GBPUSD lower for the time being.  We think bids will re-emerge however at familiar support in the 1.0980s as tomorrow's massive option expiry at the 1.1000 strike continues to grow in size (now almost 6blnEUR according to Reuters).
EURUSD DAILY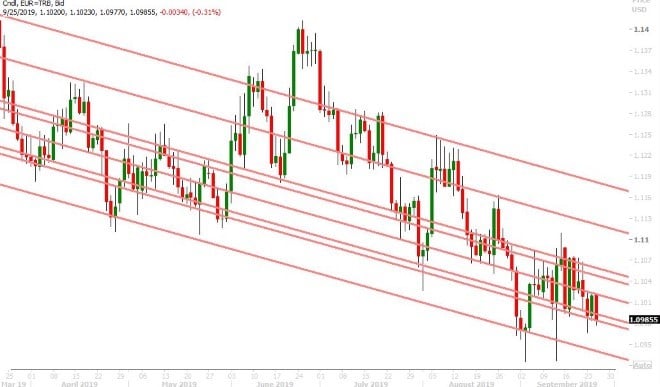 EURUSD HOURLY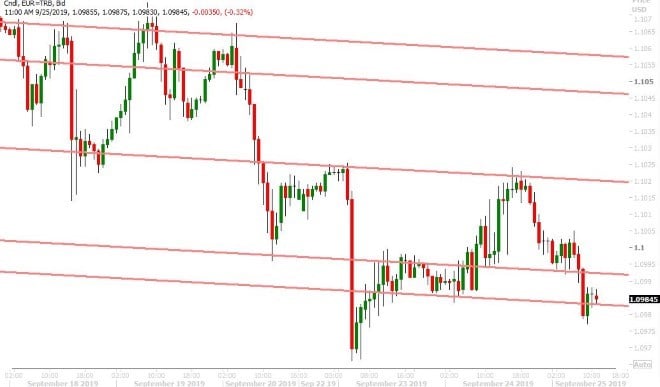 DEC GOLD DAILY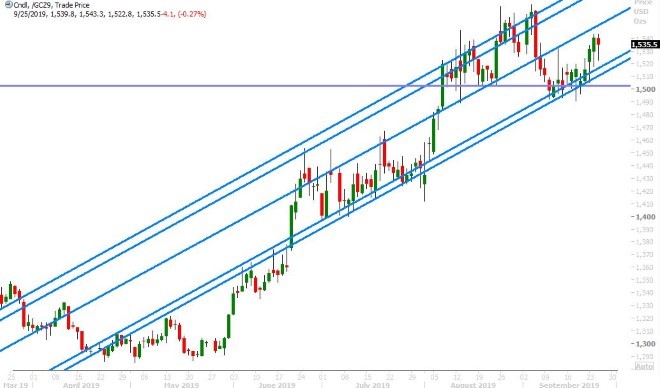 ---
GBPUSD
Sterling is plunging over 100pts lower this morning as it appears neither the UK parliament nor the Prime Minister know what to do next regarding Brexit.  The Supreme Court has ruled them back to work (or let's be realistic…back to arguing), but there appears to be no clear path forward.  A UK government spokesperson said Boris Johnson will not request a Brexit deadline extension when he meets with the EU in mid-October, but UK attorney general Geoffrey Cox says the government will comply with last week's new no-deal Brexit legislation if negotiations are unsuccessful (Benn Act).  UK Liberal Democrat leader, Jo Swinson, said today "We simply cannot afford to wait until the 19th of October to see whether the prime minister will refuse to obey the law again".  We need to "find a way to remove that threat of a no-deal Brexit more quickly."  Will the government attempt another election motion after AG Cox declared parliament "dead" a "disgrace" this morning?  
According to Luke McGee from CNN, Brexit is frozen.  "Both sides want an election, but can't agree on when it should happen. Johnson asked Parliament twice for an early election, but the opposition said no.  What we might be seeing is the starting point of a brand-new government tactic: To goad the opposition into holding a vote of confidence and triggering a general election. It would be just as much of a risk for Labour as it would be for the Conservatives. But right now, it's hard to see how Brexit moves on without someone, anyone, taking a leap into the unknown. The problem is, both sides want the other to take that leap."  
With GBPUSD now trading all the way back below chart support in the low 1.24s, we think this further emboldens Friday's bearish NY closing pattern on the charts and we think the sellers clearly have momentum on their side now.  Boris Johnson is expected to address the UK House of Commons at 12pmET today.
GBPUSD DAILY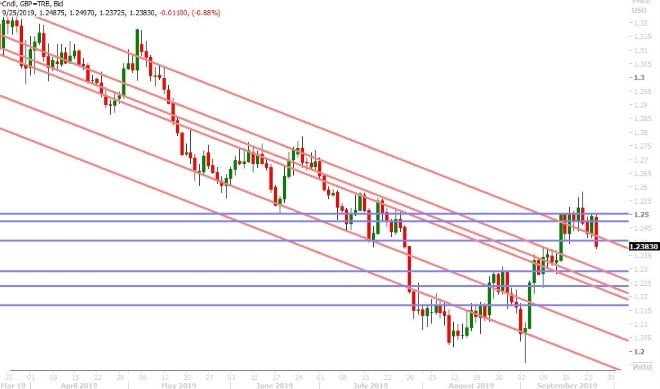 GBPUSD HOURLY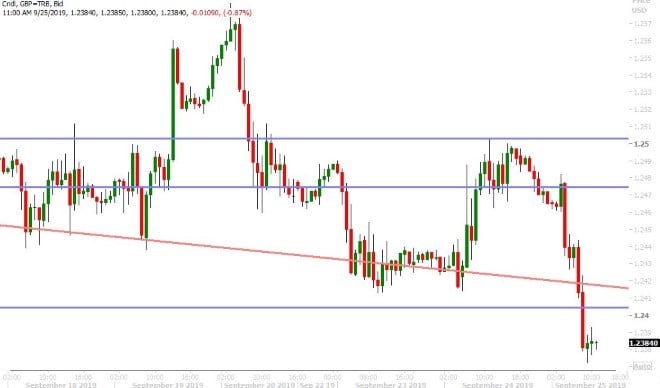 EURGBP DAILY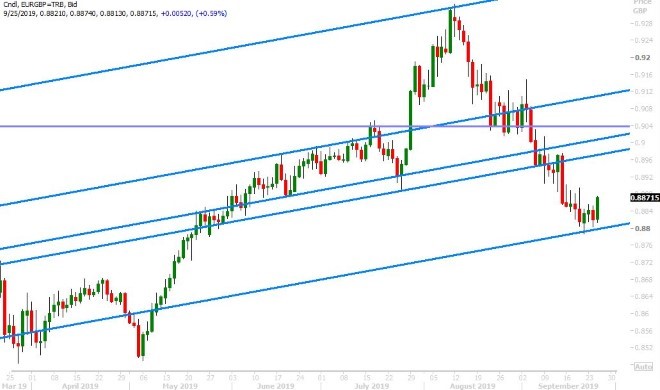 ---
AUDUSD
We had a feeling yesterday's RBA Lowe driven bounce in the Aussie wouldn't last, and here we are trading 50pts lower as AUDUSD succumbs to broad USD buying.  Support at the 0.6780s has been lost once again on the charts.  Traders are now testing chart support level in the 0.6740-50s.   We think the selling might stop here for the time being though, especially if EURUSD finds option-related bids heading into tomorrow.
AUDUSD DAILY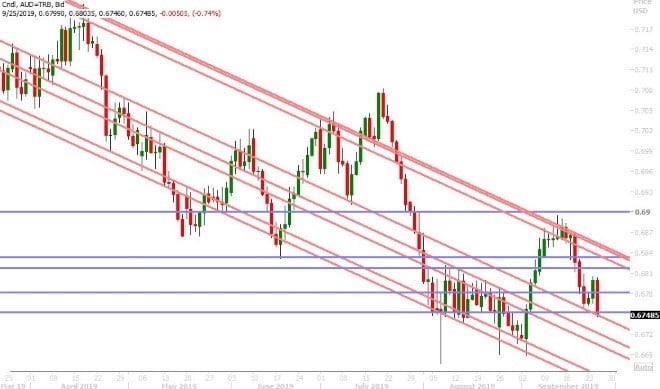 AUDUSD HOURLY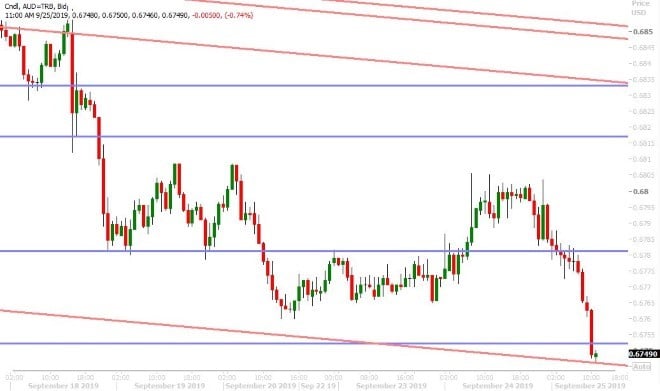 USDCNH DAILY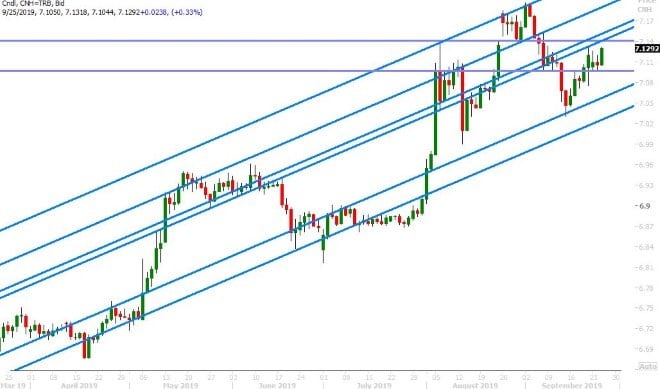 ---
USDJPY
Dollar/yen is shaking off Pelosi's impeachment speech as well, with the market now trying to regain Monday and Tuesday's key chart support level at 107.50.  We think some looming option expiries above the market for tomorrow's session could be helping with that (1.1blnUSD at 107.50 and 2blnUSD at 107.90-108.00).  US 10yr yields aren't bouncing this morning however (still stuck at chart support at 1.65%) and we posit this is because repo is once again back in focus.   The overnight GC repo rate opened at 2.15% this morning and the just completed $75bln repo operation from the NY Fed today was oversubscribed yet again (this time by $17bln!).  Who keeps needing all this liquidity?
USDJPY DAILY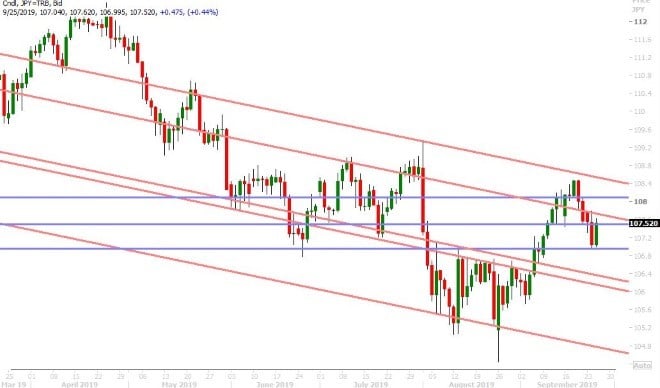 USDJPY HOURLY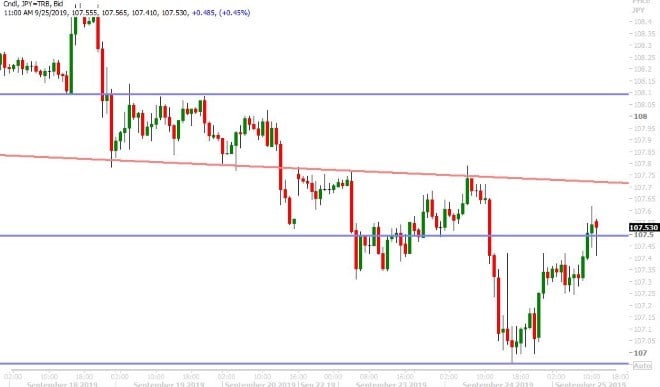 US 10YR BOND YIELD DAILY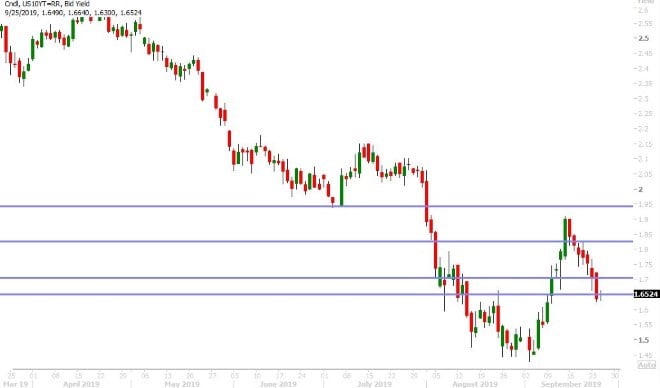 Charts: Reuters Eikon
---
About the Author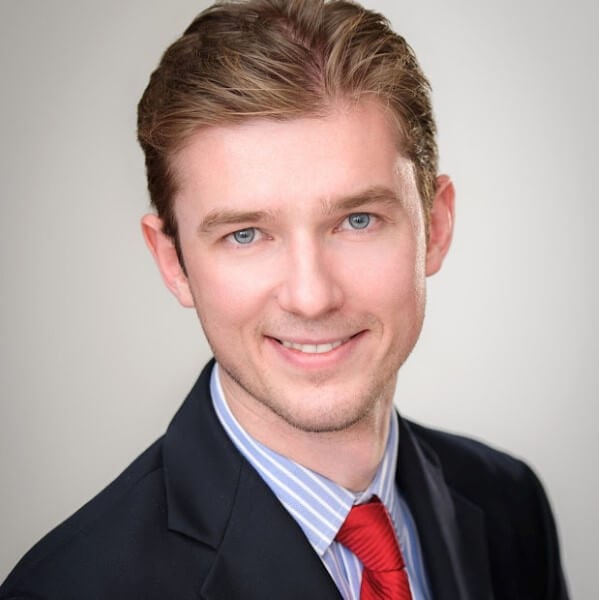 About Currency Exchange International
Currency Exchange International, CXI, is the leading provider of comprehensive foreign exchange services, risk management solutions and integrated international payments processing technology in North America. CXI's relationship-driven approach ensures clients receive tailored solutions and world-class customer service. Through innovative and trusted FX software platforms, CXI delivers versatile foreign exchange services to our clients, so that they can efficiently manage and streamline their foreign currency and global payment needs. CXI is a trusted partner among financial institutions, corporations and retail markets around the world. To learn more, visit: www.ceifx.com
This publication has been prepared by Currency Exchange International for informational and marketing purposes only. Opinions, estimates and projections contained herein are our own as of the date hereof and are subject to change without notice. The information and opinions contained herein have been compiled or arrived at from sources believed reliable, but no representation or warranty, express or implied, is made as to their accuracy or completeness and neither the information nor the forecast shall be taken as a representation for which Currency Exchange International, its affiliates or any of their employees incur any responsibility. Neither Currency Exchange International nor its affiliates accept any liability whatsoever for any loss arising from any use of this information. This publication is not, and is not constructed as, an offer to sell or solicitation of any offer to buy any of the currencies referred to herein, nor shall this publication be construed as an opinion as to whether you should enter into any swap or trading strategy involving a swap or any other transaction. The general transaction, financial, educational and market information contained herein is not intended to be, and does not constitute, a recommendation of a swap or trading strategy involving a swap within the meaning of U.S. Commodity Futures Trading Commission Regulation 23.434 and Appendix A thereto. This material is not intended to be individually tailored to your needs or characteristics and should not be viewed as a "call to action" or suggestion that you enter into a swap or trading strategy involving a swap or any other transaction. You should note that the manner in which you implement any of the strategies set out in this publication may expose you to significant risk and you should carefully consider your ability to bear such risks through consultation with your own independent financial, legal, accounting, tax and other professional advisors. All Currency Exchange International products and services are subject to the terms of applicable agreements and local regulations. This publication and all information, opinions and conclusions contained in it are protected by copyright. This information may not be reproduced in whole or in part, or referred to in any manner whatsoever nor may the information, opinions and conclusions contained in it be referred to without the prior express written consent of Currency Exchange International.