Positive trade headlines boost risk sentiment, but broader USD tone more guarded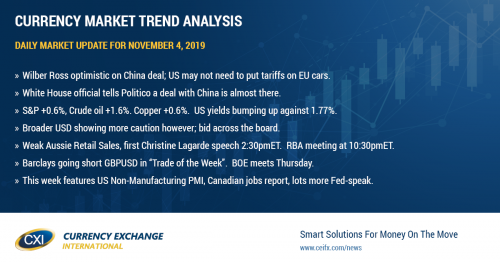 Take control of your international payments with CXI FX Now.
• Zero transfer fees & great rates
• Fast international payments
• Safety and security
• Unparalleled customer service
• Consultative approach
Learn more about CXI's international payment services for businesses or call our trading desk directly at 1-833-572-8933.
Get real-time market coverage on twitter at @EBCTradeDesk or sign up here.
SUMMARY
•
Wilber Ross optimistic on China deal; US may not need to put tariffs on EU cars.
•
White House official tells Politico a deal with China is almost there.
•
S&P +0.6%, Crude oil +1.6%. Copper +0.6%.  US yields bumping up against 1.77%.
•
Broader USD showing more caution however; bid across the board.
•
Weak Aussie Retail Sales, first Christine Lagarde speech 2:30pmET.  RBA meeting at 10:30pmET.
•
Barclays going short GBPUSD in "Trade of the Week".  BOE meets Thursday.
•
This week features US Non-Manufacturing PMI, Canadian jobs report, lots more Fed-speak.
ANALYSIS
USDCAD
The broader USD is beginning the week with a guarded, bid tone; choosing to ignore the "risk-on" flows we're seeing in global equities, bond yields and commodities this morning.  The broader market optimism appears to be coming from some positive trade headlines out of US Commerce Secretary Wilber Ross over the weekend and from the final October Manufacturing PMIs out of Germany and the Eurozone, which both come in a little higher than the flash readings from a week ago.  However, FX traders appear to be skeptical and we see this reflected in both the AUD and the CAD as they trade to session lows ahead of the NY open.
This week's North American calendar features the US Non-Manufacturing PMI on Tuesday, the Canadian Employment Report on Friday, and a fair bit of Fed-speak along the way.
Monday: US Factory Orders (Sep) at 10amET.  Fed's Daily at 5pmET
Tuesday: US Non-Manufacturing PMI (Oct).  Fed's Barkin, Kaplan, Kashkari.
Wednesday: Fed's Evans, Williams, Harker
Thursday: Fed's Kaplan, Bostic
Friday: Canadian Housing Starts (Oct), Canadian Employment Report (Oct), US UofM survey (Nov), BOC's Beaudry.
The leveraged funds at CME added sizably to their net short USDCAD position, during the week ending Oct 29, by adding new short positions.  While we'd agree they're starting to look a little vulnerable in light of the Bank of Canada's surprisingly dovish hold to interest rates last week, we think they'll hang in there so long as USDCAD does not trade back above the 1.3190s.
USDCAD DAILY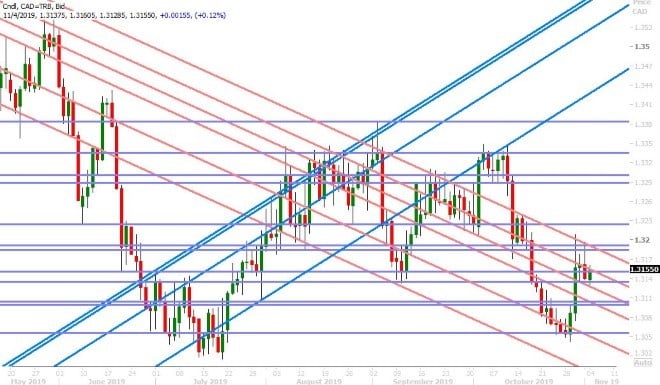 USDCAD HOURLY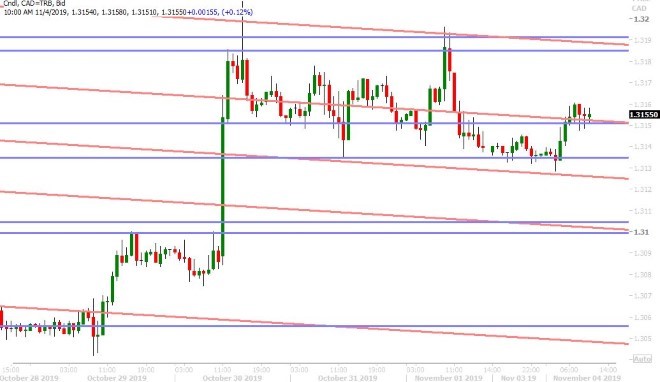 DEC CRUDE OIL DAILY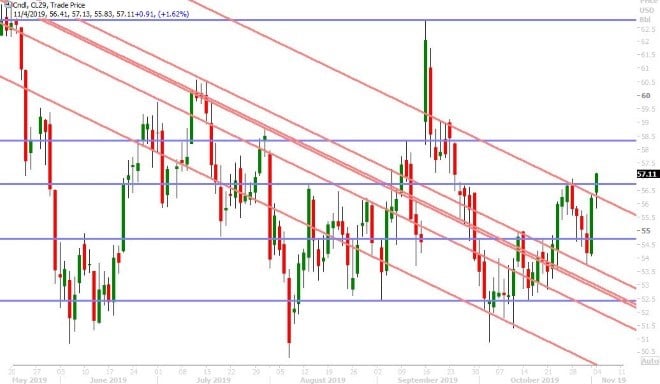 EURUSD
The euro/dollar bulls did not get the negative US Non-Farm Payrolls report we think they were hoping for on Friday, but we think the weaker than expected US ISM Manufacturing PMI for October did enough to prevent the chart technicals from breaking down.  The market starts the week however with a lack of upside momentum, perhaps due to Japan being out on holiday and perhaps because over 1.2blnEUR in options expire between the 1.1150-1.1170 strikes this morning at 10amET.  Christine Lagarde, the new ECB President as of Friday, is also expected to make her first speech at an event in Berlin today at 2:30pmET, which could also be adding to a bit of EUR anxiety.
Traders clearly brushed off this morning's slightly better than expected final October reads for both the German and Eurozone Manufacturing PMIs (42.1 vs 41.9 flash and 45.9 vs 45.7 flash).  We think some fresh German data this week could get more attention:
Wednesday: German Industrial Orders (Sep), German Services PMI (Oct)
Thursday: German Industrial Output (Sep)
Friday: Speech from new EU President Ursula von der Leyen titled "The Situation in Europe"
The leveraged funds at CME marginally trimmed long positions during the week ending Oct 29, but still remain net-short to the tune of 54k contracts (about where the net position stood during July/August).
EURUSD DAILY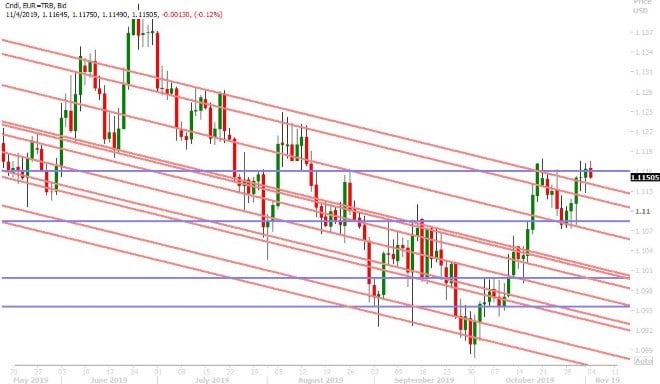 EURUSD HOURLY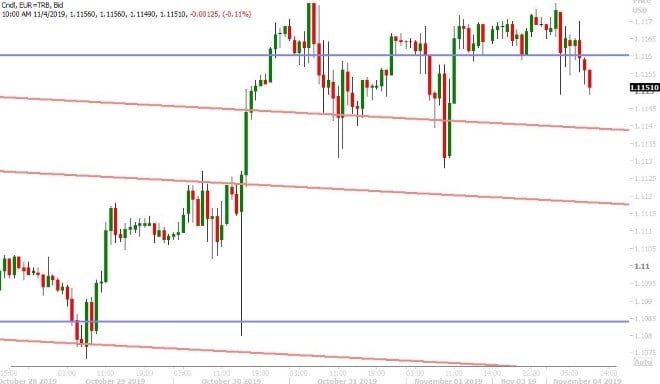 DEC GOLD DAILY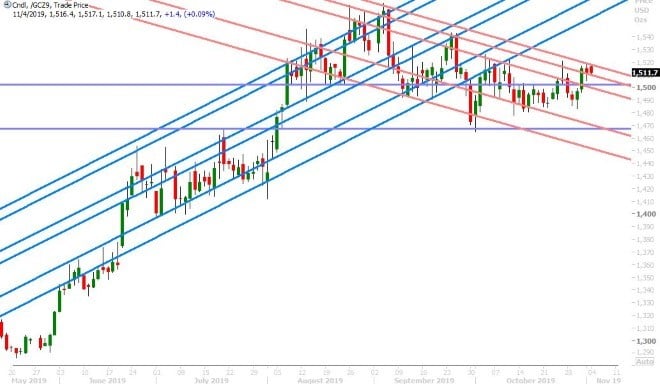 GBPUSD
Sterling is slumping to start the week, despite a slightly better than expected UK October Construction PMI out earlier this morning (44.2 vs 44.0) and despite Boris Johnson's Tories extending their lead in the pre-election polls.  See here for the Guardian's Election 2019 poll tracker.  Perhaps some of the GBPUSD weakness is part in parcel due to Barclays making a bold call to short GBPUSD in its "Trade of the Week".  From a technical perspective, we think Friday's NY close below the 1.2940-50 was an invitation for the sellers to come back in.
This week's UK calendar will feature the Bank of England's policy meeting on Thursday morning, but the central bank is widely expected to keep interest rates and its upbeat, post-Brexit, outlook on hold.  The leveraged funds at CME reduced their net short GBPUSD position sizably during the week ending Oct 29, by covering shorts and adding to longs.  This is understandable given the 700pt rally in sterling over the month of October.  The funds are now the least net-short they've been since May.
GBPUSD DAILY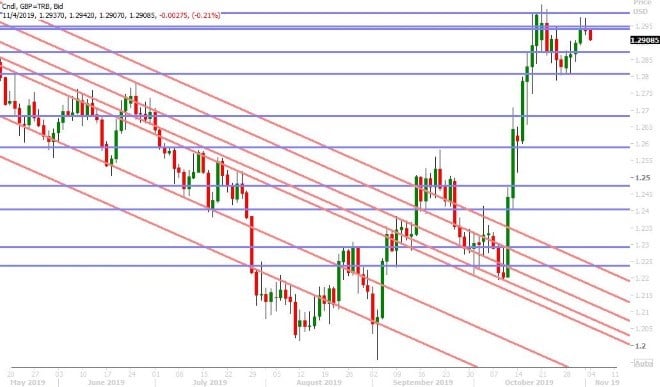 GBPUSD HOURLY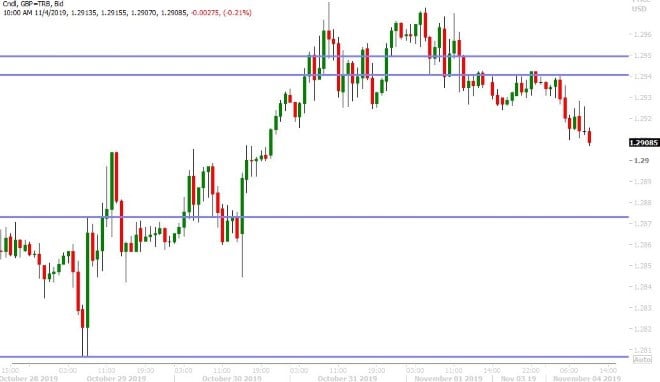 EURGBP DAILY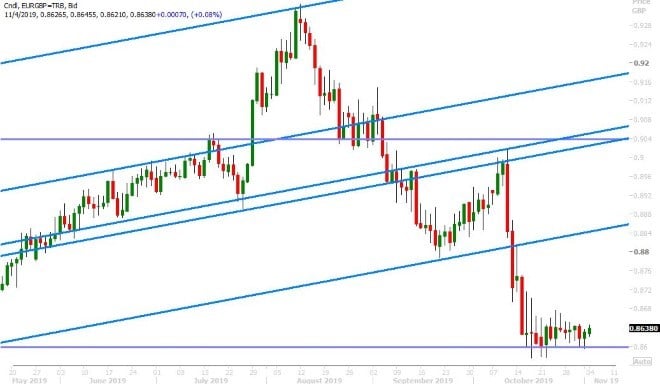 ---
AUDUSD
The Australian dollar is struggling to start the week, despite today's "risk-on" tone to equities and commodity prices.  Some weaker than expected Australian Retail Sales data for the month of September appeared to be the culprit in quiet Asian trade (+0.2% MoM vs +0.4%), and dollar/yuan's ability to regain the 7.0300 support level in London trade today seemed to weigh on AUD sentiment as well.  The Reserve Bank of Australia meets tonight at 10:30pmET to announce its latest decision on interest rates.  Traders are expecting no change, in light of recent hawkish comments from RBA Governor Lowe.  The funds trimmed their net short AUDUSD position to 40k contracts during the week ending Oct 29.  We think AUDUSD may be susceptible to a pull back here given its inability to benefit from today's positive trade headlines.
AUDUSD DAILY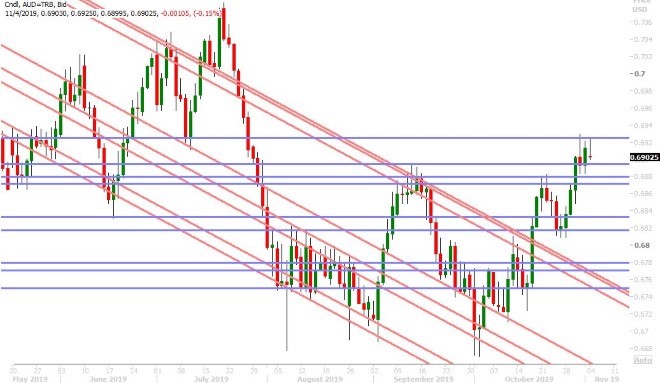 AUDUSD HOURLY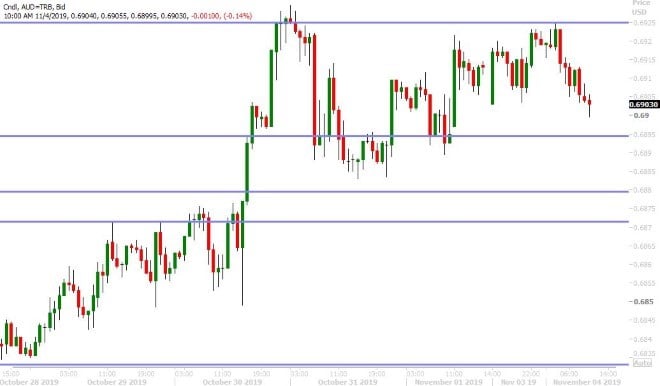 USDCNH DAILY
---
USDJPY
Dollar/yen started the week very quietly as Japanese markets were closed for the Culture Day holiday, but the market then got a boost this morning from a headline reporting that "a White House official tells Politico a deal with China is almost there".  This feels like another recycled US/China trade headline but the trading algorithms are buying it for the time being.  The S&P 500 futures have extended +0.60% this morning to another new record high, US 10yr yields are now threatening a break above the 1.77% level after reversing back above 1.70% on Friday's NFP beat.  The funds at CME added ever so slightly to their new, net-long USDJPY position during the week ending Oct 29.  We think they'll need a strong NY close above the 108.50s in order to arrest the technical chart damage caused by the Fed meeting last week.
USDJPY DAILY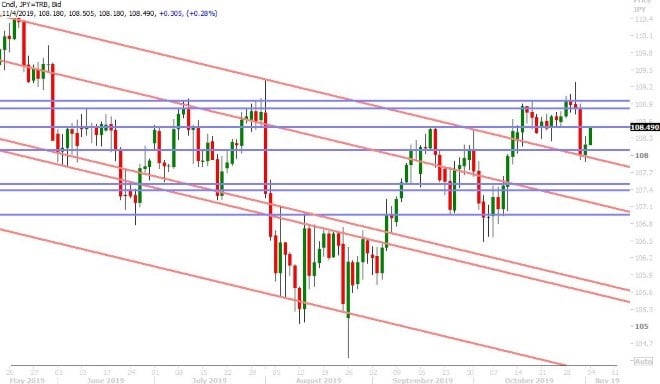 USDJPY HOURLY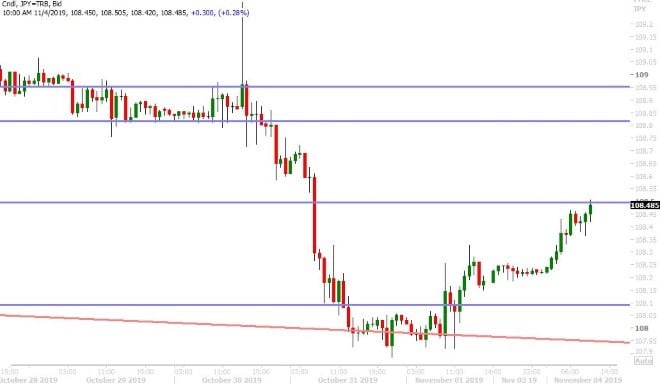 US 10YR BOND YIELD DAILY
Charts: Reuters Eikon
---
About the Author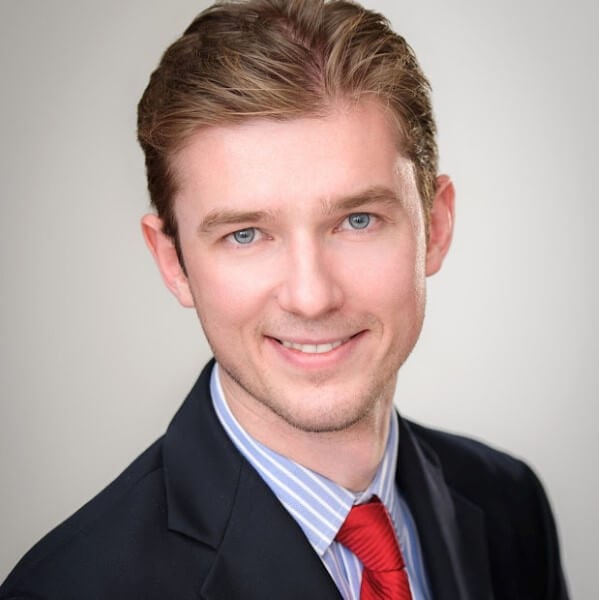 About Currency Exchange International
Currency Exchange International, CXI, is the leading provider of comprehensive foreign exchange services, risk management solutions and integrated international payments processing technology in North America. CXI's relationship-driven approach ensures clients receive tailored solutions and world-class customer service. Through innovative and trusted FX software platforms, CXI delivers versatile foreign exchange services to our clients, so that they can efficiently manage and streamline their foreign currency and global payment needs. CXI is a trusted partner among financial institutions, corporations and retail markets around the world. To learn more, visit: www.ceifx.com
This publication has been prepared by Currency Exchange International for informational and marketing purposes only. Opinions, estimates and projections contained herein are our own as of the date hereof and are subject to change without notice. The information and opinions contained herein have been compiled or arrived at from sources believed reliable, but no representation or warranty, express or implied, is made as to their accuracy or completeness and neither the information nor the forecast shall be taken as a representation for which Currency Exchange International, its affiliates or any of their employees incur any responsibility. Neither Currency Exchange International nor its affiliates accept any liability whatsoever for any loss arising from any use of this information. This publication is not, and is not constructed as, an offer to sell or solicitation of any offer to buy any of the currencies referred to herein, nor shall this publication be construed as an opinion as to whether you should enter into any swap or trading strategy involving a swap or any other transaction. The general transaction, financial, educational and market information contained herein is not intended to be, and does not constitute, a recommendation of a swap or trading strategy involving a swap within the meaning of U.S. Commodity Futures Trading Commission Regulation 23.434 and Appendix A thereto. This material is not intended to be individually tailored to your needs or characteristics and should not be viewed as a "call to action" or suggestion that you enter into a swap or trading strategy involving a swap or any other transaction. You should note that the manner in which you implement any of the strategies set out in this publication may expose you to significant risk and you should carefully consider your ability to bear such risks through consultation with your own independent financial, legal, accounting, tax and other professional advisors. All Currency Exchange International products and services are subject to the terms of applicable agreements and local regulations. This publication and all information, opinions and conclusions contained in it are protected by copyright. This information may not be reproduced in whole or in part, or referred to in any manner whatsoever nor may the information, opinions and conclusions contained in it be referred to without the prior express written consent of Currency Exchange International.