Schembri reiterates BOC's less dovish tone. China stimulates again. US & Canadian job reports on deck.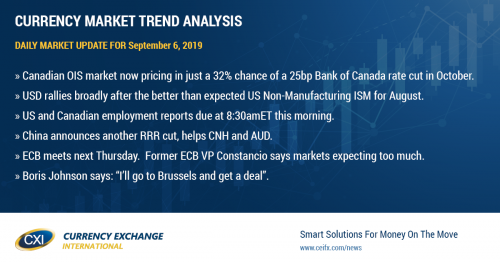 Take control of your international payments with CXI FX Now.
• Zero transfer fees & great rates
• Fast international payments
• Safety and security
• Unparalleled customer service
• Consultative approach
Learn more about CXI's international payment services for businesses or call our trading desk directly at 1-833-572-8933.
Get real-time market coverage on twitter at @EBCTradeDesk or sign up here.
SUMMARY
•
Canadian OIS market now pricing in just a 32% chance of a 25bp Bank of Canada rate cut in October.
•
USD rallies broadly after the better than expected US Non-Manufacturing ISM for August.
•
US and Canadian employment reports due at 8:30amET this morning.
•
China announces another RRR cut, helps CNH and AUD.
•
ECB meets next Thursday.  Former ECB VP Constancio says markets expecting too much.
•
Boris Johnson says: "I'll go to Brussels and get a deal".
ANALYSIS
USDCAD
So the Canadian economy is doing just fine, according to the Bank of Canada's Lawrence Schembri.  The Deputy Governor told an audience yesterday that Canada is operating "close to its potential"; inflation has been "well behaved and controlled" and the economy has a "welcome degree of resilience to possible negative economic developments".  He said the biggest downside risk remained the US/China trade war but downplayed the inverted Canadian yield curve recession signal by saying it is "more likely a sign that investors foresee weaker long-term growth"  (hmm, we'll see about that).  What is more, at no point did Schembri hint at rates cuts in the coming months, similar to the Bank of Canada's press release on Wednesday.  The OIS market took this as a queue to continue pricing out a 25bp cut on October 31 and so we now stand at just 32% odds.  USDCAD, on the other hand, got a break from some better than expected US Non-Manufacturing ISM figures for the month of August (which came out a couple hours before the Schembri speech).  This helped the market recover back above the 1.3215-25 level we talked about yesterday, and this seems to be the level traders are comfortable pivoting around now ahead of the August employment reports due from the US and Canada at 8:30amET.  The expectations are as follows:
US Non-Farm Payrolls: +158k
Average Hourly Earnings: +0.3% MoM and +3.1% YoY
Unemployment Rate: 3.7%
Canadian Employment Change: +15.0K
Unemployment Rate: 5.7%
USDCAD DAILY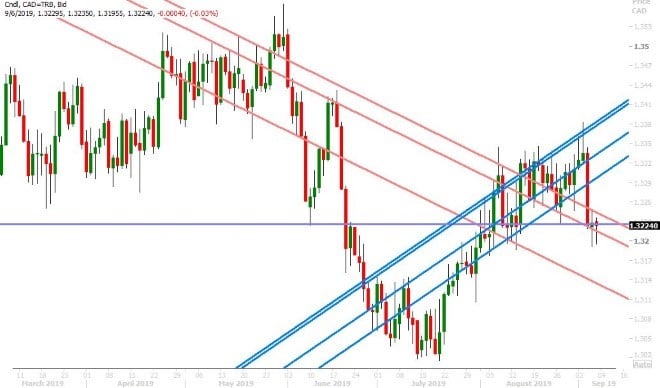 USDCAD HOURLY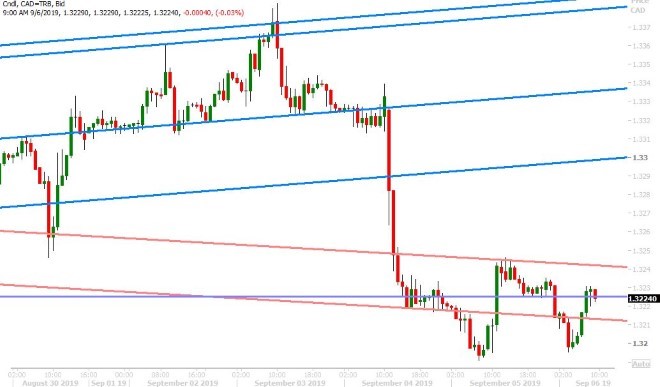 OCT CRUDE OIL DAILY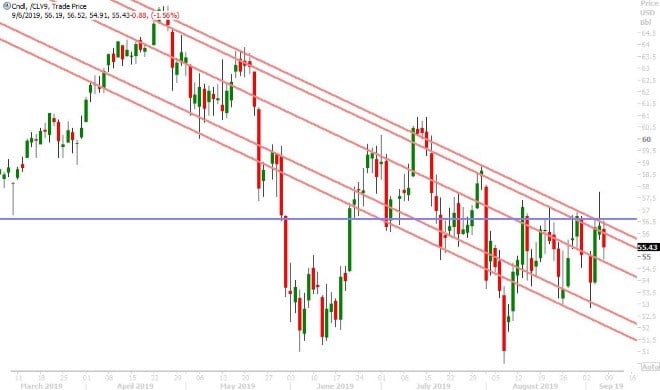 EURUSD
Yesterday's better than expected US Non-Manufacturing ISM took the wind out the sails for EURUSD, and the timing of the release coincided nicely with buyers failing at trend-line resistance in the 1.1070s.  An attempt was made to regain chart support the 1.1040s in early European trade today, but this has failed as well, which means EURUSD trades with a heavy tone now heading into the US Non-Farm Payrolls report.  The German bund is hovering around the -0.60% mark this morning.  Former ECB Vice President Vitor Constancio told Bloomberg that the markets are expecting too much from the ECB.  More here.  We're inclined to believe this, at least for next week's ECB meeting, especially considering the delicate hand-off we think Mario Draghi is inclined to make for Christine Lagarde.
EURUSD DAILY
EURUSD HOURLY
DEC GOLD DAILY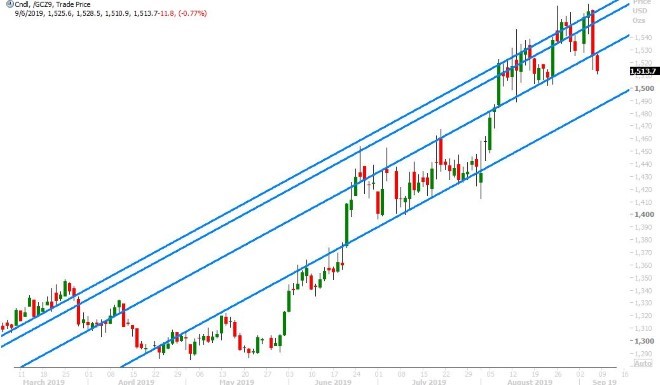 ---
GBPUSD
Sterling is treading water here ahead of the US Non-Farm Payrolls report.  Yesterday's NY close was half decent, by virtue of GBPUSD staying above the 1.2310s, and while we're seen some mild selling in the European AM, buyers have appeared again at horizontal support right beneath there at 1.2300.  UK Prime Minister Boris Johnson is doing his best sound confident this morning by saying "I'll go to Brussels and get a deal" and "we will get a deal on Oct 17-18 and come out of the EU".
GBPUSD DAILY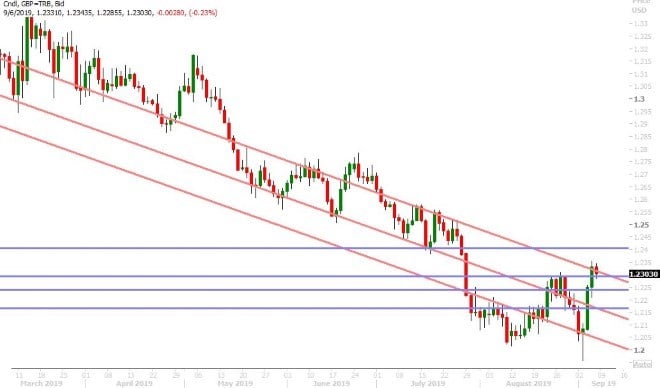 GBPUSD HOURLY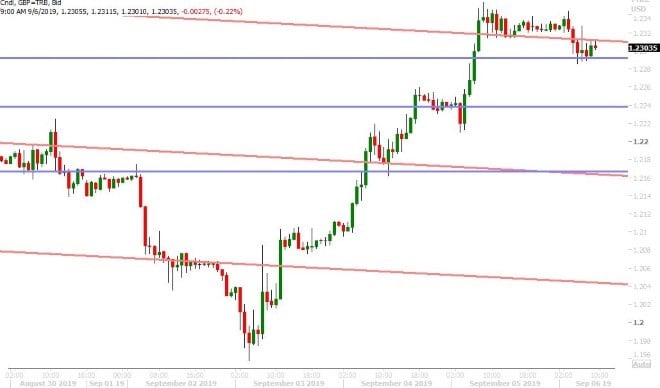 EURGBP DAILY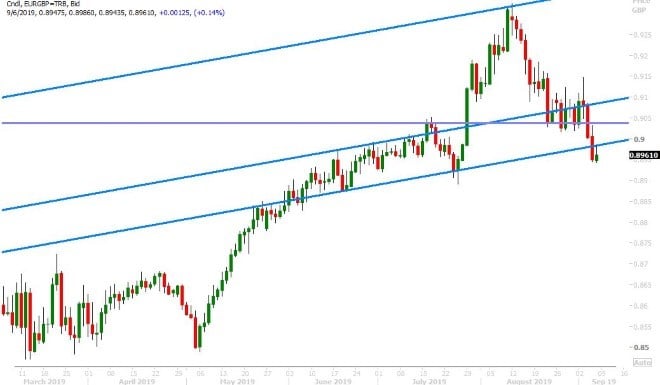 ---
AUDUSD
The rally continues in AUDUSD this morning, with the overnight catalyst coming from a Required Reserve Ratio (RRR) cut announced by China.  They say it will unleash 900bln CNY in liquidity into the Chinese economy (which in our opinion needs it) and this is sending the off-shore Chinese yuan (CNH) and the China-sensitive Australian dollar higher.  More here from Bloomberg.  Traders, however, are trying not to get too ahead of themselves here though as the US Non-Farm Payrolls report looms.
AUDUSD DAILY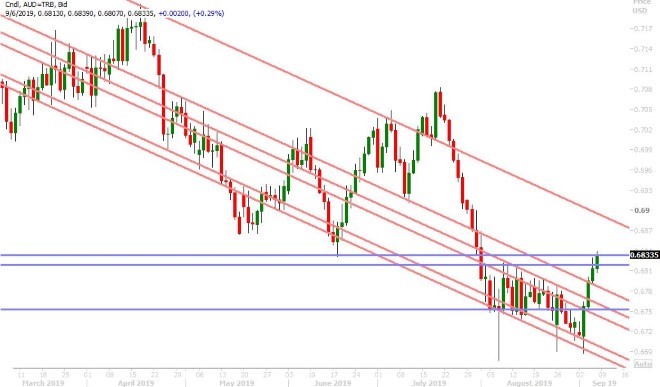 AUDUSD HOURLY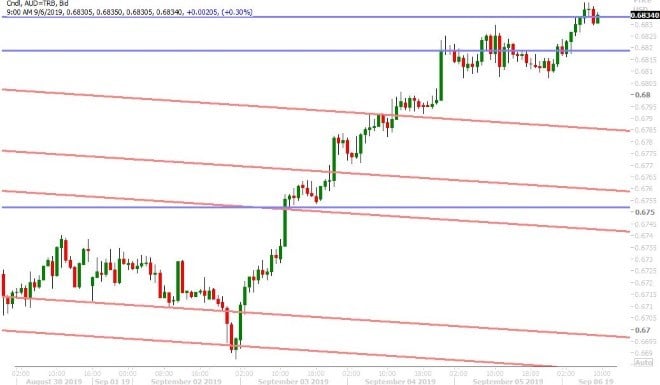 USDCNH DAILY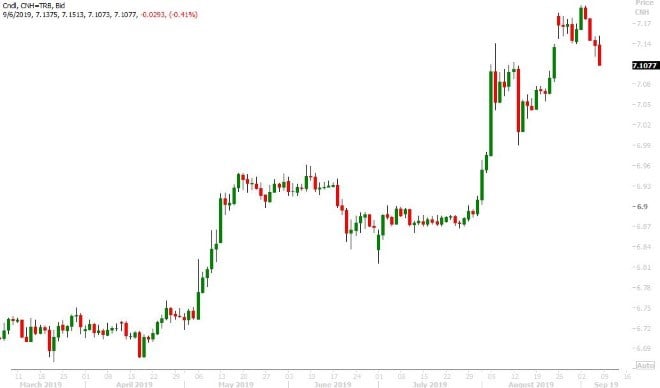 ---
USDJPY
Dollar/yen traders are fighting to keep the market above the 107.00 level after a shaky NY close left the market's directional tone a bit uncertain heading into overnight trade.  Over 2blnUSD in options will be expiring this morning between the 107.00 and 107.25 strikes, which could complicate the market's post NFP reaction.  JGB yields traded higher with US and German yields yesterday, as the whole world seemed to celebrate the better than expected US Non-Manufacturing ISM numbers.  December gold prices got crushed too, as the "Fed rate cut trade" felt the need to pare its bets once again.  We're not getting too excited about this better US Non-Manufacturing ISM number just yet, mainly because these numbers see-saw up and down from month to month, the trend is still down from the middle of last year, and Markit's take on the US Services sector (a competing report to the ISM report) came in weaker than expected for the month of August.
USDJPY DAILY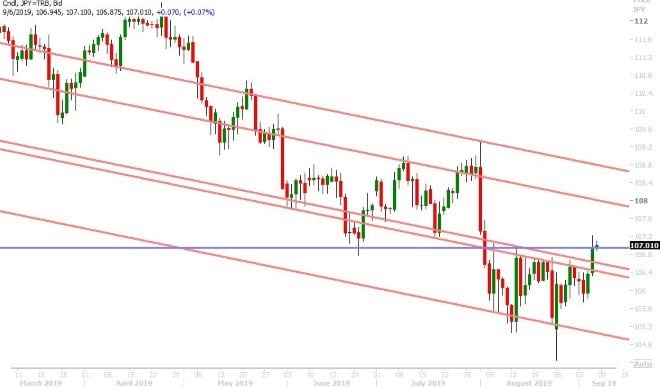 USDJPY HOURLY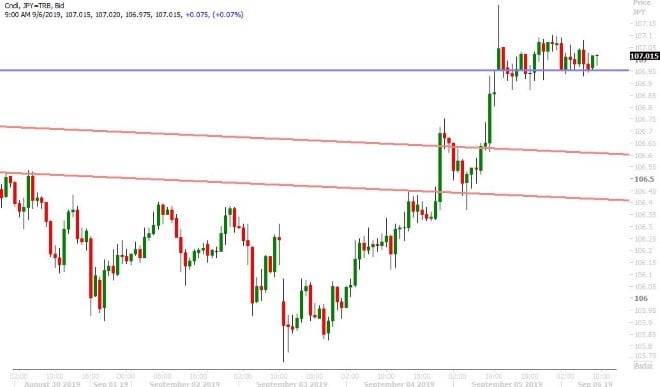 US 10YR YIELD DAILY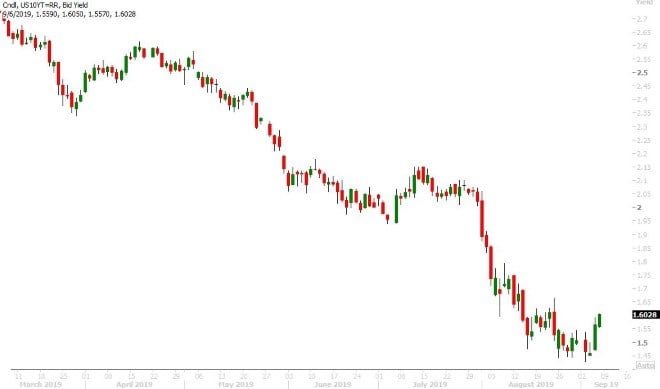 Charts: Reuters Eikon
---
About the Author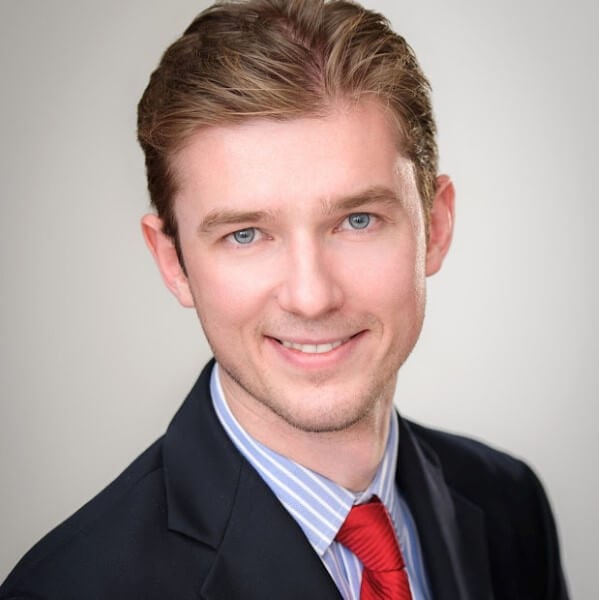 About Currency Exchange International
Currency Exchange International, CXI, is the leading provider of comprehensive foreign exchange services, risk management solutions and integrated international payments processing technology in North America. CXI's relationship-driven approach ensures clients receive tailored solutions and world-class customer service. Through innovative and trusted FX software platforms, CXI delivers versatile foreign exchange services to our clients, so that they can efficiently manage and streamline their foreign currency and global payment needs. CXI is a trusted partner among financial institutions, corporations and retail markets around the world. To learn more, visit: www.ceifx.com
This publication has been prepared by Currency Exchange International for informational and marketing purposes only. Opinions, estimates and projections contained herein are our own as of the date hereof and are subject to change without notice. The information and opinions contained herein have been compiled or arrived at from sources believed reliable, but no representation or warranty, express or implied, is made as to their accuracy or completeness and neither the information nor the forecast shall be taken as a representation for which Currency Exchange International, its affiliates or any of their employees incur any responsibility. Neither Currency Exchange International nor its affiliates accept any liability whatsoever for any loss arising from any use of this information. This publication is not, and is not constructed as, an offer to sell or solicitation of any offer to buy any of the currencies referred to herein, nor shall this publication be construed as an opinion as to whether you should enter into any swap or trading strategy involving a swap or any other transaction. The general transaction, financial, educational and market information contained herein is not intended to be, and does not constitute, a recommendation of a swap or trading strategy involving a swap within the meaning of U.S. Commodity Futures Trading Commission Regulation 23.434 and Appendix A thereto. This material is not intended to be individually tailored to your needs or characteristics and should not be viewed as a "call to action" or suggestion that you enter into a swap or trading strategy involving a swap or any other transaction. You should note that the manner in which you implement any of the strategies set out in this publication may expose you to significant risk and you should carefully consider your ability to bear such risks through consultation with your own independent financial, legal, accounting, tax and other professional advisors. All Currency Exchange International products and services are subject to the terms of applicable agreements and local regulations. This publication and all information, opinions and conclusions contained in it are protected by copyright. This information may not be reproduced in whole or in part, or referred to in any manner whatsoever nor may the information, opinions and conclusions contained in it be referred to without the prior express written consent of Currency Exchange International.