Swiss National Bank Introduces New 100 Franc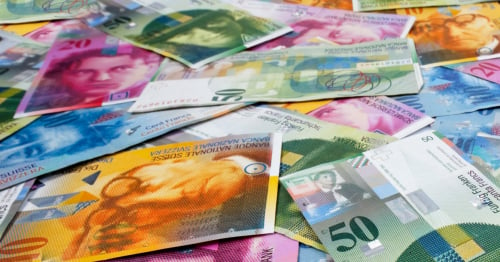 Ordering foreign currency online is easy with OnlineFX.
Since 2016, the Swiss National Bank has been phasing out their eighth bank note series for the new, and nearly magical ninth generation which can be brought to life with the "Swiss Banknotes" app shown in the video below.
On September 12, 2019 the Swiss National Bank introduced the final denomination in the ninth generation banknote series, the 100 franc. Don't forget to check out all of our news about Swiss francs.
Talking about nine generations
After putting two and two together, you might have come to the conclusion that Switzerland has had 9 (technically 8 as the 4th gen never went into circulation) different generations of their banknotes. At this point, you may also be wondering "why?" The answer to this ranges from:
Some generations acted exclusively as reserve currencies, or interim currencies like the 1st generation

The Swiss simply wanted a redesign

The introduction of more advanced security features and electronic image processing called for more modern notes like the eight and ninth generations
A note for a cause
To say that this note is beautiful would be a bit of an understatement. True to the ninth generation's theme of having each bank note showcase a specific Swiss characteristic. The 100 franc will feature Switzerland's humanitarian nature; represented by water-the note's key motif.
The new 100-franc note https://t.co/e92ISaU8RV pic.twitter.com/sC6WSwiZp3

— Swiss National Bank (@SNB_BNS_en) September 3, 2019
It's worth mentioning that water and sanitation are one of Switzerland's thematic priorities under the Humanitarian Aid of SDC for 2017 to 2020. In this, Switzerland works at a domestic and international level to support the adoption of more effective water usage and, in doing so, they reduce tensions between different users (private consumers, the energy industry, agriculture, etc.)
About Currency Exchange International
Currency Exchange International, CXI, is the leading provider of comprehensive foreign exchange services, risk management solutions and integrated international payments processing technology in North America. CXI's relationship-driven approach ensures clients receive tailored solutions and world-class customer service. Through innovative and trusted FX software platforms, CXI delivers versatile foreign exchange services to our clients, so that they can efficiently manage and streamline their foreign currency and global payment needs. CXI is a trusted partner among financial institutions, corporations and retail markets around the world. To learn more, visit: www.ceifx.com