The Mobile Passport App: Everything You Need to Know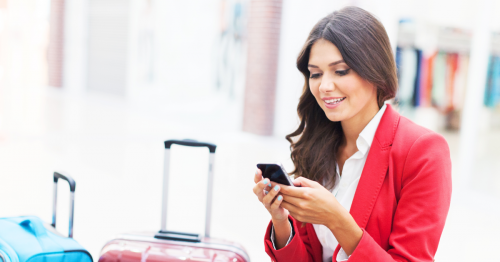 Ordering foreign currency online is easy with OnlineFX.
What is the Mobile Passport App?
The Mobile Passport app is used as part of Mobile Passport Control, which allows U.S. citizens and Canadian travelers to use an app for a speedier process into the United States. You can download the app from the Google Play store or the Apple App store. It can be used at 26 airports and 3 cruise ports.
How to use the Mobile Passport App?
Once you download the Mobile Passport App, you must take the following steps:
Set up a profile by entering your information as it appears on your actual official passport. This information is encrypted and only shared with Customs and Border Protection (CBP).

Answer questions about your trip. Be completely honest. You will then review the information for your trip.

Once you are at your port of entry, submit your data to CBP on your app. You must use wireless data or Wi-Fi for this. You will then receive a CBP receipt with an encrypted barcode. This code will be valid for up to 4 hours.

Follow the Mobile Passport Control signs to the designated line. Present your passport and barcode to the CBP officer, who will scan your code.
After you take these steps, you'll be on your way!
What are the benefits of the Mobile Passport App?
The Mobile Passport app allows travelers to have an expedited process when being inspected by Customs and Border Protection. Mobile Pasport Control decreases overall waiting time and inspection time. This process does not require pre-approval. This would definitely be worth it for frequent travelers and it's FREE!
How much are the fees for the Mobile Passport App?
One of the best benefits of using the Mobile Passport App is that it is completely free. Compared to the Trusted Traveler's programs, this is different, due to the fact that for all of Trusted Travelers Programs have some level of cost. You can learn more about Trusted Travelers programs from our other articles.
The Mobile Passport app and other Trusted Travelers programs
The Trusted Travelers programs are not associated with the Mobile Passport app, however they can complement each other. You can just choose the shortest line available at your port of entry, and get through Customs quickly. However, you can not use the programs interchangeably for the same inspections process.
What you need to know before joining the Mobile Passport App?
One common misconception about the Mobile Passport app is that it replaces your passport. You still need to bring your passport to the airport.
In addition, if your flight is diverted to a U.S. airport that does not have Mobile Passport Control, you can not use your app. You would just have to follow standard processing procedures.
Lawful Permanent Residents are not able to use Mobile Passport Control at this time, but CBP is hoping to announce more eligibility in the future.
About Currency Exchange International
Currency Exchange International, CXI, is the leading provider of comprehensive foreign exchange services, risk management solutions and integrated international payments processing technology in North America. CXI's relationship-driven approach ensures clients receive tailored solutions and world-class customer service. Through innovative and trusted FX software platforms, CXI delivers versatile foreign exchange services to our clients, so that they can efficiently manage and streamline their foreign currency and global payment needs. CXI is a trusted partner among financial institutions, corporations and retail markets around the world. To learn more, visit: www.ceifx.com