UK lawmakers pass Withdrawal Agreement Bill, but shoot down government's rushed Brexit time-table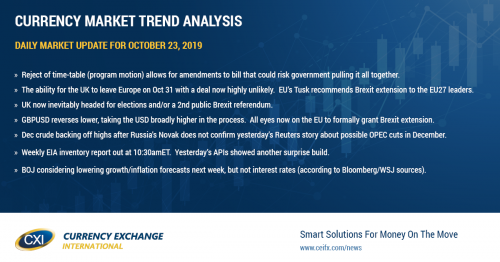 Take control of your international payments with CXI FX Now.
• Zero transfer fees & great rates
• Fast international payments
• Safety and security
• Unparalleled customer service
• Consultative approach
Learn more about CXI's international payment services for businesses or call our trading desk directly at 1-833-572-8933.
Get real-time market coverage on twitter at @EBCTradeDesk or sign up here.
SUMMARY
•
Reject of time-table (program motion) allows for amendments to bill that could risk government pulling it all together.
•
The ability for the UK to leave Europe on Oct 31 with a deal now highly unlikely.  EU's Tusk recommends Brexit extension to the EU27 leaders.
•
UK now inevitably headed for elections and/or a 2nd public Brexit referendum.
•
GBPUSD reverses lower, taking the USD broadly higher in the process.  All eyes now on the EU to formally grant Brexit extension.
•
Dec crude backing off highs after Russia's Novak does not confirm yesterday's Reuters story about possible OPEC cuts in December.
•
Weekly EIA inventory report out at 10:30amET.  Yesterday's APIs showed another surprise build.
•
BOJ considering lowering growth/inflation forecasts next week, but not interest rates (according to Bloomberg/WSJ sources).
ANALYSIS
USDCAD
The downward momentum in USDCAD stalled during afternoon trade yesterday after the UK parliament voted down Boris Johnson's proposed fast-track timetable for implementing his new Withdrawal Agreement Bill (which passed the House of Commons just a few minutes earlier).  The selling in sterling that ensued led the USD broadly higher into Asian trade overnight, but cooler heads seem to be prevailing this morning as the markets still expect the EU to grant an Article 50 extension to Britain.  USDCAD has slipped back below the key 1.3100 level as GBPUSD tries to take out today's London highs.  Canada reported a much weaker than expected Wholesale Trade number for the month of August this morning (-1.2% MoM vs +0.3%), but this tends to be a volatile data series and so we're not too surprised to see traders ignoring it.  Today's NY session will feature the weekly EIA oil inventory report at 10:30amET, where traders are expecting a build of 2.23M barrels.  Last night's API report printed another larger than expected build (+4.45M barrels vs +2.2M).  December crude oil prices are trading back on the defensive this morning after Russian energy minister Novak said he had no information on yesterday's Reuters piece that quoted OPEC+ sources talking about a deeper production cut for December's OPEC meeting.
USDCAD DAILY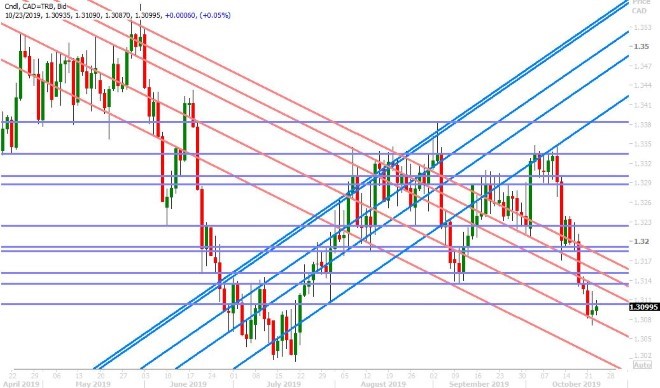 USDCAD HOURLY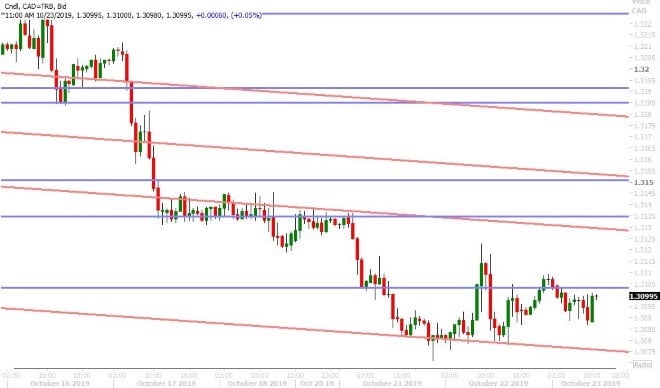 DEC CRUDE OIL DAILY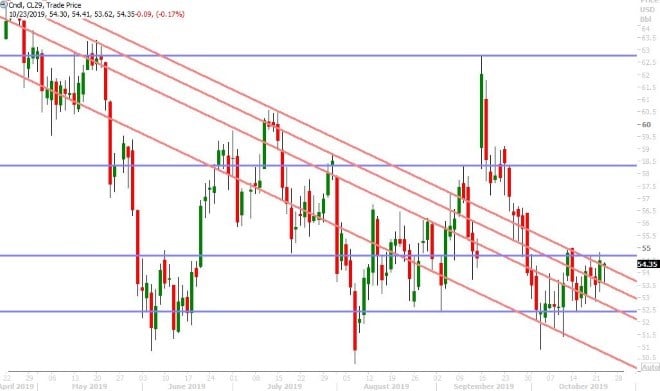 EURUSD
Euro/dollar slipped below the lower bound of the 1.1130-50 trend-line support channel yesterday afternoon when GBPUSD abruptly sold off, and it's been following sterling ever since.  Germany reports its October flash Manufacturing PMI tomorrow morning at 4:30amET, and then traders will focus on the European Central Bank's policy meeting at 7:45amET.  We still believe Mario Draghi's hasty re-launch of QE will force Christine Lagarde's ECB to stand pat/re-validate what was said last month.
EURUSD DAILY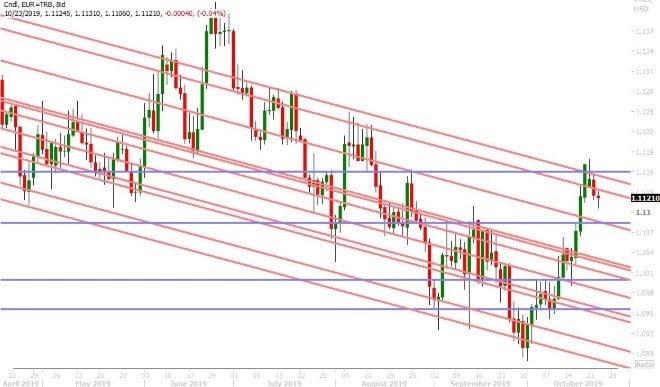 EURUSD HOURLY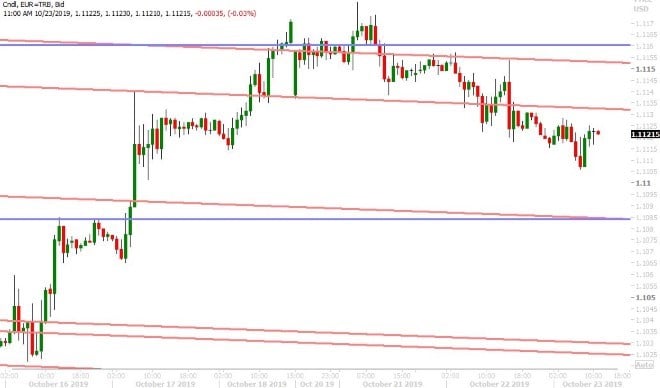 DEC GOLD DAILY
GBPUSD
So Boris Johnson got his Withdrawal Agreement Bill past the UK House of Commons yesterday afternoon by a vote of 329-299, but the house voted 322-308 to shoot down his "program motion" or his rushed timetable for approving the details of the legislation.  GBPUSD teased traders with break above chart resistance at the 1.2980s after the first vote passed, but then it collapsed to chart support in the 1.2870 after the second vote failed.  The EU's Donald Tusk said late yesterday that he's going to now recommend that the EU27 leaders accept the UK's request for a Brexit extension.  Domestically, it looks like the UK is now inevitably headed for an election and/or 2nd Brexit referendum in the event the EU grants the extension and Boris Johnson can't succeed with a second attempt at getting his program motion passed.  Will this Brexit drama ever end?
GBPUSD DAILY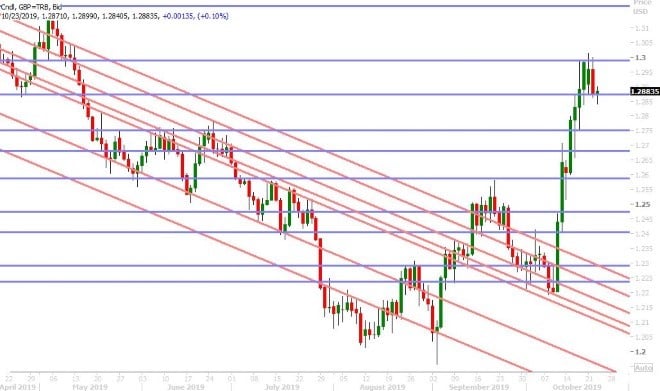 GBPUSD HOURLY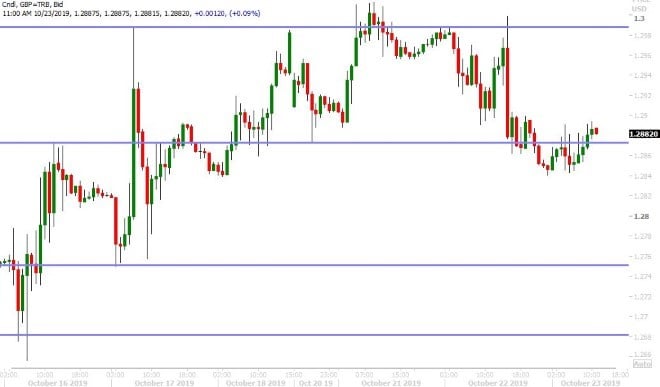 EURGBP DAILY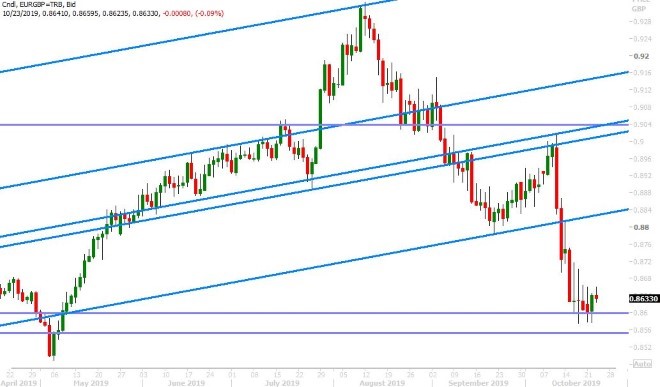 ---
AUDUSD
The Australian dollar is sitting quietly above chart support in the 0.6830s this morning after yesterday afternoon's sell off in GBPUSD dragged the market further off its recent highs.  The RBA's assistant governor Christopher Kent didn't say anything monetary policy related when speaking at the ISDA Annual Australia Conference last night.
AUDUSD DAILY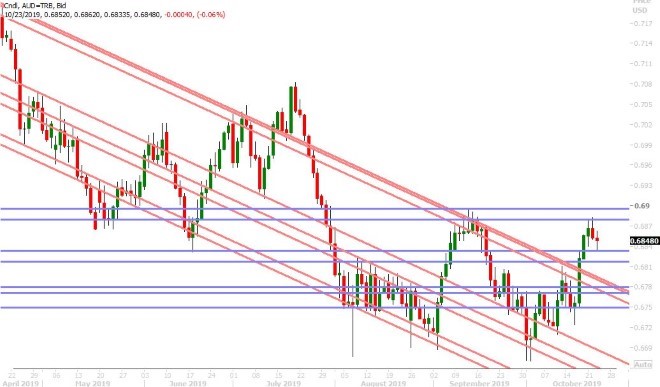 AUDUSD HOURLY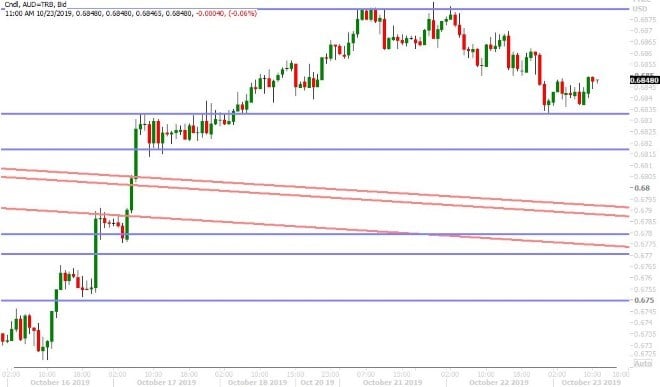 USDCNH DAILY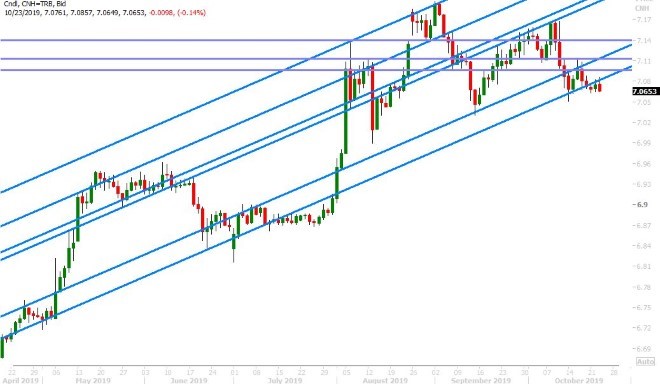 ---
USDJPY
Dollar/yen traders had some Bloomberg and WSJ articles about the Bank of Japan to digest in the overnight session.  The BOJ is considering lowering its forecasts for economic growth and inflation this year in a quarterly outlook report to be released at the end of its next policy meeting on Oct 31, according to Bloomberg sources.  However, WSJ sources say policy makers see "little merit in an interest rate cut" this month, believing the ammunition should be saved for worse economic conditions.  The market's swift move lower to the 108.20s was a bit of a head scratcher to us but USDJPY has since recovered back above yesterday's chart support in the 108.40s.  US 10yr bond yields are trying to bounce this morning after yesterday's failed Brexit program motion vote smacked the market back below 1.77% (a pivotal price level of late).
USDJPY DAILY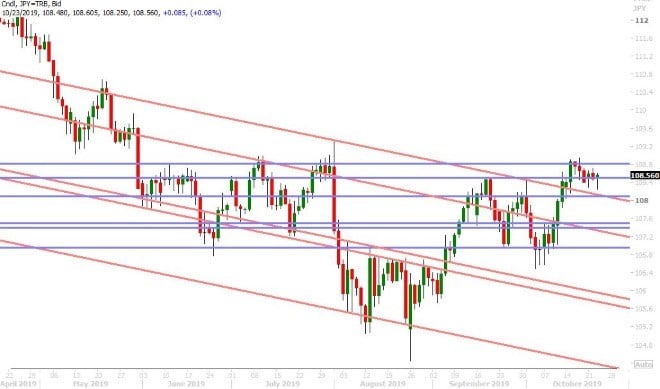 USDJPY HOURLY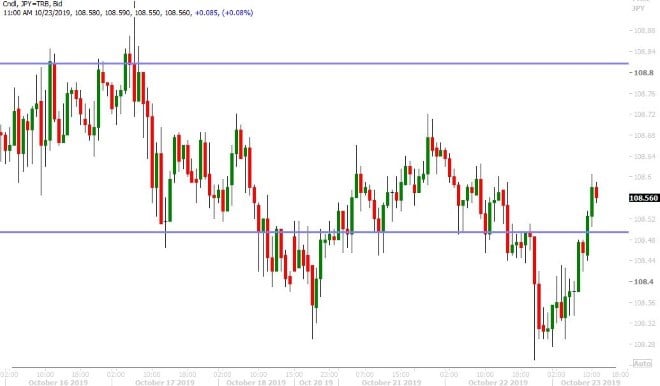 US 10YR BOND YIELD DAILY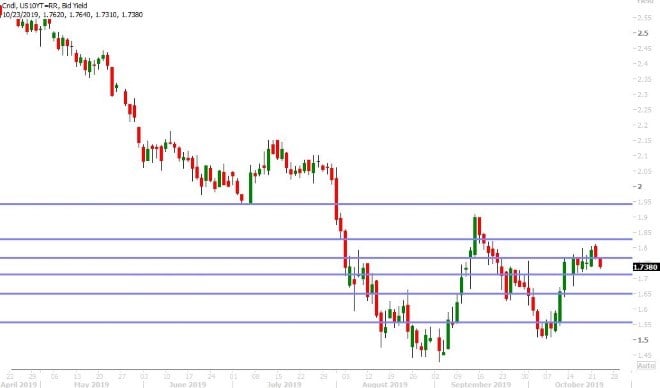 Charts: Reuters Eikon
---
About the Author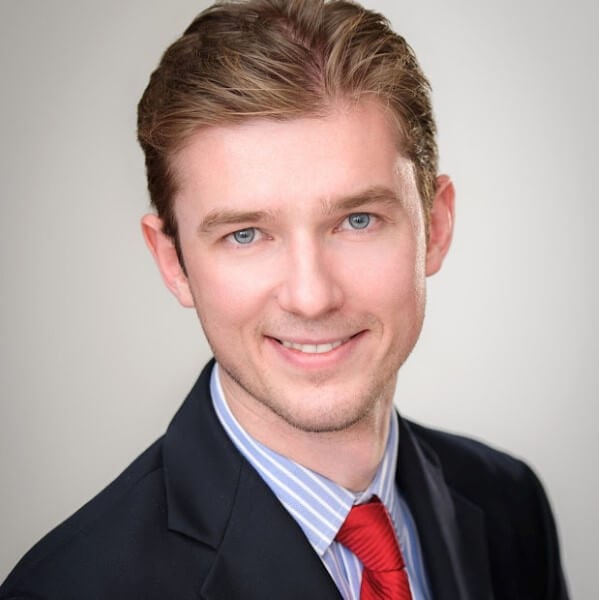 About Currency Exchange International
Currency Exchange International, CXI, is the leading provider of comprehensive foreign exchange services, risk management solutions and integrated international payments processing technology in North America. CXI's relationship-driven approach ensures clients receive tailored solutions and world-class customer service. Through innovative and trusted FX software platforms, CXI delivers versatile foreign exchange services to our clients, so that they can efficiently manage and streamline their foreign currency and global payment needs. CXI is a trusted partner among financial institutions, corporations and retail markets around the world. To learn more, visit: www.ceifx.com
This publication has been prepared by Currency Exchange International for informational and marketing purposes only. Opinions, estimates and projections contained herein are our own as of the date hereof and are subject to change without notice. The information and opinions contained herein have been compiled or arrived at from sources believed reliable, but no representation or warranty, express or implied, is made as to their accuracy or completeness and neither the information nor the forecast shall be taken as a representation for which Currency Exchange International, its affiliates or any of their employees incur any responsibility. Neither Currency Exchange International nor its affiliates accept any liability whatsoever for any loss arising from any use of this information. This publication is not, and is not constructed as, an offer to sell or solicitation of any offer to buy any of the currencies referred to herein, nor shall this publication be construed as an opinion as to whether you should enter into any swap or trading strategy involving a swap or any other transaction. The general transaction, financial, educational and market information contained herein is not intended to be, and does not constitute, a recommendation of a swap or trading strategy involving a swap within the meaning of U.S. Commodity Futures Trading Commission Regulation 23.434 and Appendix A thereto. This material is not intended to be individually tailored to your needs or characteristics and should not be viewed as a "call to action" or suggestion that you enter into a swap or trading strategy involving a swap or any other transaction. You should note that the manner in which you implement any of the strategies set out in this publication may expose you to significant risk and you should carefully consider your ability to bear such risks through consultation with your own independent financial, legal, accounting, tax and other professional advisors. All Currency Exchange International products and services are subject to the terms of applicable agreements and local regulations. This publication and all information, opinions and conclusions contained in it are protected by copyright. This information may not be reproduced in whole or in part, or referred to in any manner whatsoever nor may the information, opinions and conclusions contained in it be referred to without the prior express written consent of Currency Exchange International.