US drone strike kills top Iranian military commander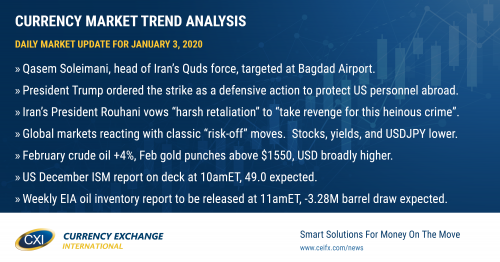 Take control of your international payments with CXI FX Now.
• Zero transfer fees & great rates
• Fast international payments
• Safety and security
• Unparalleled customer service
• Consultative approach
Learn more about CXI's international payment services for businesses or call our trading desk directly at 1-833-572-8933.
Get real-time market coverage on twitter at @EBCTradeDesk or sign up here.
SUMMARY
• Qasem Soleimani, head of Iran's Quds force, targeted at Bagdad Airport.
• President Trump ordered the strike as a defensive action to protect US personnel abroad.
• Iran's President Rouhani vows "harsh retaliation" to "take revenge for this heinous crime".
• Global markets reacting with classic "risk-off" moves. Stocks, yields, and USDJPY lower.
• February crude oil +4%, Feb gold punches above $1550, USD broadly higher.
• US December ISM report on deck at 10amET, 49.0 expected.
• Weekly EIA oil inventory report to be released at 11amET, -3.28M barrel draw expected.
ANALYSIS
USDCAD
Global markets are in classic "risk-off" mode this morning after the US took out one of Iran's most legendary military commanders overnight. In a targeted drone strike ordered by President Trump, the US killed Qasem Soleimaini at the Bagdad International Airport in an effort to deter future Iranian attack plans and to protect US personnel abroad. "General Soleimani was actively developing plans to attack American diplomats and service members in Iraq and throughout the region", according to the US State Department. "The United States will continue to take all necessary action to protect our people and our interests wherever they are around the world." More here from Fox News.

As one might expect, this assassination has drawn fierce rhetoric out of Iranian officials, which in turn has markets a bit spooked this morning. February crude oil prices have spiked 4% higher, February gold prices have punched through the $1550 level, US equity futures are falling 1%, and the US 10yr yield (which waived warning signals yesterday with it's swift reversal off the 1.95% level) has now fallen all the way back to the 1.80% level. The broader USD and the JPY also saw safe-haven flows.

US Secretary of State Pompeo defended the US's actions this morning when speaking with Fox News as a response to a "imminent attack", but emphasized that "we don't seek war with Iran" and that Washington is committed to "de-escalation" of US-Iranian tensions. With that, we've seen markets calm down a bit. USDCAD poked its nose above chart resistance at 1.3000 amid the height of the overnight "risk-off" move, but it has since pulled back. While the upcoming US ISM and EIA reports could get some play this morning, we expect traders will be preoccupied today with the global reactions to this event, especially from Iran.
USDCAD DAILY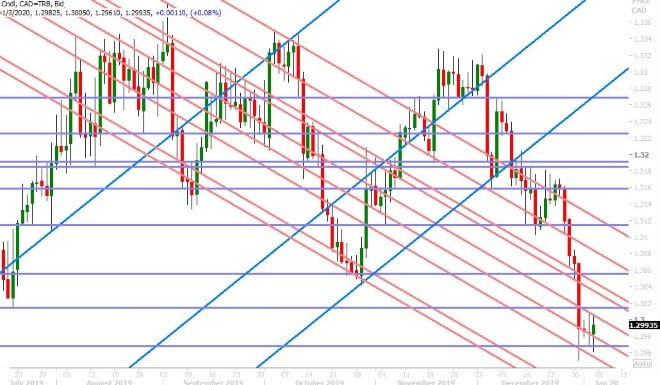 USDCAD HOURLY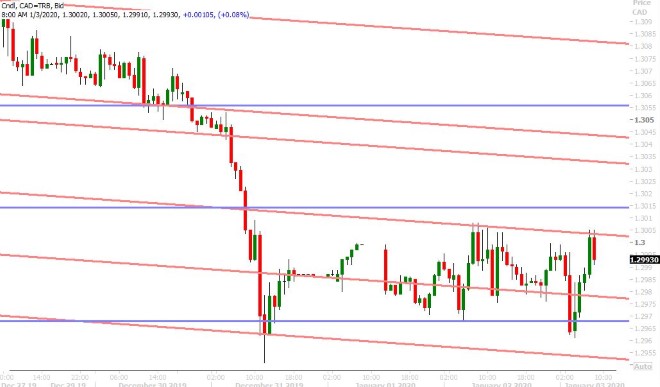 FEB CRUDE OIL DAILY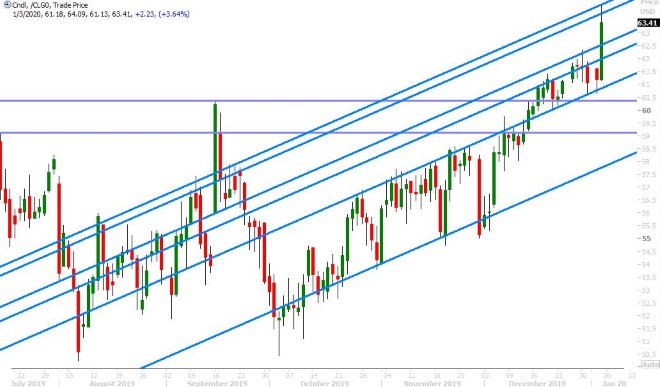 ---
EURUSD
Euro/dollar traders are deciding to trade off broad USD strength today, as opposed to the safe-haven driven strength we're seeing in gold prices. We arguably saw the same pattern emerge yesterday, which has us wondering if the gold/EUR correlation has now broken down. Chart support in the 1.1170s was lost in overnight trade, giving way to a test of trend-line support in the 1.1120s. Buyers are showing up now it would seem as US Secretary of State Pompeo attempts to calm down the beat of the war drum.
EURUSD DAILY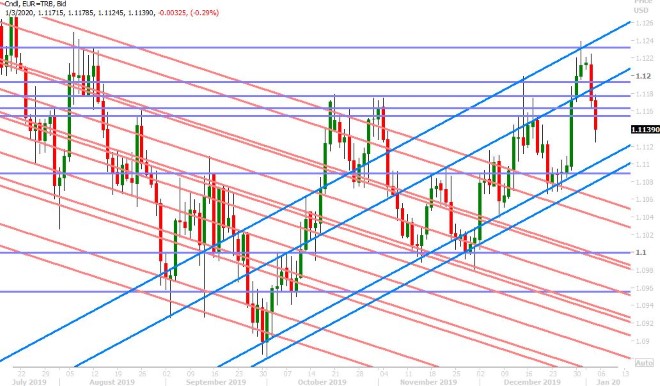 EURUSD HOURLY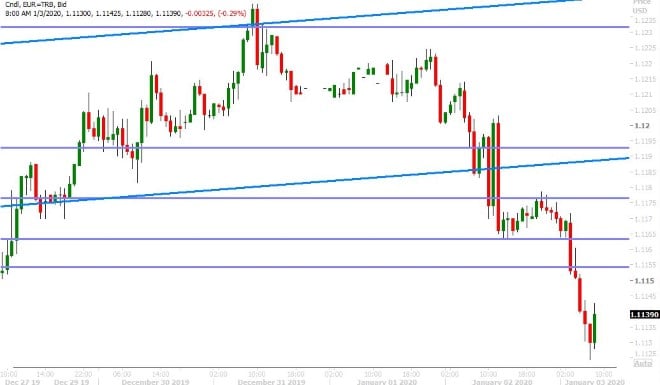 FEB GOLD DAILY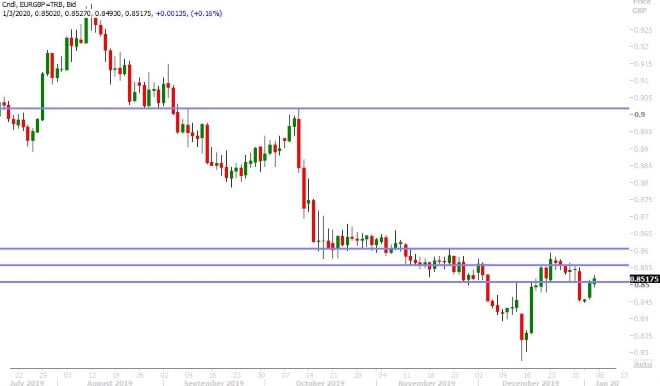 ---
GBPUSD
Sterling succumbed to broad USD buying in the overnight session as well, but it got dealt an extra blow after the UK reported a weaker than expected Construction PMI number for the month of December (44.4 vs 45.9). However, similar to EURUSD, the market is trying to bounce now into NY trade. We think GBPUSD could regain chart support in the 1.3110s should the global "risk-off" tone dissipate further, but traders have an US ISM report to deal with first at 10amET. We think the next major support level resides in the 1.2990s.
GBPUSD DAILY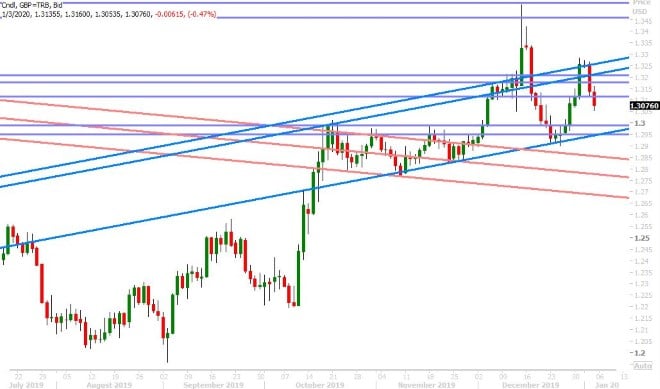 GBPUSD HOURLY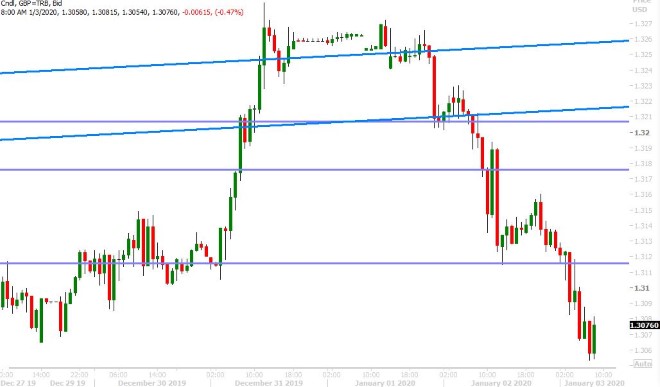 EURGBP DAILY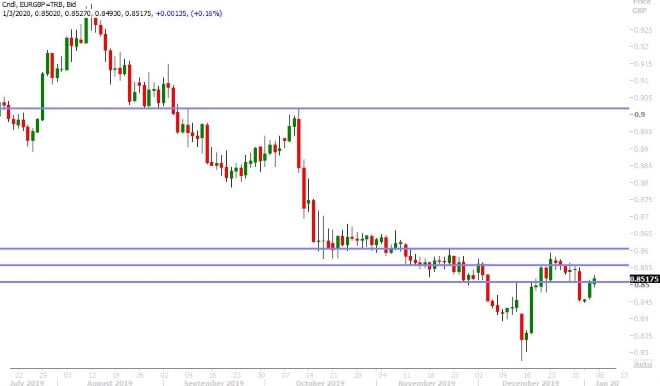 ---
AUDUSD
The Aussie is taking it on the chin this morning as global markets go "risk-off" in reaction to the killing of Iran's Qasem Soleimani. We're now trading right back down to the 0.6920-0.6940, Boxing Day break-out zone…which is quite discouraging for the AUD bulls. We think the fact that the holiday rally didn't leave many meaningful chart support levels along the way part in parcel explains the swiftness of this AUDUSD pull-back. We think what we're seeing today as well is another example of how the Australian dollar is a "high-beta" currency. It tends to behave in a more volatile manner (compared to its G7 peers) when reacting to global "risk-on, risk-off" type events. We think the 0.6920-0.6940 support level must hold, in order to keep the uptrend (since Dec 11th) alive.
AUDUSD DAILY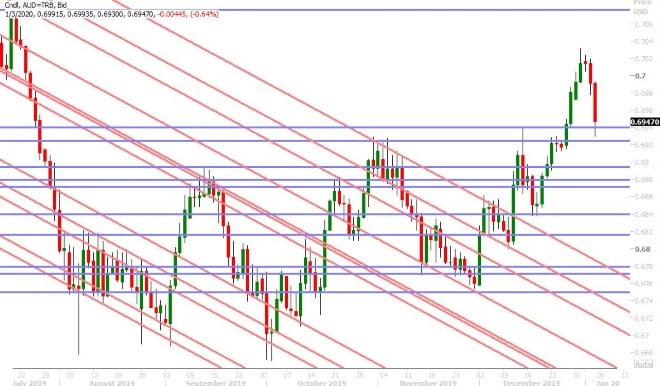 AUDUSD HOURLY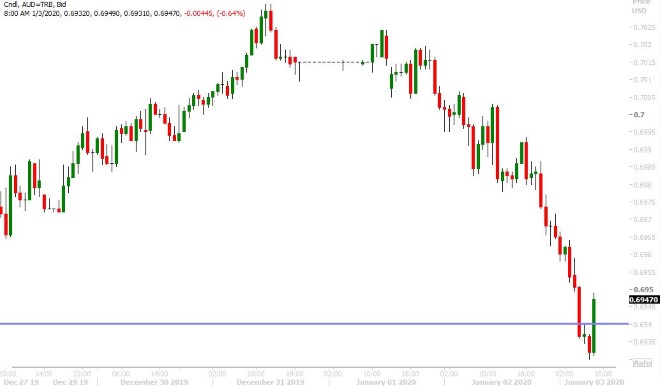 USDCNH DAILY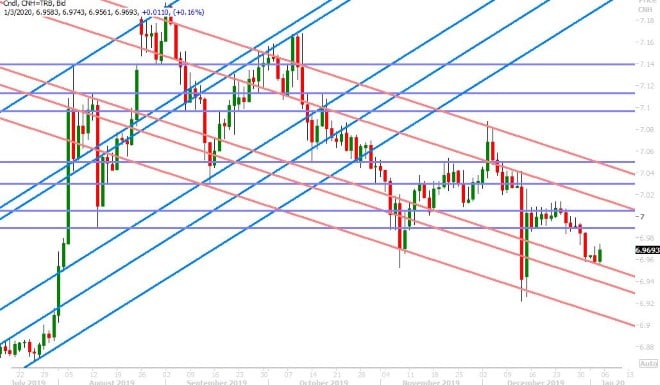 ---
USDJPY
We got our re-test of the low 108s in USDJPY, and it happened rather quickly after two swift downward moves for US yields over the last 24hrs. The first move off the 1.95% was significant in our opinion because it occurred amid a raft of "risk-on", positive US/China trade headlines to start the new year. It was almost as if bond traders were preparing for something negative, and boy have they been rewarded today.

The US 10yr bond yield dipped below 1.80% at one point overnight on the Soleimani headlines, dragging USDJPY below 108.00, but we think bond traders will need to be fed more "risk-off" headlines before pushing yields into a new downtrend. Until such time, we think US yields could bounce, which in turn helps USDJPY a little bit.
USDJPY DAILY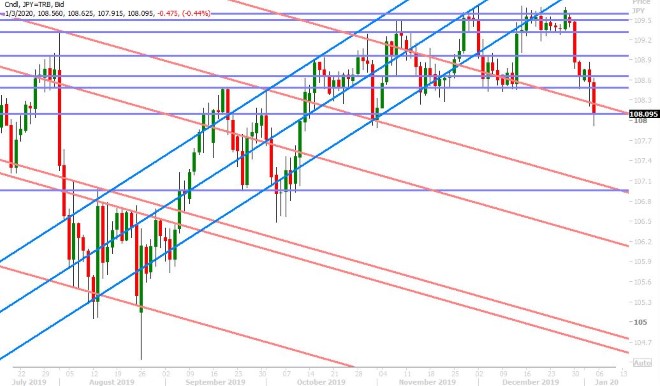 USDJPY HOURLY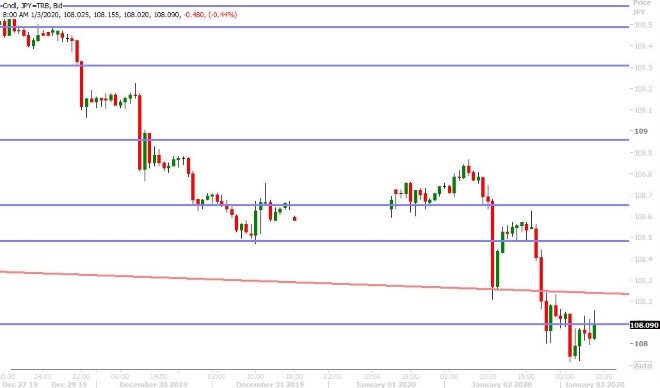 US 10YR BOND YIELD DAILY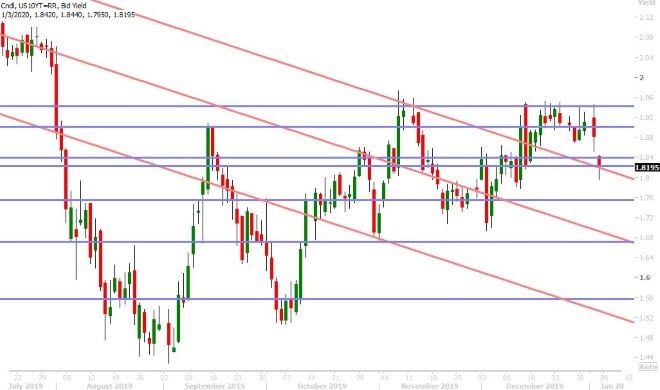 Charts: Reuters Eikon
---
About the Author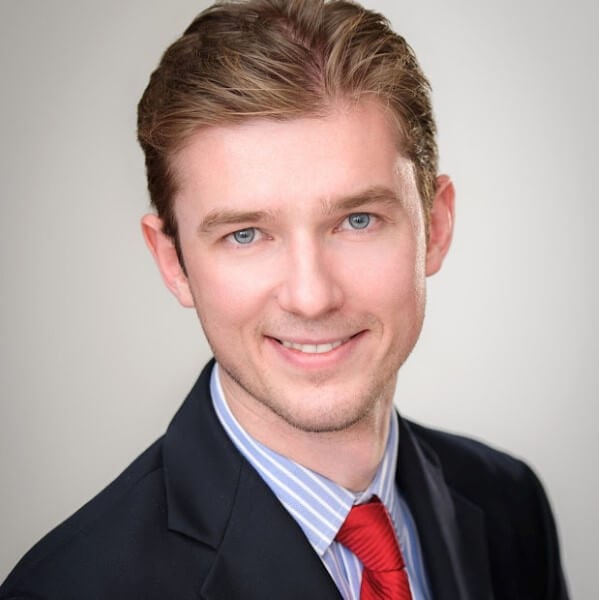 About Currency Exchange International
Currency Exchange International, CXI, is the leading provider of comprehensive foreign exchange services, risk management solutions and integrated international payments processing technology in North America. CXI's relationship-driven approach ensures clients receive tailored solutions and world-class customer service. Through innovative and trusted FX software platforms, CXI delivers versatile foreign exchange services to our clients, so that they can efficiently manage and streamline their foreign currency and global payment needs. CXI is a trusted partner among financial institutions, corporations and retail markets around the world. To learn more, visit: www.ceifx.com
This publication has been prepared by Currency Exchange International for informational and marketing purposes only. Opinions, estimates and projections contained herein are our own as of the date hereof and are subject to change without notice. The information and opinions contained herein have been compiled or arrived at from sources believed reliable, but no representation or warranty, express or implied, is made as to their accuracy or completeness and neither the information nor the forecast shall be taken as a representation for which Currency Exchange International, its affiliates or any of their employees incur any responsibility. Neither Currency Exchange International nor its affiliates accept any liability whatsoever for any loss arising from any use of this information. This publication is not, and is not constructed as, an offer to sell or solicitation of any offer to buy any of the currencies referred to herein, nor shall this publication be construed as an opinion as to whether you should enter into any swap or trading strategy involving a swap or any other transaction. The general transaction, financial, educational and market information contained herein is not intended to be, and does not constitute, a recommendation of a swap or trading strategy involving a swap within the meaning of U.S. Commodity Futures Trading Commission Regulation 23.434 and Appendix A thereto. This material is not intended to be individually tailored to your needs or characteristics and should not be viewed as a "call to action" or suggestion that you enter into a swap or trading strategy involving a swap or any other transaction. You should note that the manner in which you implement any of the strategies set out in this publication may expose you to significant risk and you should carefully consider your ability to bear such risks through consultation with your own independent financial, legal, accounting, tax and other professional advisors. All Currency Exchange International products and services are subject to the terms of applicable agreements and local regulations. This publication and all information, opinions and conclusions contained in it are protected by copyright. This information may not be reproduced in whole or in part, or referred to in any manner whatsoever nor may the information, opinions and conclusions contained in it be referred to without the prior express written consent of Currency Exchange International.