USD broadly higher to start holiday shortened session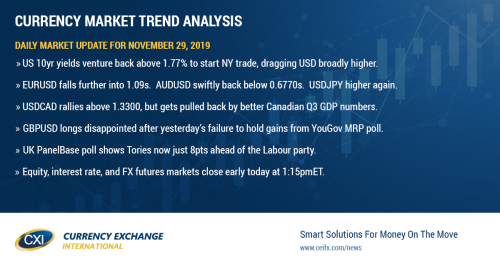 Take control of your international payments with CXI FX Now.
• Zero transfer fees & great rates
• Fast international payments
• Safety and security
• Unparalleled customer service
• Consultative approach
Learn more about CXI's international payment services for businesses or call our trading desk directly at 1-833-572-8933.
Get real-time market coverage on twitter at @EBCTradeDesk or sign up here.
SUMMARY
US 10yr yields venture back above 1.77% to start NY trade, dragging USD broadly higher.
EURUSD falls further into 1.09s. AUDUSD swiftly back below 0.6770s. USDJPY higher again.
USDCAD rallies above 1.3300, but gets pulled back by better Canadian Q3 GDP numbers.
GBPUSD longs disappointed after yesterday's failure to hold gains from YouGov MRP poll.
UK PanelBase poll shows Tories now just 8pts ahead of the Labour party.
Equity, interest rate, and FX futures markets close early today at 1:15pmET.
ANALYSIS
USDCAD
The dollar/CAD uptrend got a boost at the start of NY trade morning as US 10yr yields re-opened above 1.77% and drove the USD broadly higher, but the market is taking a slight hit here as Canada reported slightly better than expected GDP figures. While the September numbers matched expectations of +0.1% MoM, the Q3 reading showed Canadian economic growth narrowly beating expectations (+1.3% YoY vs +1.2%). With that, USDCAD has briefly dipped back below the 1.3300 handle.
The day is young though, as we like to say, and so let's see if the USDCAD bulls can find some other reason to re-build long positions. Watch US yields and the broader USD as usual, and perhaps even some developments on the USMCA front. Liquidity will evaporate after the London close (11amET) and will get progressively worse as the day goes on. Equity, interest rate, and FX futures markets will close early at 1:15pmET
USDCAD DAILY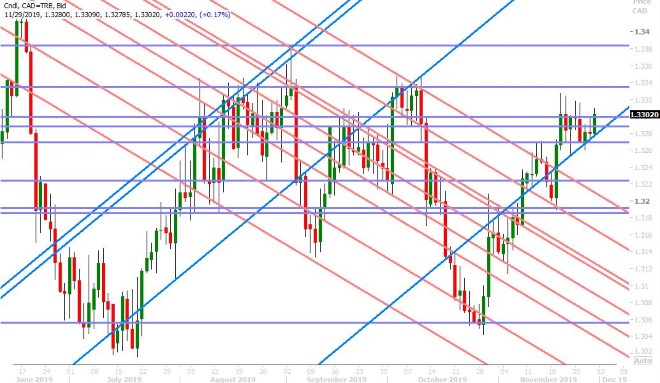 USDCAD HOURLY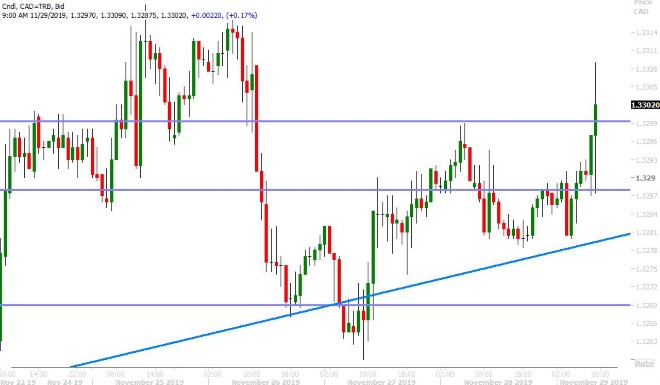 JAN CRUDE OIL DAILY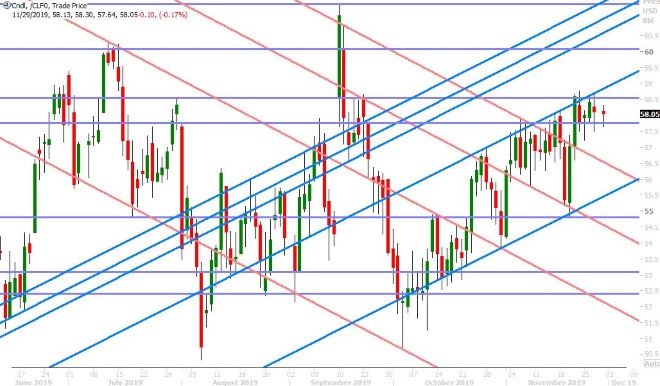 EURUSD
Euro/dollar is probing the 1.09 handle once again as US bond markets re-open with 10yr yields popping back above the 1.77% level. The next major support level comes in at the 1.0970-80s, which is just below where the market sits right now. Germany reported reduced un-employment figures for the month November earlier this morning (-16k vs +5k exp), but it had no effect on EURUSD as this data is not normally market moving. We think the market remains under pressure here to close out the week.
EURUSD DAILY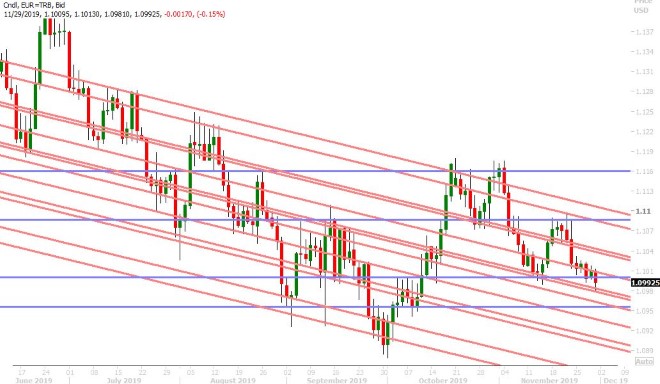 EURUSD HOURLY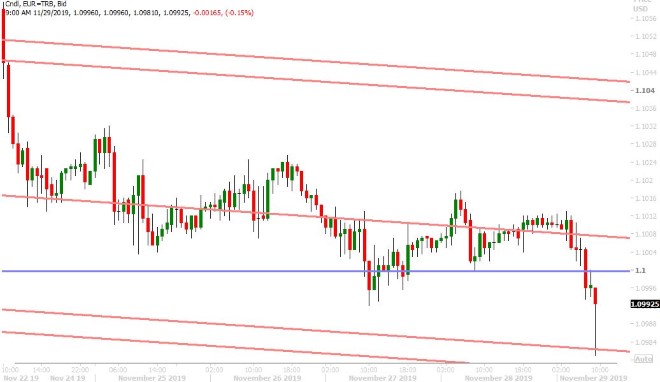 DEC GOLD DAILY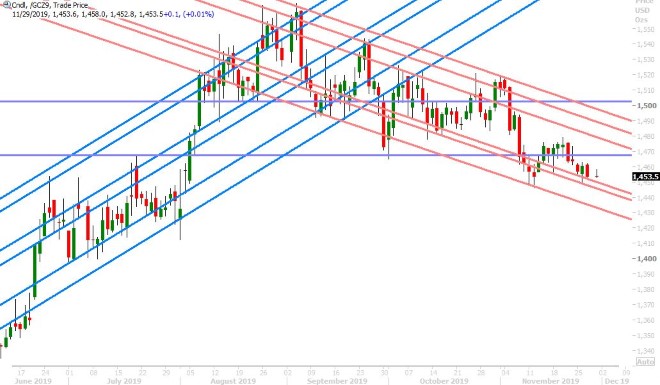 GBPUSD
Sterling has fallen back below the 1.2910s and into the 1.28 handle this morning after yesterday's NY close proved to be very disappointing for the bulls. The landslide, 68 seat majority, Tory election victory predicted by Wednesday night's YouGov MPR poll was supposed to be bullish news for the market, and while it was for a brief while, GBPUSD fell back below its 1.2910s upside break-out level by the close of trade as other UK election polls begged to differ. We think today's negative price action is largely follow-through disappointment from yesterday's poor NY close on the charts, plus some "maybe they were right to be skeptical yesterday" selling after PanelBase just announced the Tory lead slipping to just 8pts in their latest poll. As we write, EURUSD is accelerating its losses into the 1.09 handle, and we don't think this helps GBPUSD here either. As we mentioned yesterday, we wouldn't be surprised to see the market re-test the mid-1.28s before giving the bulls another shot at the upside.
GBPUSD DAILY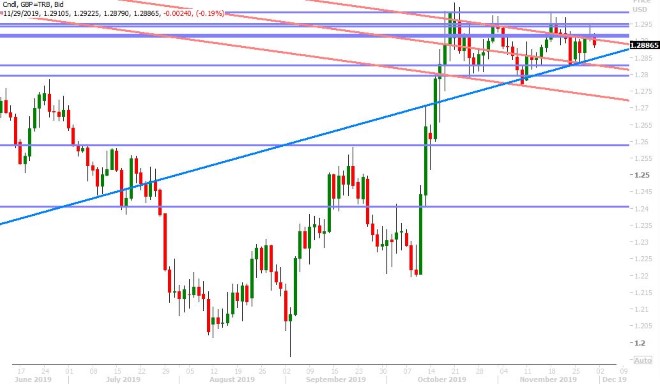 GBPUSD HOURLY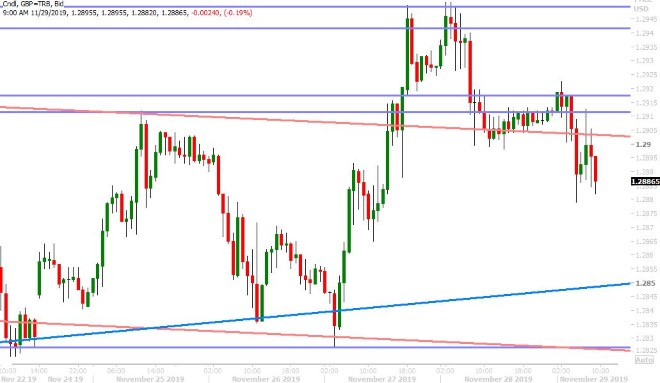 EURGBP DAILY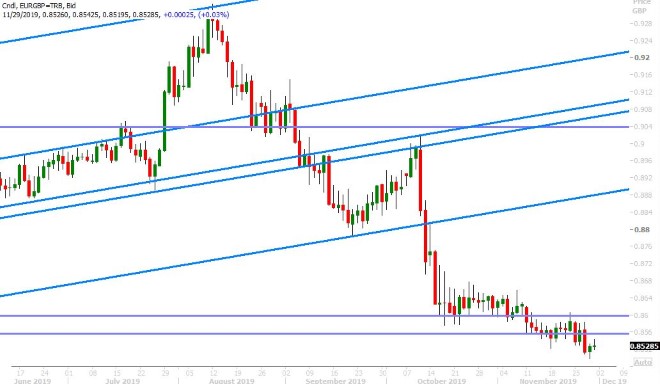 ---
AUDUSD
The Aussie closed NY trade yesterday below the 0.6770s support level (which was a negative technical development), and while it tried to follow its antipodean cousin NZDUSD higher in Asia following some upbeat local consumer confidence news, the AUDUSD selling is back in full force this morning. EURUSD's foray into the 1.09s isn't helping, nor is USDCAD's rally above 1.3300. Off-shore dollar/yuan continues to wrestle with the pivotal 7.0300 level, which if it regains with confidence could spell more trouble for the Australian dollar.
AUDUSD DAILY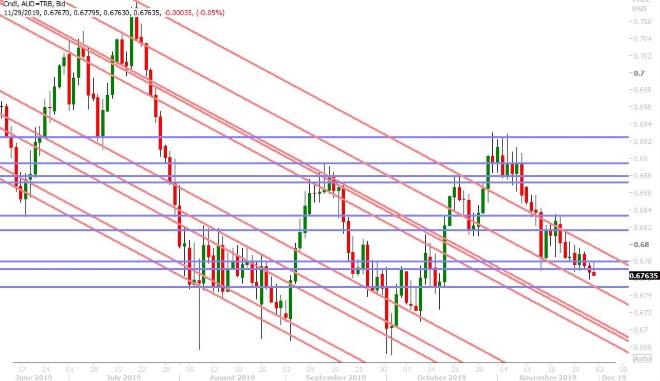 AUDUSD HOURLY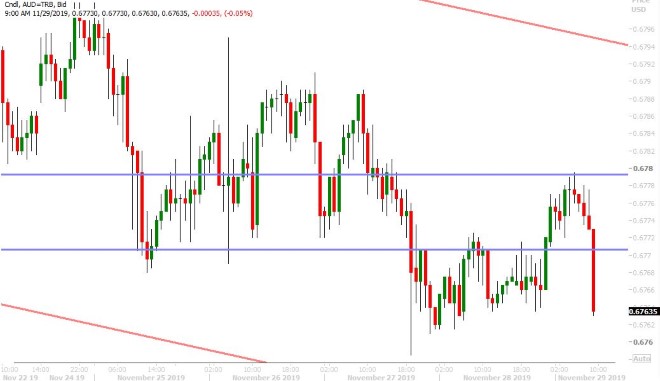 USDCNH DAILY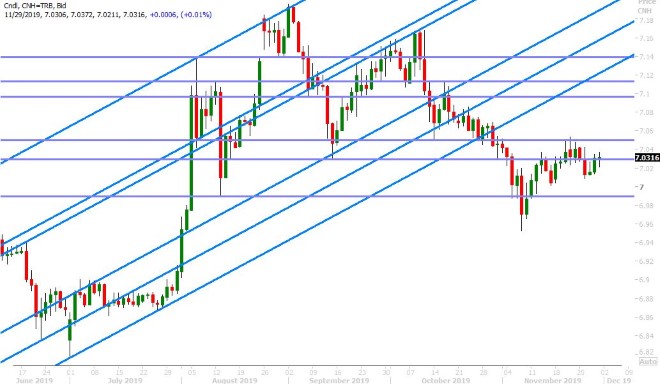 ---
USDJPY
The dollar/yen longs are showing no fear this morning, as the market takes out Wednesday's highs in the 109.60s. It's been largely yield driven as US 10s rally back above 1.77%, but that move is going through some fits and starts. Things could get very dicey later today as FX market liquidity will be very poor, with US interest rate and FX futures markets closing early at 1:15pmET. Traders could use this an excuse to trip more buy stop orders up into the 110.00 level, or they could reverse the market lower (which would create a negative technical development on the charts). The Friday after US Thanksgiving is not normally a pivotal day for markets, but given where we are on the USDJPY chart (teasing another upside breakout), today's NY close could prove very important.
USDJPY DAILY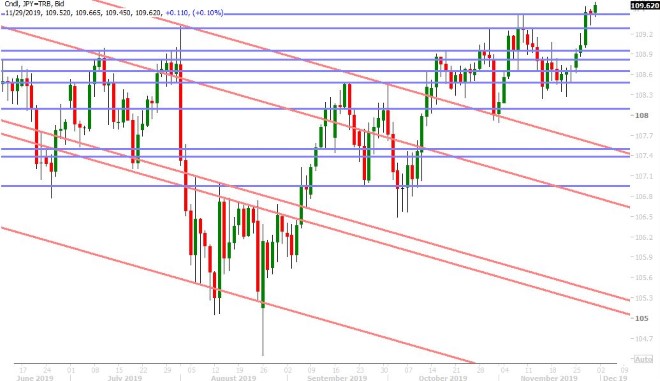 USDJPY HOURLY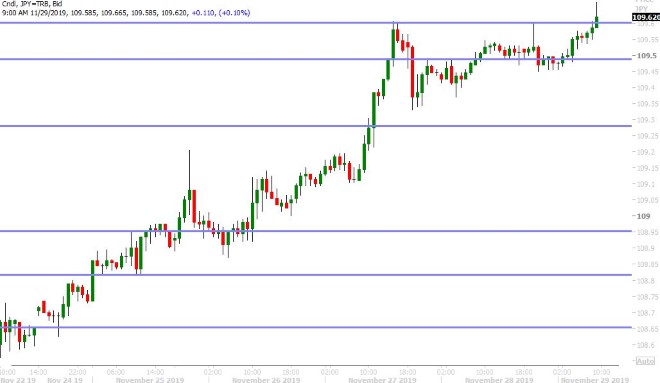 US 10YR BOND YIELD DAILY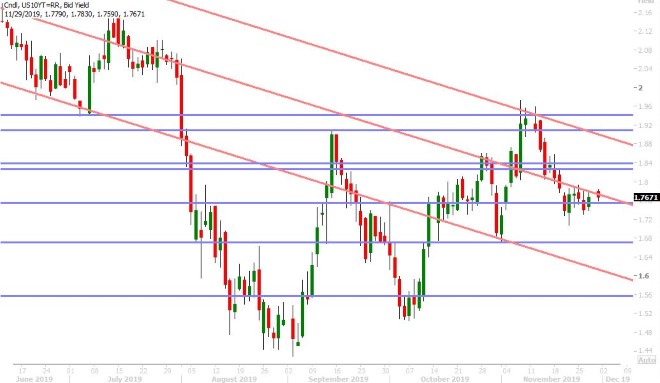 Charts: Reuters Eikon
---
About the Author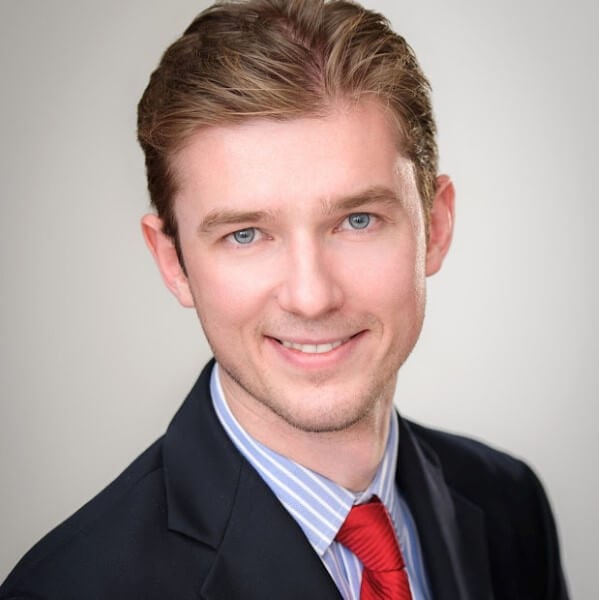 About Currency Exchange International
Currency Exchange International, CXI, is the leading provider of comprehensive foreign exchange services, risk management solutions and integrated international payments processing technology in North America. CXI's relationship-driven approach ensures clients receive tailored solutions and world-class customer service. Through innovative and trusted FX software platforms, CXI delivers versatile foreign exchange services to our clients, so that they can efficiently manage and streamline their foreign currency and global payment needs. CXI is a trusted partner among financial institutions, corporations and retail markets around the world. To learn more, visit: www.ceifx.com
This publication has been prepared by Currency Exchange International for informational and marketing purposes only. Opinions, estimates and projections contained herein are our own as of the date hereof and are subject to change without notice. The information and opinions contained herein have been compiled or arrived at from sources believed reliable, but no representation or warranty, express or implied, is made as to their accuracy or completeness and neither the information nor the forecast shall be taken as a representation for which Currency Exchange International, its affiliates or any of their employees incur any responsibility. Neither Currency Exchange International nor its affiliates accept any liability whatsoever for any loss arising from any use of this information. This publication is not, and is not constructed as, an offer to sell or solicitation of any offer to buy any of the currencies referred to herein, nor shall this publication be construed as an opinion as to whether you should enter into any swap or trading strategy involving a swap or any other transaction. The general transaction, financial, educational and market information contained herein is not intended to be, and does not constitute, a recommendation of a swap or trading strategy involving a swap within the meaning of U.S. Commodity Futures Trading Commission Regulation 23.434 and Appendix A thereto. This material is not intended to be individually tailored to your needs or characteristics and should not be viewed as a "call to action" or suggestion that you enter into a swap or trading strategy involving a swap or any other transaction. You should note that the manner in which you implement any of the strategies set out in this publication may expose you to significant risk and you should carefully consider your ability to bear such risks through consultation with your own independent financial, legal, accounting, tax and other professional advisors. All Currency Exchange International products and services are subject to the terms of applicable agreements and local regulations. This publication and all information, opinions and conclusions contained in it are protected by copyright. This information may not be reproduced in whole or in part, or referred to in any manner whatsoever nor may the information, opinions and conclusions contained in it be referred to without the prior express written consent of Currency Exchange International.