Why 500 Euro Banknotes Will No Longer Be Issued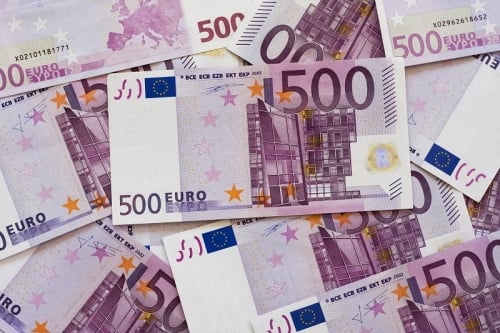 Ordering foreign currency online is easy with OnlineFX.
The European Central Bank has had concerns about how cash contributes to money laundering and tax evasion for some time. Large notes specifically aid in these crimes.
Economist Kenneth Rogoff has been sharing this idea for approximately 20 years, and the European Central Bank has slowly but surely put this into action by ceasing the issue of the €500 banknote in 2019. 
The slow process
The European Central Bank made this decision about three years ago, but national banks still accepted and redistributed the note.
While the bank has not printed new €500 banknotes since 2014, these notes will still be accepted in the euro system. In April, Austria and Germany will be the last two euro zone countries to cease issuing the banknote.
The likelihood of receiving a counterfeit banknote remains low: in the second half of 2018, 27.8% fewer counterfeit banknotes were detected compared with the second half of the previous year. Read more https://t.co/MpIm8CQRnR pic.twitter.com/MIAUItfR1U

— European Central Bank (@ecb) January 25, 2019
The crimes associated with this bill
Notes of high value, like the €500 banknotes, are better for criminals because higher sums of money can be transported easily. Money laundering acts always use cash in their process. 
The €500 banknote has even earned the nickname "the Bin Laden" due to the fact that it aids in finance terrorism. Also, because the bill is seldom seen publicly. There are many ways for criminals to commit these crimes with cash.
Did you know it is probably stolen money? The green stain is security ink – released if criminals break into a protected cash container such as an ATM. Do you know what to do if someone gives you a banknote covered with ink? Find out here https://t.co/aOgJyVzRM5

— European Central Bank (@ecb) January 31, 2019
Many people believe that euro banknotes should be phased out altogether and that we should rely on electronic substitutes. However, due to the fact that many people fear deflation, it makes sense to keep cash around for now. 
In addition, a cashless society may be difficult to keep up with for the elderly, homeless citizens, and poor citizens. On the bright side, the euro itself is celebrating 20 years in circulation this year! Learn more here.
About Currency Exchange International
Currency Exchange International (CXI) is a leading provider of foreign currency exchange services in North America for financial institutions, corporations and travelers. Products and services for international travelers include access to buy and sell more than 90 foreign currencies, multi-currency cash passport's, traveler's cheques and gold bullion coins and bars. For financial institutions and corporations, our services include the exchange of foreign currencies, international wire transfers, global EFT, the purchase and sale of foreign bank drafts, international traveler's cheques, and foreign cheque clearing through the use of CXI's innovative CEIFX web-based FX software www.ceifx.com