Automated Passport Control (APC): Everything You Need to Know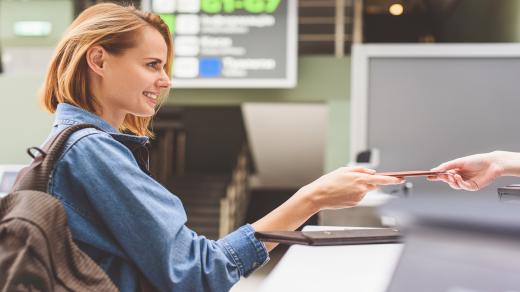 Ordering foreign currency is easy with OnlineFX.
Many Americans are beginning to resume their international travel plans, which means the wait time for U.S. Customs and Border Protection lines are picking up again. Going through Customs can often be a headache, especially during peak vacation times, but the good news is, with the Automated Passport Control, you can cut back on time. After swimming in a beautiful cenote in Mexico, or spending time on the Sahara Desert tour in Morocco, the last thing you'd want to do is wait in long lines for Customs. According to LAX Airport, U.S. travelers are saving on average 18 minutes using this process. This helps to enhance the traveler's experience while maintaining a high level of security.

What is Automated Passport Control (APC)?
The Automated Passport Control is a U.S. Customs and Border Protection (CBP) program is perfect for U.S. citizens, U.S. legal permanent residents, Canadian citizens, eligible Visa Waiver Program participants, and specific U.S. visa holder travelers to make going through customs a breeze. Travelers using APC experience shorter wait times, less congestion, and faster processing. Automated Passport Control kiosks can be used at 17 airports and 2 cruise ports.
Albuquerque International Airport (ABQ)

Denver International Airport (DEN)

Edmonton International Airport (YEG)

John F. Kennedy International Airport (JFK)

Kansas City International Airport (MCI)

Los Angeles International Airport (LAX)

Newark Liberty International Airport (EWR)

Oakland International Airport (OAK)

Ontario International Airport (ONT)

San Juan Seaport (PUE)

Philadelphia International Airport (PHL)

Phoenix Sky Harbor International Airport (PHX)

Portland International Airport (PDX)

Salt Lake City International Airport (SLC)

Seattle Sea-Tac Airport (SEA)

Southwest Florida International Airport (RSW)

Stewart International Airport (SWF)

T.F. Green International Airport (PVD)

Vancouver Seaport (YHC)
How does the Automated Passport Control (APC) program work?

​Automated Passport Control (APC) is a very simple step that can be done on a kiosk located in the passport control area. There you'll be asked to scan their passport, take a photograph using the kiosk, and complete a CBP inspection verifying biographic and flight information. Following the inspection, a receipt will be issued. Travelers will then bring their passport and receipt to a CBP officer to finalize their inspection for entry into the United States.
What are the benefits of the Automated Passport Control (APC) program?
The Automated Passport Control (APC) allows travelers to have an expedited process when being inspected by CBP. Automated Passport Control (APC) decreases overall waiting time and inspection time while maintaining the highest levels of security of personal data or information.
Are there any fees associated with the Automated Passport Control (APC) program?
One of the best benefits of using Automated Passport Control (APC) is entirely free. This process does not require pre-registration or membership. Compared to the Trusted Traveler's programs, which have some level of cost, this program requires no app download and is available at the airport. You can learn more about Trusted Travelers programs from our other articles. Check them out here.
What do you need to know before participating in the Automated Passport Control (APC) program?
Do you speak another language other than English? The Automated Passport Control kiosk is also available in Spanish, French, Italian, Korean, Dutch, German, Chinese (Traditional/Simplified), and Japanese.
Traveling with the whole family? No problem. The kiosks allow people residing at the same address to be processed together, further saving more time.

About Currency Exchange International
Currency Exchange International (CXI) is a leading provider of foreign currency exchange services in North America for financial institutions, corporations and travelers. Products and services for international travelers include access to buy and sell more than 90 foreign currencies, traveler's cheques and gold bullion coins and bars. For financial institutions and corporations, our services include the exchange of foreign currencies, international wire transfers, global EFT, the purchase and sale of foreign bank drafts, international traveler's cheques, and foreign cheque clearing through the use of CXI's innovative CEIFX web-based FX software www.ceifx.com