Better European flash PMIs help repair risk sentiment after AFR report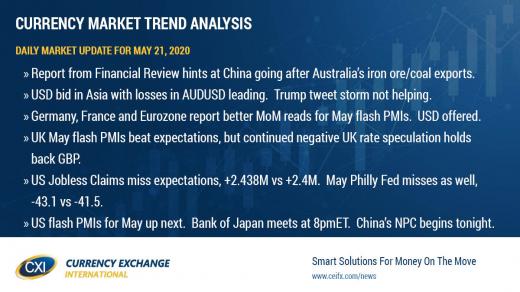 Take control of your international payments with CXI FX Now.
• Low transfer fees & great rates
• Fast international payments
• Safety and security
• Unparalleled customer service
• Consultative approach
Interested in creating a custom foreign exchange trading plan?
Contact us
or call EBC's trading desk directly at
1-888-729-9716.
Get real-time market coverage on twitter at @EBCTradeDesk or sign up here.
SUMMARY
Report from Financial Review hints at China going after Australia's iron ore/coal exports.

USD bid in Asia with losses in AUDUSD leading. Trump tweet storm not helping.

Germany, France and Eurozone report better MoM reads for May flash PMIs. USD offered.

UK May flash PMIs beat expectations, but continued negative UK rate speculation holds back GBP.

US Jobless Claims miss expectations, +2.438M vs +2.4M. May Philly Fed misses as well, -43.1 vs -41.5.

US flash PMIs for May up next. Bank of Japan meets at 8pmET. China's NPC begins tonight.
ANALYSIS
USDCAD
The broader USD gyrated in the overnight session today as traders digested negative US/China and Aussie/China developments against generally more positive May flash PMI news out of Europe. President Trump's tweet storm against Chinese Global Times Editor-in-Chief, Hu Xijin, set the scene for "risk-off" flows last night, but we felt it was the report out of Australia's Financial Review (about China potentially going after Australian iron ore/coal exports) that really derailed broad risk sentiment in Asia and drove the USD higher. European traders then felt comfortable offering up the USD once again, following better than expected Eurozone flash PMI data for the month of May, although we think today's Ascension Day holiday across Europe (and the lack of liquidity it has created) exaggerated the market's positive reaction to some degree. The US has just reported some slightly weaker than expected economic data, which is now bringing back some mild USD buying.
US JOBLESS CLAIMS FELL TO 2,438,000 MAY 16 WEEK (CONSENSUS 2,400,000) FROM 2,687,000 PRIOR WEEK (PREVIOUS 2,981,000)
PHILADELPHIA FED BUSINESS CONDITIONS MAY -43.1 (CONSENSUS -41.5) VS APRIL -56.6
The US flash PMIs for May are up next at 9:45amET, and the expectations are as follows:
US May Markit Comp Flash PMI, 27.0 prev
US May Markit Mfg PMI Flash, 38.0 f'cast, 36.1 prev
USDCAD DAILY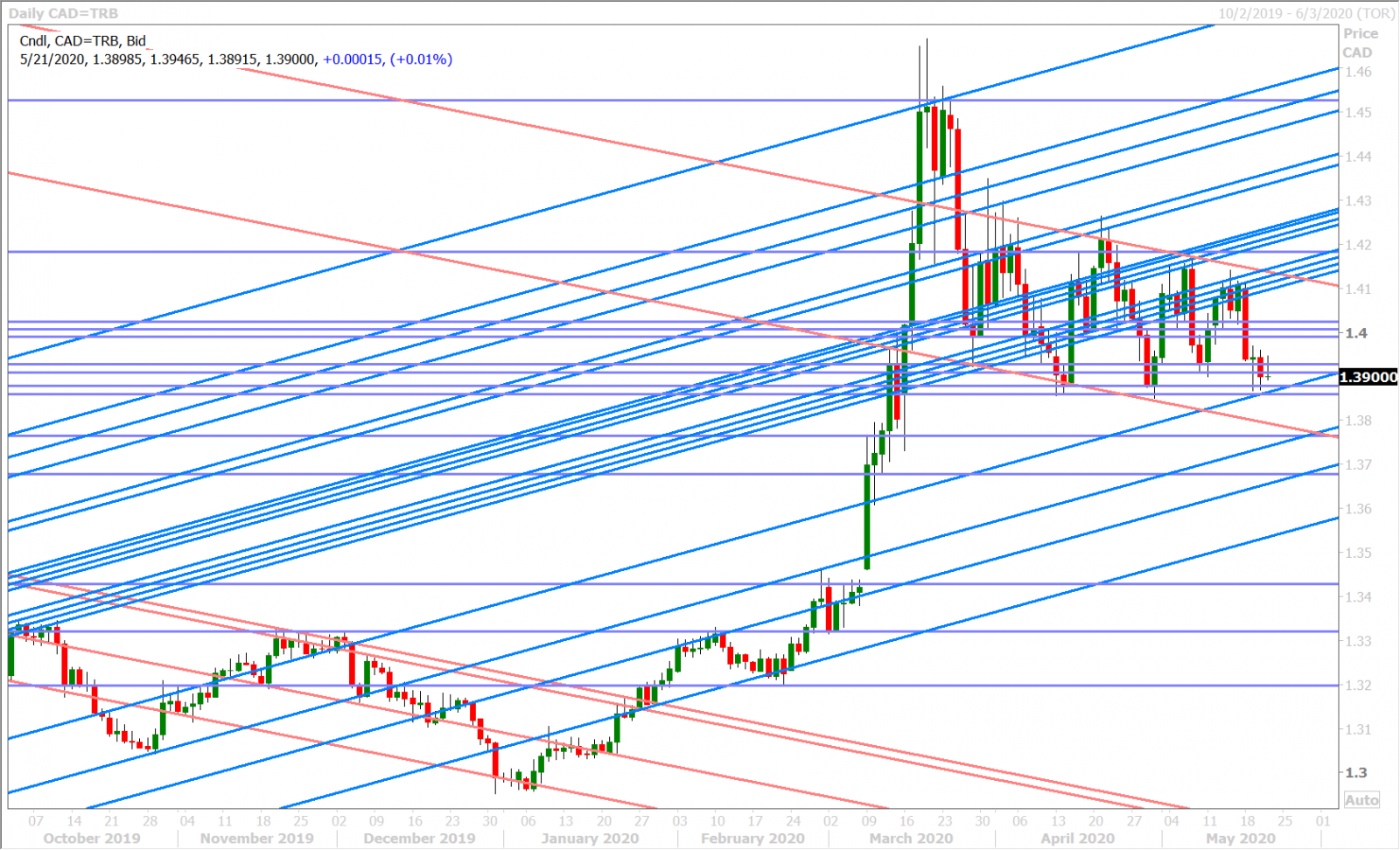 USDCAD HOURLY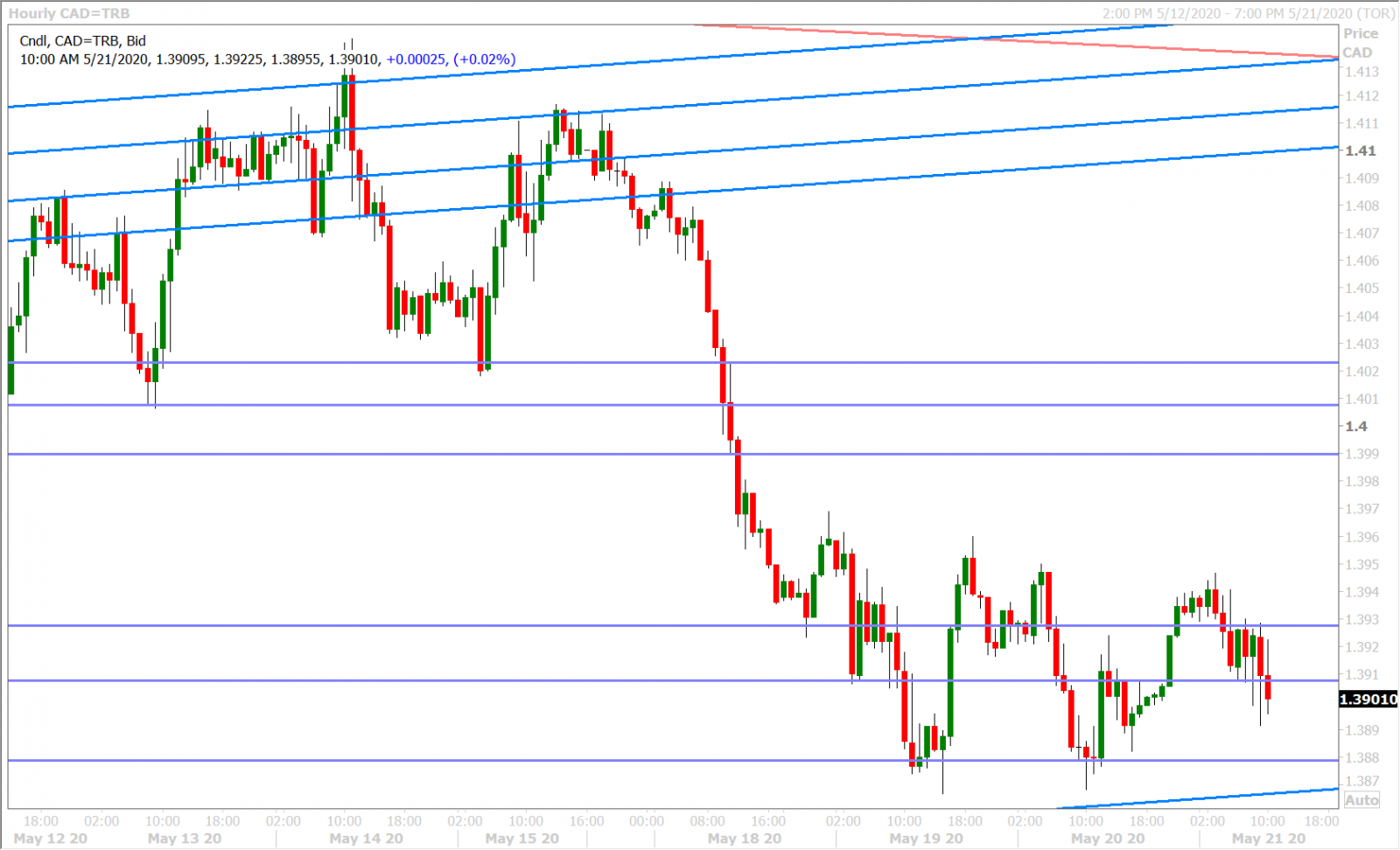 JULY CRUDE OIL DAILY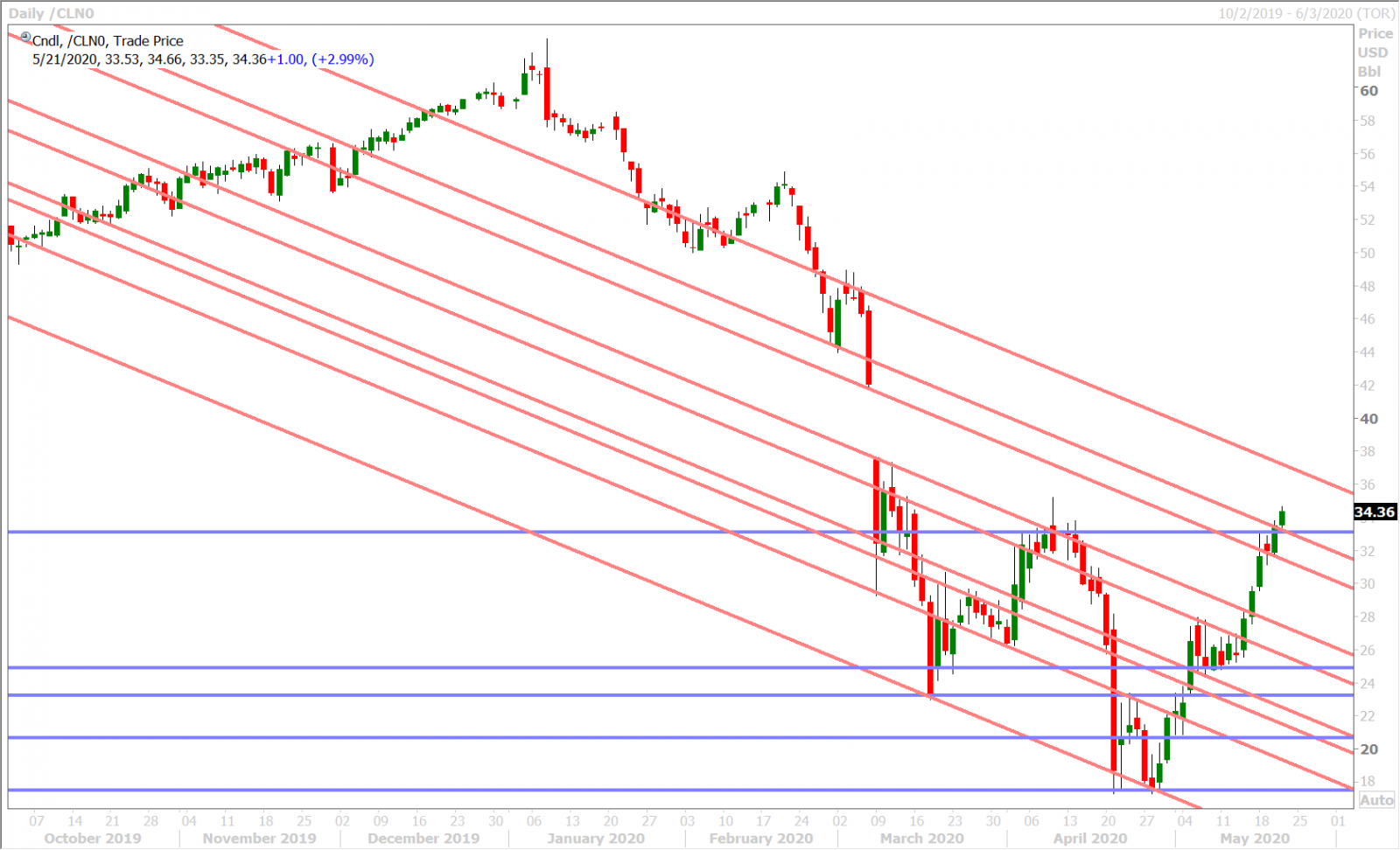 ---
EURUSD
Euro/dollar made a run for the 1.1000 handle yesterday after early NY session buyers pushed the market back above the 1.0930-50 resistance level. Increased US/China tension then took hold by mid-day after the US Senate passed a bill aimed at boosting oversight of Chinese public company's listed on US exchanges, and we also heard reports of an option barrier at the 1.1000 figure that was being defended. Last night's selling in AUDUSD during the 9pmET hour put further weight on EURUSD (dragging the market back down to 1.0950), but the May flash PMIs out of Europe came to the rescue. The numbers weren't stellar (missing expectations in a few cases), but they were all higher versus their previous reads from April (which is good news if you're looking for some). This morning's weaker than expected US jobless claims/Philly Fed data set has pulled EURUSD back off the 1.1000 mark once again.
Eurozone May Marki Mfg Flash PMI, 39.5, 38.0 f'cast, 33.4 prev
Eurozone May Markit Comp Flash PMI, 30.5, 25.0 f'cast, 13.6 prev
Germany May Markit Mfg Flash PMI, 36.8, 39.2 f'cast, 34.5 prev
Germany May Markit Comp Flash PMI, 31.4, 34.1 f'cast, 17.4 prev
France May Markit Mfg Flash PMI, 40.3, 36.1 f'cast, 31.5 prev
France May Markit Comp Flash PMI, 30.5, 32.0 f'cast, 11.1 prev

EURUSD DAILY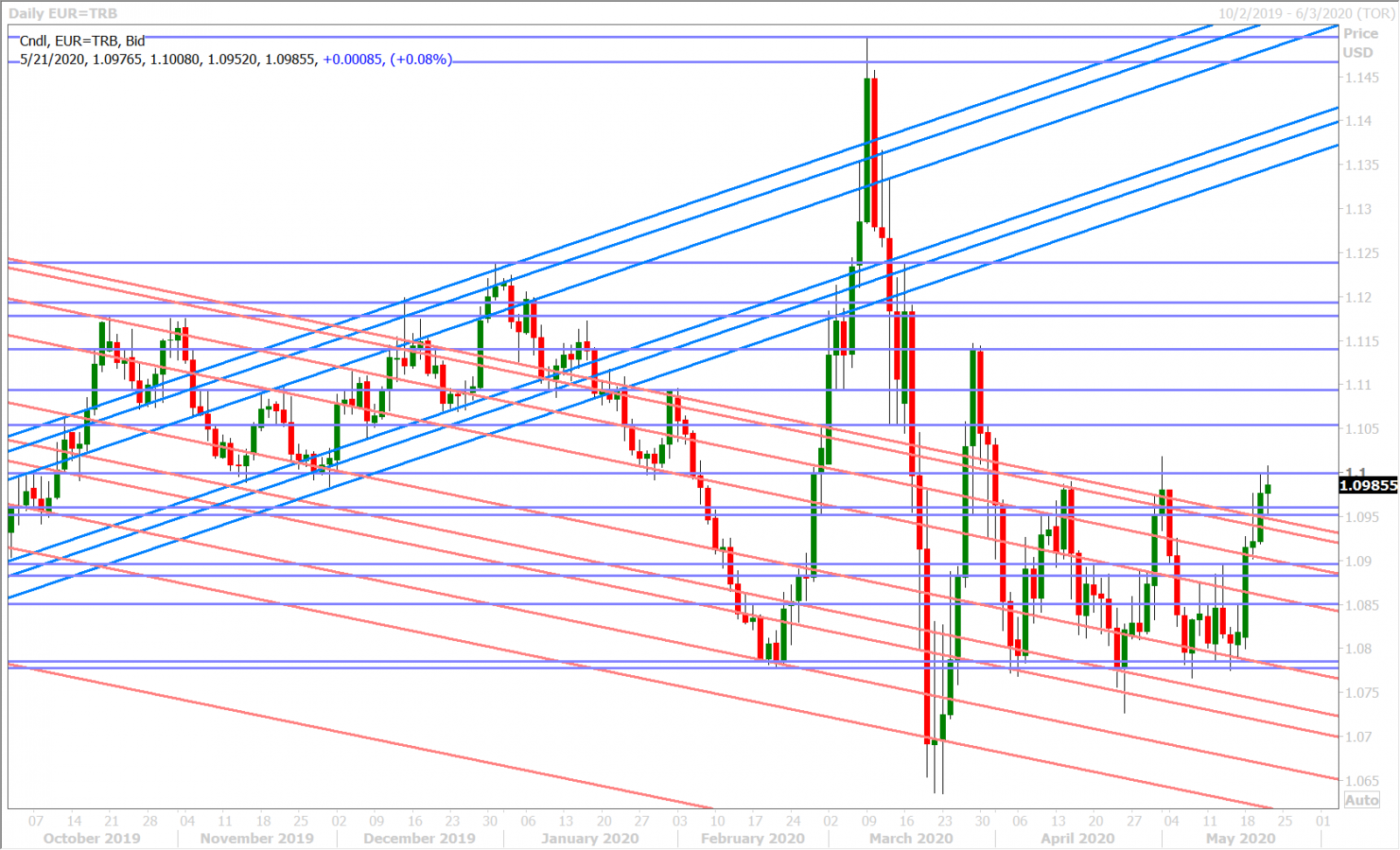 EURUSD HOURLY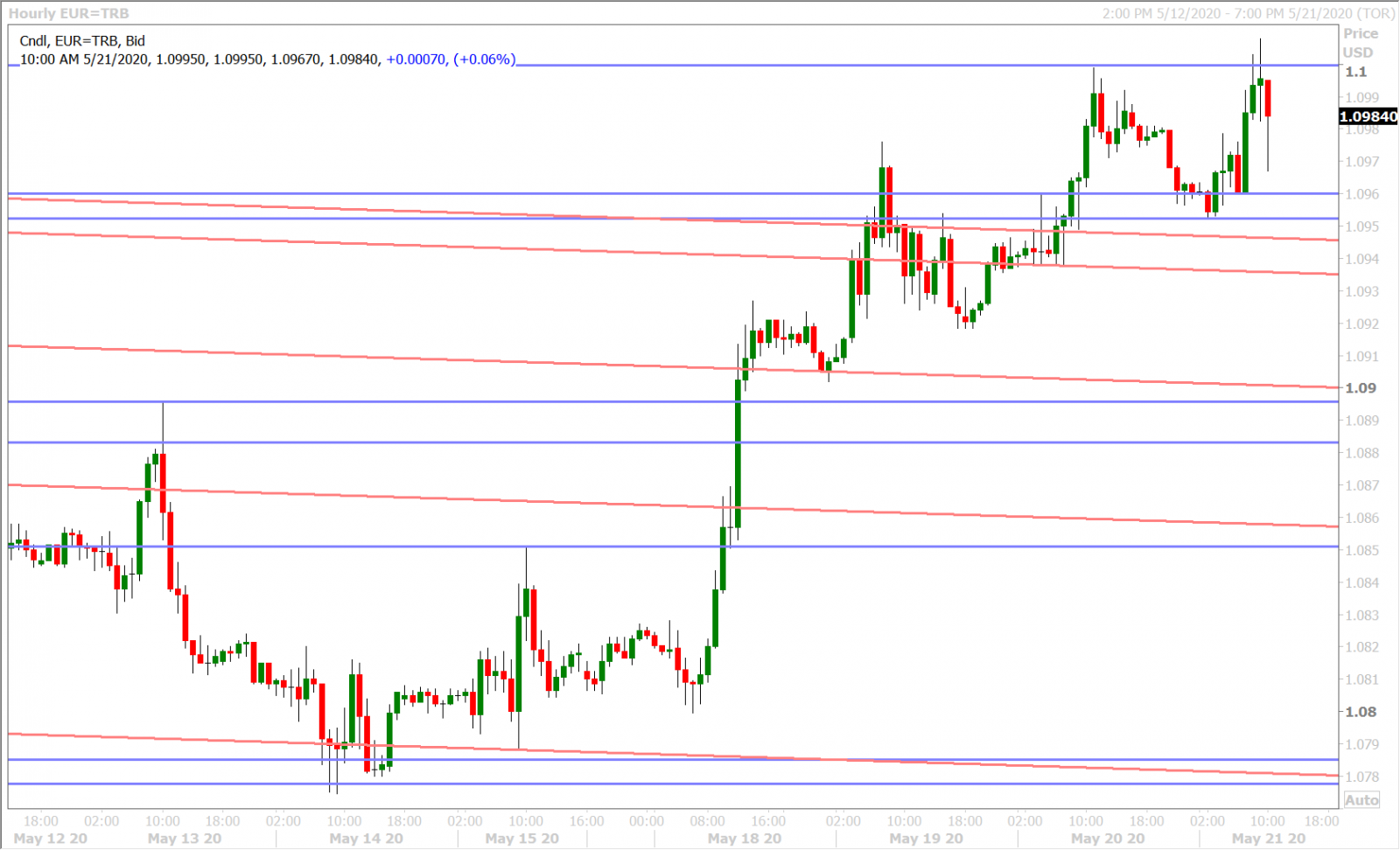 BTP/BUND YIELD SPREAD DAILY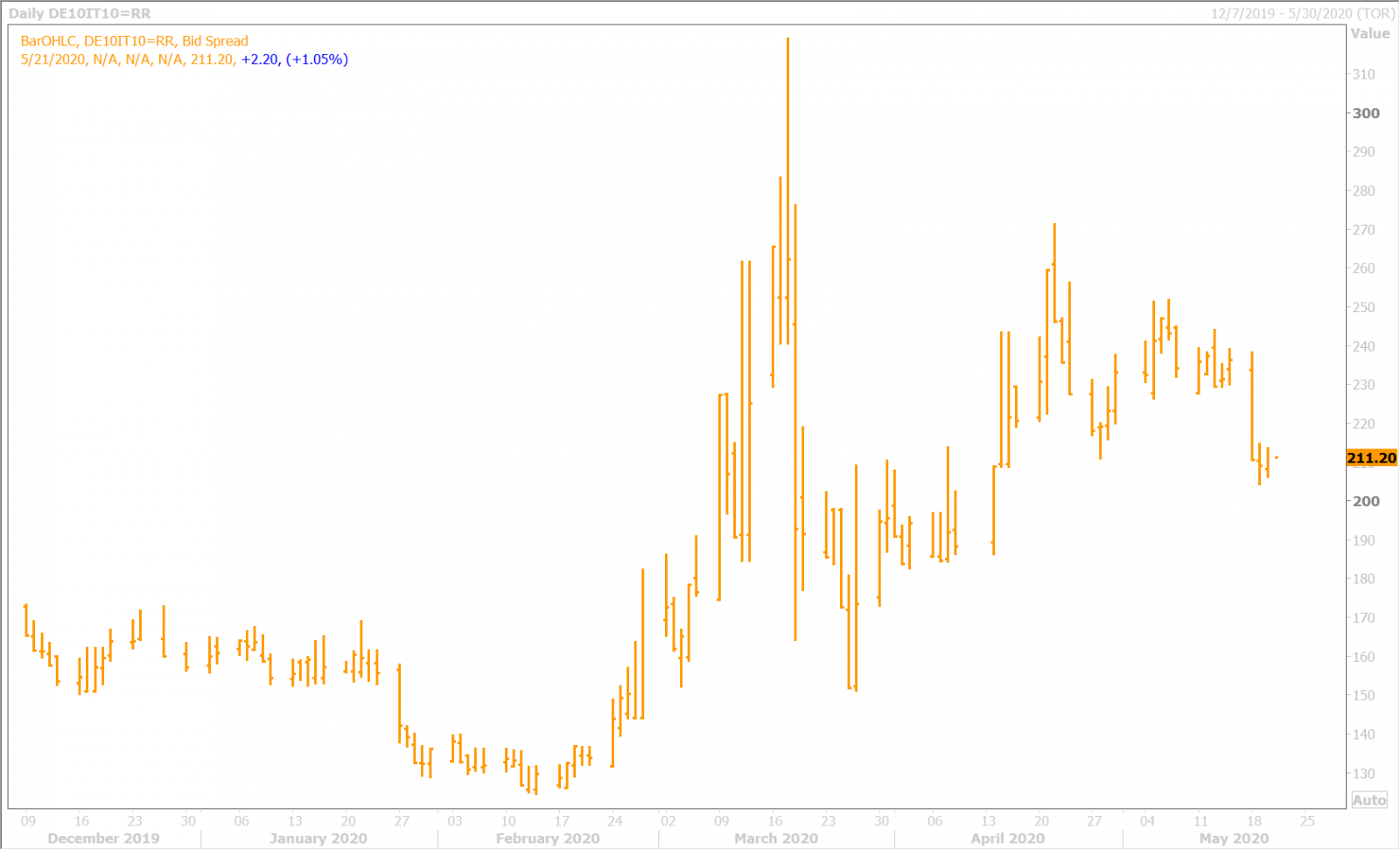 ---
GBPUSD
Sterling has followed the broader market's response to escalating US/China and Aussie/China tensions since mid-day yesterday as well. GBPUSD pulled off its session highs in the 1.2280s around the same time as EURUSD and AUDUSD retreated. The 2-hour marathon from four Bank of England MPC members before the UK's Treasury Committee didn't reveal much for traders unfortunately. Governor Bailey still seemed "wishy-washy" on the topic of negative rates and said "we do not rule things out on principle". While the GBPUSD market has largely recouped most of its overnight losses on the back of this morning's better than expected UK flash PMIs for May, we think the threat of negative UK interest rates continues to hold sterling back vis a vis the euro (EURGBP hitting new 8-week highs today). The OIS curve is now pricing in negative UK rates starting in November (-0.0048bp), one month earlier than it was pricing in yesterday.
UK May Flash Manufacturing PMI, 40.6, 36.0 f'cast, 32.6 prev
UK May Markit Comp Flash PMI, 28.9, 25.0 f'cast, 13.8 prev
GBPUSD DAILY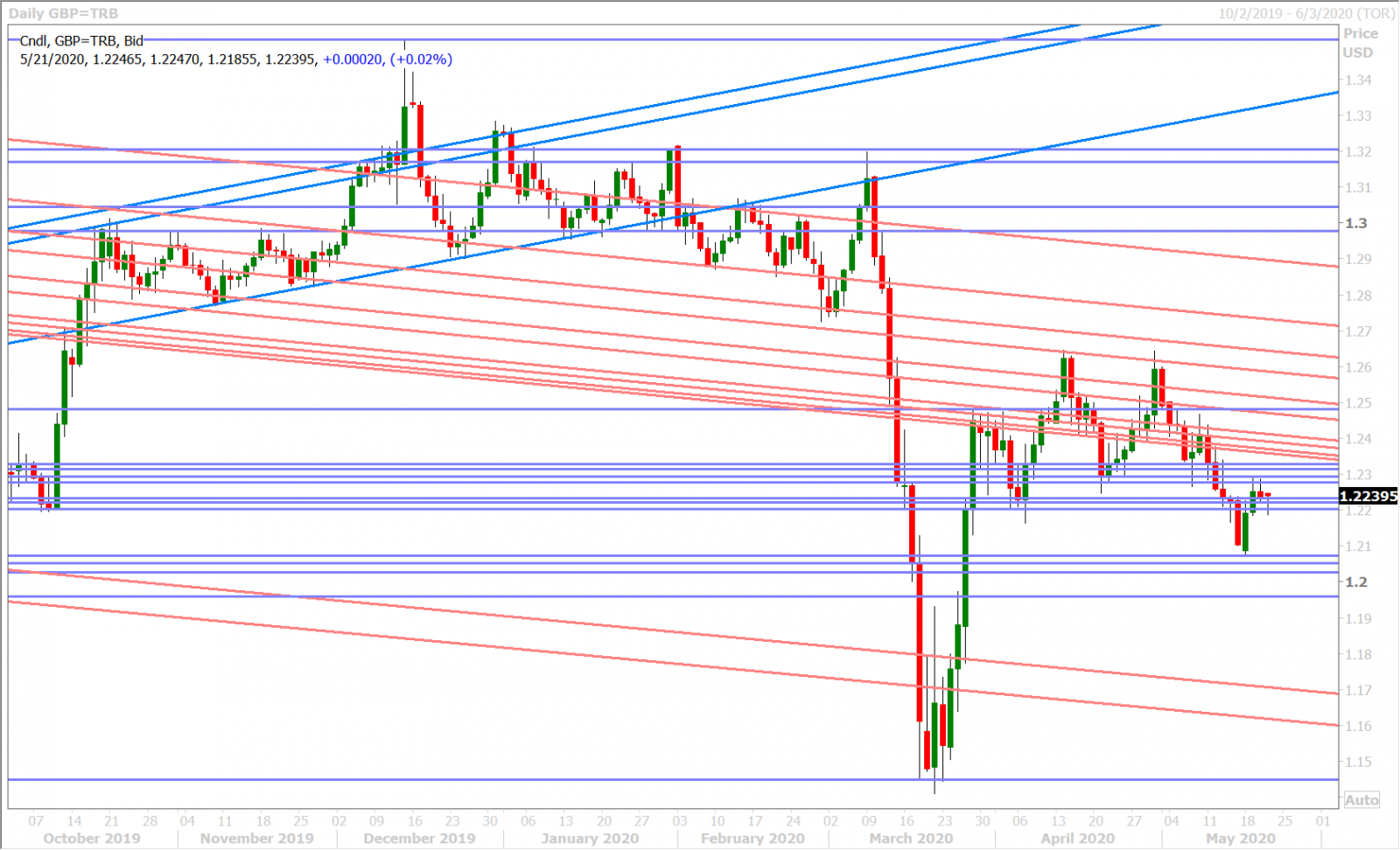 GBPUSD HOURLY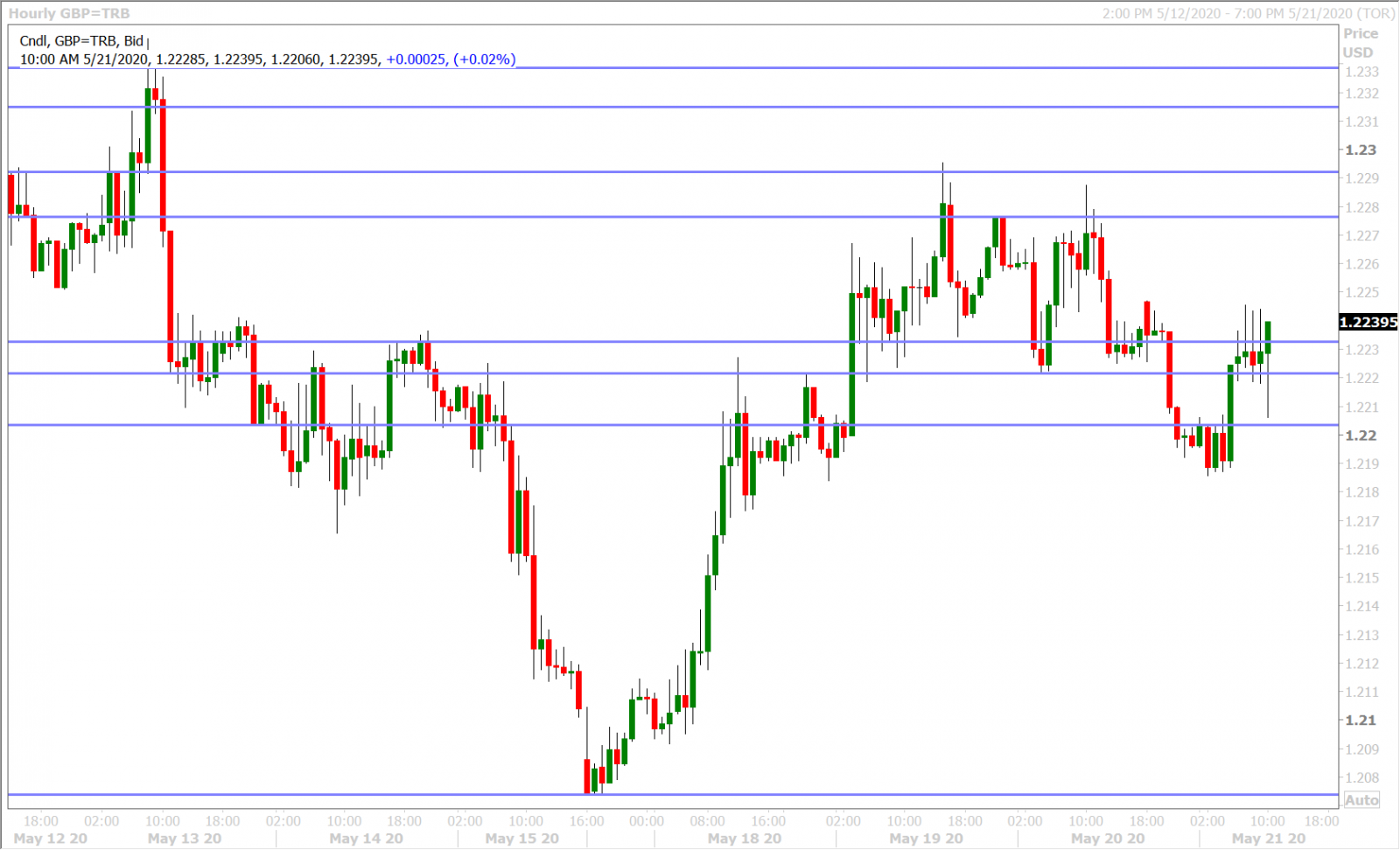 EURGBP DAILY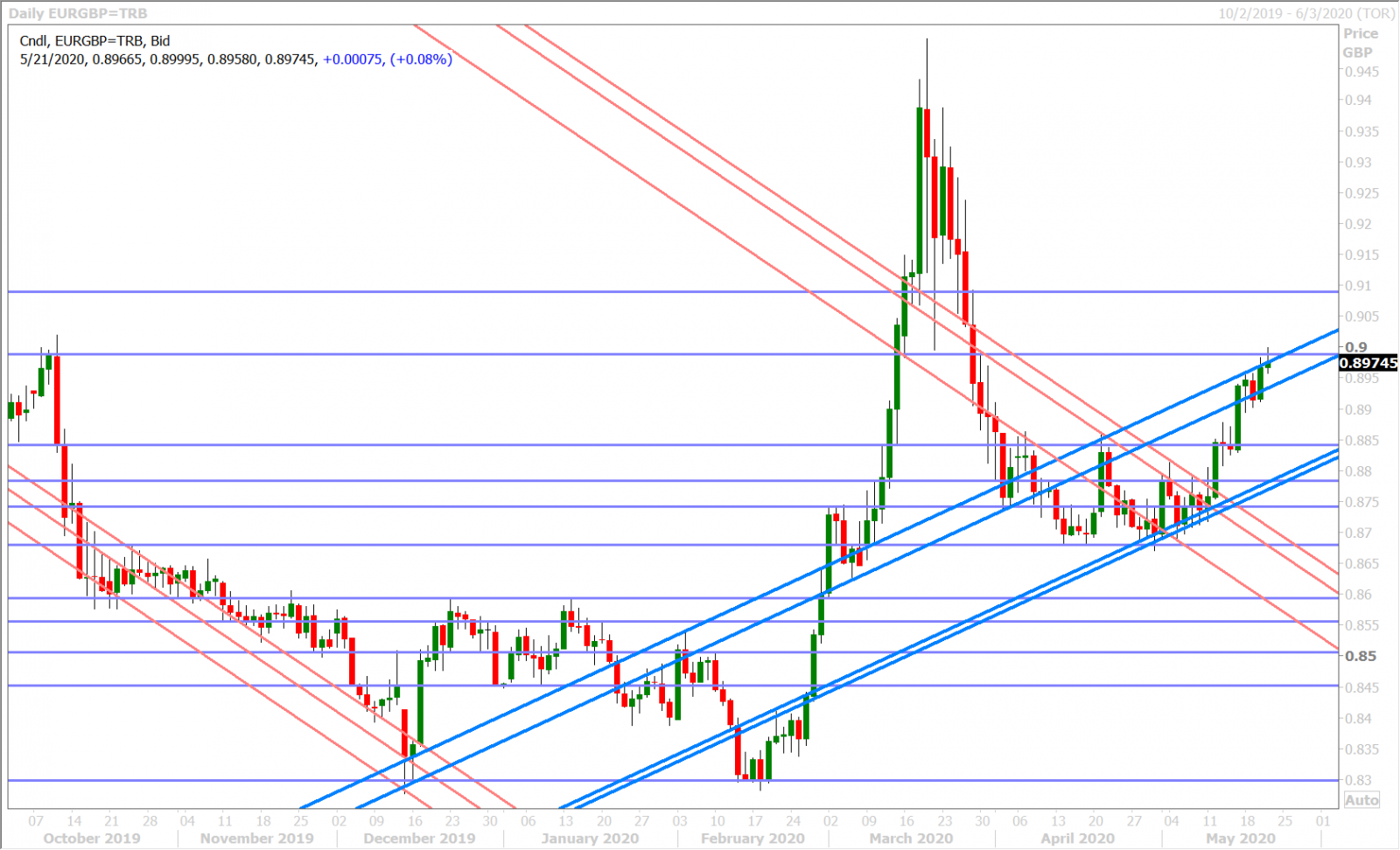 AUDUSD
The Australian dollar achieved a technical breakout above its April highs in the 0.6550s yesterday, but today's price action is putting recent AUDUSD buyers to the test. The AFR-driven pullback to the 0.6550s was swift in Asia but the PMI-led bounce in Europe has been just as robust. This morning's slightly weaker than expected US jobless claims and Philly Fed numbers have brought back some mild AUDUSD sales, but we wonder if renewed buying interest will come back at some point today considering the large topside option expiries on deck tomorrow between 0.6590 and 0.6635.
Today's NY close will be very pivotal for the Australian dollar in our opinion as the buyers need to defend yesterday's bullish breakout pattern. Failure to do so would be very disappointing, from a technical perspective. Australia's May flash PMIs came in mixed last night: Manufacturing PMI 42.8, 45.6 prev; Services PMI 25.5, 19.6 prev.

AUDUSD DAILY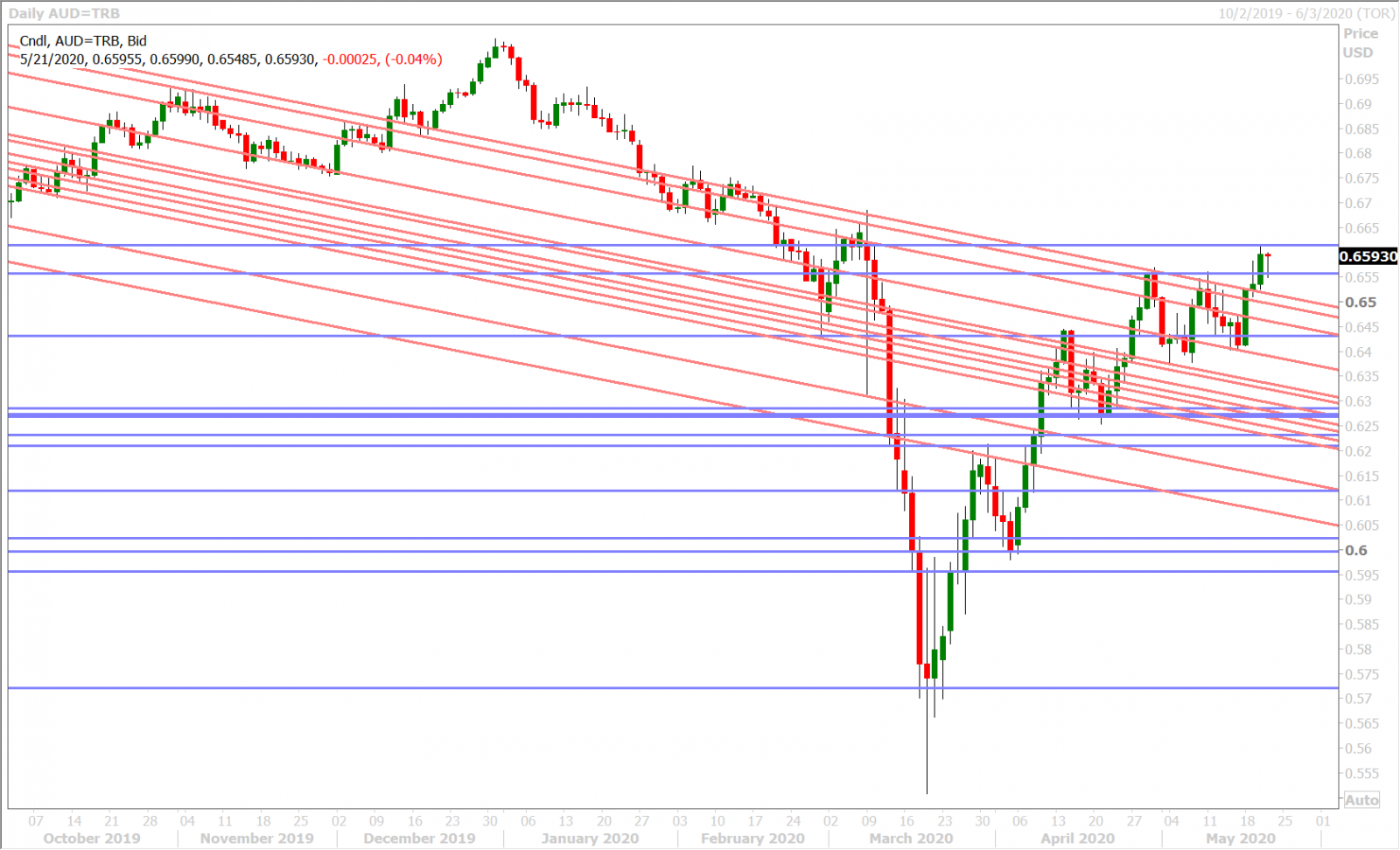 AUDUSD HOURLY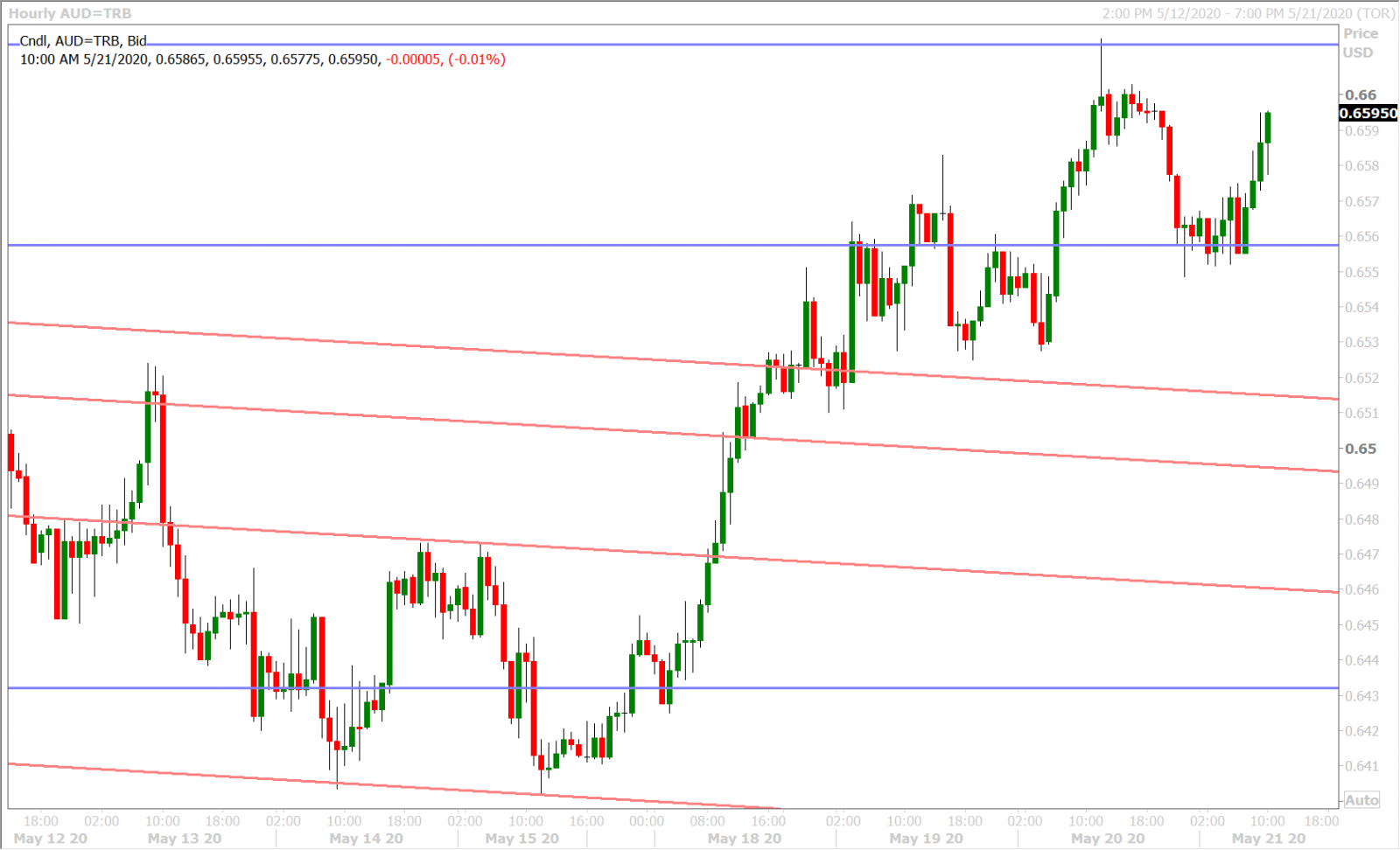 USDCNH DAILY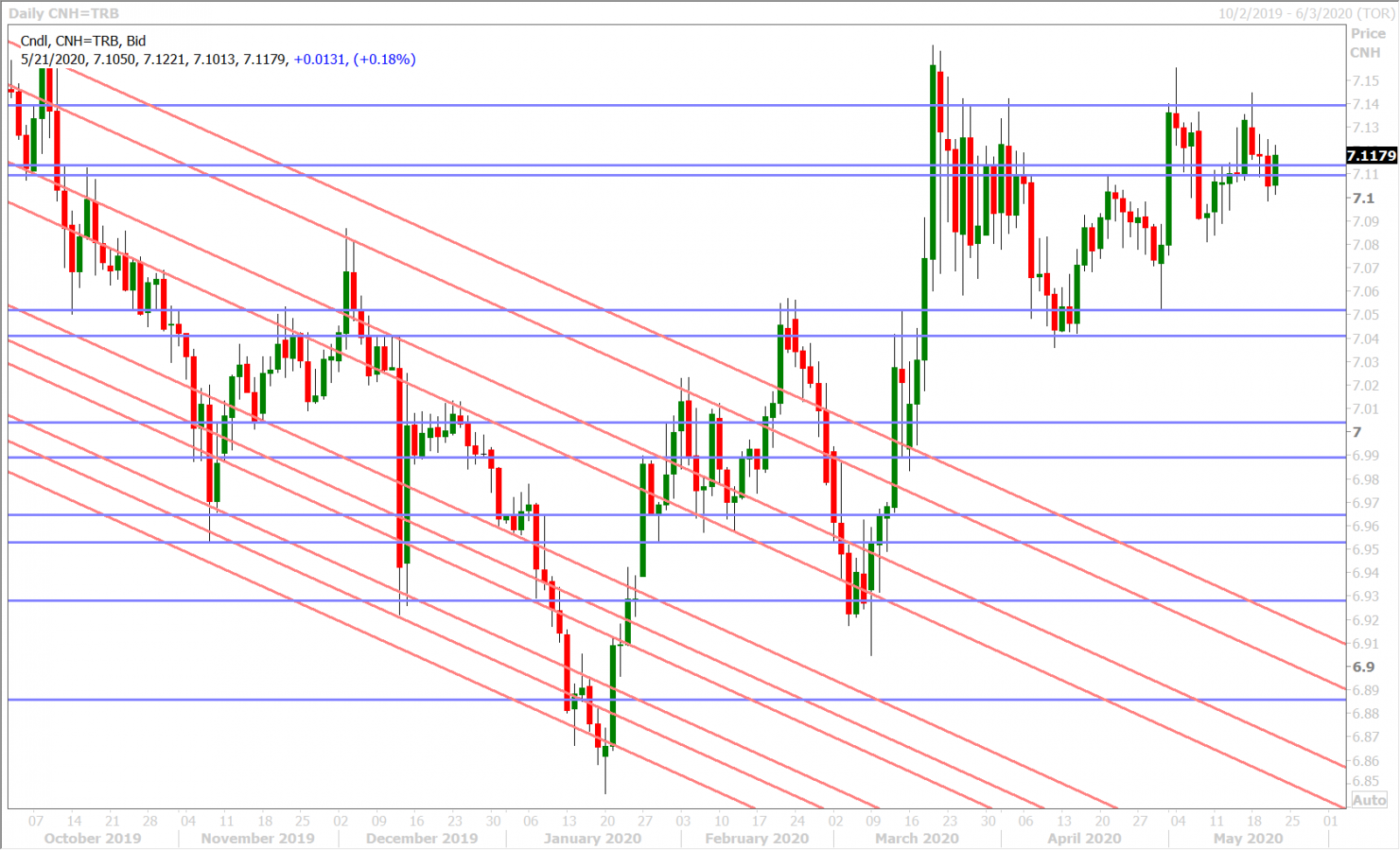 ---
USDJPY
Dollar/yen traders are showing their preference to trade with the broader USD trend over the last 24hrs, and so the market continues to have a steady "buy the dip" feel to it since mid-day yesterday. This morning's weaker US data points are the latest negative inputs, which explains the mild USD safe-haven bid over the last hour.
Japan reported its worst monthly export figures since 2009 in its April Trade Balance report last night, but this was largely priced into market expectations going into the release and therefore didn't help USDJPY all that much. The country's May flash Manufacturing PMI came in weaker versus its April read (38.4 vs 41.9), which is a bit concerning considering all the other major flash PMIs reported around the world today recorded MoM improvements in business sentiment.
The Bank of Japan is set to convene an unscheduled monetary policy meeting tonight at 8pmET. While market chatter suggests they'll announce a new set of funding measures for banks and small businesses, we do wonder if Governor Kuroda has a surprise up his sleeve.

USDJPY DAILY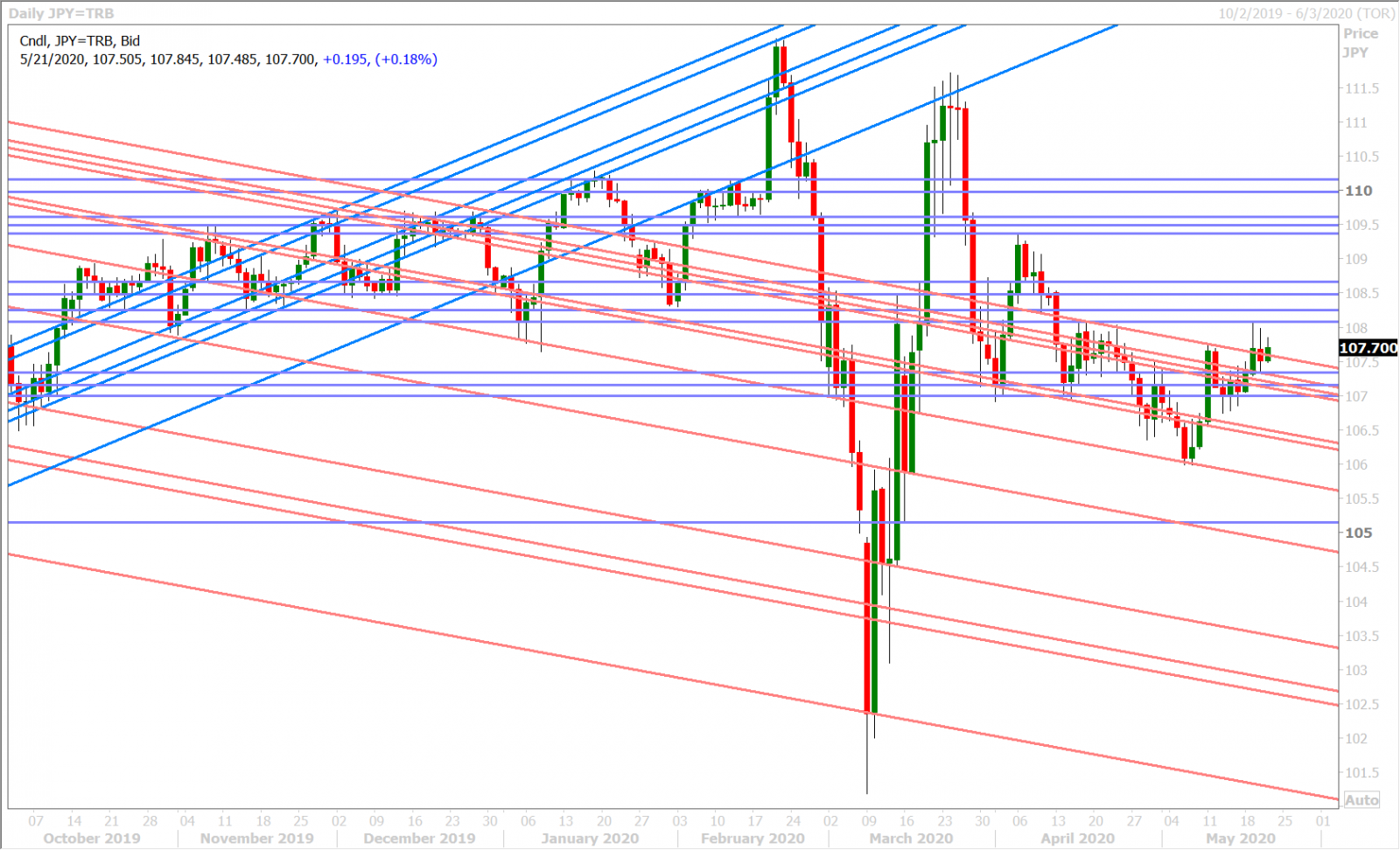 USDJPY HOURLY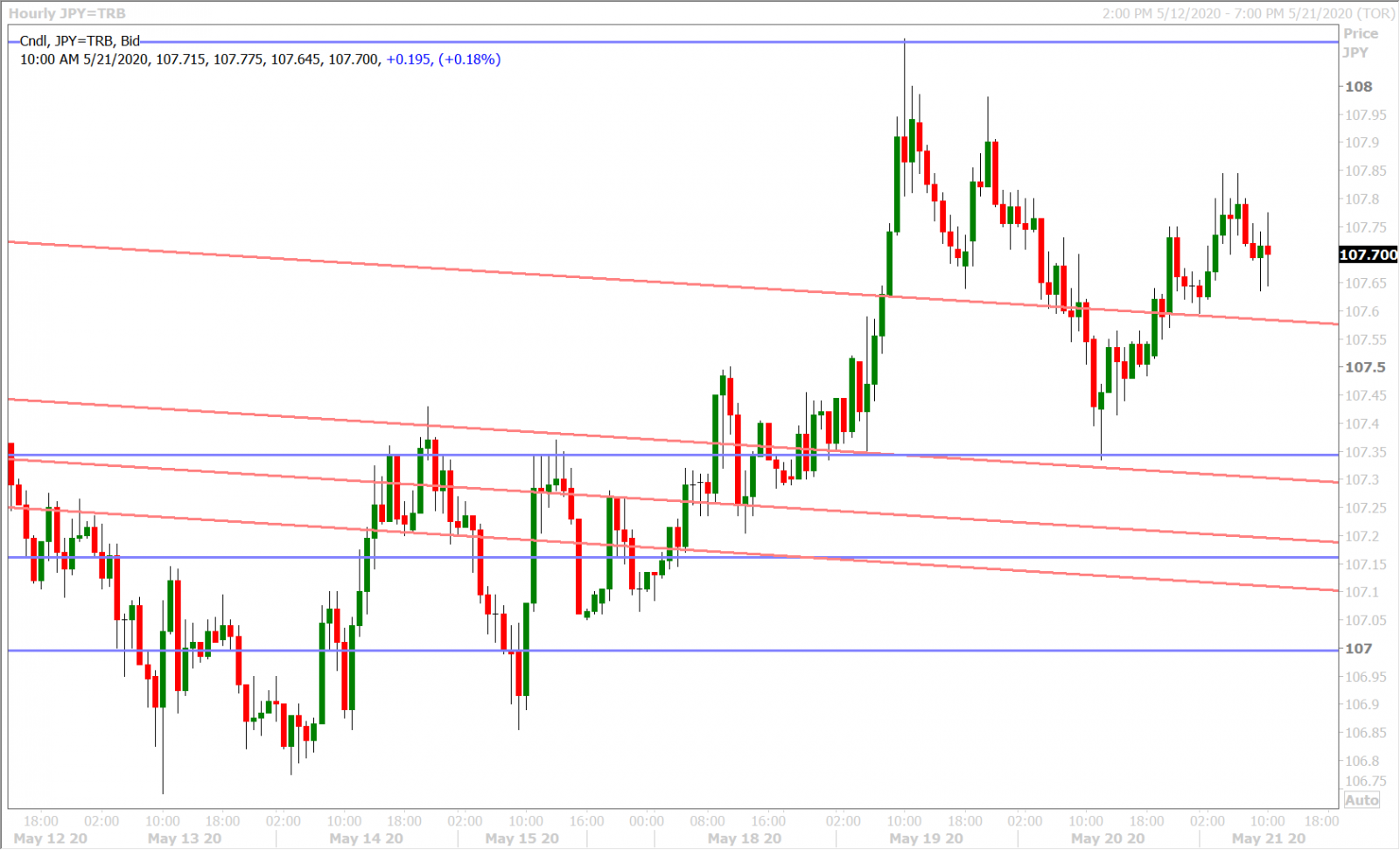 US 10YR YIELD DAILY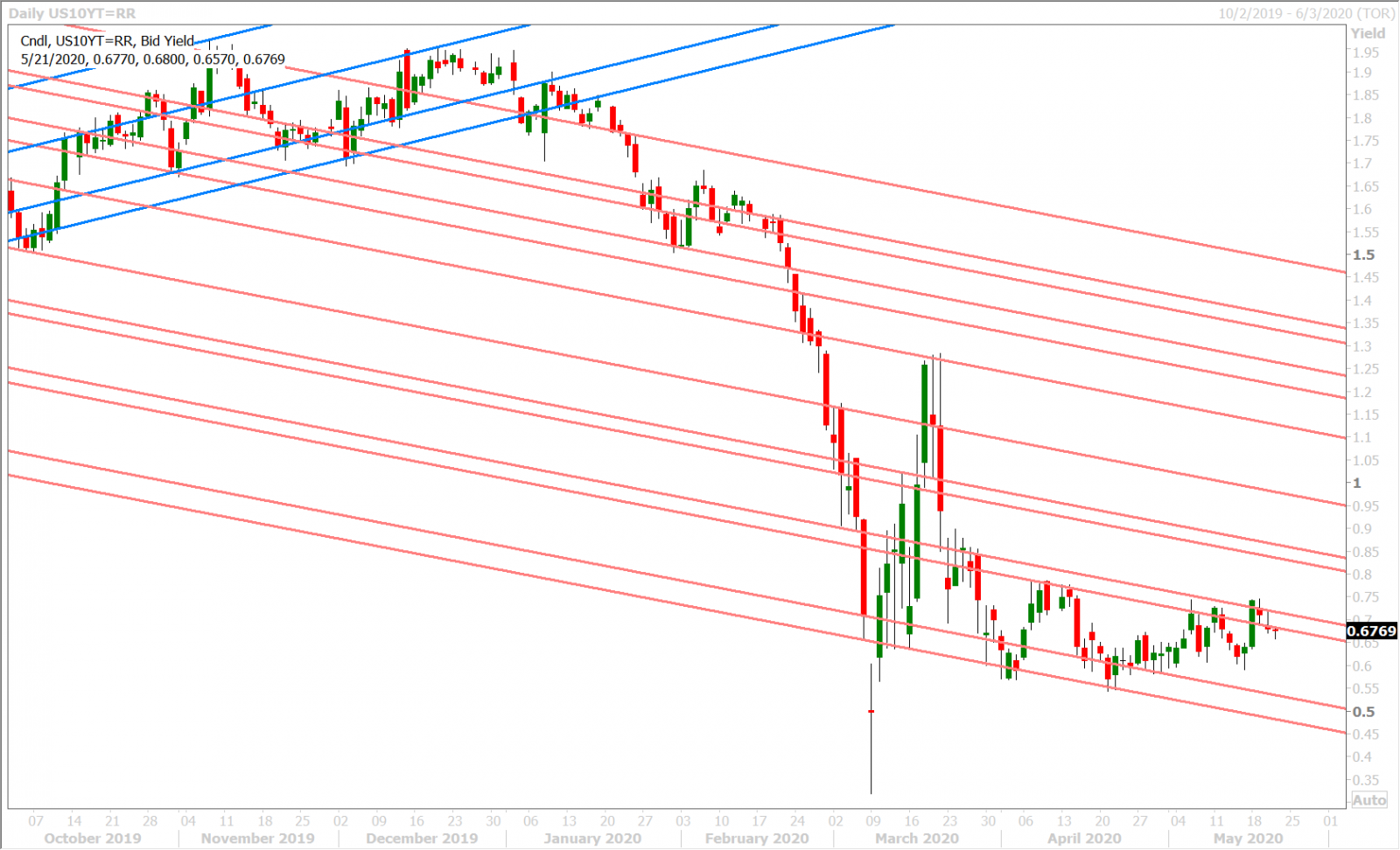 Charts: Reuters Eikon
---
About the Author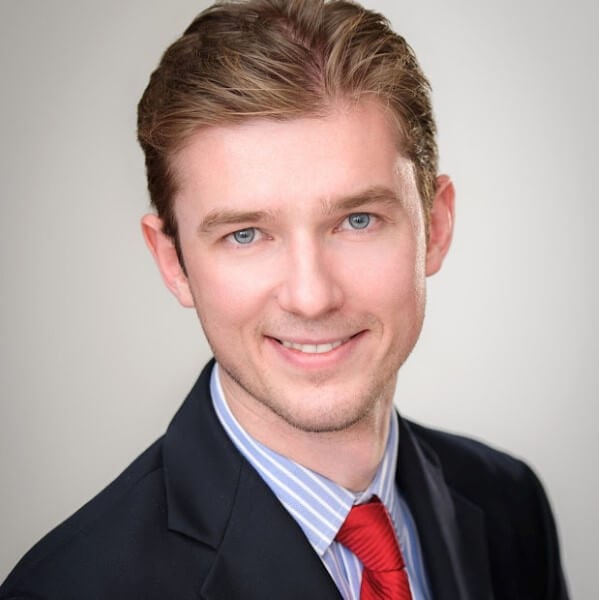 Erik Bregar - Director, Head of FX Strategy
Erik works with corporations and institutions to help them better navigate the currency markets. His desk provides fast, transparent, and low cost trade execution; up to the minute fundamental and technical market analysis; custom strategy development; and post-trade services -- all in an effort to add value to your firm's bottom line. Erik has been trading currencies professionally and independently for more than 12 years. Prior to leading the trading desk at EBC, Erik was in charge of managing the foreign exchange risk for one of Canada's largest independent broker-dealers.
Interested in creating a custom foreign exchange trading plan? Contact us or call CXI's trading desk directly at 1-833-572-8933.
About Currency Exchange International
Currency Exchange International, CXI, is the leading provider of comprehensive foreign exchange services, risk management solutions and integrated international payments processing technology in North America. CXI's relationship-driven approach ensures clients receive tailored solutions and world-class customer service. Through innovative and trusted FX software platforms, CXI delivers versatile foreign exchange services to our clients, so that they can efficiently manage and streamline their foreign currency and global payment needs. CXI is a trusted partner among financial institutions, corporations and retail markets around the world. To learn more, visit: www.ceifx.com