COVID-19 patients respond well to Gilead's Remdesivir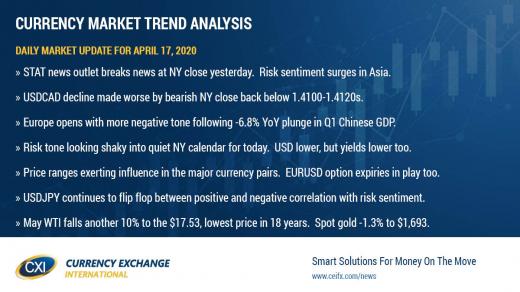 Take control of your international payments with CXI FX Now.
• Low transfer fees & great rates
• Fast international payments
• Safety and security
• Unparalleled customer service
• Consultative approach
Interested in creating a custom foreign exchange trading plan?
Contact us
or call EBC's trading desk directly at
1-888-729-9716.
Get real-time market coverage on twitter at @EBCTradeDesk or sign up here.
SUMMARY
STAT news outlet breaks news at NY close yesterday. Risk sentiment surges in Asia.

USDCAD decline made worse by bearish NY close back below 1.4100-1.4120s.

Europe opens with more negative tone following -6.8% YoY plunge in Q1 Chinese GDP.

Risk tone looking shaky into quiet NY calendar for today. USD lower, but yields lower too.

Price ranges exerting influence in the major currency pairs. EURUSD option expiries in play too.

USDJPY continues to flip flop between

positive and negative correlation with risk sentiment.

May WTI falls another 10% to the $17.53, lowest price in 18 years. Spot gold -1.3% to $1,693.
Global risk sentiment got off to a rip roaring start in late NY/early Asian trade last night following a report from STAT that suggested 125 COVID-19 patients, with severe symptoms in a Chicago hospital, responded favorably to a new antiviral treatment from Gilead Sciences called Remdesivir. Full report here.
This lit a fire under Gilead's stock price, the S&P futures, US bond yields (when the cash market re-opened later in the evening) and practically every major currency versus the US dollar. Dollar/CAD's decline was made worse by a bearish NY close all the way back down below the 1.4100-1.4120 resistance band we introduced yesterday.
A healthy dose of skepticism emerged at the start of European trade today, which saw the US 10yr yield completely retrace its rally in Asia. The USD also fully retraced its losses across the board. One could make the argument that the 11pmET release of China's horrible GDP print for Q1 2020 played a part in this reversal as well (-6.8% vs -6.5% expected). Traders have since dialed back some of this negativity too however, which is now squashing volatility as we head into a relatively quiet North American calendar for this Friday.
So where does USDCAD go from here? Unfortunately, nowhere near term in our opinion. The market has pretty much respected the 1.3900-1.4200 range we predicted in late March (on a closing basis) and there's nothing to suggest on the charts that we break out of that price range for now. Dollar/CAD has some mild upward momentum to it now because of Wednesday's surge higher, but this is still very much a range trade. Given the upward sloping nature of the trend-lines that capped the market in late March/early April, we think the top end of the range could possibly extend to the 1.4230-50s if we see broad USD buying momentum continue next week.

USDCAD DAILY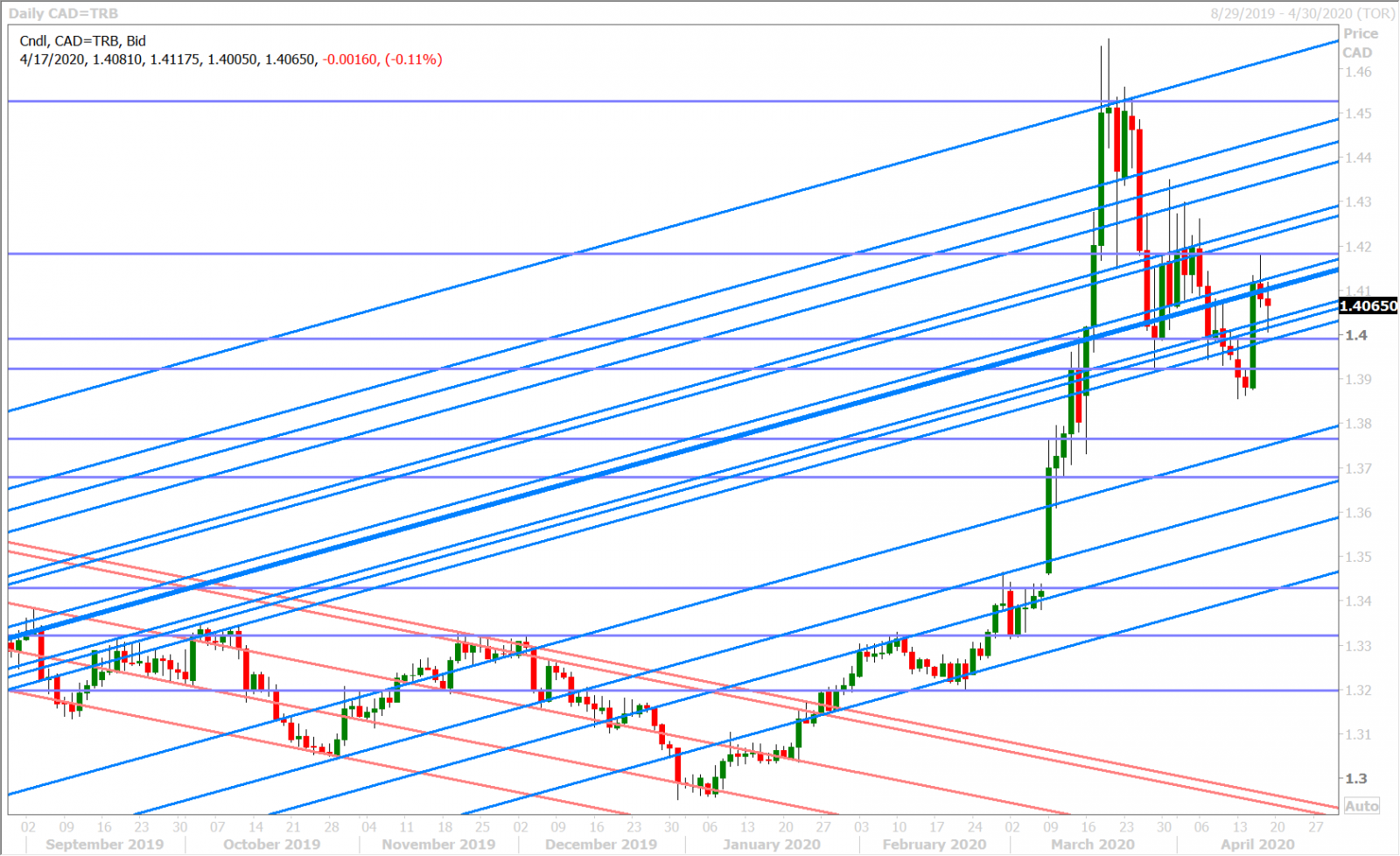 USDCAD HOURLY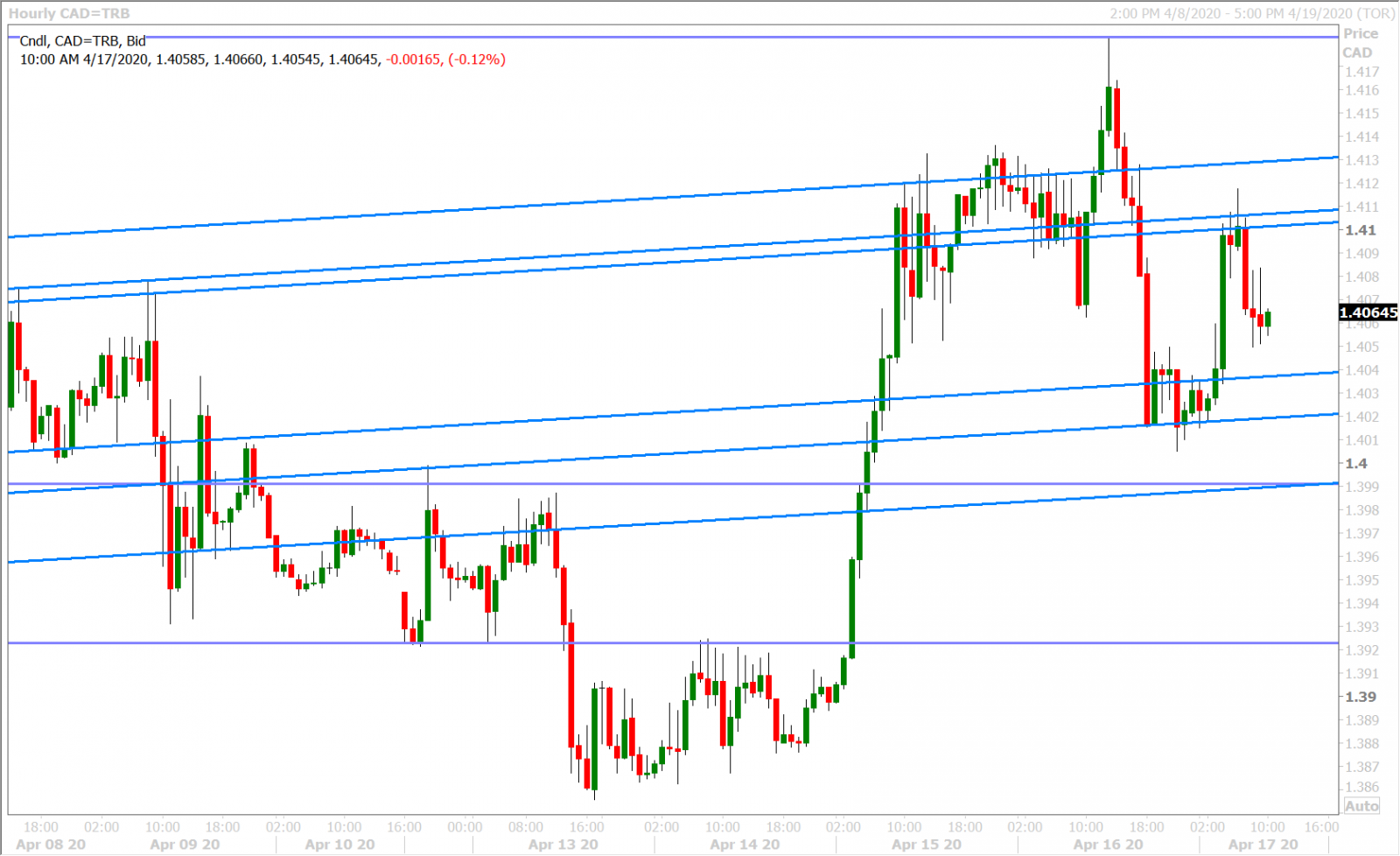 MAY CRUDE OIL DAILY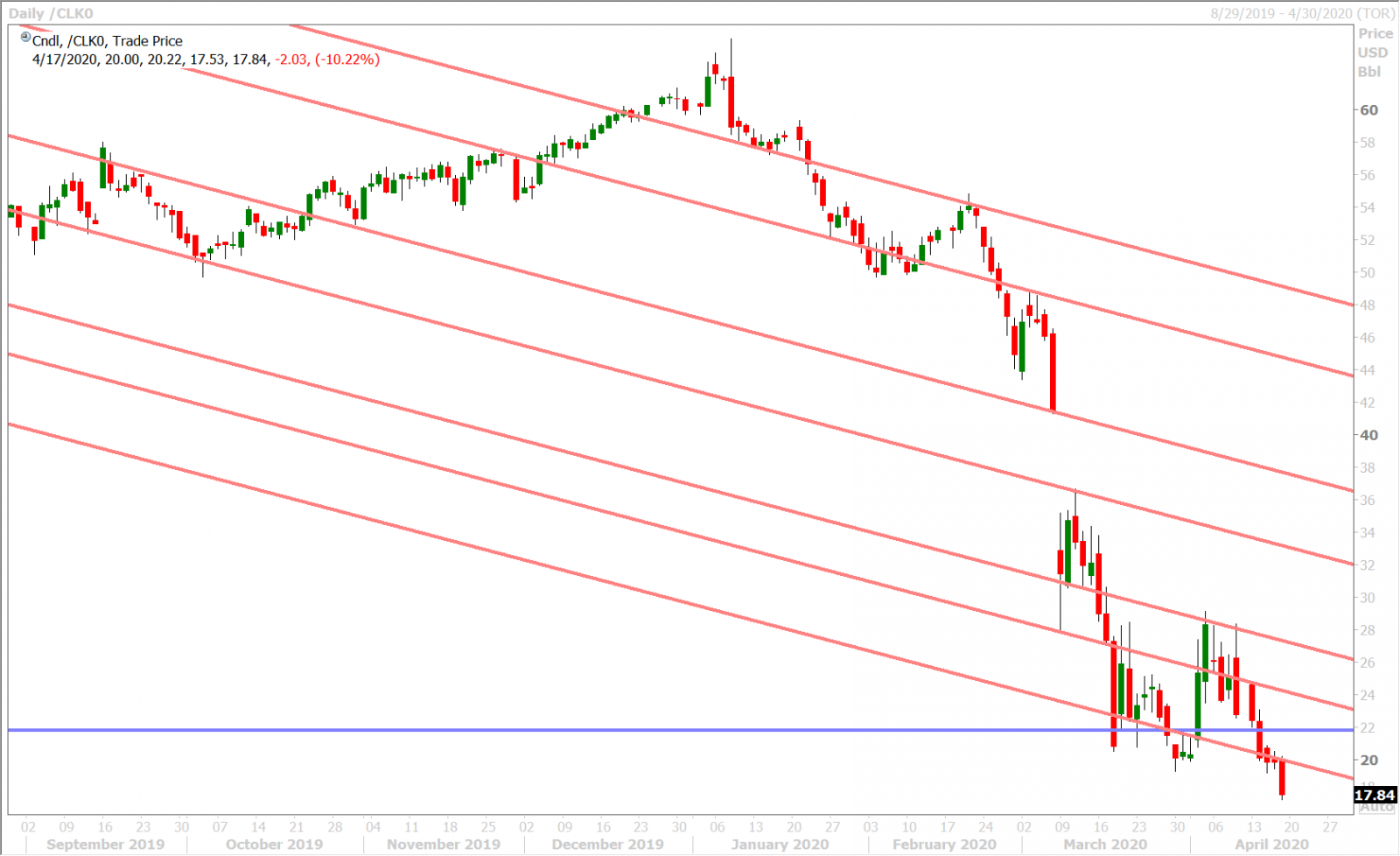 ---
EURUSD
It's been a very choppy 24hrs for euro/dollar. Yesterday's mixed US data set gave the buyers enough reason to give up on their attempt at the 1.09 handle, and that began a quick move lower through the 1.0850s to the next chart support level in the 1.0820s. Broad USD buying flows, before and after the London close, exacerbated this move lower in EURUSD and we thought the news of lockdown extensions for the UK and New York created a mild "risk-off" tone. This negativity started to reverse during the NY afternoon after President Trump announced a "major" news conference at 6pmET to unveil economic re-opening guidelines, and after he said "there may be a $2 trillion infrastructure package".
The STAT headline then saw EURUSD regain the 1.0850s in early Asia but it appears China's Q1 GDP got everybody in a bad mood again heading into Europe. The market is now trying to hold a bounce off the 1.0820s yet again this morning, and we think today's 10amET option expiries (1.9blnEUR between 1.0835 and 1.0850) will likely keep prices stuck around here.

EURUSD DAILY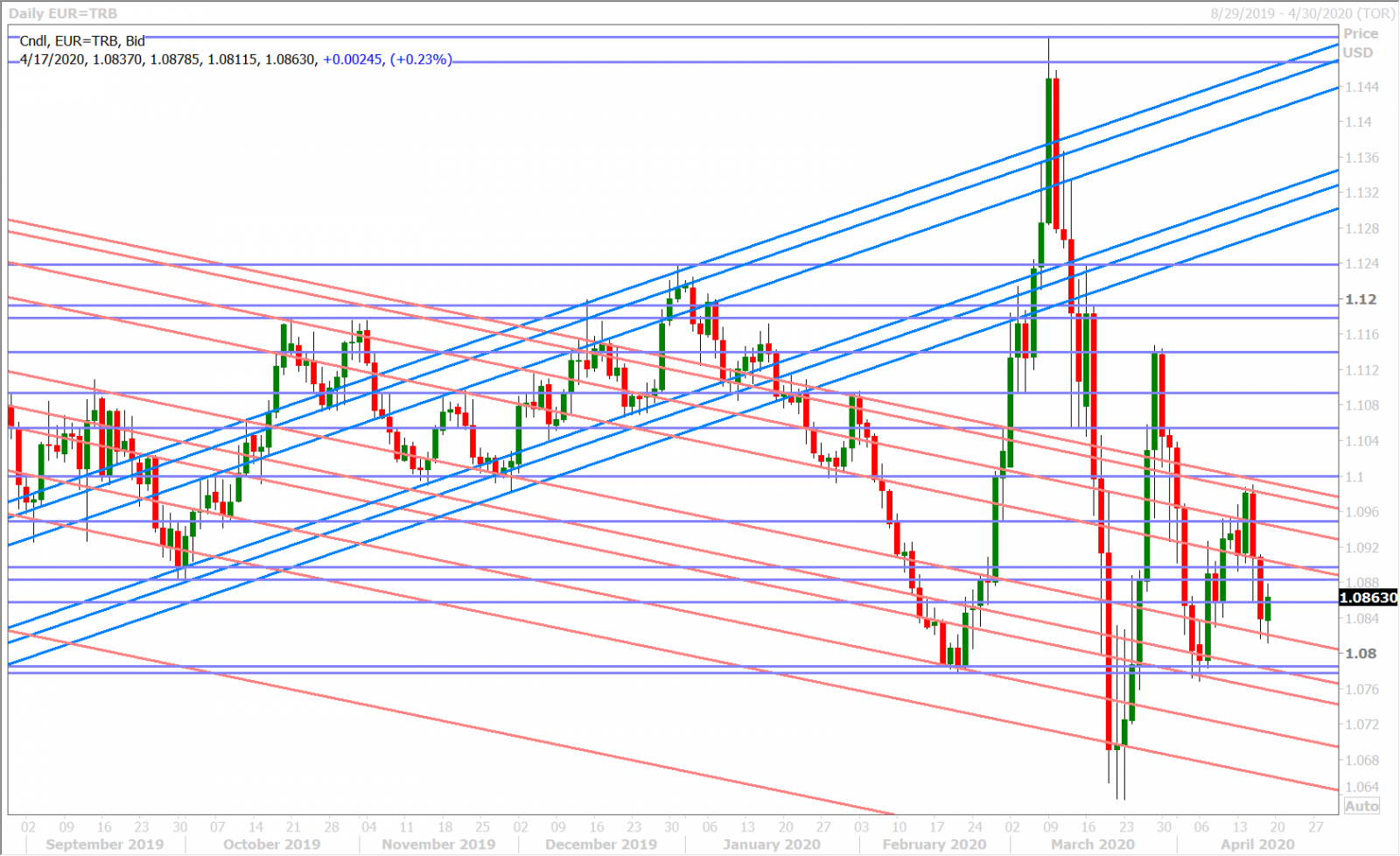 EURUSD HOURLY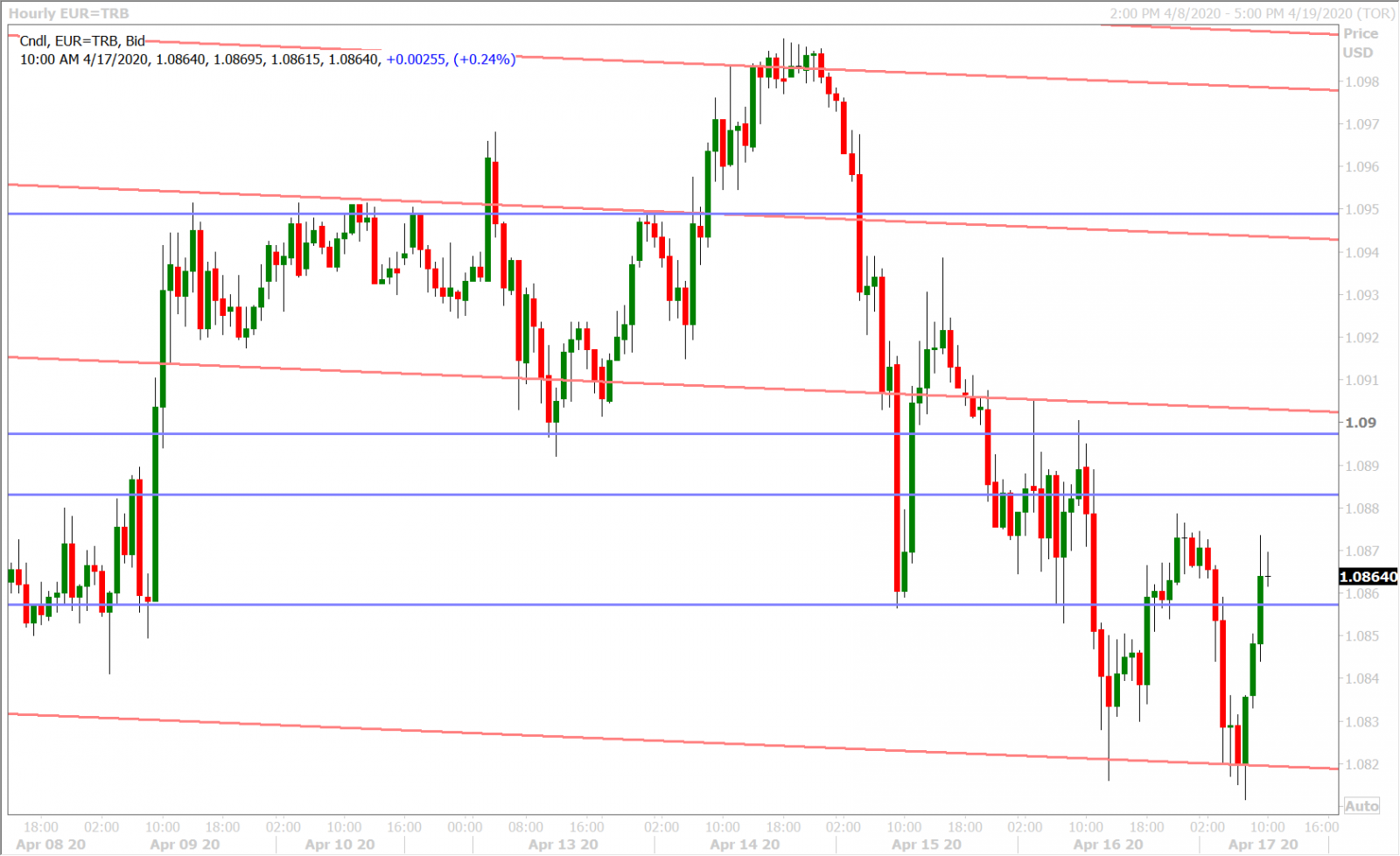 SPOT GOLD DAILY
---
GBPUSD
Sterling/dollar has been a mirror image of euro/dollar once again over the last 24hrs. All the headline catalysts we outlined above apply here as well, and GBPUSD just so happened to have similar chart support/resistance levels in play (ie. GBPUSD bounced off its 1.2430s support when EURUSD bounced off its 1.0820s support). The complete lack of volatility in the EURGBP cross rate this week demonstrates the tight EURUSD/GBPUSD correlation we're observing. We still believe the 1.2430-1.2520s is the market's pivotal price range heading into next week.

GBPUSD DAILY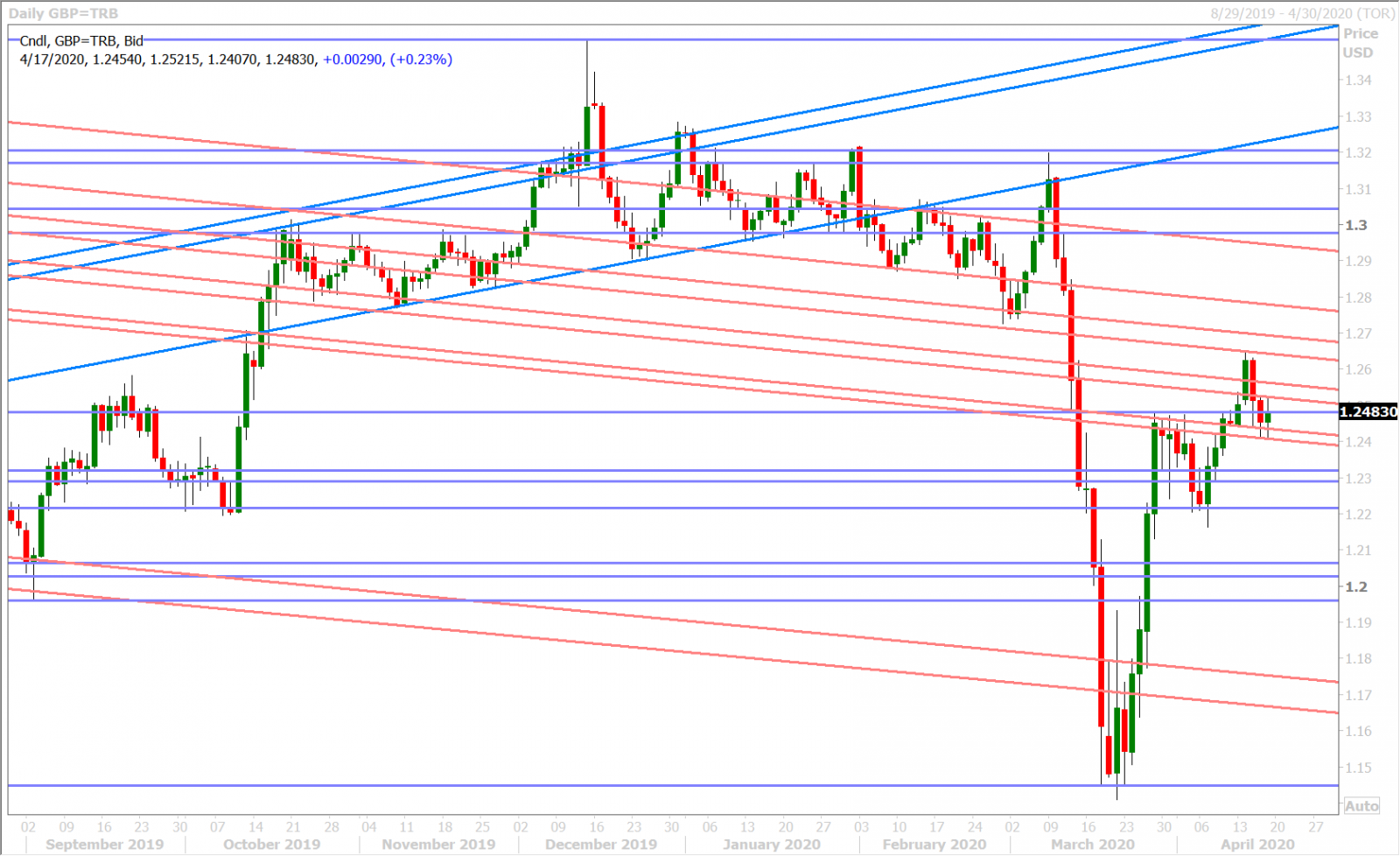 GBPUSD HOURLY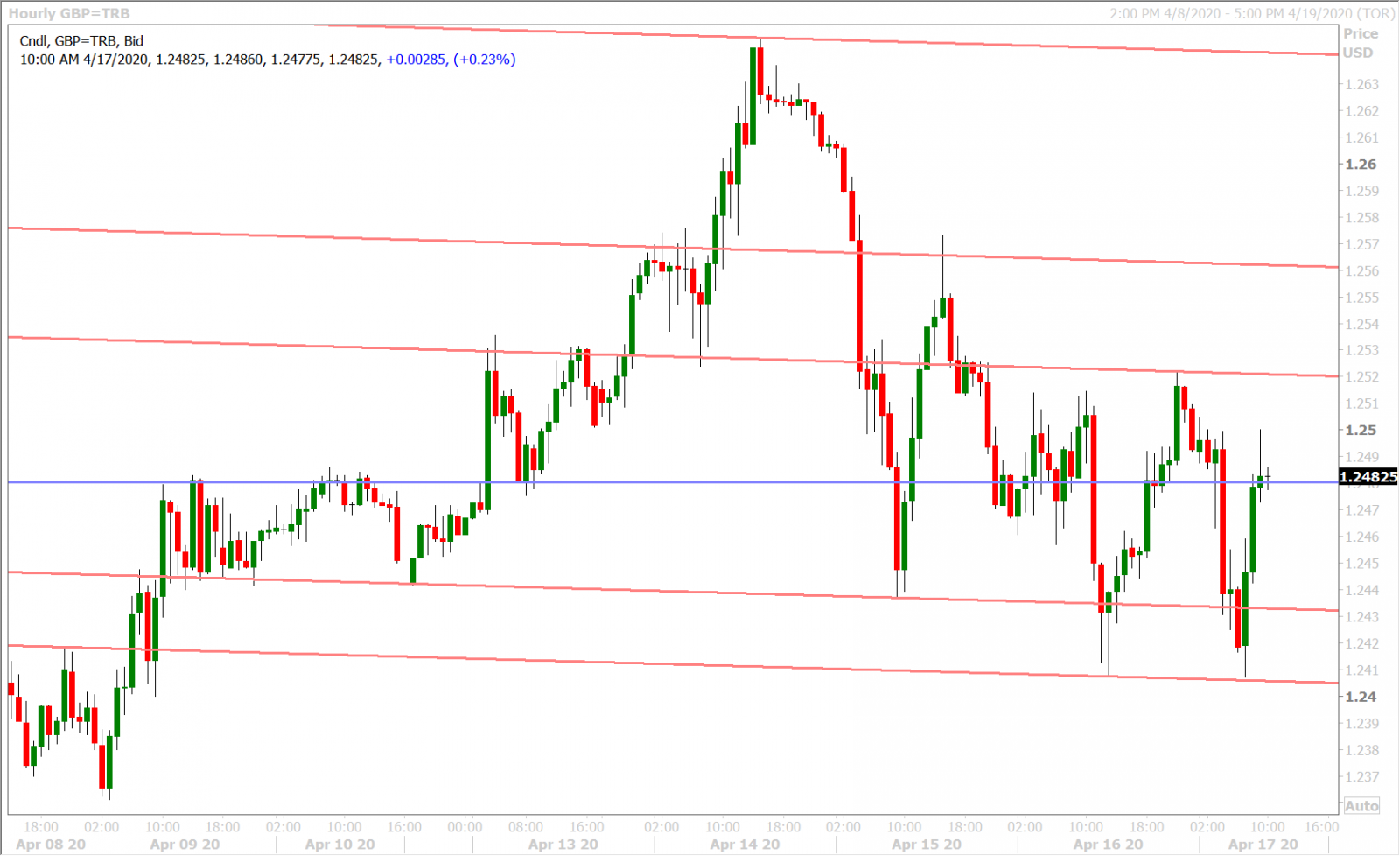 EURGBP DAILY
AUDUSD
The Aussie definitely got a dose of good news early last night off the Gilead COVID-19 treatment headlines, but it didn't come soon enough in our opinion to create a positive-looking NY close on the charts. The price gains in AUDUSD came afterward and they then got dialed back by trend-line resistance in the 0.6360s and the horrible-looking Chinese GDP headline.
North American FX traders seem like they're in a slightly better mood this morning as they now push the dollar broadly lower. This is leading AUDUSD to re-challenge the 0.6360s resistance level. The major currency pairs are still arguably trading in ranges though, and so we think the Australian dollar will follow suit as well. US bond traders are not in a good mood this morning, which is worthy to note.

AUDUSD DAILY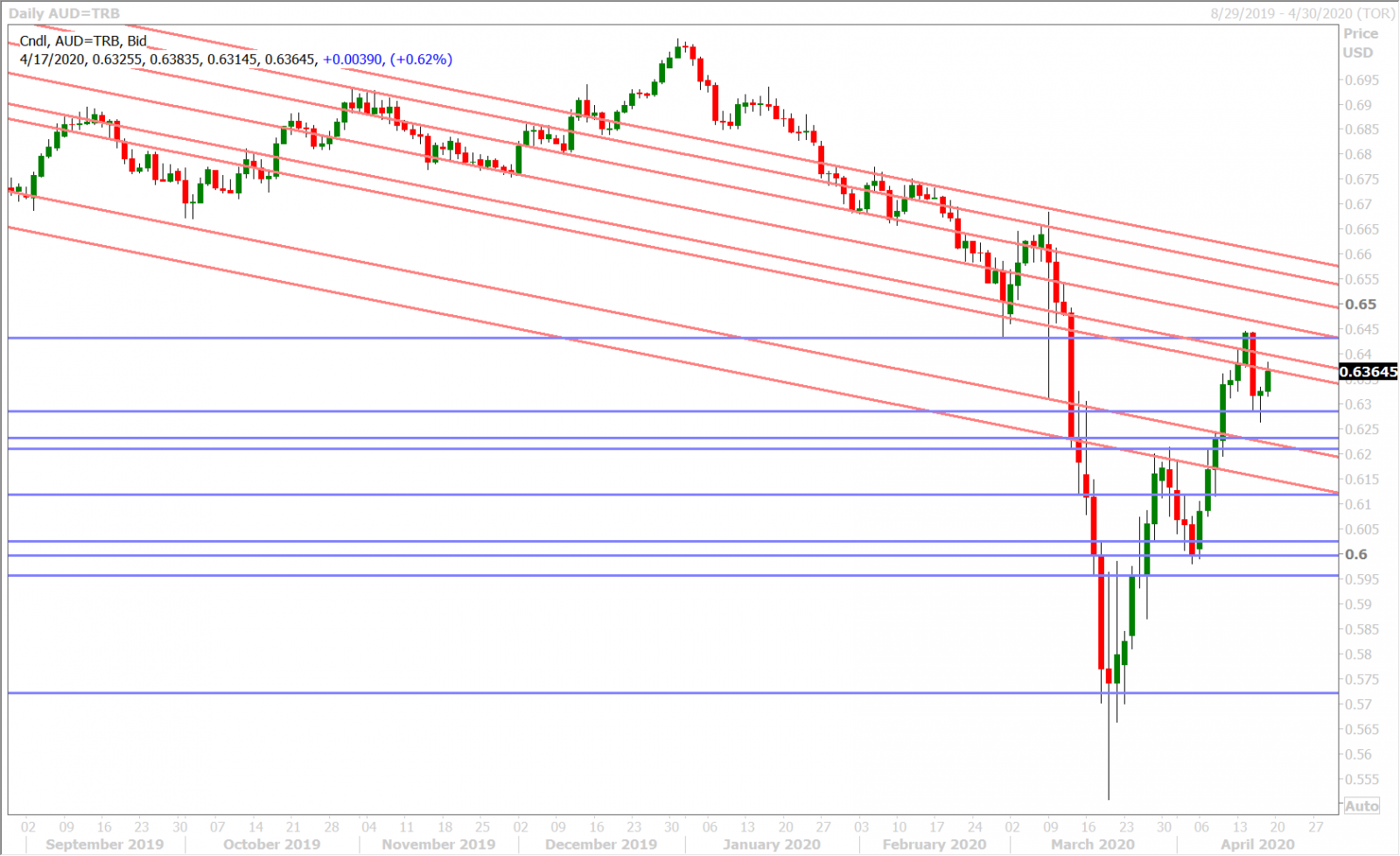 AUDUSD HOURLY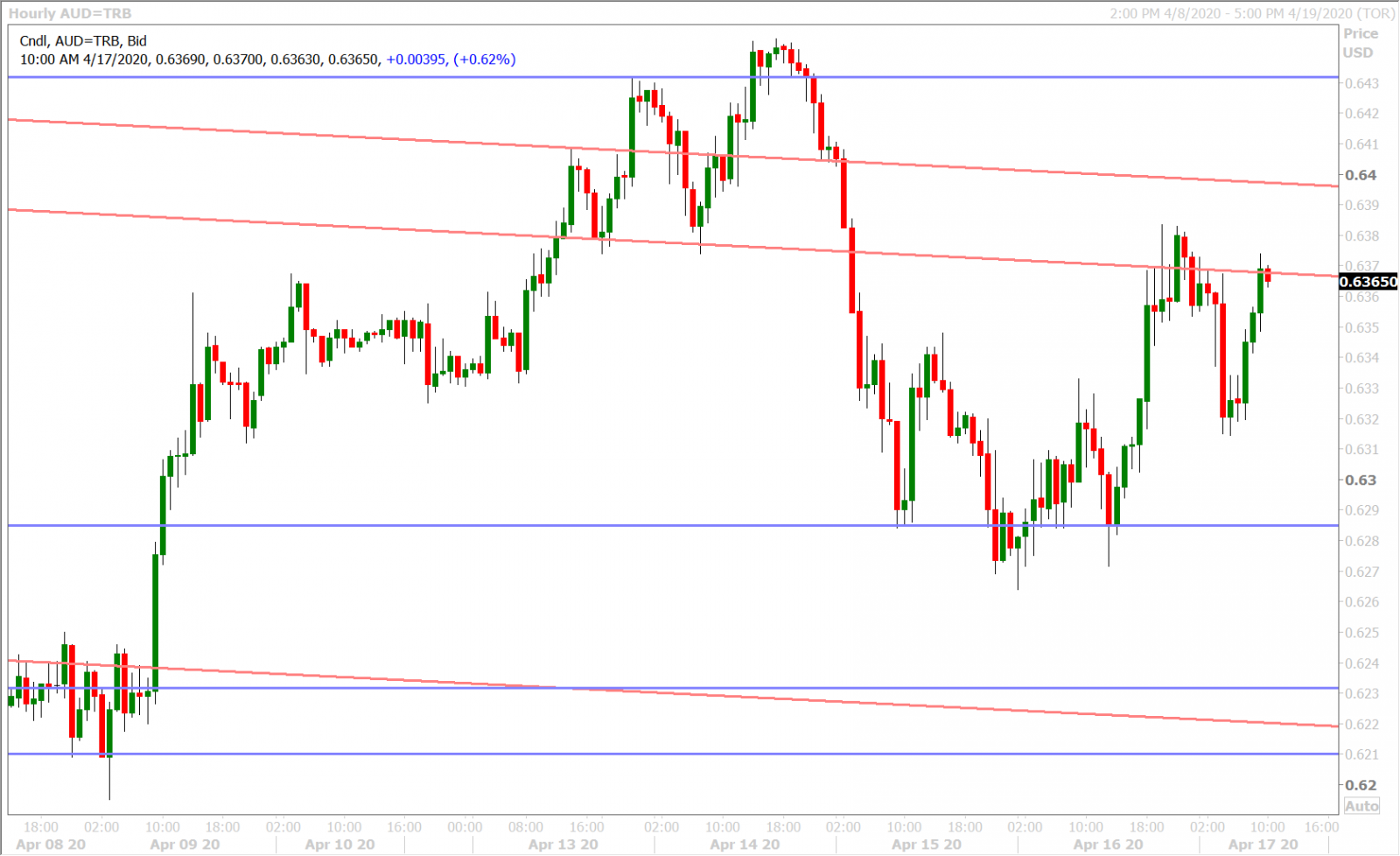 USDCNH DAILY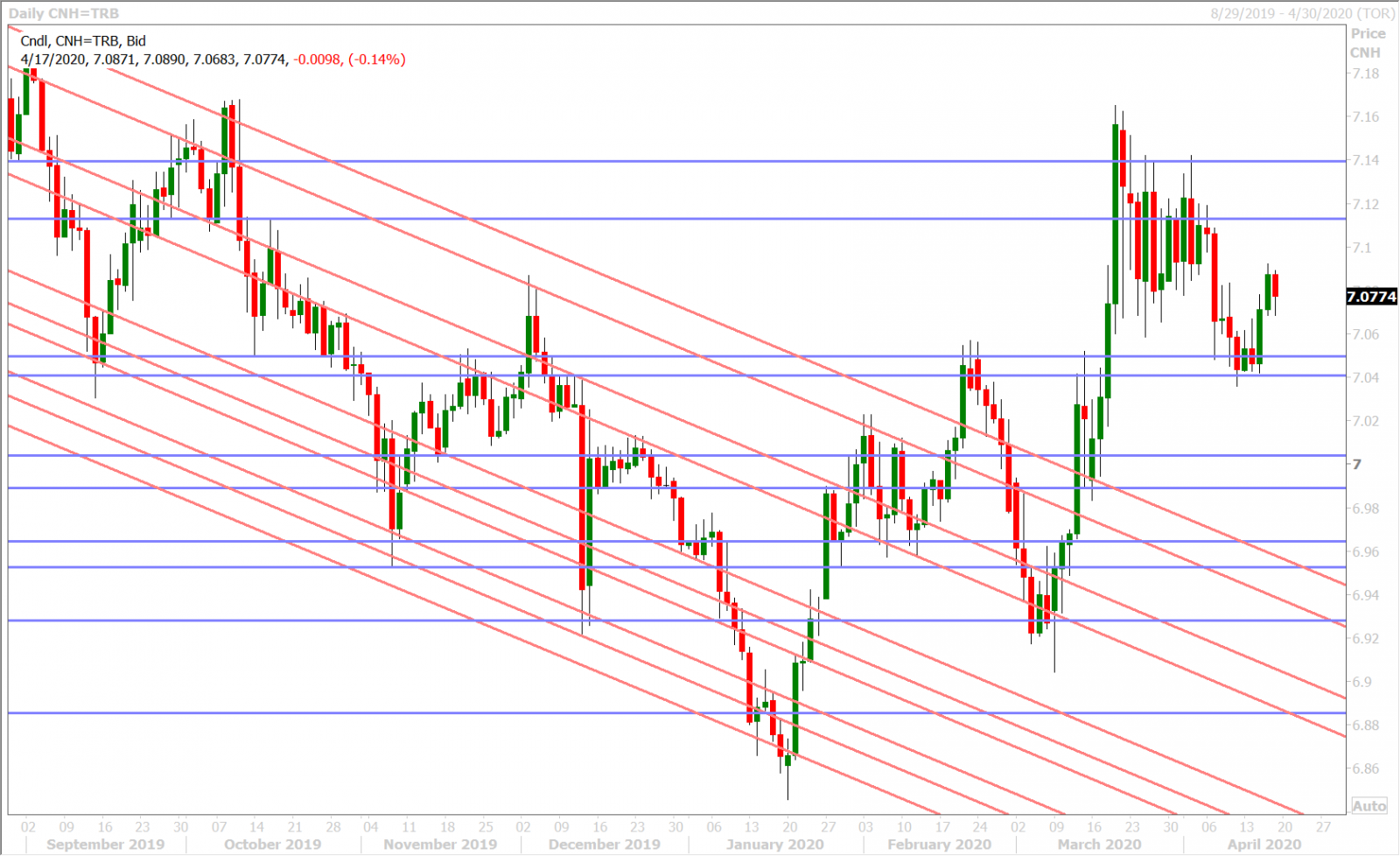 ---
USDJPY
Dollar/yen is becoming hard and harder to analyze as it continues to display positive and negative correlations with risk sentiment, sometimes flipping back and forth in the span of one trading session. We saw this yesterday with USDJPY's US-yield driven (risk-off) drop lower at the start of NY trade, only to be followed by broad USD buying (risk-off) flows around the London close. We're seeing the same flip flopping today, albeit with risk-on headlines. Last night's STAT headline saw USDJPY pop higher with US equity futures but this morning's broad USD selling (risk-on?) flows are now seeing the market move lower.
It feels like the battle of the safe-havens (USD vs JPY) will continue a little longer still. The market capped out at chart resistance just above the 108.00 level in early Asian trade and it's now slipping back down below the 107.60-80 support level once again. Over 2blnUSD in options expire at the 107.00 strike at 10amET.

USDJPY DAILY
USDJPY HOURLY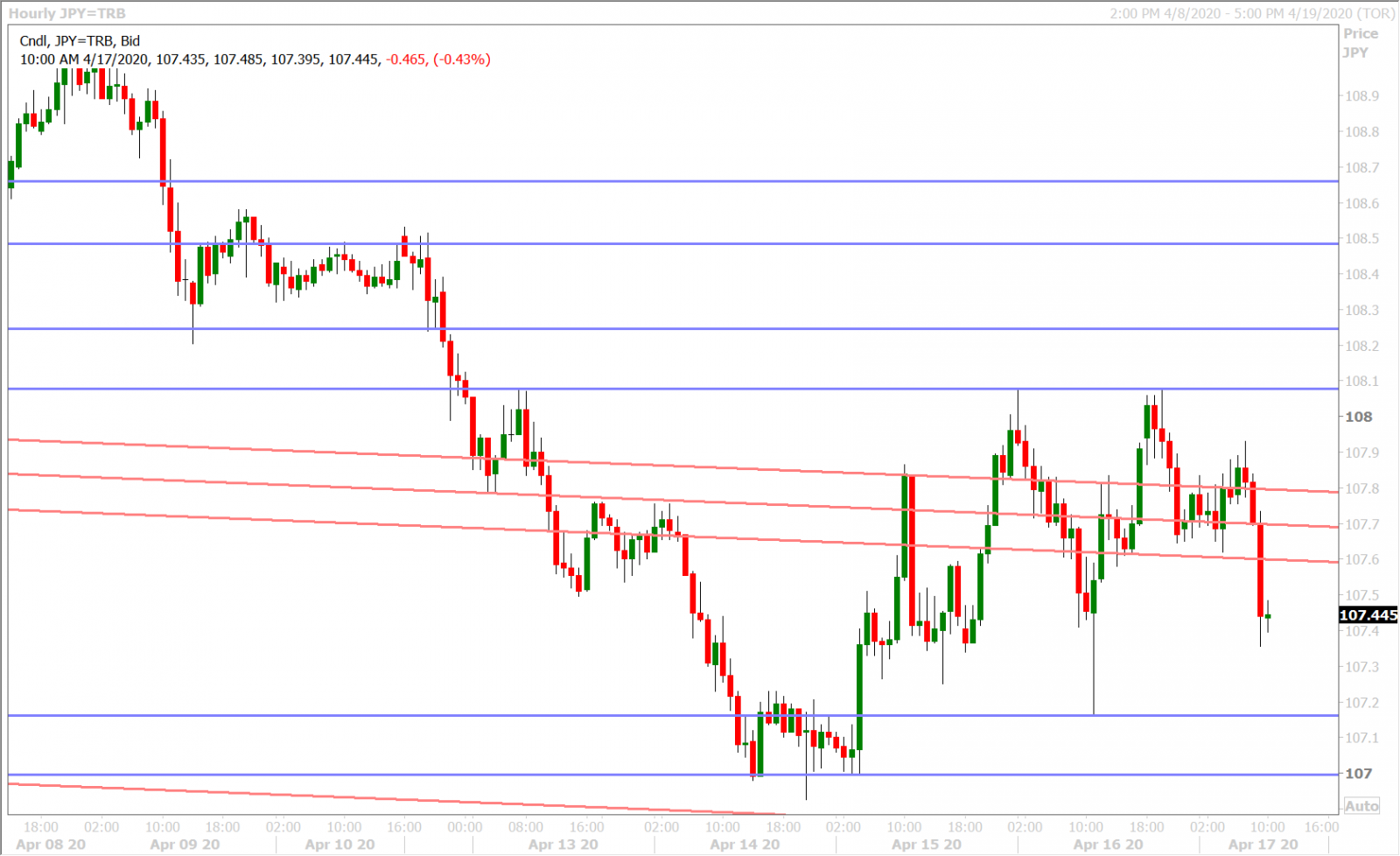 US 10 YR YIELD DAILY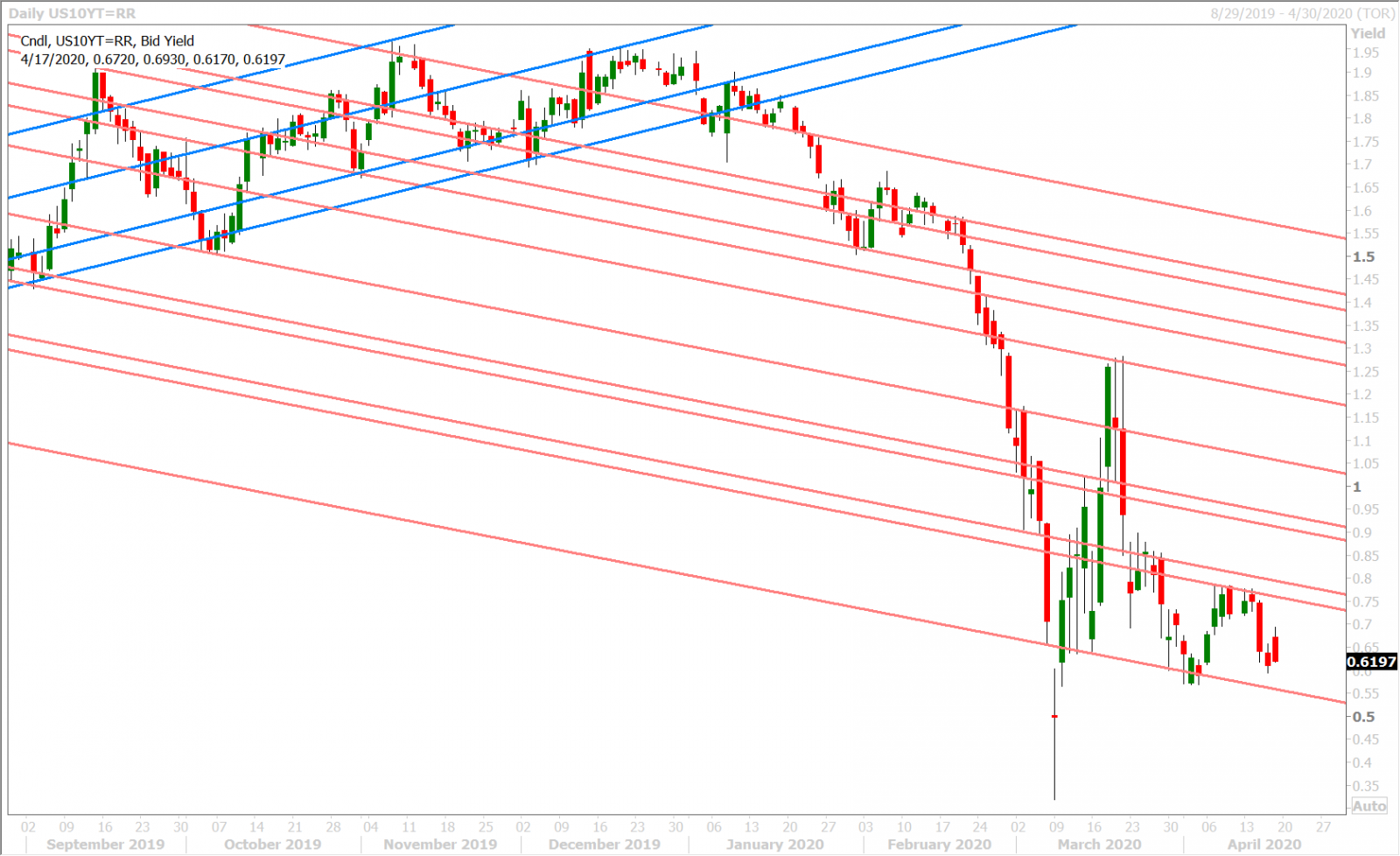 Charts: Reuters Eikon
---
About the Author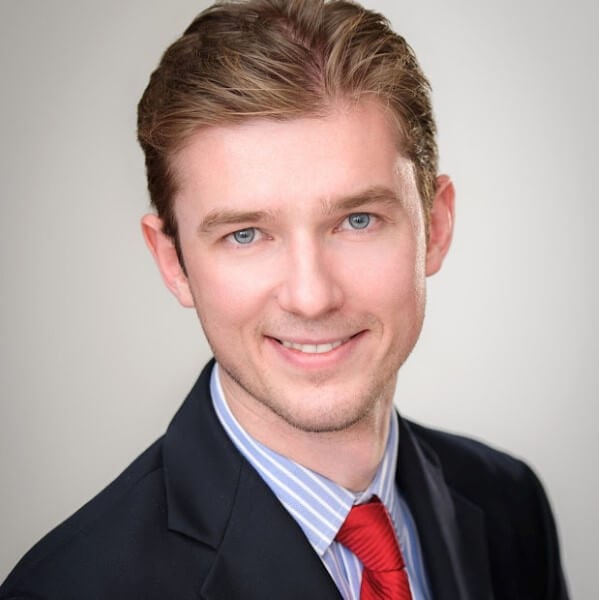 Erik Bregar - Director, Head of FX Strategy
Erik works with corporations and institutions to help them better navigate the currency markets. His desk provides fast, transparent, and low cost trade execution; up to the minute fundamental and technical market analysis; custom strategy development; and post-trade services -- all in an effort to add value to your firm's bottom line. Erik has been trading currencies professionally and independently for more than 12 years. Prior to leading the trading desk at EBC, Erik was in charge of managing the foreign exchange risk for one of Canada's largest independent broker-dealers.
Interested in creating a custom foreign exchange trading plan? Contact us or call CXI's trading desk directly at 1-833-572-8933.
About Currency Exchange International
Currency Exchange International, CXI, is the leading provider of comprehensive foreign exchange services, risk management solutions and integrated international payments processing technology in North America. CXI's relationship-driven approach ensures clients receive tailored solutions and world-class customer service. Through innovative and trusted FX software platforms, CXI delivers versatile foreign exchange services to our clients, so that they can efficiently manage and streamline their foreign currency and global payment needs. CXI is a trusted partner among financial institutions, corporations and retail markets around the world. To learn more, visit: www.ceifx.com