Currency Exchange International Speaking at MY CU Services Payments Conference in Charlotte, North Carolina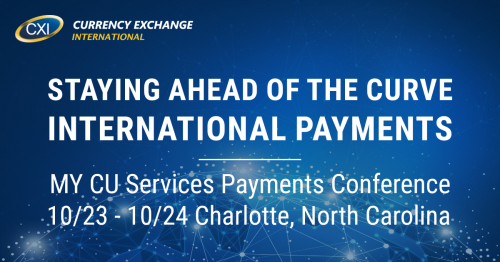 Currency Exchange International (CXI) is proud to announce we will be speaking at the MY CU Services Payments Conference in Charlotte, North Carolina on Wednesday, 10/23 from 3:30 PM - 4:30 PM.
Credit union members are invited to come learn about international payments and checks. Staying Ahead of the Curve - International Payments will be presented by Chris Johnson, VP of Financial Institutions at Currency Exchange International.
Where is the MY CU Services Payments Conference?
Hilton Charlotte University
8629 JM Keynes Drive, Charlotte, North Carolina 28262
October 23, 2019
9:00 AM - 8:00 PM
October 24, 2019
8:00 AM - 12:00 PM
How to stay ahead of the curve with your International Payments?
More businesses and consumers are sending international payments than ever before, requiring financial Institutions to stay ahead of the curve and ensure they have a competitive offering. This session will focus on the international payments landscape, emerging trends, impacts to financial institutions and industry best practice.
Topics include:
The importance of choosing a reliable partner with a global outreach and established reputation

Leveraging intuitive online payment systems

Advantages of sending in local currency

Leveraging automation for seamless processing
Attending the

MY CU Services Payments Conference

?
Great! Share your experience with us using #creditunions on LinkedIn. Don't forget to mention @CurrencyExchangeInternational for your chance to get featured and stay connected with us.
Interested in Digital Remote Deposit for Canadian Checks?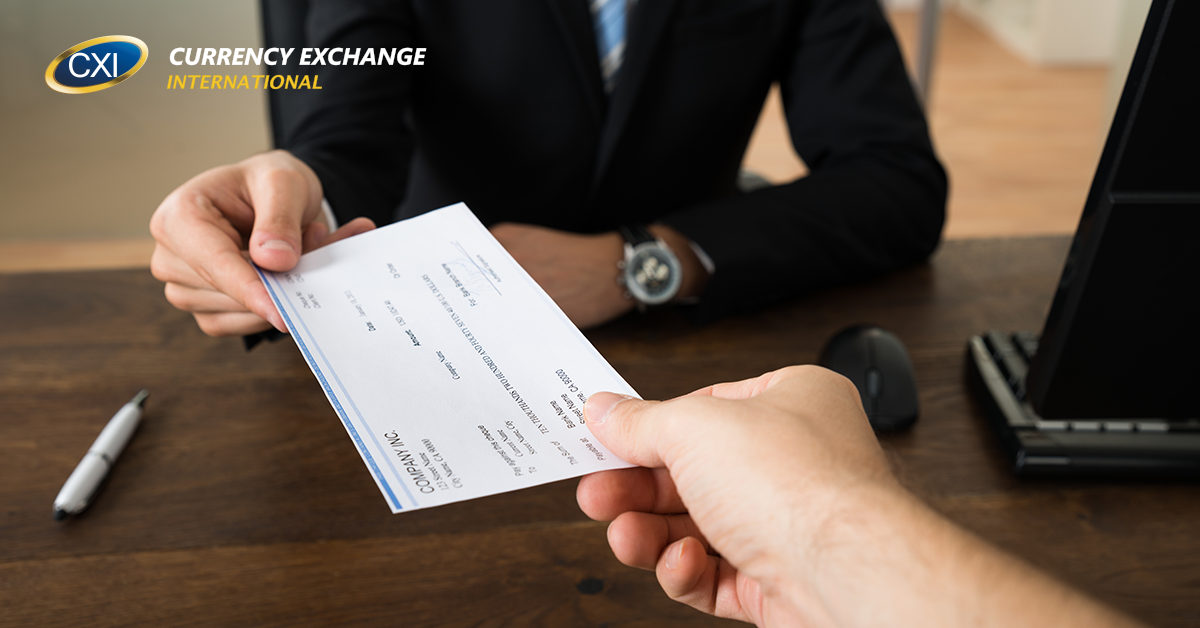 Learn more about Digtial Remote Deposit. It's the faster, safer, and more secure service for financial institutions to clear all foreign checks drawn on Canadian financial institutions.
MY CU® Services, LLC is a CUSO with Vizo Financial Corporate Credit Union as the majority owner, headquartered in Middletown, Pa. MY CU Services is a leading provider of electronic payment and technology solutions for credit unions. Credit unions are eligible to use these services directly through MY CU Services, or by working with one of our corporate partners. The CUSO currently provides services to more than 750 credit unions. It's time to Experience the Difference with MY CU Services.
About Currency Exchange International
Currency Exchange International, CXI, is the leading provider of comprehensive foreign exchange services, risk management solutions and integrated international payments processing technology in North America. CXI's relationship-driven approach ensures clients receive tailored solutions and world-class customer service. Through innovative and trusted FX software platforms, CXI delivers versatile foreign exchange services to our clients, so that they can efficiently manage and streamline their foreign currency and global payment needs. CXI is a trusted partner among financial institutions, corporations and retail markets around the world. To learn more, visit: www.ceifx.com