EU leaders reach "truly historic" recovery fund deal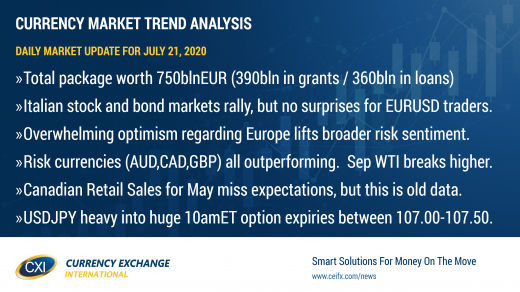 Take control of your international payments with CXI FX Now.
• Low transfer fees & great rates
• Fast international payments
• Safety and security
• Unparalleled customer service
• Consultative approach
Interested in creating a custom foreign exchange trading plan?
Contact us
or call EBC's trading desk directly at
1-888-729-9716.
Get real-time market coverage on twitter at @EBCTradeDesk or sign up to currency insider here.
SUMMARY
Total package worth 750blnEUR (390bln in grants / 360bln in loans)

Italian stock and bond markets rally, but no surprises for EURUSD traders.

Overwhelming optimism regarding Europe lifts broader risk sentiment.

Risk currencies (AUD,CAD,GBP) all outperforming. Sep WTI breaks higher.

Canadian Retail Sales for May miss expectations, but this is old data.

USDJPY heavy into huge 10amET option expiries between 107.00-107.50.
ANALYSIS
USDCAD
Dollar/CAD is collapsing this morning after EU leaders reached a "truly historic" deal for Europe's pandemic recovery fund. See EURUSD below. While the news comes as no surprise to an overcrowded EURUSD long trade that has been anticipating this eventual outcome, European stock and bond markets seem to be celebrating the fact that this deal happened as quickly as it did. The Italian stock market, one of the biggest beneficiaries, rallied 2% higher and the benchmark Italian 10yr BTP yield fell over 7bp lower at one point this morning. The S&P futures continued their march higher around the European morning. What is more, this morning's "risk-on" vibe has seen September WTI finally break out to the upside; to the tune of +3%. We've been watching out for this oil breakout since last Wednesday and we think it's the major catalyst behind the resumption of USDCAD's downtrend today.
Month-end USD sales and multiple upside rejects of the 1.37 handle reaffirmed the market's downtrend in late June; the bearish head & shoulders pattern recorded on July 15 cast a negative omen on the daily chart; the entrenched leveraged fund net long USDCAD position indicated that the pain trade remained lower; and today's oil move now appears like it could be the catalyst that triggers a decline back to the FOMC-press conference lows of June 10 (low 1.33s). Canada just reported weaker than expected Retail Sales numbers for May (+18.7% vs +20.0%), but we think traders will continue to ignore dated economic figures in this new, fast-changing, COVID-19 world.
USDCAD DAILY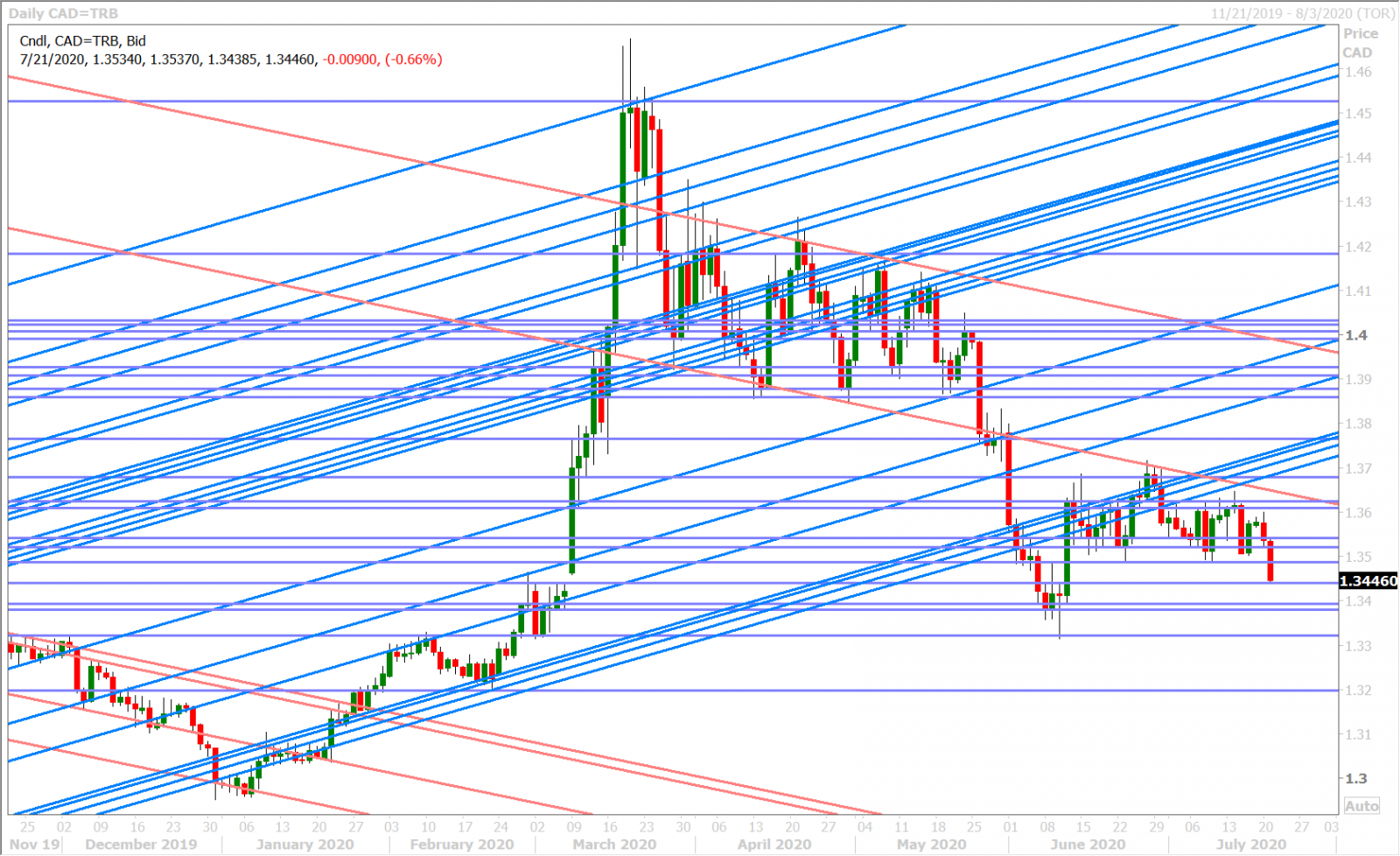 USDCAD HOURLY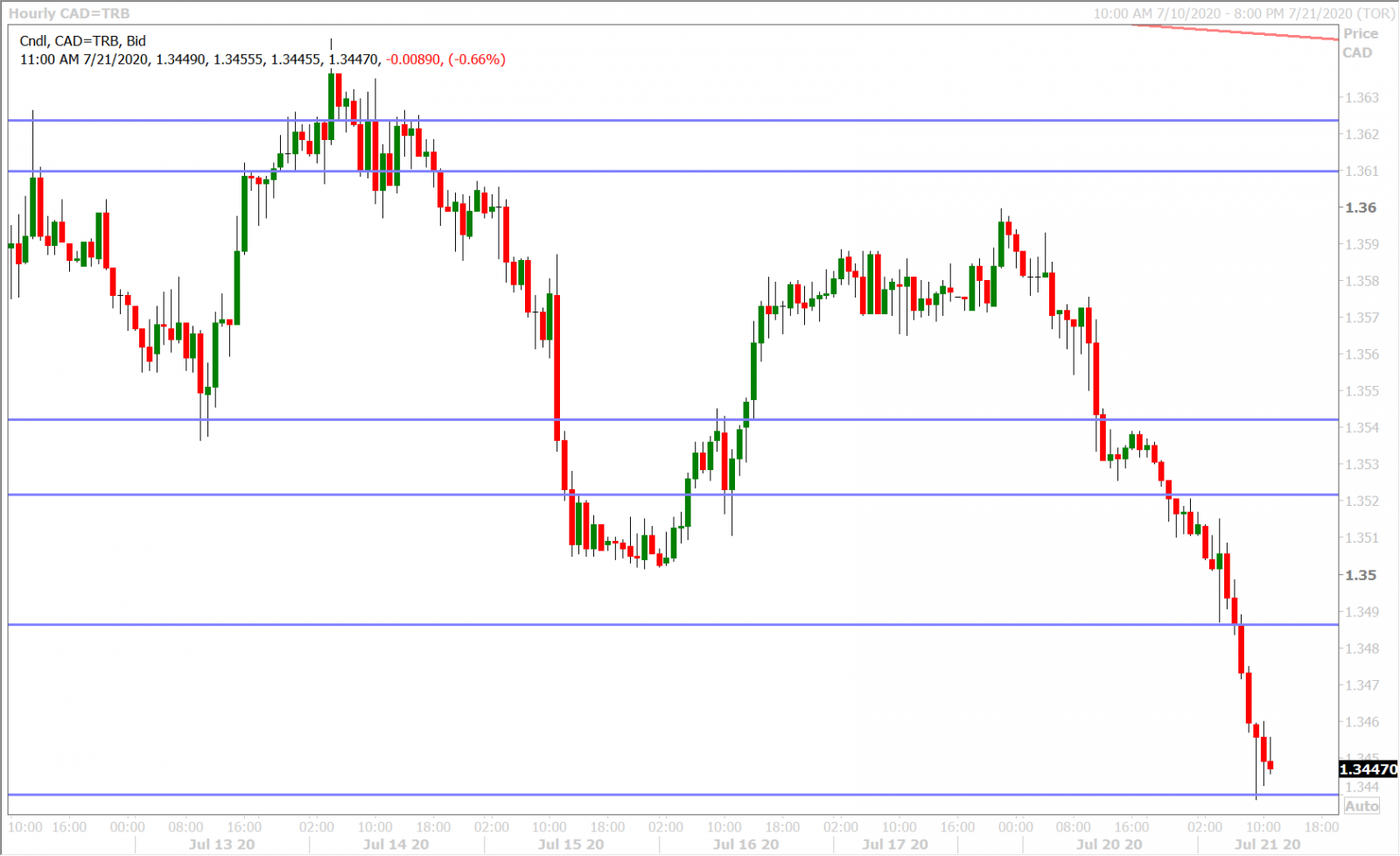 SEPT CRUDE OIL DAILY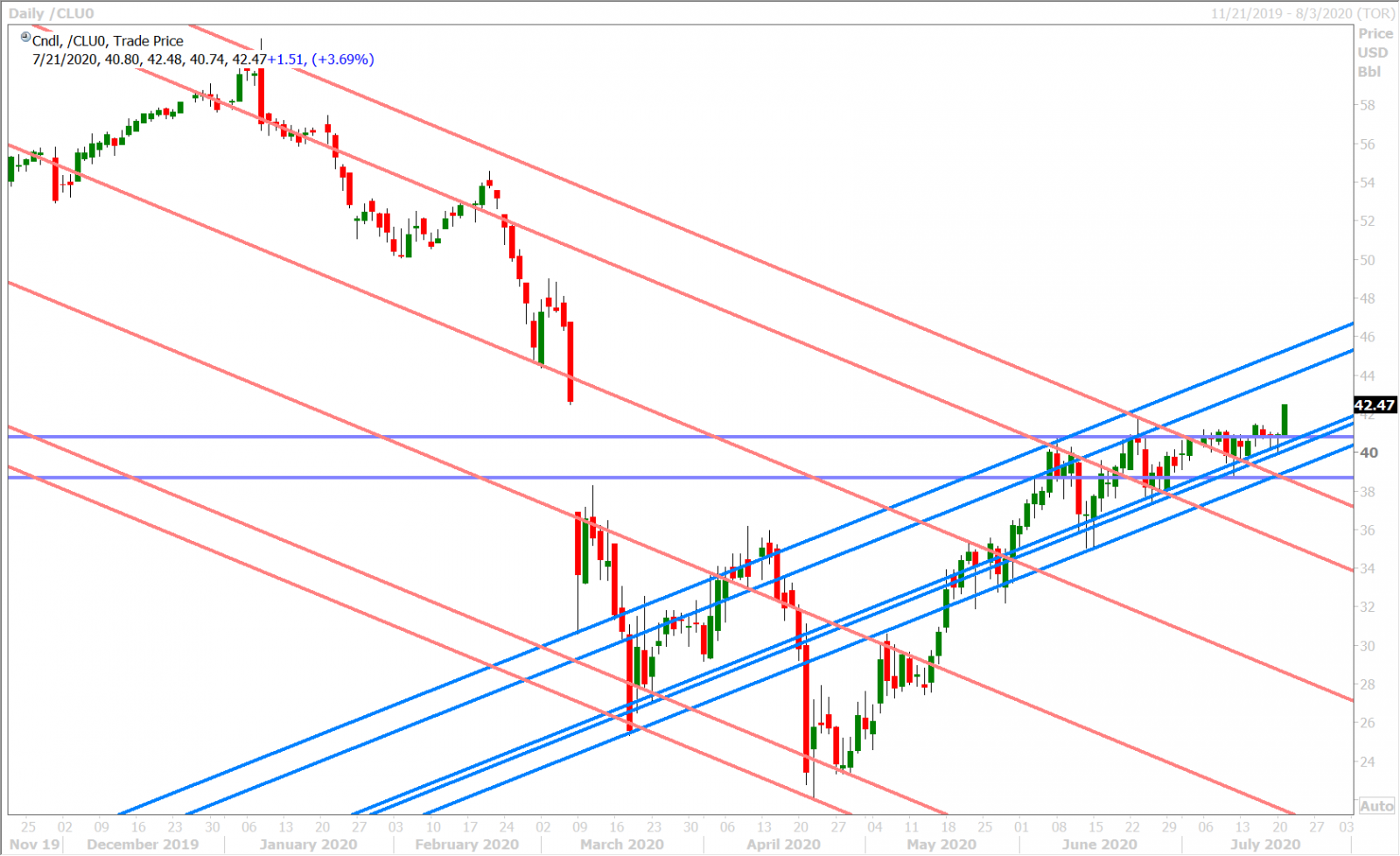 ---
EURUSD
French President Emmanuel Macron called hailed today's EU recovery fund deal as "truly historic". After a near record length 4-day summit, EU leaders agreed on a 750blnEUR rescue package, comprised of 390blnEUR in non-refundable grants and 360blnEUR in cheap loans, which the European Commission will finance through the bond markets using its AAA credit rating. The Frugal Four countries (Netherlands, Denmark, Austria and Sweden) secured EU budget rebates in return and won an "emergency brake" clause to temporary stop payments from the fund if a recipient EU state was seen as not meeting reform conditions tied to the money. While the original plan pursued by Germany and France was eventually watered down to have just 390blnEUR worth of grants vs 500blnEUR, there is overwhelming bullish optimism about Europe's ability to work together this morning and how today's deal is an important step forward towards fiscal union. An op-ed article by the Presidents of the three main EU institutions described today as a "new dawn for Europe".
While European stock and bond markets are celebrating today's news, euro/dollar traders are having none of it…and rightfully so because this deal has been arguably been priced-in for weeks now. We can't say we're seeing a swift "buy the rumor/sell the fact" reaction in the market today but we think there's a risk of it intensifying given all the bullish EUR optimism we keep reading this morning. The 1-month EURUSD risk reversal continues to erode its premium for EUR calls vs puts today; something that has been happening since the beginning of July and this reflection of the option market's lack of excitement for
EURUSD DAILY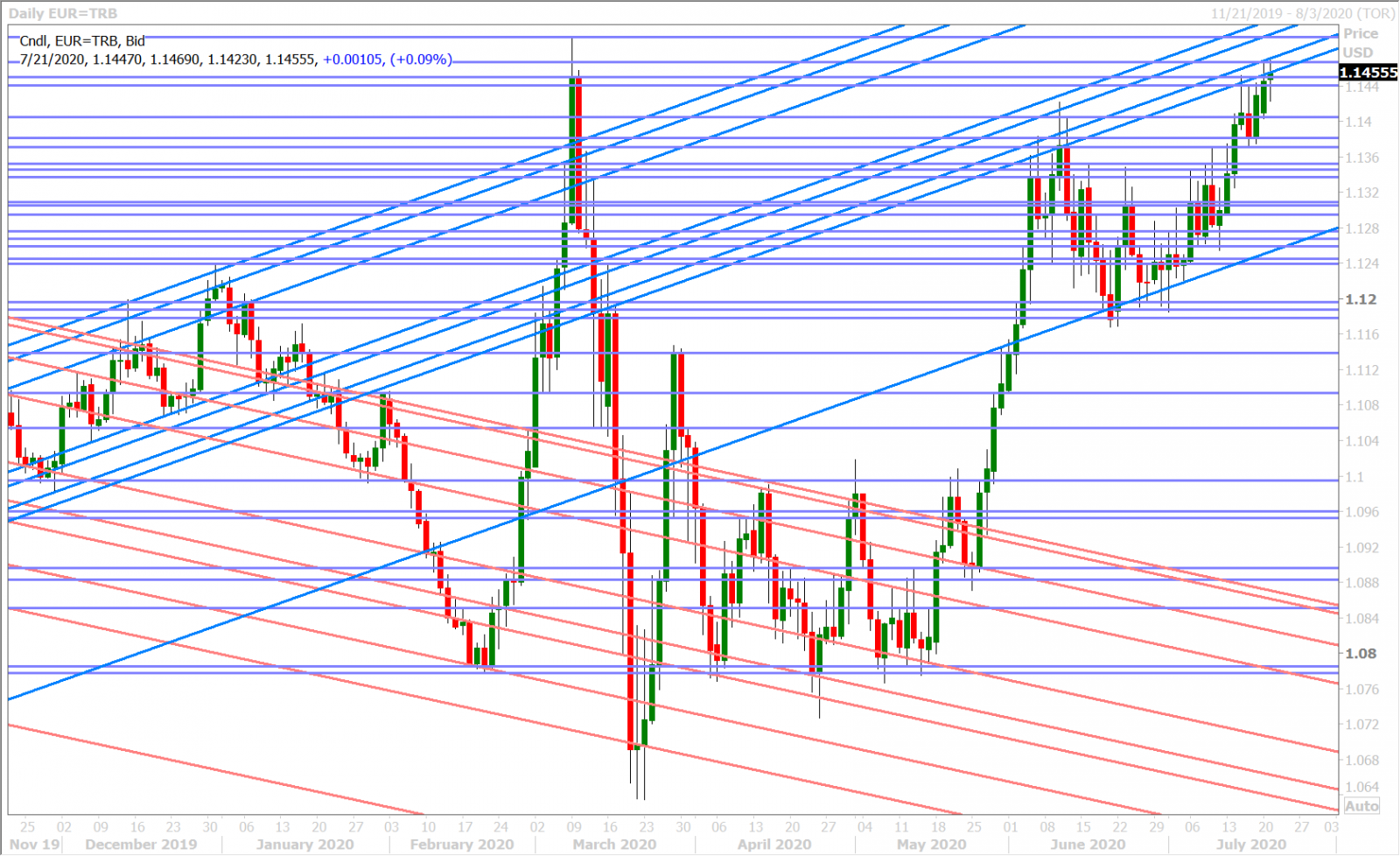 EURUSD HOURLY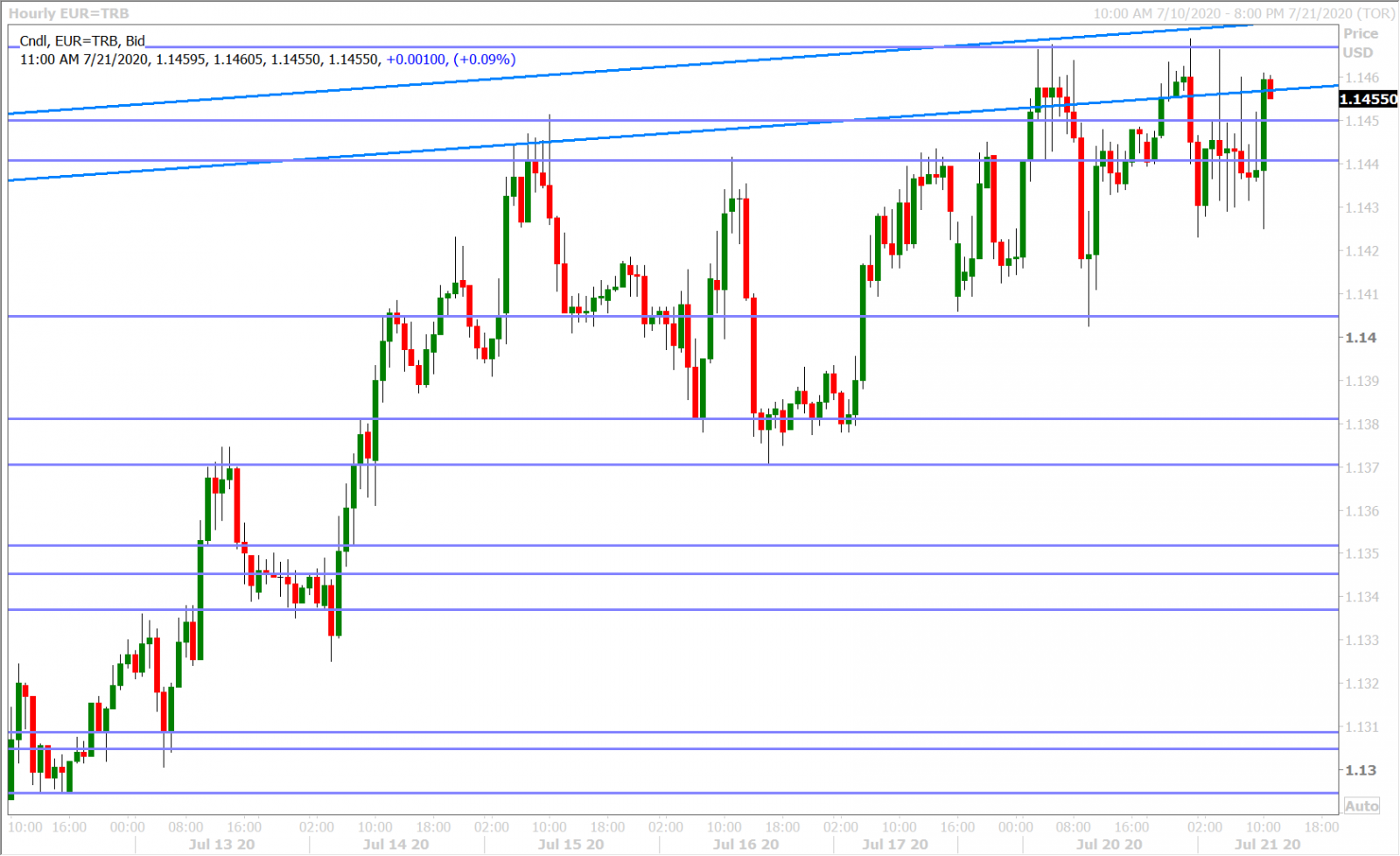 BTP/BUND YIELD SPREAD DAILY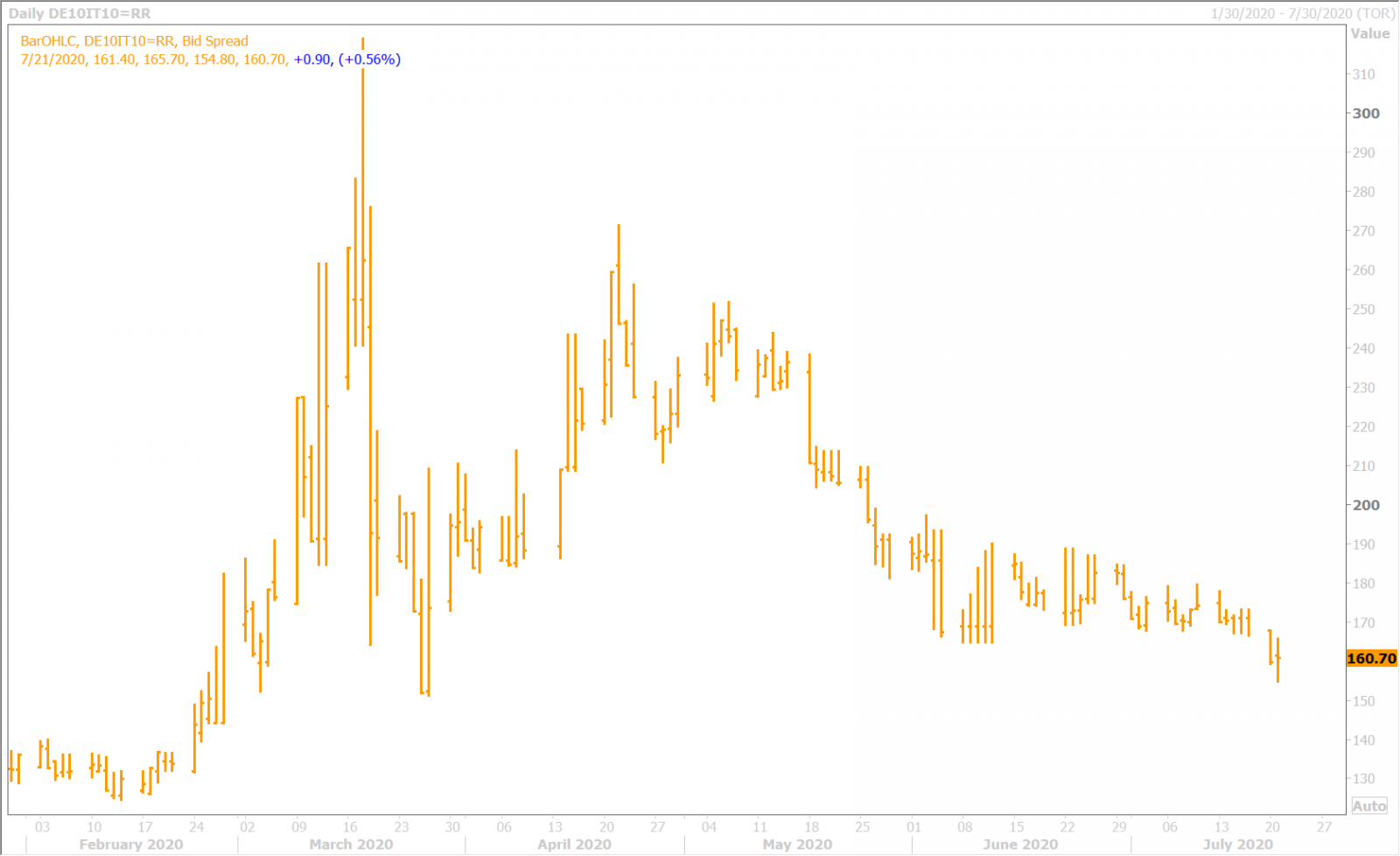 ---
GBPUSD
Sterling broke out above the 1.2630-50s resistance level yesterday and we can feel the street's struggle to explain it; ourselves included. The risk sentiment pendulum has clearly swung higher over the last 24hrs, helped by more positive COVID vaccine news out of the US yesterday, but the continued slide in EURGBP makes us wonder if somebody knows something on the Brexit front. Expectations were very low heading into this week's round of negotiations and so we wouldn't be surprised if the slightest sliver of positive progress ignites sterling optimism, but it's almost as if the market is front-running something we don't know yet.

GBPUSD DAILY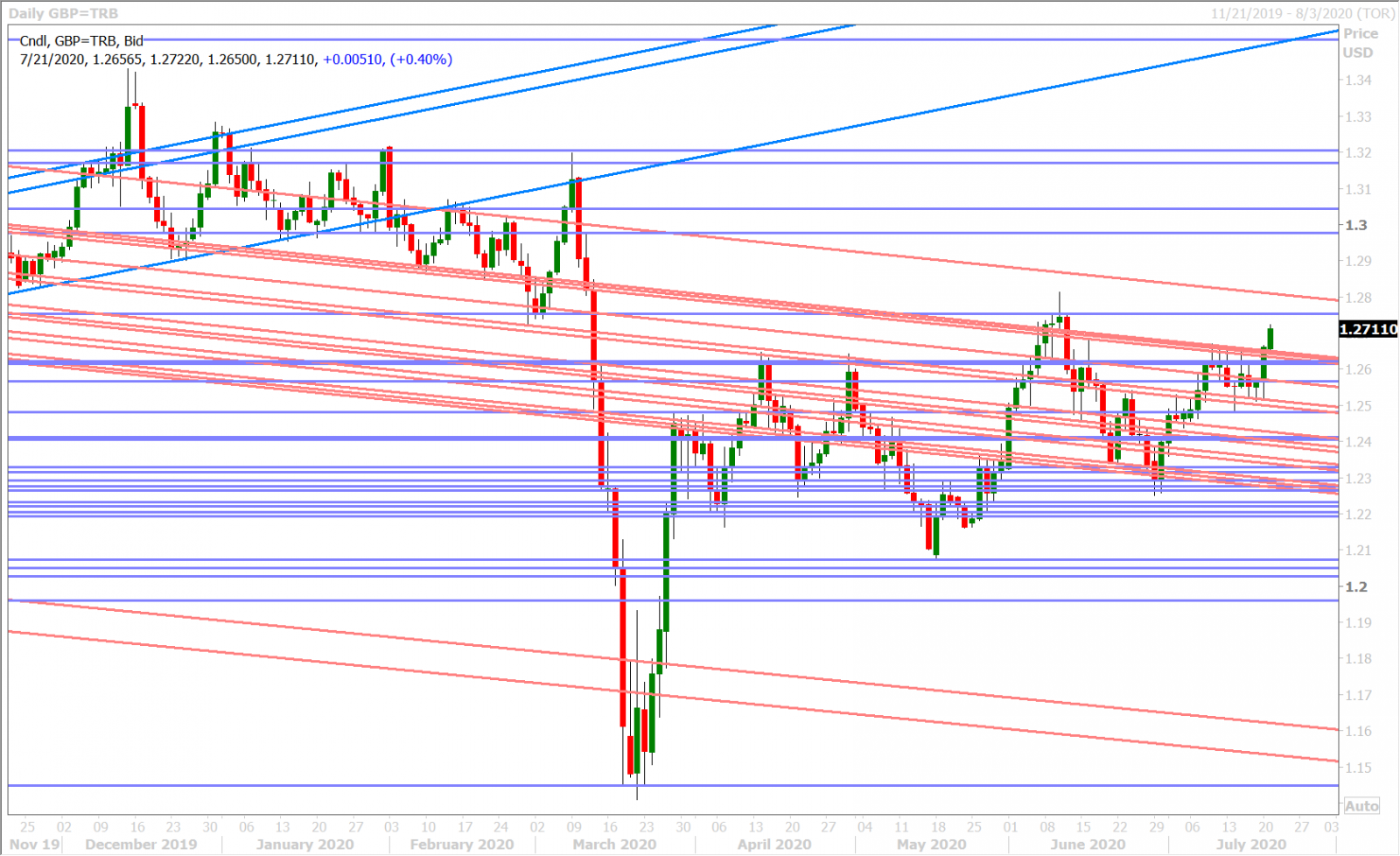 GBPUSD HOURLY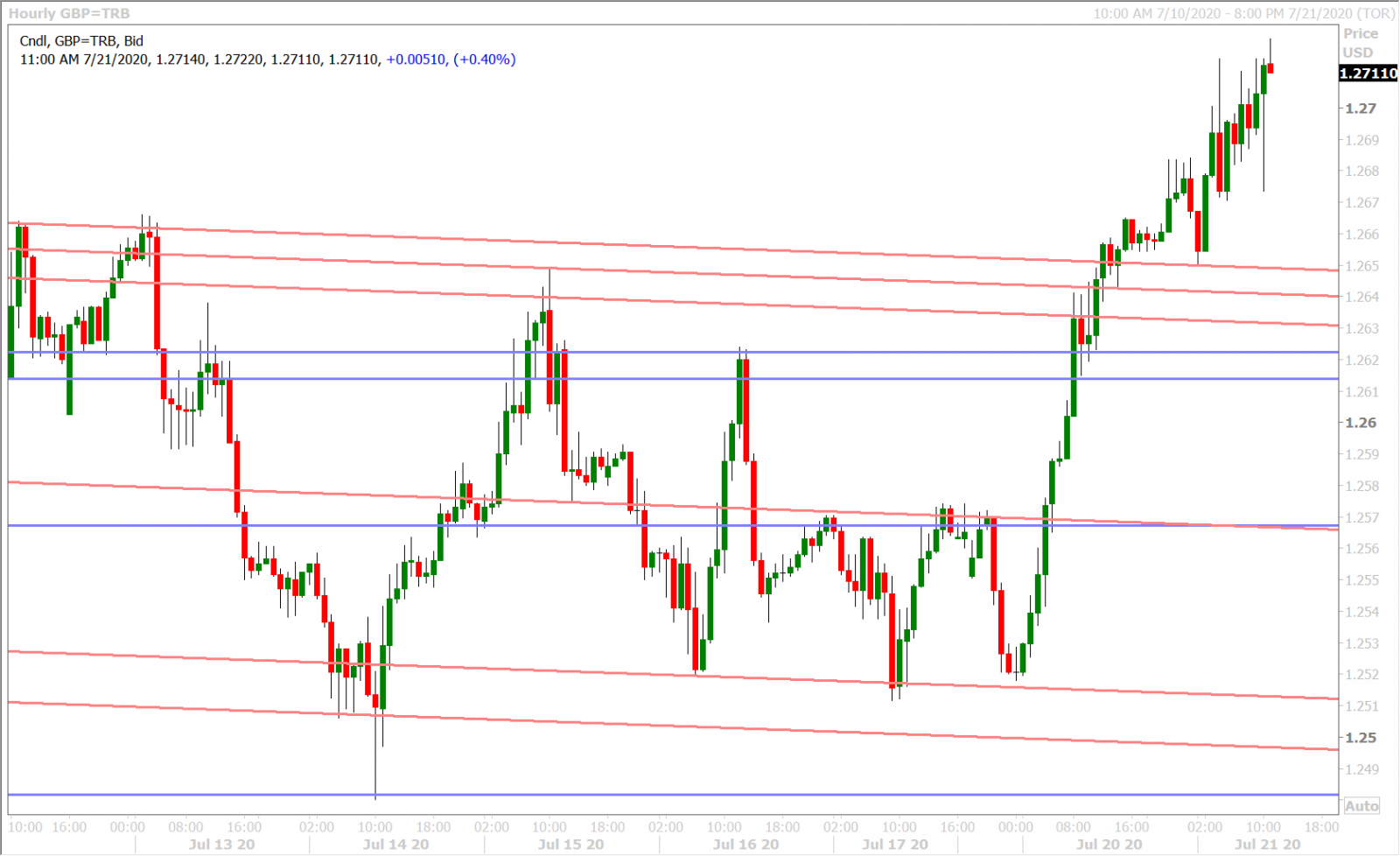 EURGBP DAILY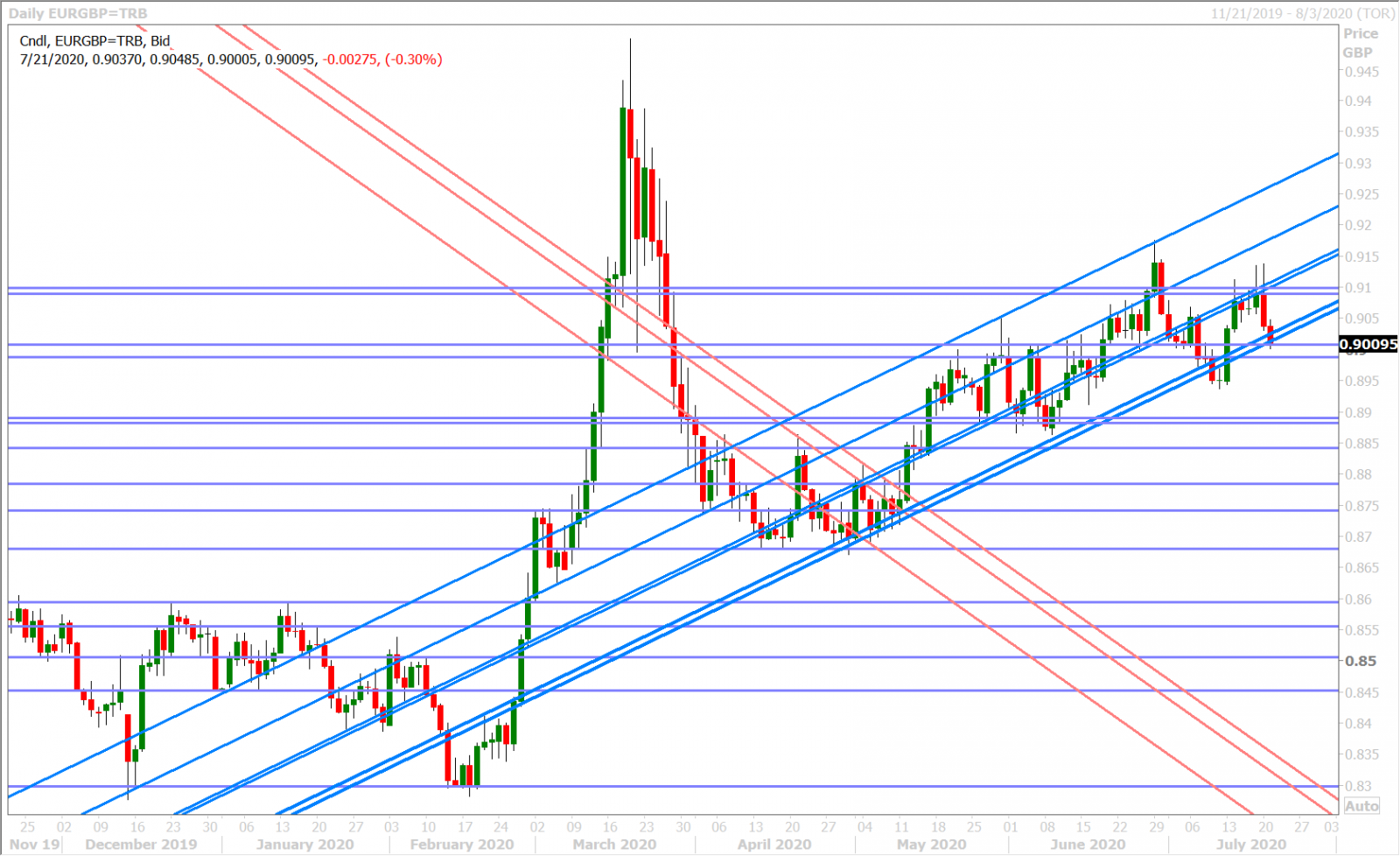 AUDUSD
The Australian dollar is rallying to new one-year highs this morning as European markets celebrate the EU recovery fund deal. Last night's dovish RBA Minutes and a speech from the RBA Governor were largely non-events for the market, although we'd note Lowe's comments, about not needing to intervene to push the AUD lower, as mildly supportive for AUDUSD. Aussie buyers are now testing the July 2019 highs in the 0.7080-90s and look firmly in control at the moment.
AUDUSD DAILY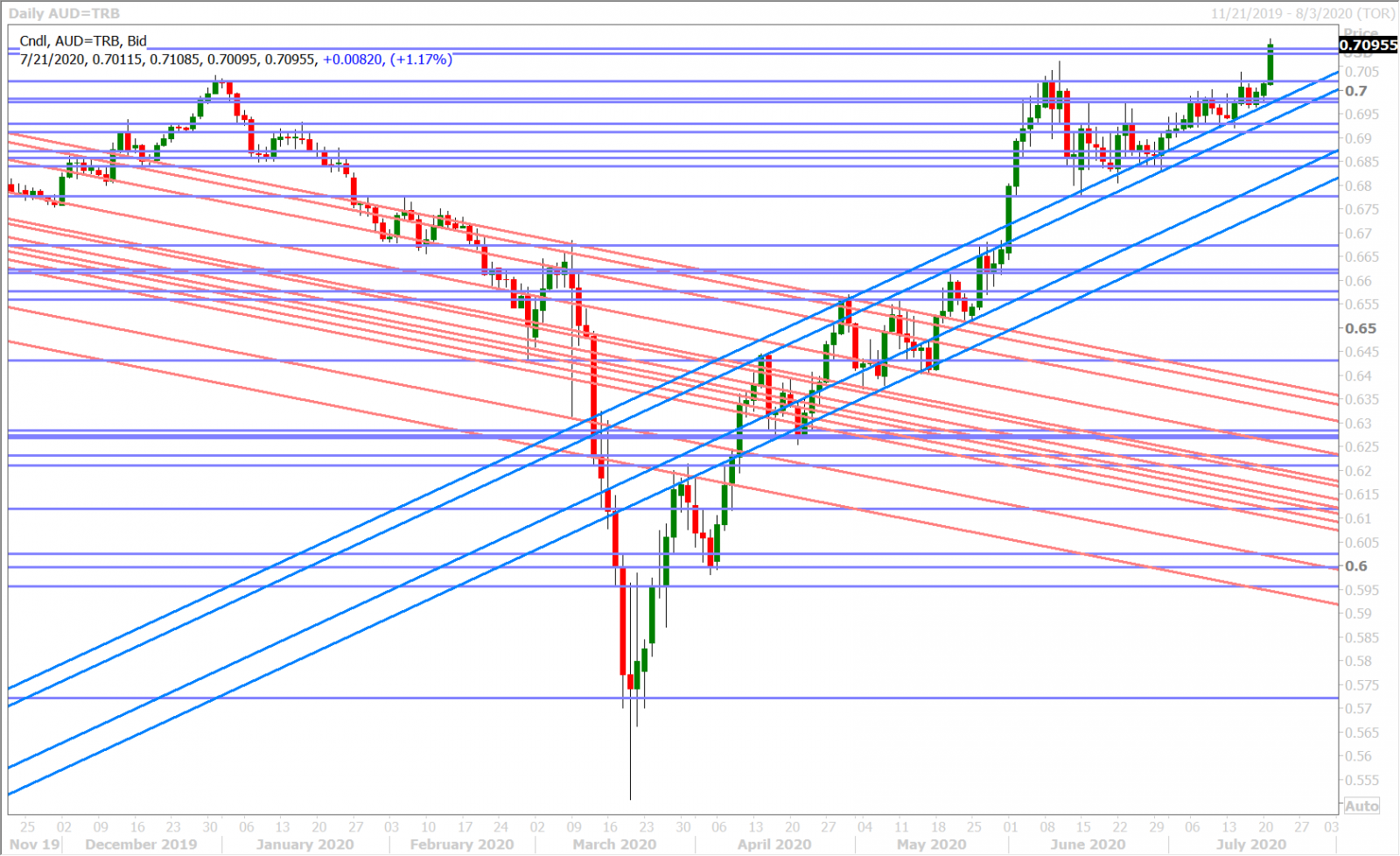 AUDUSD HOURLY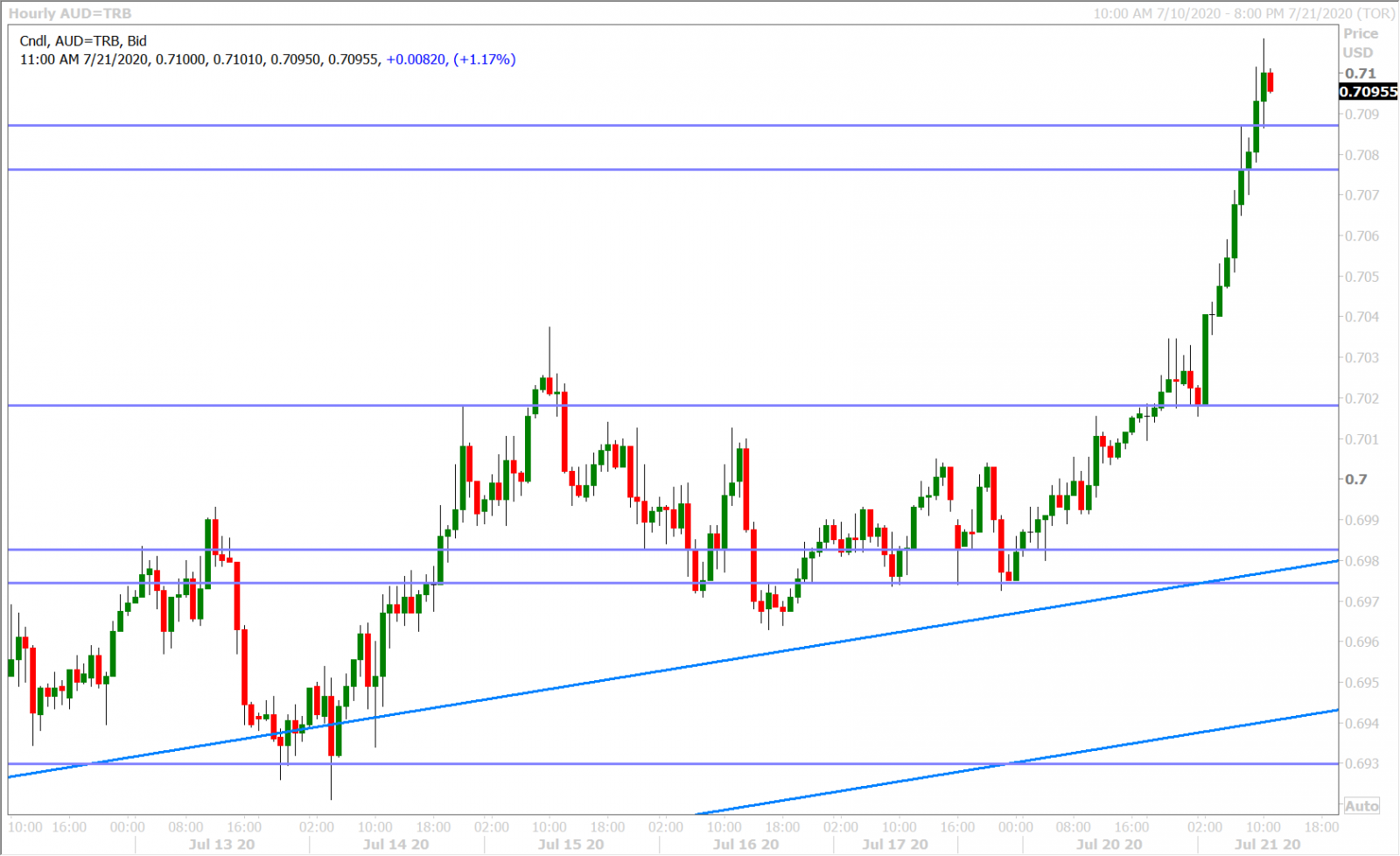 USDCNH DAILY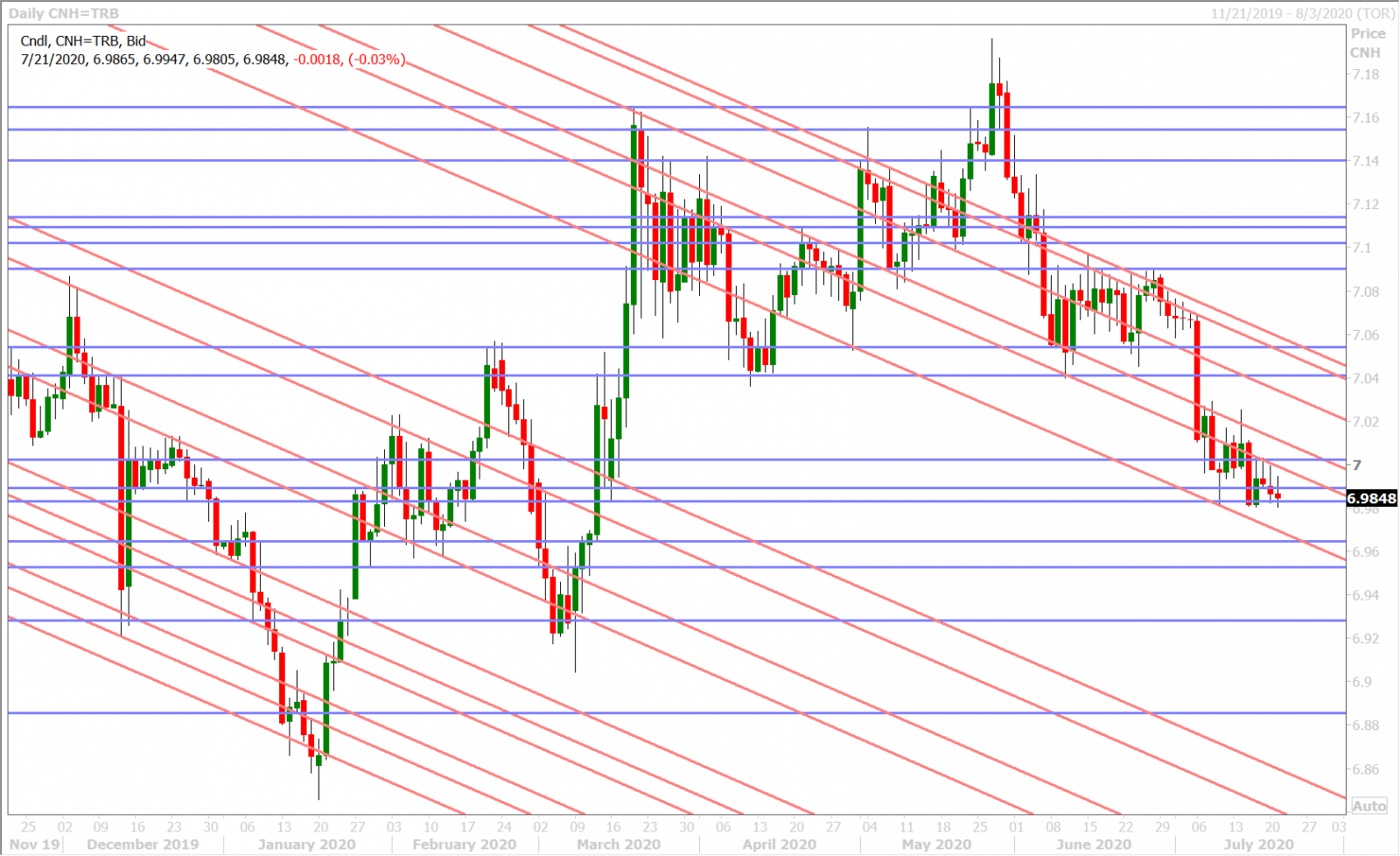 ---
USDJPY
Dollar/yen has been a choppy mess between support at the 107.00-10s and resistance at 107.30-40s over the last 24hrs; with the market showing a slightly improved correlation with US yields since the European open. A truckload of option expiries between the 107.00 and 107.50 strikes this morning ($4.7bln) could be a reason why the market has felt heavy since the NY open. We think the leveraged fund USDJPY short position remains in good shape here after yesterday's notable buyer failure above the 107.40s.

USDJPY DAILY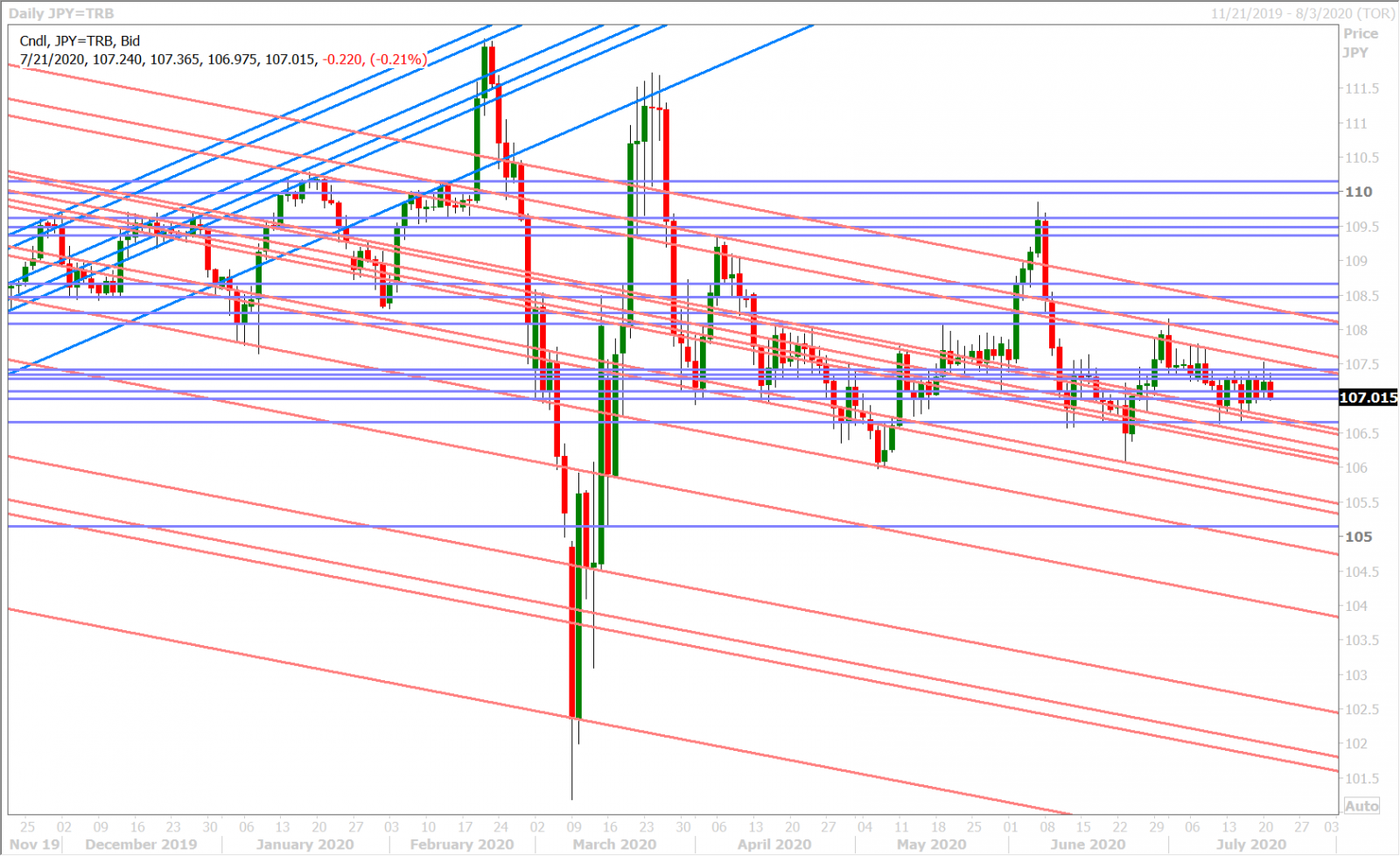 USDJPY HOURLY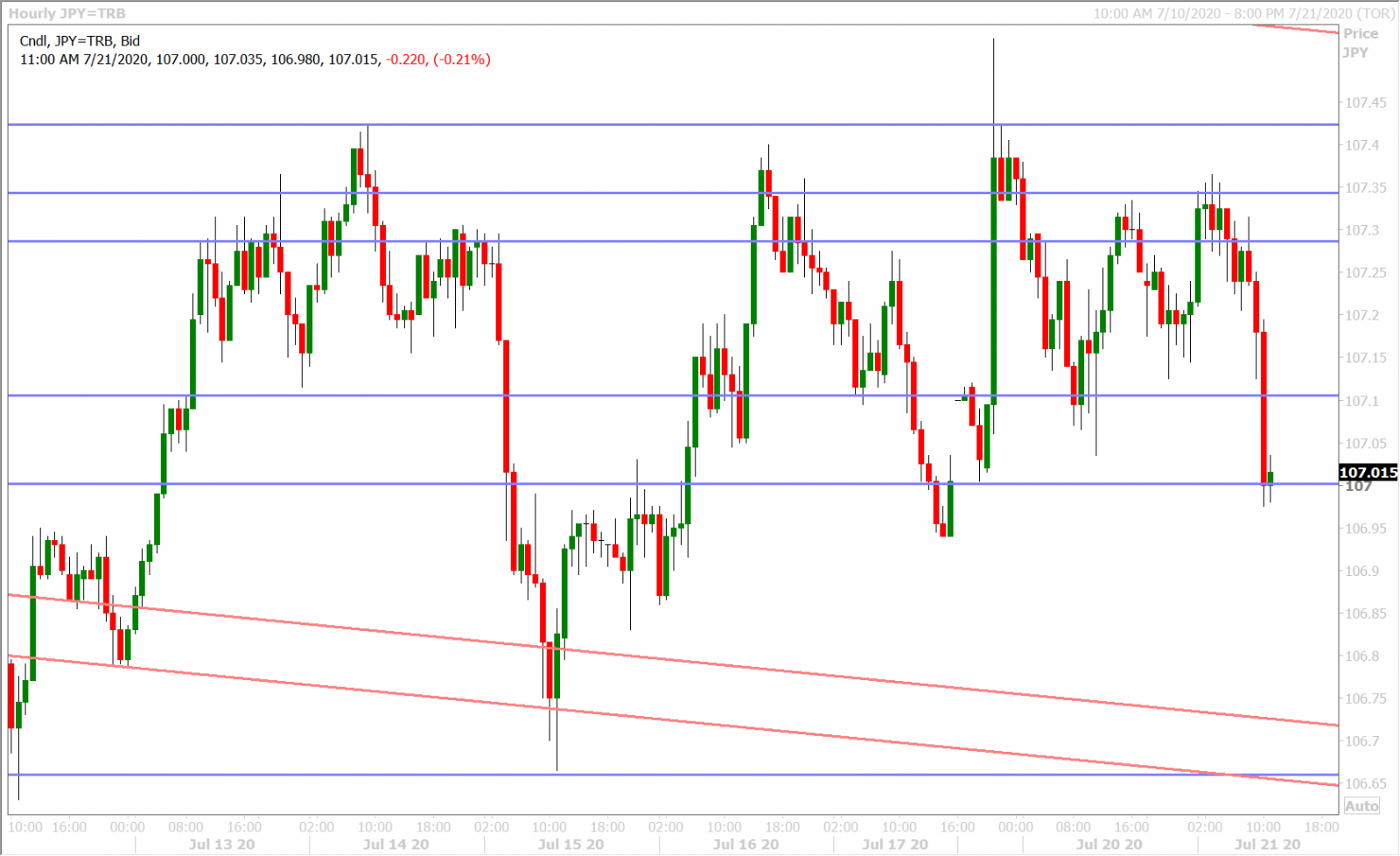 US 10-YR YIELD DAILY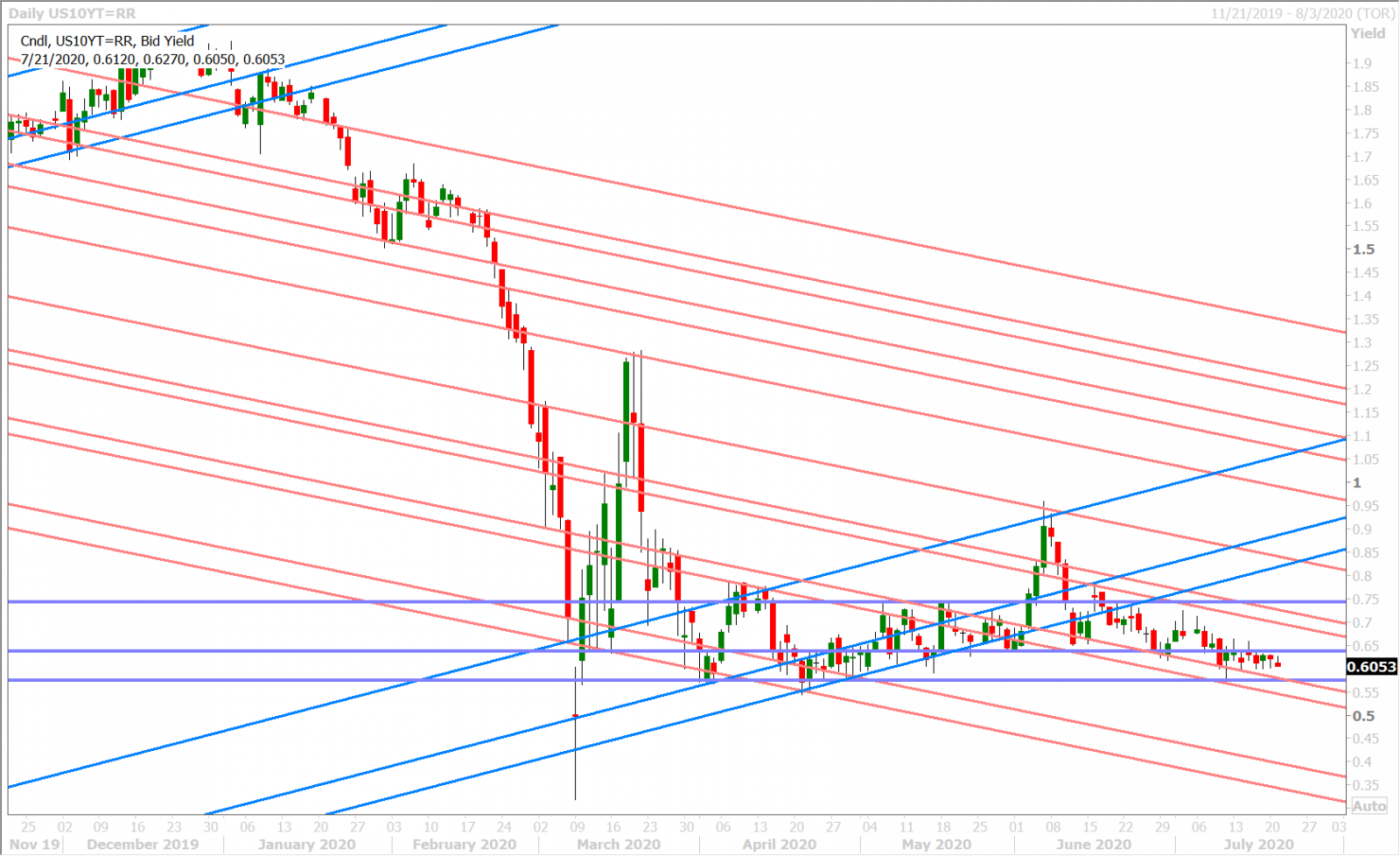 Charts: Reuters Eikon
---
About the Author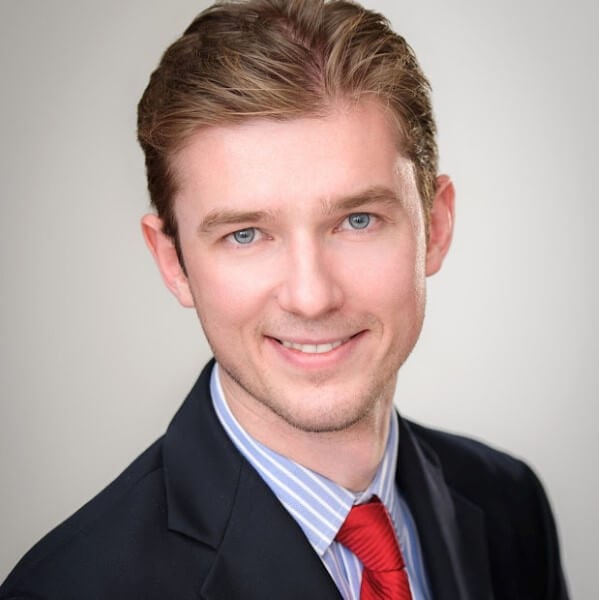 Erik Bregar - Director, Head of FX Strategy
Erik works with corporations and institutions to help them better navigate the currency markets. His desk provides fast, transparent, and low cost trade execution; up to the minute fundamental and technical market analysis; custom strategy development; and post-trade services -- all in an effort to add value to your firm's bottom line. Erik has been trading currencies professionally and independently for more than 12 years. Prior to leading the trading desk at EBC, Erik was in charge of managing the foreign exchange risk for one of Canada's largest independent broker-dealers.
Interested in creating a custom foreign exchange trading plan? Contact us or call CXI's trading desk directly at 1-833-572-8933.
About Currency Exchange International
Currency Exchange International, CXI, is the leading provider of comprehensive foreign exchange services, risk management solutions and integrated international payments processing technology in North America. CXI's relationship-driven approach ensures clients receive tailored solutions and world-class customer service. Through innovative and trusted FX software platforms, CXI delivers versatile foreign exchange services to our clients, so that they can efficiently manage and streamline their foreign currency and global payment needs. CXI is a trusted partner among financial institutions, corporations and retail markets around the world. To learn more, visit: www.ceifx.com