FAST Trusted Travelers Program: Everything You Need to Know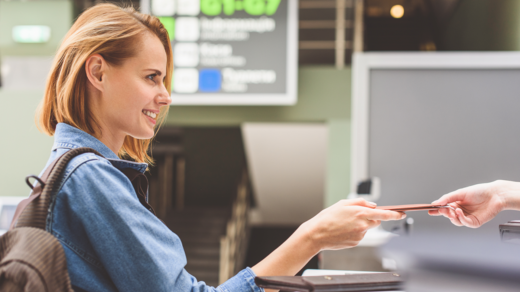 Ordering foreign currency is easy with OnlineFX.
What is the FAST trusted travelers program?
FAST (The Free and Secure Trade) program allows quicker processing and clearance for commercial carriers entering the U.S. from Mexico or Canada. These vehicle lanes are able to process commercial cargo at land border ports of entry.
How to apply to the FAST trusted Travelers program?
Mexican nationals, Canadian citizens, and U.S. citizens, among others, are eligible for the FAST program. To participate, you need to be 18 years old or over, and have a valid driver's license. Make sure that you provide complete and accurate information when applying, or you may be ineligible.
To apply to the FAST program, you will need to:
​

Ensure that you meet all

C-TPAT qualifications

before applying.

Submit your FAST application through the Trusted Travelers Program website.

Pay a $50 USD or CAD, fee.

Schedule and attend your interview in person.
You may also be ineligible if you are found in violation of any customs, have outstanding warrants, or have other issues.
There are different qualifications for C-PTAT Application Qualifications for U.S./Canada High Way Characters and U.S./Mexico High Carriers, so make sure that you meet the requirements required for your specific travel areas before applying.
Please make sure you are aware of where your designated FAST Enrollment Center is when you schedule your in-person interview.
What are the benefits of the FAST trusted travelers program?
FAST enrollment is advantageous if you want priority processing during Customs and Border Patrol inspections and superior supply chain security.
You will also have a lower number of inspections, and access to specified lanes, which will allow for more proficient processing in transborder shipments, along with a greater speed and minimized delays.
FAST is a beneficial program for those who wish to make a speedier trip across the border!
How much are the fees for the FAST Trusted Travelers program?
The cost to apply for the FAST membership is $50, USD or CAD, and it must be submitted through the TTP website along with your application. This fee will cover your five years of membership, so it's a great deal!
What do you need to know before joining the FAST trusted travelers program?
To participate in FAST, every link in the supply chain, from manufacturer to carrier to driver to importer, is certified under the C-TPAT program.
Also, CBP will regularly make visits to C-TPAT member locations to assess and ensure their supply-chain security measures.
If you are found to be purposefully providing false information, hiding necessary facts, or otherwise falsifying your application, your application will not be accepted, and you could even be subject to fines or criminal charges.
About Currency Exchange International
Currency Exchange International (CXI) is a leading provider of foreign currency exchange services in North America for financial institutions, corporations and travelers. Products and services for international travelers include access to buy and sell more than 90 foreign currencies, multi-currency cash passport's, traveler's cheques and gold bullion coins and bars. For financial institutions and corporations, our services include the exchange of foreign currencies, international wire transfers, global EFT, the purchase and sale of foreign bank drafts, international traveler's cheques, and foreign cheque clearing through the use of CXI's innovative CEIFX web-based FX software www.ceifx.com