TSA Pre-✓® Trusted Travelers Program: Everything You Need to Know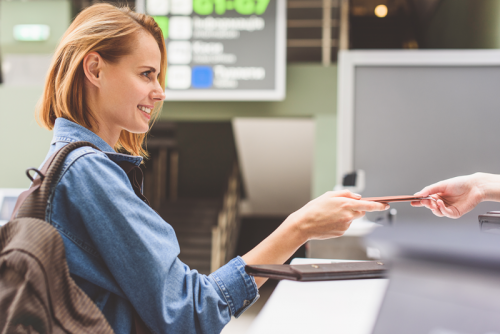 Ordering foreign currency is easy with OnlineFX.
What is TSA Pre-✓®

trusted traveler program?
TSA Pre-✓® is a program that allows trusted travelers to expedite their TSA screening process at TSA security checkpoints. TSA Pre-✓® is available at over 200 airports and includes 54 associated airlines. To join, you must be pre-approved as a low-risk traveler, and you're required to fulfill certain backgrounds checks and interviews.
How to apply for the TSA Pre-✓® trusted traveler program?
To become a member of TSA Pre-✓®, you must be a U.S. citizen or U.S. Lawful Permanent Resident. First, you are required to submit an online application.
Create your Trusted Traveler Programs account

Fill out your application

Pay $85 nonrefundable fee
If you meet the prerequisites, you will need to schedule an in-person interview before being approved into the program. Make sure that you bring along any documents necessary for your interview. These can include your passport or other forms of identification, such as a driver's license or ID card.
Once you are done with these steps, it should take less than four weeks for all of your information to process. You should receive approval during this time!
What are the benefits of the TSA Pre-✓® trusted traveler program?
All members are given access to TSA Pre✓® expedited security screening lanes at participating airports in the U.S. If you're a frequent traveler, it will surely cut down those long waiting times on your way to your destination!
How much are the fees for the TSA Pre-✓® trusted traveler program?
Becoming a TSA Pre-✓® member is $85. This covers your application fee and counts towards your 5-year membership. It will definitely be worth it if you are traveling often.
You are able to pay for your fee by credit card or with an electronic bank transfer. However, because this fee is nonrefundable, even if your application is denied by TSA Pre-✓®, you will not get your money back. Because of this, it is definitely suggested to make sure that all of your information is accurate on your application.
What you need to know before joining the TSA Pre-✓® trusted traveler program?
Minors ages 12 and below are able to use the TSA Pre✓® lane if they are traveling with a parent or guardian who is a member. Any minors 13 years old and older who do not have their own TSA Pre✓® pass are required to go through standard security lanes. However, there is no age requirement before applying to the program itself.
Although TSA Pre✓® is designed to allow for a speedier process, the TSA does employ unpredictable security measures. Therefore, no one is guaranteed an expedited screening. Those who commit particular violations of federal security regulations will be denied expedited screening for some time.
About Currency Exchange International
Currency Exchange International (CXI) is a leading provider of foreign currency exchange services in North America for financial institutions, corporations and travelers. Products and services for international travelers include access to buy and sell more than 90 foreign currencies, multi-currency cash passport's, traveler's cheques and gold bullion coins and bars. For financial institutions and corporations, our services include the exchange of foreign currencies, international wire transfers, global EFT, the purchase and sale of foreign bank drafts, international traveler's cheques, and foreign cheque clearing through the use of CXI's innovative CEIFX web-based FX software www.ceifx.com