Gold Bullion Coins And Bars Available at CXI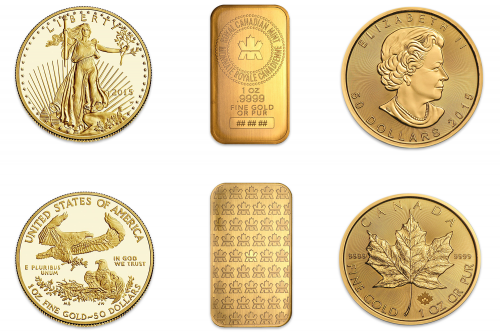 Did you know CXI sells some of the most popular, high quality gold bullion products produced in the world? Gold bullion provides an easy way to invest in precious metals, while at the same time holding onto a physical asset that is highly liquid and recognized around the world.
Back by the U.S. and Canadian governments respectively, the Gold American Eagle 1oz. coins, Gold Canadian Maple Leaf 1oz. coins and Royal Canadian Mint 1oz. bars can be ordered to arrive at your local CXI location.
What options are available for gold bullion coins and bars?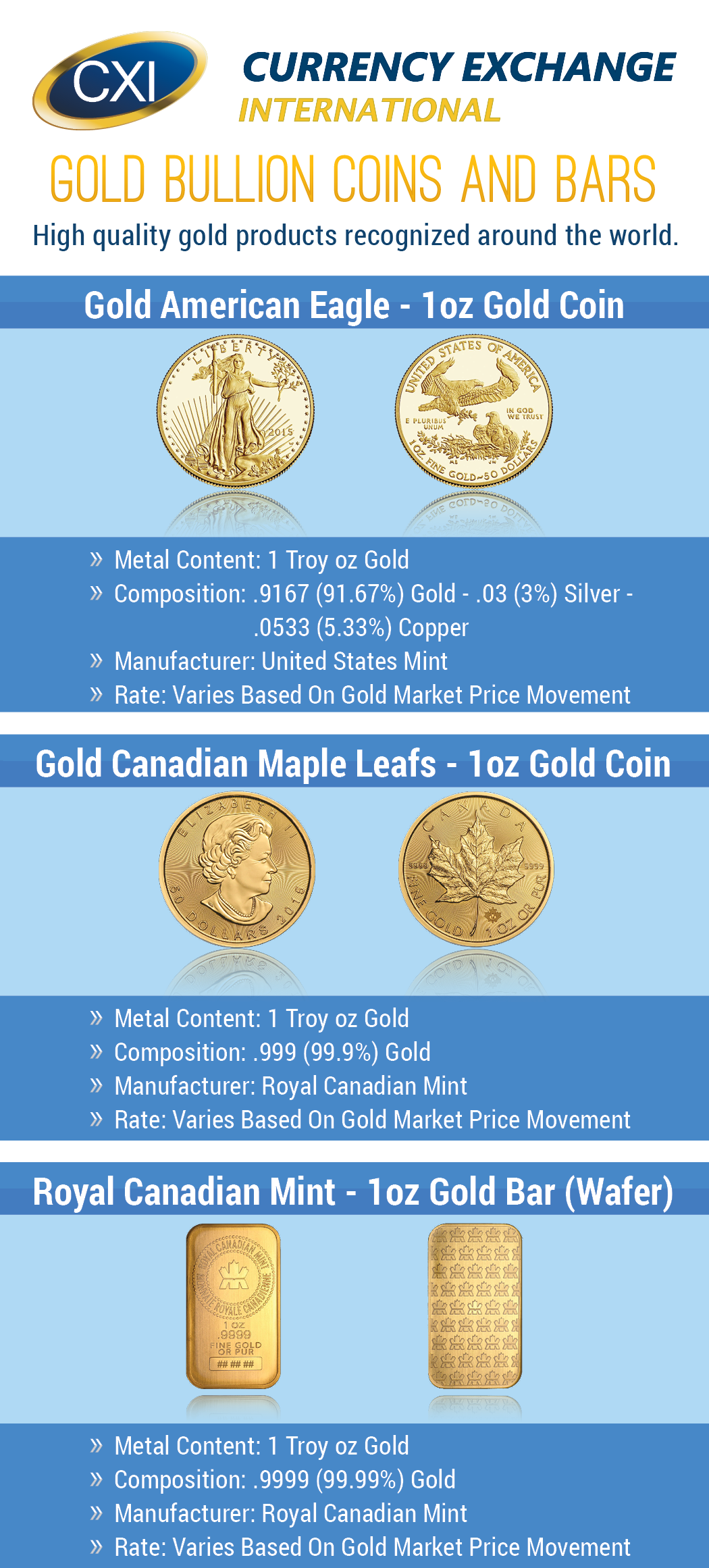 How to purchase gold bullion coins and bars?
Once you have decided which ones you would like to purchase, it will take about two to three business days for one of our currency exchange locations to receive it so you can pick it up.
What are the payment options?
You can pay by cash or debit with a $5,000 limit. Deposits for gold coins or bars are not necessary, unless an order of more than five coins is being placed.
What are the benefits of investing in gold bullion coins?
Gold retains its value very well.

Hedge inflation and deflation with gold's liquidity.

Geopolitical uncertainty value retention (crisis commodity).

Gold always maintains a very high demand.

Gold long term performance is strong in all currencies.

Gold has key role of a major diversifier in portfolios.
About Currency Exchange International
Currency Exchange International (CXI) is a leading provider of foreign currency exchange services in North America for financial institutions, corporations and travelers. Products and services for international travelers include access to buy and sell more than 80 foreign currencies, multi-currency cash passport's, traveler's cheques and gold bullion coins and bars. For financial institutions, our services include the exchange of foreign currencies, international wire transfers, purchase and sale of foreign bank drafts, international traveler's cheques, and foreign cheque clearing through the use of CXI's innovative CEIFX web-based FX software www.ceifx.com