How long will international wire transfers take to clear
Jacquelyn
March 27th, 2019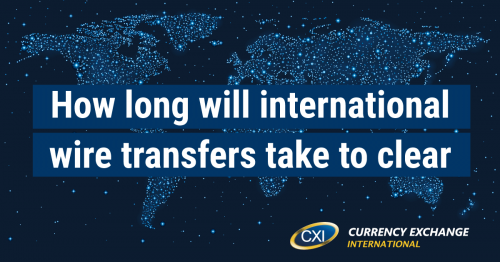 Contact us to become a CXI client.
Does your business need to send an international transfer, but you're not sure exactly how long it will take? The estimated time it takes to clear an international payment transfer can take anywhere between one to three days.
Currency Exchange International helps many businesses save thousands and enables them to quickly send hundreds of international payments in a safe, secure, and easy to use platform.
The exact rate at which your international transfer is cleared usually varies on a couple of factors. These are some of the main factors you should keep in mind the next time you need to send your international payment.
Country and Currency
Every country around the world has an official currency and each beneficiary bank account has a currency it uses as its base currency. This is the money the account is denominated in. This means in order to send your payment internationally, it's helpful to exchange the currency of your payment from US dollars into the currency of the bank account in the country you're sending it to. To be sure what this is, ask your beneficiary to confirm.
Failing to exchange your US dollars into foreign currency before sending an international payment exposes your business to higher rates and extra hidden fees.
CXI can help your business make international wire transfers to over 180 countries. Here is a sample of 10 foreign currencies CXI can send and the average time for international wire transfers to clear:
European euro (EUR)

Great Britain pound (GBP)

Chinese yuan (CNY)

Japanese yen (JPY)

Swiss franc (CHF)

Canadian dollar (CAD)

Australian dollar (AUD)

New Zealand dollar (NZD)

South African rand (ZAR)

Brazilian real (BRL)
Businesses in need of a single payment to a vendor abroad to large corporations processing payment to numerous beneficiaries in different currencies can all discover the simplicity CEIFX brings to international payments.
With this method, you can send international wire transfers for your corporation to more than 180 countries and usually clears within one to two business days.
Global EFT is a cost-efficient international payment method facilitating direct bank transfers to applicable bank accounts internationally. With global EFT, in-country local clearing networks are utilized reducing the transaction fees associated with the payments.
With this method, your business can send international payments with access to 10 currencies for payments to more than 40 countries but usually clears within an extra day or two.
Holidays
Many fail to take holidays into consideration with the time it takes to clear payment, but this is another factor that needs to be taken into consideration. A foreign bank may be closed on the day when the payment is being sent, which would then make them unable to process your payment on that day.
How CXI Makes International Payments Easy for Your Business
International Payments Best Practices
Another factor to keep in mind is making sure you provide all of the correct information for you the remitter and the beneficiary. Below is a list of the typical information you'll need to have on hand:
Full name and address of remitter

Beneficiary Bank SWIFT BIC, name & address

Full beneficiary name, IBAN, address

Purpose of Payment (POP) - the economic reason for sending payment
If your business doesn't provide the correct information needed to process an international payment, it can be delayed several days or weeks. Who really has time to track down payments? Your business already has many other tasks at hand to keep your business running smoothly.
Here's an example of international payments required information and validations chart. This chart helps show you what information is expected from you (the remitter) and the beneficiary. You'll also learn below how CXI's CEIFX software can help your business simplify the process.
About Currency Exchange International
Currency Exchange International (CXI) is a leading provider of foreign currency exchange services in North America for financial institutions, corporations and travelers. Products and services for international travelers include access to buy and sell more than 90 foreign currencies, multi-currency cash passport's, traveler's cheques and gold bullion coins and bars. For financial institutions and corporations, our services include the exchange of foreign currencies, international wire transfers, global EFT, the purchase and sale of foreign bank drafts, international traveler's cheques, and foreign cheque clearing through the use of CXI's innovative CEIFX web-based FX software www.ceifx.com