How Much Currency You Need to go on Vacation to Rio de Janeiro, Brazil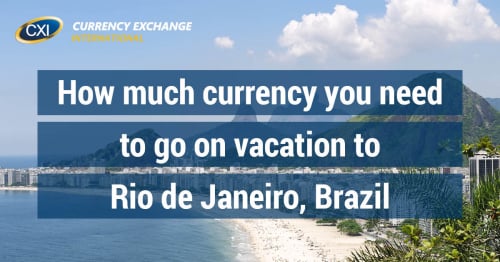 Ordering foreign currency online is easy with OnlineFX.
Planning your trip to Brazil? Know how much currency you need to make sure you have a great trip! Don't forget to check out our guide for your stay in London, too.
Transportation
In our how much currency to bring abroad chart below, you'll see a 10 mile cab ride is on average about $12.32 in Rio de Janeiro. Having this information on hand will give you a good idea on how much you would need to get around the city.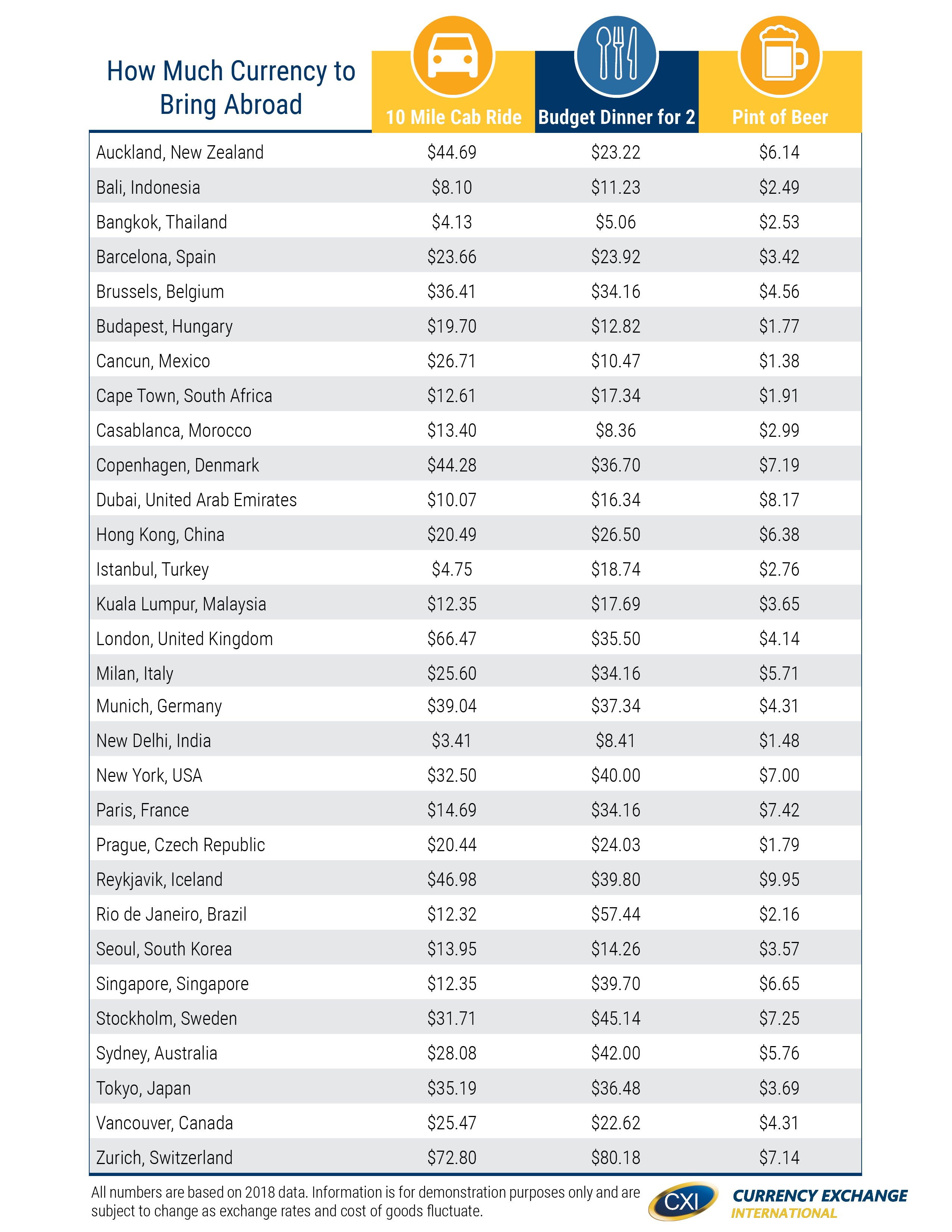 Food
When you think Brazilian food, perhaps you think of steak. I know I do! But have you heard of coxinha, brigadeiros, feijoada, or even acarajé?
These are all must tries as coxinha consists of shredded chicken, covered in dough, which is then battered, fried, and oftentimes accompanied by potato and cheese that makes one of the most delicious meals you can have authentically in Brazil.
For dessert, definitely help yourself to the Rio de Janeiro born brigadeiro-Brazil's novelty dessert that's essentially the equivalent to an American bon bon. Delicious!
To find all of these dishes, we recommend you check out Estrelas Da Babilonia, a restaurant known for its food and fantastic view of Copacabana.
As shown in our how much currency to bring abroad chart above, it costs on average $57.44 for a budget dinner for two and $2.16 for a pint of beer.
Currency: Brazilian Real
The Brazilian real has six different denominations: R$2, R$5, R$10, R$20, R$50 and R$100. When you look at the Brazilian real, be sure to check out each notes beautiful design which features a prominient, Brazilian female figure on one side and a bird or animal that's native to the land on the reverse. Each denomination also has its own color scheme in variations of reds, blues, purples, and oranges.
If you have leftover Brazilian reals after your trip to Rio, CXI will buy them back from you. If you originally received this foreign currency from CXI, then with the currency receipt we do not have any exchange fee to buy it back! Order your Brazilian reals now.
Flights
Round-trip tickets to Rio de Janeiro for two typically range from about $1,300 USD to about $2,000 USD, depending on where you leave from, the airline you fly with, and when you are taking your trip, according to Expedia.
According to Cheap flights, the best time of the year, at least economically speaking, is between the months of May and October. This is Brazil's winter time as the country lies in the southern hemisphere; perfect if you want to escape the heat in the United States.
The weather in Brazil this time of year also happens to be incredibly comfortable, with highs sitting in the mid to high 60's (Fahrenheit). Prices on a majority of tourist accommodations also tend to be cheaper this time of year, and much more obtainable as Brazil doesn't see a high turn out for tourists May through October.
Vacation rentals
If you find yourself looking into hotels to stay in during your trip to Brazil, we dare you to venture outside the box.
When traveling abroad, why not get the most out of your escape and live like a local for a few days? Check out some of the best and most unique superhost places to stay from Airbnb in Rio de Janeiro.
About Currency Exchange International
Currency Exchange International, CXI, is the leading provider of comprehensive foreign exchange services, risk management solutions and integrated international payments processing technology in North America. CXI's relationship-driven approach ensures clients receive tailored solutions and world-class customer service. Through innovative and trusted FX software platforms, CXI delivers versatile foreign exchange services to our clients, so that they can efficiently manage and streamline their foreign currency and global payment needs. CXI is a trusted partner among financial institutions, corporations and retail markets around the world. To learn more, visit: www.ceifx.com