Retired and Traveling: 7 Senior Travel Destinations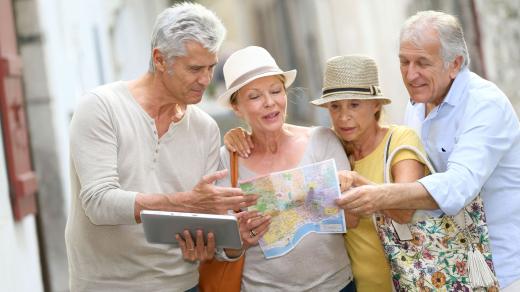 Ordering foreign currency is easy with OnlineFX.
So you're retired and ready to hit the road? Well, you're not alone. In fact, 62 percent of the 50-plus population in the United States have leisure travel plans for 2023, while 85 percent include travel as one of their top three priorities for discretionary spending, according to the AARP's 2023 Travel Trends report.

All of which begs the question: If you're a retiree, where should you venture?
After years of COVID travel bans, the sky is truly the limit, and international destinations are having a major moment. In particular, here are 7 countries in Europe, Latin America, and the Caribbean that are attractive to traveling retirees. We'll take a closer look at these retiree-friendly international travel destinations, along with why they're amazing senior travel spots.
Need currency for your international trip? Reserve foreign currency online to save time on your branch pick up or use CXI's OnlineFX Home Delivery to order foreign currency whenever, wherever.

1. Mexico


There's a reason—well, many of them—why Mexico is the most planned international destination for retirees. A sunny climate, stunning beaches, rich culture, festive markets, and friendly locals are just a few of its selling points.

Because Mexico's offerings are so diverse, it's important to consider the type of trip you're looking for. Beach bums flock to Cancun and the Riviera Maya while culture-seekers may prefer colorful San Miguel de Allende, two-time winner of Travel + Leisure magazine's "best city in the world" honor.
Before heading to Mexico, be sure to get some Mexican pesos before your trip.

2. Italy


The mere mention of Italy brings to mind thoughts of wine, pasta, and gelato. And while the delicious cuisine is reason enough to visit, Italy lays claim to many other allures.

As the leading country for UNESCO World Heritage Sites, this south-central European country offers near-endless things to see and do—from tours of ancient ruins like the Colosseum and Pompeii to breathtaking natural landscapes.
Before heading to Italy, be sure to get some European euros before your trip.

3. Great Britain


If selecting an English-speaking destination is high on your list of priorities, Great Britain may be just what you're looking for.
Boasting a rich history, peaceful scenery, and an extraordinary arts and culture scene comprising world-class theater, vibrant festivals, and thrilling sporting events, Great Britain offers plenty of bang for your buck—especially if you travel during non-peak seasons when travel deals are abundant.
Keep in mind that while you can go it alone, there are also many group travel possibilities for seniors in the UK. In addition to connecting you with like-minded travelers, tours can also be useful for details like currency exchange, reservation bookings, and more.
Before heading to Great Britain, be sure to get some British pounds before your trip.

4. France


Looking for romance? Look no further than France. While Paris is a must-do for many thanks to its inimitable atmosphere and show-stopping attractions like the iconic Eiffel Tower and the Louvre, the City of Light is far from the only city worth seeing in France—especially if you're seeking more tranquility than urbanity.

Depending on your preferences and travel goals, you may also enjoy escaping to the French countryside, where you'll find captivating castles, rolling hills, scenic vineyards, quaint coastal towns, and more.
Before heading to France, be sure to get some European euros before your trip.

5. Ireland



From the pubs of Dublin (Republic of Ireland) to rugged seaside cliffs, Ireland's charms go on and on. Not to mention that seniors, AKA OAPs (old-age pensioners), enjoy access to many discounts and privileges in Ireland—so be sure to look into special rates at attractions and theaters.

Seniors Lifestyle Magazine has rounded up a list of the best places and activities for seniors in Ireland, including booking a guided tour of pedestrian-friendly Belfast (Northern Ireland); visiting Trinity College, the Irish Emigration Museum, and the Guinness Storehouse in Dublin (Republic of Ireland); noshing on local Irish specialties in the Irish food capital of Cork (Republic of Ireland); touring the Belleek Pottery Centre, Enniskillen Castle, and Railway Museum in lovely Fermanagh (Northern Ireland); and taking a traditional pony and trap tour of the picturesque Aran Islands.

Ireland is split up into the Republic of Ireland and Northern Ireland. The Republic of Ireland uses the euro, while Northern Ireland uses the Northern Ireland pound because it is part of the United Kingdom. If you plan on visiting Northern Ireland, be sure to have Northern Ireland pounds.
Before heading to Ireland, be sure to get some European euros and if you plan on visiting Northern Ireland, be sure to have Northern Ireland pounds.

6. Germany


Go for the history, stay for the food, festivals, scenery, and more! Like the other countries on this list, your ideal itinerary will depend on what you're looking for.

Medieval towns like Rothenburg Ob Der Tauber, Goslar, Regensburg, and Ulm will transport you back in time, while glamorous metropolises meld modernity with history. Outdoor enthusiasts and adventurers will also delight in the natural splendor of the Black Forest, the Bavarian Forest National Park, Oberstdorf, and other scenic spots.
Before heading to Germany, be sure to get some European euros before your trip.

7. Aruba


Whether you're seeking spectacular ocean views and white sand beaches, world-class snorkeling and diving, remarkable architecture, or outstanding nightlife, Aruba offers all of this and more. With a tourism-based economy and senior-friendly attractions and amenities, Aruba is an idyllic place for vacationing retirees.
Craving convenience above all else? You'll find everything you need at your fingertips at one of Aruba's exceptional all-inclusive resorts.
Also, keep in mind that while many places use credit cards, it is always wise to carry cash in the local currency for tips, taxis, buses, ferries, and local markets. Be sure to order currency and have it delivered to your door using OnlineFX Home Delivery prior to your trip or visit us in one of our branch locations and our tellers will be happy to help.
Before heading to Aruba, be sure to get some Aruban Florin before your trip.

See more blog posts >

Subscribe to platinum passport >
About Currency Exchange International
Currency Exchange International, CXI, is the leading provider of comprehensive foreign exchange services, risk management solutions and integrated international payments processing technology in North America. CXI's relationship-driven approach ensures clients receive tailored solutions and world-class customer service. Through innovative and trusted FX software platforms, CXI delivers versatile foreign exchange services to our clients, so that they can efficiently manage and streamline their foreign currency and global payment needs. CXI is a trusted partner among financial institutions, corporations and retail markets around the world. To learn more, visit: www.ceifx.com