Tips for Backpacking through the Andes
Anne
September 12th, 2023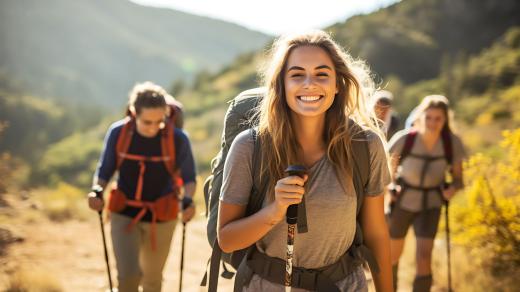 Ordering foreign currency is easy with OnlineFX.
If your next big adventure involves backpacking in the Andes, you can expect to do a lot of planning beforehand, starting with what you will need to take along. Since there will be opportunities to cross borders as you traverse the Andean region, it is also essential to be aware of the foreign currency for each country and the current exchange rates.
Before heading out on your chosen trail, be sure to order all the currencies (Argentine pesos, Bolivian bolivianos, Chilean pesos, Colombian pesos, and Peruvian Nuevo soles) you need before backpacking through the Andes so you can be prepared.

CXI makes it convenient to get your foreign currency. You can reserve your currency for branch pick up or have it delivered to your doorsteps using OnlineFX Home Delivery. The last thing you want to worry about while on your trails is running out of cash. You may find yourself in small towns suddenly or in other areas where reliable exchange centers are hard to find.

What Not to Miss
The Andes of South America offer a variety of trails, natural scenery, and archeological, historical, and cultural sites. Whichever part of it you choose to backpack, you're sure not to be disappointed.

There are so many large and picturesque landmarks and incredible hikes to experience here, including: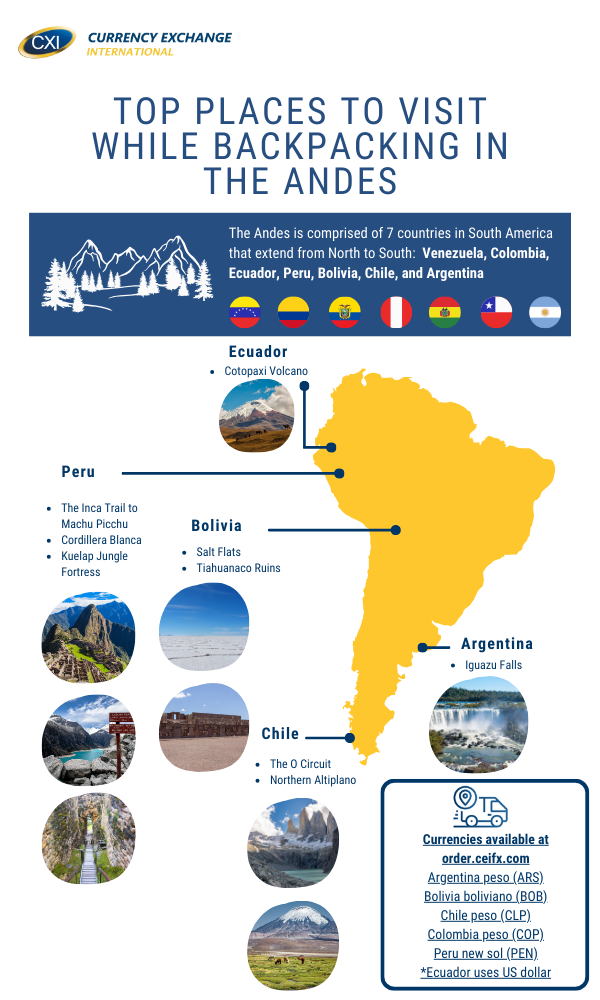 The Inca Trail to Machu Picchu

in Peru

Salt Flats of Uyuni in Bolivia
Iguazu Park from the Argentinian or Brazilian side, for its epic wildlife, fauna, and mesmerizing waterfalls
Cotopaxi in Ecuador requires you to hike through the Avenue of Volcanoes.
The O Circuit in the Chilean Patagonia provides you with a fuller experience of the Torres del Paine National Park
You'll also want to consider finding a few hidden gems that are less crowded with tourists along the way. A few examples of these include:

The Cordillera Blanca in Peru, a mountain range where you'll experience steep terrain and chilling wind, and the authentic Peruvian town of Huaraz
Northern Altiplano in Chile for ancient cave paintings and geoglyphs.
The Tiahuanaco ruins in Bolivia
Kuelap in Peru, a vast jungle fortress
In addition to landscapes and sites to see, don't miss the opportunity to become acquainted with the Andean culture whenever you come off the trail for a few hours or a few days. One of the best ways to do so is by attending one or more of the various festivals and events scheduled in the different countries, including Inti Raymi.

Safety Tips
When backpacking, your backpack should not exceed more than 20 percent of your body weight. (If you weigh 150 pounds, your pack should not exceed 30 pounds for backpacking.)

To avoid having a heavy load, opt for non-perishable foods that are lightweight and nutrient-filled, such as trail mix. Nuts, seeds, nut-based bars. Fresh fruits that don't require refrigeration, such as apples, bananas, and oranges, are great as well.

Always keep 3-5 days' worth of cash in hand in case of an emergency. Be sure to get your foreign currency before going abroad.

Money-Saving Tips


You can also find various ways to save money as you backpack through the Andes. For instance, finding free or low-cost campsites along the way and staying at hostels or backpacker-friendly hotels occasionally. Try to avoid staying in major cities for too long, as expenses here can add up quickly.

Pictured above are Chilean pesos. CXI has over 90 currencies, use OnlineFX Home Delivery to get it right to your doorsteps. More tips include:
Limit the number of major attractions you visit, as entrance fees and organized tour fees can quickly add up.

Book day tours through local providers (instead of online) and negotiate lower rates.

Mostly avoid touristy restaurants and eat where the locals eat when in town, as these will be more budget-friendly.

Purchase fruits, vegetables, and snacks from neighborhood markets or street vendors instead of bigger stores.
While planning is essential, you will also want to allow some flexibility in your schedule so you can enjoy those unexpected discoveries along the way. By doing so, you can make any backpacking trip to the Andes uniquely your own.
See more blog posts >

Subscribe to platinum passport >
About Currency Exchange International
Currency Exchange International, CXI, is the leading provider of comprehensive foreign exchange services, risk management solutions and integrated international payments processing technology in North America. CXI's relationship-driven approach ensures clients receive tailored solutions and world-class customer service. Through innovative and trusted FX software platforms, CXI delivers versatile foreign exchange services to our clients, so that they can efficiently manage and streamline their foreign currency and global payment needs. CXI is a trusted partner among financial institutions, corporations and retail markets around the world. To learn more, visit: www.ceifx.com