US Retail Sales comes in mixed for May, but with surprise positive revisions to April data.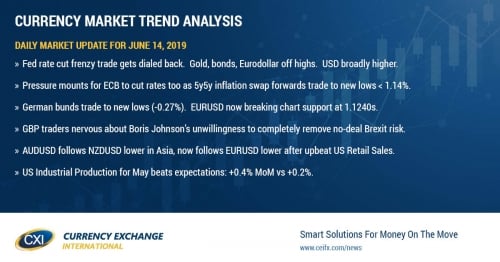 Take control of your international payments with CXI FX Now.
• Zero transfer fees & great rates
• Fast international payments
• Safety and security
• Unparalleled customer service
• Consultative approach
Learn more about CXI's international payment services for businesses or call our trading desk directly at 1-833-572-8933.
Get real-time market coverage on twitter at @EBCTradeDesk or sign up here.
SUMMARY
•
Fed rate cut frenzy trade gets dialed back. Gold, bonds, Eurodollar off highs. USD broadly higher.
•
Pressure mounts for ECB to cut rates too as 5y5y inflation swap forwards trade to new lows < 1.14%.
•
German bunds trade to new lows (-0.27%). EURUSD now breaking chart support at 1.1240s.
•
GBP traders nervous about Boris Johnson's unwillingness to completely remove no-deal Brexit risk.
•
AUDUSD follows NZDUSD lower in Asia, now follows EURUSD lower after upbeat US Retail Sales.
•
US Industrial Production for May beats expectations: +0.4% MoM vs +0.2%.
ANALYSIS
USDCAD
Dollar/CAD sits slightly atop chart resistance at the 1.3330 this morning as the USD gets bought broadly in Europe. Today's move feels EURUSD driven and we suspect that's because Eurozone inflation expectations and bond yields continue to fall to new record lows (Euro 5y5y inflation swap forwards <1.14%, German bunds < -0.27% and Spanish 10s < 0.5%). The US Retail Sales report for May just came out and the numbers were slightly better than expected: +0.5% MoM vs +0.6% on the headline (miss), +0.5% vs +0.3% ex autos (beat), but with across the board positive revisions to the April data. This is seeing the USD broadly extend its overnight gains and it's seeing the feverish Fed rate cut trade dial back some of their enthusiasm (gold now +8 after being +15 earlier and December Eurodollar interest rate futures now at implied 1.97% Fed funds vs 1.90% earlier). We think the 1.3330s will be the pivot for price action heading into the weekend, with gains likely to continue to the 1.3370s should traders keep the market above it. A move back below would be near-term bearish.
USDCAD DAILY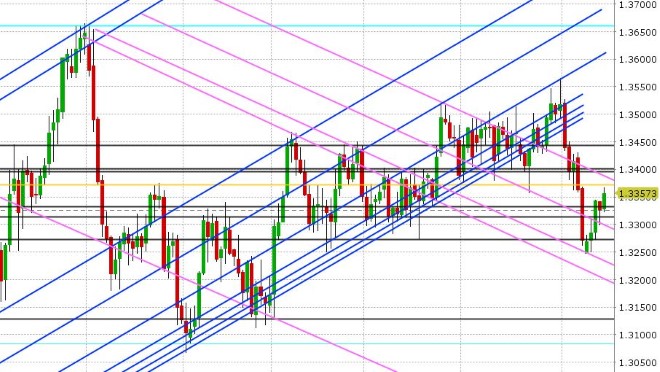 USDCAD HOURLY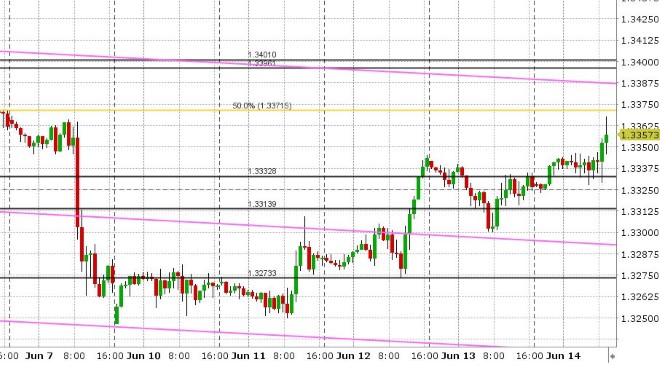 JUL CRUDE OIL DAILY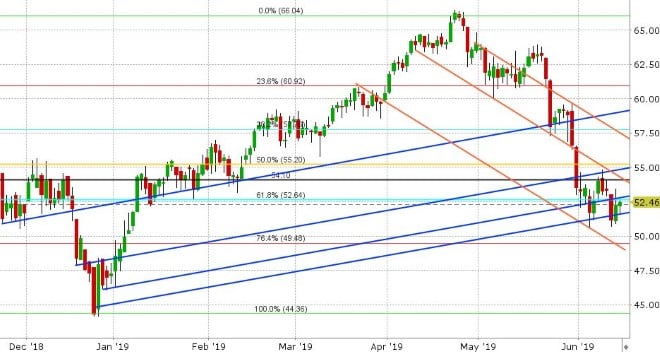 ---
EURUSD
Euro/dollar is feeling more pain this morning as the markets now put pressure on the ECB to cut rates as well. Mario Draghi has said that the ECB's preferred measure of medium term inflation expectations is the 5y5y forward swap rate, and right now that rate is falling hard to new record lows below 1.14% (this is the market's expectation of what inflation will be starting in five years time and ending in 10 years time). When you combine this with German and Spanish 10 year yields trading at new lows this morning, it's not surprisingly frankly to see EURUSD pushing lower here. Yesterday's breach of chart support in the 1.1280s and this morning's failure to regain the level haven't been helpful, if we look at the technicals. Losses are extending here now as the US reports decent Retail Sales for May with upward revisions to the April data. Chart support in the 1.1240s is getting tested, and the next level below that lies in the 1.1210s. We think this news now muddies the Fed rate cut excitement for next week a little bit and is leading traders to consider the thought that the Fed doesn't materially change its "on hold, patient, no rush to do anything" guidance.
EURUSD DAILY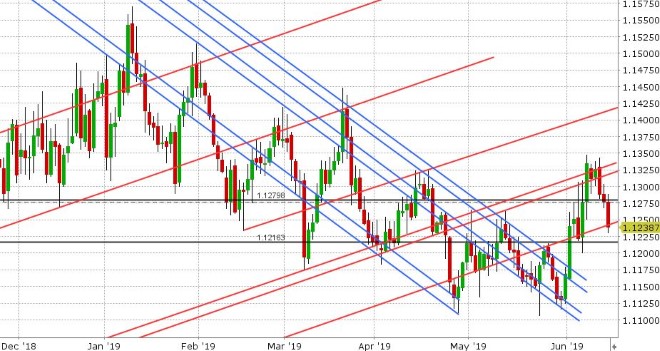 EURUSD HOURLY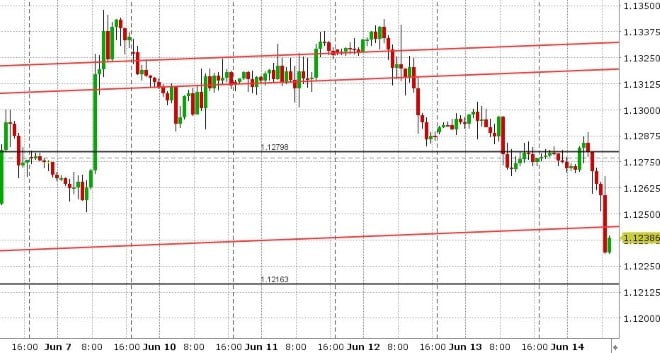 AUG GOLD DAILY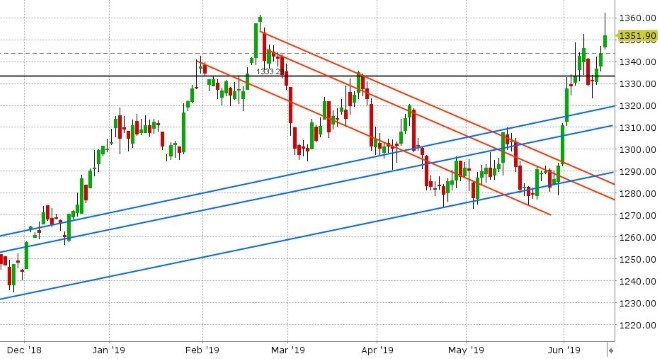 ---
GBPUSD
Sterling is trading down this morning as traders follow EURUSD lower. Markets also appear to be on edge following various comments from Tory front-runner Boris Johnson about not completely taking a "no-deal Brexit" off the table as an option, and he's actually trying to dial back some of this rhetoric as we speak. The decent US Retail Sales report is now seeing another wave of GBPUSD selling come in, and this now threatens trend-line chart support in the 1.2610-20s. A move below this level could spark a wave of sell stop sales into the 1.2580s we feel.
GBPUSD DAILY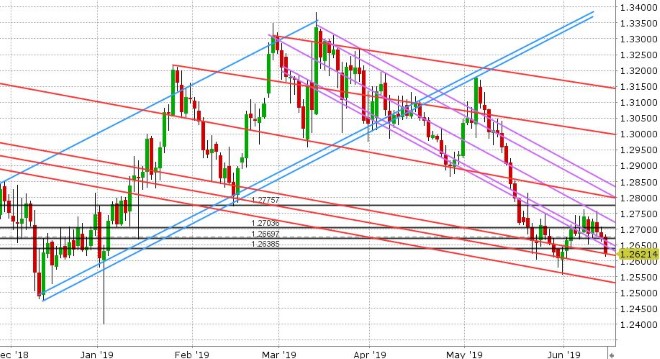 GBPUSD HOURLY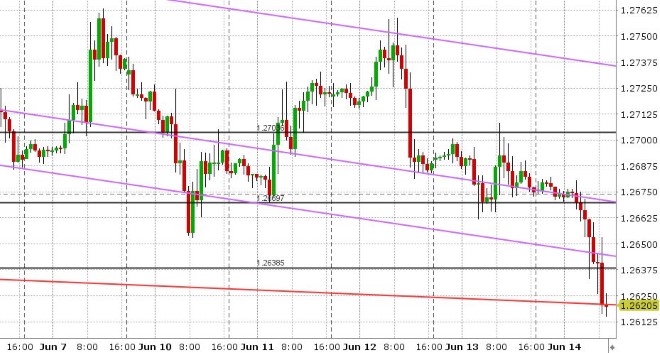 EURGBP DAILY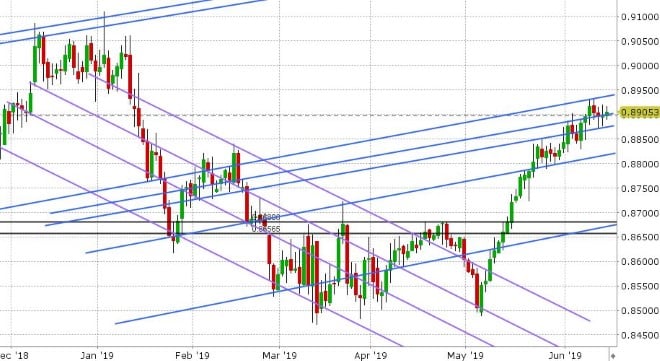 ---
AUDUSD
Australian dollars traders are hitting the sell key yet again today. The Asian session move below chart support at 0.6900-0.6905 appeared to be NZDUSD driven, after New Zealand reported a poor manufacturing PMI number for May, and the early NY move lower here comes after the slightly better than expected US Retail Sales data. The next support zone lies in the 0.6860s to 0.6880s. We think the entrenched AUDUSD fund short position will feel emboldened here heading into the Fed meeting next week.
AUDUSD DAILY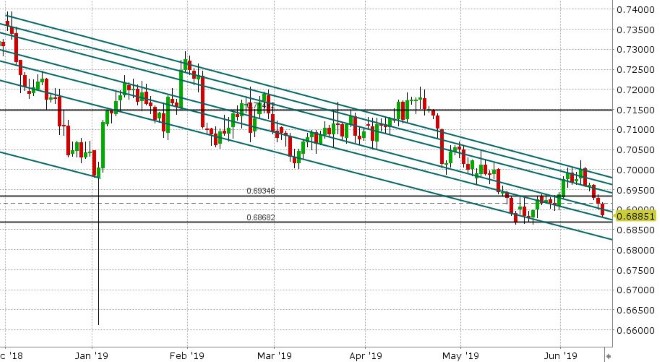 AUDUSD HOURLY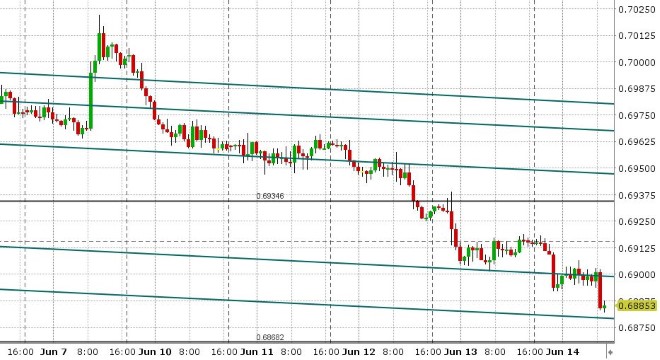 JULY COPPER DAILY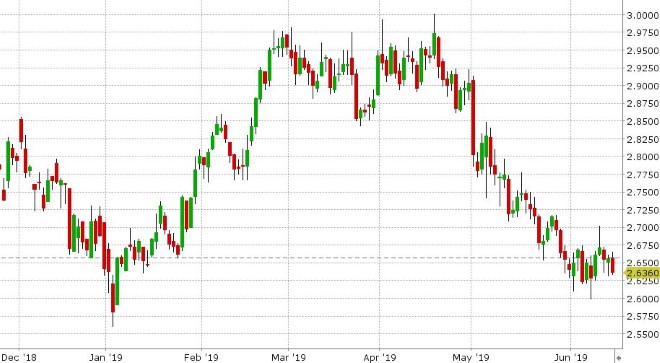 ---
USDJPY
Dollar/yen is popping higher post US Retail Sales as the Fed rate cut trade takes profits (gold, bonds, Eurodollar interest rate futures all lower). The USD is broadly benefitting as well, and with that USDJPY is threatening a break above downward sloping trend-line resistance that has been capping the market for two days (108.40-50s). We think the market could stage a mini-rally here should interest rate traders have 2nd thoughts about their bets for the Fed meeting next week. A NY close above 108.50 could open up the door to gains into the high 108s.
USDJPY DAILY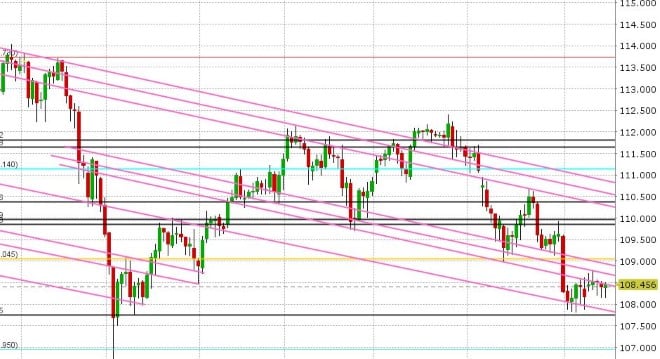 USDJPY HOURLY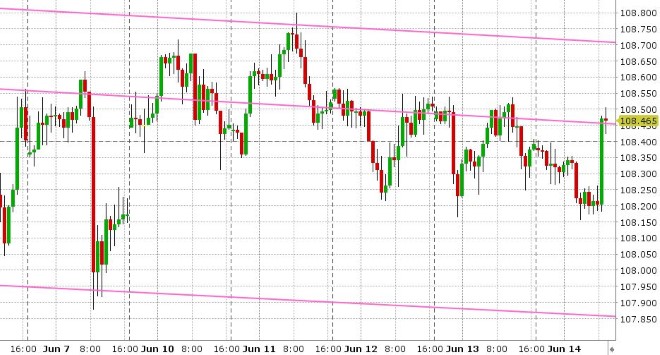 DEC 3-MONTH EURODOLLARS DAILY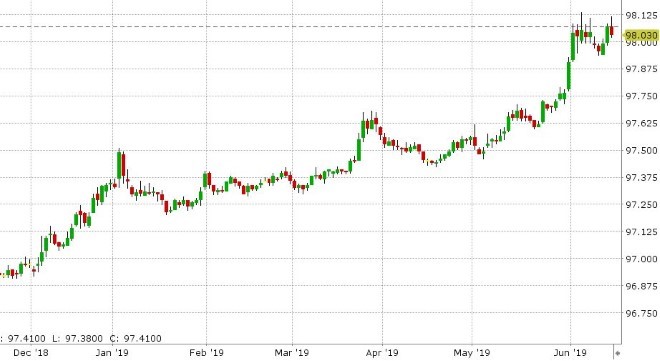 Charts: TWS Workspace
---
About the Author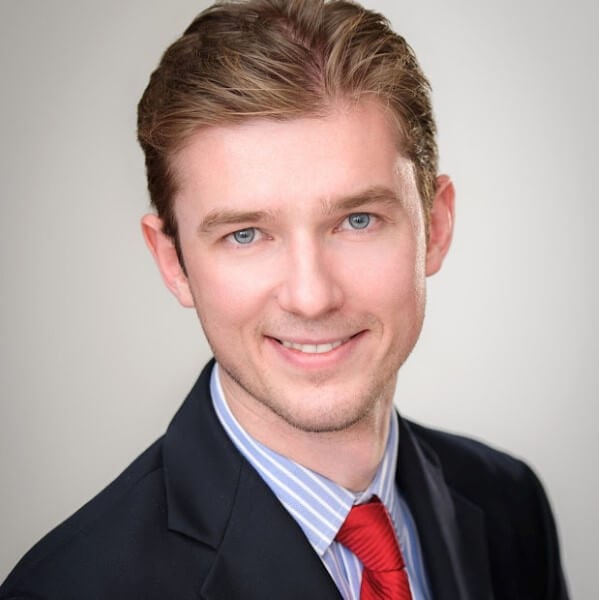 About Currency Exchange International
Currency Exchange International, CXI, is the leading provider of comprehensive foreign exchange services, risk management solutions and integrated international payments processing technology in North America. CXI's relationship-driven approach ensures clients receive tailored solutions and world-class customer service. Through innovative and trusted FX software platforms, CXI delivers versatile foreign exchange services to our clients, so that they can efficiently manage and streamline their foreign currency and global payment needs. CXI is a trusted partner among financial institutions, corporations and retail markets around the world. To learn more, visit: www.ceifx.com
This publication has been prepared by Currency Exchange International for informational and marketing purposes only. Opinions, estimates and projections contained herein are our own as of the date hereof and are subject to change without notice. The information and opinions contained herein have been compiled or arrived at from sources believed reliable, but no representation or warranty, express or implied, is made as to their accuracy or completeness and neither the information nor the forecast shall be taken as a representation for which Currency Exchange International, its affiliates or any of their employees incur any responsibility. Neither Currency Exchange International nor its affiliates accept any liability whatsoever for any loss arising from any use of this information. This publication is not, and is not constructed as, an offer to sell or solicitation of any offer to buy any of the currencies referred to herein, nor shall this publication be construed as an opinion as to whether you should enter into any swap or trading strategy involving a swap or any other transaction. The general transaction, financial, educational and market information contained herein is not intended to be, and does not constitute, a recommendation of a swap or trading strategy involving a swap within the meaning of U.S. Commodity Futures Trading Commission Regulation 23.434 and Appendix A thereto. This material is not intended to be individually tailored to your needs or characteristics and should not be viewed as a "call to action" or suggestion that you enter into a swap or trading strategy involving a swap or any other transaction. You should note that the manner in which you implement any of the strategies set out in this publication may expose you to significant risk and you should carefully consider your ability to bear such risks through consultation with your own independent financial, legal, accounting, tax and other professional advisors. All Currency Exchange International products and services are subject to the terms of applicable agreements and local regulations. This publication and all information, opinions and conclusions contained in it are protected by copyright. This information may not be reproduced in whole or in part, or referred to in any manner whatsoever nor may the information, opinions and conclusions contained in it be referred to without the prior express written consent of Currency Exchange International.