U.S. Travelers Can Travel to Brazil Visa-Free Starting June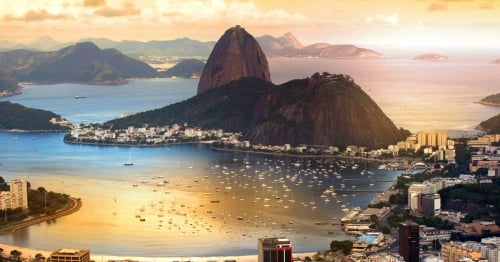 Ordering foreign currency online is easy with OnlineFX.
Starting on June 17, travelers from certain countries will be allowed to travel around Brazil with no visa. This comes from a push to make visitor access to Brazil more simple.
The former e-visa
In January of 2018, Brazil created an e-visa program, where you would pay $44.00 USD online, fill out an application, and receive a digital visa. This program was for travelers from Canada, Japan, U.S., and Australia.
The e-visa program had great results, with an increase in visa applications of 35%. This program has lasted less than a year before deciding to just end the travel visa altogether.
A visa exemption for citizens of the USA, Australia, Canada and Japan who wish to travel to Brazil was enacted last week and will begin on June 17 2019. This will enable visitors from these four countries to enter Brazil without a visa. pic.twitter.com/3iwjDWW6TD

— Embassy of Brazil – USA (@BrazilinUSA) March 21, 2019
The new requirements
While it will be easier to travel, there are still some restrictions. You can only stay in Brazil for 90 days, starting from your first day of entry. From there, you can request an extension to 180 days within a 12-month period.
The last time visa requirements were lifted to this degree was during the 2016 Olympics.
A trip to Brazil
It's never too early to start planning your trip, especially considering that the visa-free travel begins over the summer! A trip to Brazil could mean spending a lot of money, if you don't plan ahead.
We recommend checking out how to get the best bang for your buck before you go!
About Currency Exchange International
Currency Exchange International, CXI, is the leading provider of comprehensive foreign exchange services, risk management solutions and integrated international payments processing technology in North America. CXI's relationship-driven approach ensures clients receive tailored solutions and world-class customer service. Through innovative and trusted FX software platforms, CXI delivers versatile foreign exchange services to our clients, so that they can efficiently manage and streamline their foreign currency and global payment needs. CXI is a trusted partner among financial institutions, corporations and retail markets around the world. To learn more, visit: www.ceifx.com