4 Unusual Facts about the Thailand Baht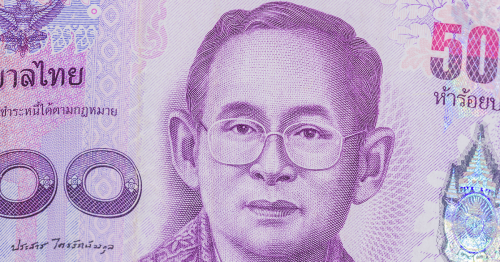 Ordering foreign currency online is easy with OnlineFX.
Are you planning a vacation to Thailand? Before you fly over, you should get to know their currency with these unusual facts. 
History of the baht
Prior to banknotes, Thailand used coins, pot duang, and baked clay coins. The Bank of Thailand has the exclusive authority to issue baht. Each baht is equal to 100 satang coins. The Thailand baht is most regularly referred to as Thai baht or just simply baht. The symbol used for this currency is ฿.
The Banknotes
There are denominations of ฿20, ฿50, ฿100, ฿500 and ฿1,000. Each banknote illustrates a picture of the reigning king on the front, and different kings in Thailand's history on the back. The most common banknote is the ฿100 note.
Security Features
The Thailand baht is made of a special cotton fiber that makes it very durable. Each banknote denomination has a different thickness and feel. In addition, the notes have raised ink called intaglio ink, which allows for a very tactile feel. There are also hidden Arabic numerals on the lower left corner of every banknote you can look for!
Culture and currency
In Thailand, it is considered rude to carry banknotes in your back pocket, because it is considered sitting on the image of the King. Another offensive act against the monarchy is stepping on a banknote or coin. Any act of disrespect towards the King is frowned upon.
Similarly, in many shops in Thailand, you may find smaller denomination banknotes displayed, as a symbol of respect and health towards the King. Always make sure you show respect when handling this currency.
About Currency Exchange International
Currency Exchange International, CXI, is the leading provider of comprehensive foreign exchange services, risk management solutions and integrated international payments processing technology in North America. CXI's relationship-driven approach ensures clients receive tailored solutions and world-class customer service. Through innovative and trusted FX software platforms, CXI delivers versatile foreign exchange services to our clients, so that they can efficiently manage and streamline their foreign currency and global payment needs. CXI is a trusted partner among financial institutions, corporations and retail markets around the world. To learn more, visit: www.ceifx.com